Helius Medical: A Failed Clinical Trial, Redacted Data, And Questionable Leadership, Points To An Ineffective Device
Summary
Helius Medical is a reverse-merger, single-product, pre-revenue medical device company with a unique device that delivers stimulation to the tongue to treat a type of brain injury.
Evidence suggests the device is likely a placebo, and positive patient results were from the intense physical therapy treatment, not the device.
The founders, which include Montel Williams and the former CEO who is now a fugitive, have a history of questionable marketing practices.
The phase III trial missed its primary effectiveness endpoint, thus reducing the chances of FDA approval and reimbursement coverage.
The fact that Helius has redacted important trial info should cause investors concern about the potential effectiveness of the device.
We at White Diamond Research like shorting medical device companies with an inefficient product or products. Last year, we exposed Transenterix (TRXC) and Viveve Systems (OTC:VIVE) as each has a medical device that is fundamentally flawed.
Our next medical device stock short idea is Helius Medical Technologies (NASDAQ:HSDT). It is a pre-revenue, $200M+ market cap company claiming its only product, the Portable Neuromodulation Stimulator (PoNS) device, can treat a type of brain injury by functional electrical stimulation of the tongue. This device is based on a still unproven concept from the 1960s. Even after almost 30 years in development, most of the evidence for efficacy is anecdotal, with a scarce amount of clinical data.
Helius acquired the rights to the PoNS in 2013 and has conducted two clinical trials that failed. In both of the trials, the placebo, as well as the treatment device, showed statistically similar improvement effects. We believe the intense physical therapy treatment used in both studies is what caused the improvement, not the PoNS, which we believe is effectively a placebo.
We believe that the device doesn't work, and this will show up in the sales results, which we predict will be miniscule. In our interviews with medical device experts, we have heard differing opinions on the odds of that it will get FDA approval. We don't think it should get approved. We have a $5 price target on the share price this year, and, in our opinion, it will eventually go to zero after this year as sales fail to materialize, regardless of whether the PoNS receives FDA approval or not.
Source: Google Images
According to Helius, the PoNS device could potentially benefit patients with traumatic brain injury (TBI), multiple sclerosis (MS), cerebral palsy, stroke, and Parkinson's diseases. It is currently seeking FDA approval for the TBI indication. The company has recently received approval in Canada for the PoNS to treat TBI only as an adjunct to physical therapy. We provide more info on what it means to be an "adjunct" treatment later in this report and why this qualification will make commercialization difficult.
The following is a picture of the PoNS device in use:
Source: Ximedica Website (the designer)
On January 14th, we sent Helius' investor relations questions regarding our fundamental research we show in this article. We have not received a response. We list these questions at the end of this article. We urge investors to ask management these questions.
Helius' Former CEO Was A Convicted Stock Pump And Dumper, And Now Is A Fugitive On The Run
To get a sense of how Helius Medical got started, let's take a look at the founders and their questionable professional backgrounds. In March 2014, Helius became public by merging with a shell company called Boomerang Oil. On June 6, 2014, Helius Medical completed the reverse merger by acquiring NeuroHabilitation Corp. NeuroHabilitation had exclusive worldwide rights to the PoNS device.
Marco Babini owned the Boomerang Oil shell company and became the CEO and Director of Helius Medical. As shown here:

Babini is a fugitive, convicted of a pump-and-dump scheme in 2015 as described in SEC civil action titled:
SEC Charges Medical Diagnostics Company Chairman and Two Others Behind Scheme to Manipulate Company Stock
Babini resigned as the CEO of Helius Medical in June 2014 in light of the SEC investigation, and Phil Deschamps immediately took his place as CEO. As of May 2018, Babini is still a fugitive, as suggested in this article:
Meanwhile Mr. Withrow's co-defendant, Mr. Babini, is still a fugitive. He is wanted on one count of conspiracy, one count of securities fraud, and two counts of wire fraud.
Helius Medical's Beginning And Promotion With Montel Williams
Helius was originally put together by its current CEO, Phil Deschamps, its current Chief Medical Officer Jonathan Sackier, and TV personality Montel Williams. Sackier first worked with Williams when he was the CEO of Spotlight Health. Spotlight Health was a company that brought together healthcare firms and celebrities for promotional campaigns. Notice that Sackier's biography on the Helius website doesn't mention Spotlight Health.
A New York Times article from 2002 discusses Spotlight Health and Montel Williams promoting Copaxone to treat his Multiple Sclerosis.
From the article:
"When a celebrity talks about something, everyone stands up and takes notice," said Dr. Jonathan Sackier, the founder of Spotlight Health in Los Angeles, a company that creates star-studded medical education campaigns for health care concerns.

"Copaxone has been what has kept me running," Mr. Williams told the audience. He never discussed the drug's possible side effects or his financial ties to Teva Pharmaceuticals, which sells Copaxone.

In a deal put together with the help of Spotlight Health, Teva paid Spotlight Health, which then paid Mr. Williams's charity, The Montel Williams MS Foundation, according to Dr. Sackier at Spotlight Health.
Sackier introduced Williams to Helius Medical's current CEO, Deschamps. As shown in this article, from the Philadelphia Business Journal, Williams gave Deschamps the idea of the PoNS device to treat MS.
From the article:
Deschamps asked Williams what he was doing, and Williams explained he used the device to help him deal with his multiple sclerosis, a condition for which he was diagnosed in 1999.

Deschamps arranged a meeting with the inventors. "I asked them if they had any plans to commercialize the technology", he said. "They said they didn't do that. I said, 'I do.'"

Thus was born NeuroHabilitation Corp., a medical-device maker formed by co-directors of the University of Wisconsin Neurorehabilitation Lab in collaboration with Montel Williams, medical-device specialist Jonathan Sackier, and Deschamps, who at the time was serving as CEO of Medimedia Health in Bucks County.
Medimedia Health is a company that provides promotional healthcare related marketing campaigns. All three founders of NeuroHabilitation are marketing experts.
The trio put together investment firm MPJ Healthcare, named after their initials (Montel, Phil, Jonathan). MPJ Healthcare reported owning 22.2% of Helius stock on 2/16/16. It reported owning 2.5% of Helius stock on 7/7/17. In Helius' 2017 annual report, it states that MPJ Healthcare had been dissolved.
NeuroHabilitation became Helius Medical through a reverse merger, and Marco Babini became the CEO before he became a fugitive. At a minimum, it's worth questioning the judgment of Deschamps, Williams, and Sackier, regarding their placement of a shady character as CEO and Director of the company.
In April 2016, Helius began trading on the Toronto Stock Exchange. The Agent and Bookrunner was Mackie Research. They raised C$9.2m for the company. Here's a humorous video of Helius ringing the TSX opening bell with Montel Williams in the middle, Sackier on his right and Deschamps on his left.
Source: YouTube
Before treating TBI, the PoNS device was going to be marketed to treat multiple sclerosis (MS). Montel Williams made several TV appearances, touting that the PoNS device helped him with his MS symptoms.
Starting in April 2016, Helius paid $15k per month to Montel Media for promotional services. This agreement was terminated in March 2018.
In June 2018, it was reported that Williams was hospitalized from 'overdoing it' at the gym. The article states that he has dealt with his MS through a fitness-focused lifestyle, and the use of medical marijuana. He has just started his own line of CBD products, called Lenitiv. There is no mention in the article of him advocating or even using the PoNS device to treat his MS.
On 9/2/14, Stock Gumshoe reported on Helius Medical. This was before Helius had a 5 to 1 reverse split on 1/23/18. The following were some of the outlandish claims from the article:
"Currently, the company is forecasting $100 million in sales by 2018 and $140 million by 2019."
How could that amount of revenues be possible when it takes at least 2-3 years after FDA approval to receive insurance reimbursement? We believe Helius made a big exaggeration with this revenue forecast.
"This therapy is pain-free, easy, and quick — the typical session with a patient lasts about 20 minutes."
This doesn't mention the rigorous physical training regimen that must be accompanied with the PoNS treatment.
"No other treatment on the market can both stop the progression of the debilitating symptoms of brain disease AND reverse them!"
There is no scientific study that we know of on the PoNS that makes this claim from the Gumshoe article.
The PoNS Device Failed Its Phase III Traumatic Brain Injury Trial – And Helius Does Not Show Trial Details
The PoNS device missed its primary efficacy endpoint in the phase III trial to treat chronic balance deficit from TBI. This will make it harder for the PoNS to receive FDA approval, and even harder to receive insurance coverage, even if it gets FDA approval due to its safety profile.
The PoNS phase III trial was a double-blinded, sham-controlled study (for those unfamiliar with medical trial terms, sham means placebo) of its safety and effectiveness in treating subjects with a chronic balance deficit due to mild-to-moderate traumatic brain injury (TBI). A total of 122 subjects (61 active and 61 control) received physical therapy plus either a high-frequency PoNS device (active) or a low-frequency PoNS device (control) which was the sham device.
The results of the trial were announced on 11/9/17. In the announcement, the company stated:
Primary effectiveness endpoint demonstrated a trend toward a higher responder rate in the high frequency PoNS™ Therapy group (75.4%) than in the low frequency PoNS™ Therapy group (60.7%), p<0.081
Primary effectiveness endpoint was not reached because low frequency pulse treatment had a significant therapeutic effect
Helius statement above was the old "the placebo was unexpectedly strong" excuse for missing the primary endpoint. We believe that an undisclosed and likely very intense physical therapy protocol used for the Phase III TBI study was directly responsible for the unusually high placebo response. The publication for its earlier MS study described a very intense physical therapy treatment, so there probably was one for this trial as well. If so, it will be noticed by the FDA reviewers. But Helius doesn't provide details on the physical therapy treatment anywhere for this TBI trial. It's only mentioned that there was a physical therapy treatment.
Helius Redacted Trial Details
Unlike with Helius' MS trial, there was no detailed publication for the phase III TBI trial, or much information anywhere. That makes us suspicious. If the trial had a good result, then the company should be willing to show more information. We highlight the missing information in this section.
If you go to the Clinical Trials page on Helius website, you'll see a list of trials. The bottom TBI trial done at the University of Wisconsin has a link to the clinicaltrials.gov page for the trial info, screenshot below:

Source: Helius Medical Webpage
The above ClinicalTrials.gov link leads to a typical looking trial page with lots of various information about the trial.
Next, take a look at the pivotal trial to treat TBI at the top of the list on the Helius' clinical trials page on its website, and how it has many different study sites. This is the important, pivotal trial for the PoNS that Helius is presenting to the FDA in order to get marketing approval. It also shows the Clinicaltrials.gov ID like the other trial, but this one doesn't have a link, as shown in the screenshot below:

Source: Helius Medical Webpage
Why doesn't the above ClinicalTrials.gov ID have a link like the other one does? Either the website administrator forgot to put it on, or the company doesn't want you to go to that link. Because if you go to ClinicalTrials.gov and enter that ID, NCT02429167, what you'll find… is… basically nothing!
The Tabular View page has no trial information whatsoever. There's nothing about the primary or secondary endpoints, nothing about the participants, or about the trial design. The following is a screenshot of a part that represents what the entire page looks like:
It says on the Study Details page: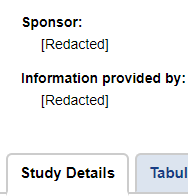 The above shows that the information from the Sponsor, Helius Medical, is redacted. If you look further on that page and click the "History of Changes" link, you'll find that the info there is redacted as well. That page has another link called the ClinicalTrials.gov Archive Site that shows the full history of changes of the trial. The links on that page, the historical changes, don't show any trial info either. It also shows that Helius again redacted the information: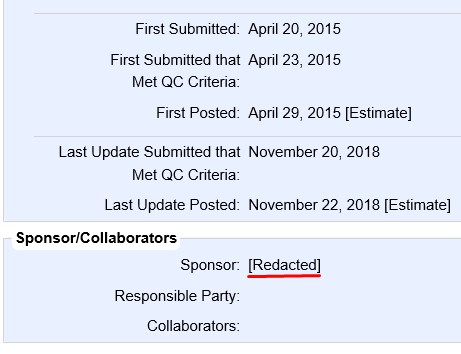 Helius has redacted all information regarding this trial from ClinicalTrials.gov, even from the archive page.
It should be concerning to investors that Helius does not provide key details of the trial.
We wanted to find more information about this trial, but, of course, we weren't getting it from ClinicalTrials.gov. We understood there was a webcast where the company explained that the trial really didn't fail. This was stated in a medium.com article that we link to below. The PR of the trial results show a link to the webcast. It states:

However, when you click on that above link, there isn't an archived copy of the webcast. Instead, the page says:

Source: Webcast page
It says the webcast is archived, and this is Helius's most important pivotal trial - but the webcast isn't even there. It appears that Helius has removed or redacted every piece of info about this trial except what's in the original PR. Why has Helius done this?
Helius has changed the endpoint of the trial. The original announcement states:
Primary effectiveness endpoint was not reached because low frequency pulse treatment had a significant therapeutic effect
The high frequency, real PoNS device group didn't have a significantly greater improvement than the low frequency, sham device group. Therefore, what Helius did was combine the two groups and compare it to baseline. From the announcement:
We are very pleased with the findings from our registrational trial that demonstrate that PoNS™ Therapy, deployed independently across our seven study sites, produced statistically significant improvements in balance from baseline, on average over three times the clinically significant amount," said Helius' Chief Medical Officer, Dr. Jonathan Sackier.
They effectively changed the placebo, or the control, group to the baseline. However, the baseline was the group of participants before they had physical therapy treatments. Both the high frequency and low frequency groups had intense physical therapy treatments. Therefore, we conclude that it was the physical therapy treatments, and not the PoNS device, that made the improvements. We don't know how intense the physical therapy treatments were, because that's part of the information that Helius doesn't show us. But if it's anything like the previous trial they did for MS, then it was a rigorous treatment. We show information about the MS treatment trial, which the company abandoned, later in this report. We have a lot more details on it because there was a publication, which shows a lot more info than solely from the company's PRs.
An excuse for a failed trial being that the placebo was too strong usually doesn't hold water with the FDA. We've exposed biotechs who had this same excuse such as our reports on Ampio (AMPE) and Nymox (NYMX). Both of these stocks got destroyed not long after we published our reports on them. Another biotech, Histogenics (HSGX) had the same excuse for their failed trial and hasn't gotten any sympathy from the FDA.
Helius Medical's Own Investment Banking Analyst Dropped Coverage After The Negative Trial Results
As stated in this article from medium.com on November 2017, the analyst covering Helius from its investment banking firm, Mackie Research, had negative things to say about its TBI clinical trial. This analyst, Andre Uddin, announced that Mackie had terminated coverage on Helius because its "pivotal trial failed". Mr. Uddin stated that while he believes that the FDA will still clear the device because it's safe, he thinks the sales of the device might be poor because of the "negative study results".
Earlier, in September 2017, Uddin showed concern regarding the trial as stated in this article.
There is risk that the placebo rate is high for this TBI pivotal trial," Mr. Uddin said.
Again, as stated earlier, we believe that an undisclosed and likely very intense physical therapy protocol used for the Phase III TBI study was directly responsible for the high placebo response.
After Uddin made the statement in November that the trial failed, Mackie's services to Helius terminated, as stated in the medium.com article. This was a major statement by Uddin and reflects very poorly on the PoNS device and Helius. Mackie was the investment banking firm for Helius. As seasoned investors know, investment banking firms will do all they can to look at a company they are representing with rose colored glasses because they make most of their revenues through investment banking dollars by promoting and selling that company's stock. By bringing up the negative results of the trial, Uddin may have lost Mackie investment banking dollars. Kudos to Uddin for giving his honest analyst opinion, we find that is rare for a sell-side analyst.
The above linked article from medium.com was written by a woman named Laura McGrath who said she has a child with cerebral palsy. She claimed in the article that Mackie analyst Uddin unfairly discredited the PoNS device. She said that Helius addressed the missed endpoint in their November 9th call. That call was the webcast that we referenced above which said "presentation has expired".
McGrath mentioned the trial done in Russia using the PoNS device on children with cerebral palsy, and the positive results from it. However, those study results were announced over two years ago, and there have not been any follow-up studies or further efforts towards approval and commercialization to treat cerebral palsy patients. We believe that shows that McGrath really doesn't have a good understanding of the true lack of efficacy of the device. If it truly was worthwhile, we believe further studies would be done in Russia. We discuss the Russia trial and approval process in the former Soviet Union countries in a section later in this article.
Clicking on McGrath's profile, she has only written that one article on medium.com. We haven't seen any more writings or activism regarding cerebral palsy by Ms. McGrath on the internet, which makes us suspicious. How would she even know about Mackie Research? If she was already following analyst reports and was an investor in Helius, she should have disclosed that she was an investor in the article. We won't give our opinion on this, readers can come to their own conclusions.
The PoNS Multiple Sclerosis Trial Had An Excessive Physical Therapy Regimen And The Treatment Was Abandoned
On 11/2/15, Helius announced positive clinical trial results for a Multiple Sclerosis Pilot study of the PoNS stimulator.
A total of 14 subjects with MS received treatment, seven were active and received treatment from the PoNS (active group), and seven received treatment from a sham device (control group). With only 7 participants in each group, the results of the study should not be too definitive with such a tiny sample size.
However, the study shows that both the active and the control group had an intensive physical training regimen. The baseline time point is right before the study before any physical therapy was done. This is just like with the phase III TBI trial results we exposed earlier. Like with the TBI trial data, it was reported an improvement between the active group at week 14 compared to the baseline, but the active group did not report an improvement to the control group, which was the main purpose of the study to begin with.
From the Helius announcement, it states:
The PoNS stimulation group showed a statistically significant improvement (p<.001 in balance as measured by the Sensory Organization Test (SOT) scores, which were compared at baseline and week 14. The change in the control group did not reach the same level of statistical significance (p >.05).
The above result is not comparing the active group directly with the control group. It is comparing both with baseline. It is also only one particular test, and there were only 7 subjects in each group. It seems to show a benefit in the active group, but in our opinion, this is what is called "data mining" where the researchers in the study try to find anything positive in the data for the PoNS group, after the study is finished. It is telling that further studies of this treatment were abandoned.
What is more revealing about this trial is in the detailed publication. It contains information about the trial that Helius didn't include in the PR.
As stated in the publication, the work was sponsored by Helius Medical. It states:
Objectives: The objective of this paper is to study effects of noninvasive tongue stimulation using the Portable Neuromodulation Stimulator (PoNS) combined with intensive cognitive and physical rehabilitation on working memory, gait, balance and concomitant changes in the brain.
Many people don't realize how powerful physical therapy can be. Experts in the field, some who we interviewed, know this, likely including Helius CMO, Jonathan Sackier who likely designed this trial. The physical therapy regimen was insanely intense, and not realistic for real world patients. It was 90 minutes in the morning, 90 minutes in the afternoon, and then an hour with the PoNS device before bed, 5 days a week, excluding weekends for 14 weeks. Most people in the real world shun physical therapy and are barely able to do it once per week. Patients who can get through this type of rigorous therapy are predictably going to have strong improvements.
Imagine if you had a pill that you told obese patients it would help them lose weight. And you had the obese patients do 3 hours of aerobics every day for 14 weeks, and had them take the pill once every day. They then lose a significant amount of weight during the treatment, and you say it was the pill that did it. We believe that's the equivalent of what this program is doing. By adding a very intense physical therapy schedule as an adjunct to the PoNS treatment, Helius hid the lack of efficacy of the PoNS treatment.
Helius didn't move forward with a larger trial for MS. Instead the company went forward with trials to treat Traumatic Brain Injury (TBI). All of the promotion for MS with Montel Williams was for naught.
Canada PoNS Approval Is Restricted To Use Only As An Adjunct To Physical Therapy
The PoNS device was submitted for Canadian approval on 9/27/18.
On 10/22/18, Helius announced that it received clearance from Health Canada to market the PoNS, a class II medical device in Canada. From the PR:
"The Company is thrilled to have received Canadian regulatory clearance to market our PoNS Treatment as an adjunct to physical therapy for chronic balance deficit in patients with mild-to-moderate traumatic brain injury," said Philippe Deschamps, Helius' President, CEO and Chairman.
Investors were excited about the news of Canadian approval, and the stock rose over 20%. However, what many investors might not have noticed is Deschamps statement above says that the PoNS device can only be used as an adjunct to physical therapy.
For those who don't know what adjunct means, the top definition from dictionary.com is:
something added to another thing but not essential to it.
Having adjunct status means that the device can only be used with something else. It can't be used by itself. Patients need to commit to an intense regimen of physical therapy in order to use the PoNS device. This will make commercialization a nightmare. Most patients don't want to do physical therapy. They would rather have a magic device that solves their problem without doing work. But the PoNS isn't being approved for solitary use. The patients must be doing physical therapy as well. Therefore, they will have to pay for physical therapy in addition to the device, if they're paying out of pocket. Furthermore, those who want to do the work of physical therapy likely won't be lured in by the "quick fix" of this investigational device.
The process took less than a month from submission to approval. The speed of approval highlights how easy it is to get medical devices approved in Canada.
From a PDF report from emergobyul.com, shown below, it states that a class II medical device in Canada only takes 1-2 months to grant approval. PoNS is categorized as a class II device, as stated in the PR.

Source: emergobyul.com
What Are The Chances The FDA Approves The PoNS Device?
From our research on the PoNS and consulting with medical device experts, we believe the odds are against FDA approval because of the missed efficacy endpoint and the company's effort to hide the details of the trial. If the FDA requires more studies or rejects the device, the stock will likely get crushed. If the FDA approves the PoNS, we believe upside will be temporary and the stock will also decline because an FDA approval doesn't mean it will sell well, nor does it guarantee insurance reimbursement. From experience in FDA approvals, we believe whether the PoNS gets approved by the FDA, or it gets rejected, the stock will eventually sell off either way.
One medical device expert we spoke with gives it a likely chance for FDA approval because of its safety profile. Another expert we spoke with gives it only a 30% chance for approval because he doesn't think the trials were credible, and it missed the primary endpoint. The Mackie analyst, Uddin, as quoted in the previous section said he believes the PoNS will be FDA approved but won't sell well. Despite being a sell-side analyst, he seemed to give his true, realistic assessment of the situation since Mackie dropped coverage on Helius.
Denise Clark of Boston Medical Advisors states in an article from meddeviceonline.com:
Noncovered devices or procedures often are deemed "investigational," which typically means that the payer has determined it lacks sufficient evidence to justify the product's use. The scope of clinical evidence required by payers often exceeds FDA requirements, which focus on the device's safety and efficacy.
We go into more detail regarding the insurance coverage application and process for medical devices later in this report. But as Ms. Clark states above, the FDA focuses on both the device's safety and efficacy, and insurance coverage is harder to get than FDA approval.
We Do Not Believe The PoNS Device Will Receive Insurance Coverage
Although we think it's likely that the PoNS will get rejected by the FDA, it is possible it will get approved due to its safety profile. Management estimated that the price tag for PoNS therapy will be around $30,000 per patient. Sellside firm BTIG published a report that predicts the price will be $18k for US and $15k OUS, which are still high prices. Receiving insurance coverage, therefore, is critical for a product like the PoNS. We have the strong opinion that without very favorable reimbursement coverage, the product will likely be a commercial failure, regardless of what its price is. We can deduct this because previous medical devices similar to the PoNS didn't receive insurance coverage and were commercial failures, even with national media attention. We talk about those in the next section.
It takes a few years for a payer to make the decision to grant coverage for a medical device. We spoke at length with a medical device reimbursement expert who wished to be anonymous for this article. This is what he said:
Typically for a new therapy, which requires new HCPCS Level II coding, at least 2-3 years post FDA approval are required to secure coding, coverage and adequate payment. This assumes: compelling clinical evidence published in peer reviewed journals, support from the specialty societies, and flawless execution of a comprehensive reimbursement plan.

For positive coverage to be granted the therapy has to be deemed by payers "reasonable and necessary" based on the clinical benefits compared to the standard of care. Typically, a reimbursement plan requires 3-5 high quality clinical studies to be published and a widespread therapy utilization to be demonstrated through 200-300 HCPs (Health Care Professionals) using the new technology and supporting its adoption.

For example, a private payer, BCBS, provides the following guidance for successful coverage.

The following criteria must be met for a service/supply to be considered for coverage:
The technology must have FDA approval;
The scientific evidence must permit conclusions concerning the effect of the technology on health outcomes
The technology must improve the net health outcome;
The technology must be as beneficial as any established alternatives;
The improvement must be attainable outside the investigational setting
Technically, PoNS belongs to the class of therapies, called TENS (transcutaneous electrical nerve stimulation). Coverage and payment for TENS therapies has historically been very difficult, because very few of them performed better than placebo. One of the best known examples are TENS applications for Chronic Low Back Pain (CLBP). Despite decades of research, there is no coverage for TENS from Medicare for CLBP, unless it is used in clinical studies (called coverage with evidence development). See more in this report from CMS.gov.
With no reimbursement on the horizon, weak, if any, efficacy evidence and poor patient and trainer compliance due to an intense physical therapy schedule, no meaningful US revenue is certainly to be expected in 2019 and 2020. And if the PoNS doesn't receive reimbursement, assuming it gets FDA approval, then it won't ever receive meaningful US revenue in our opinion.
Similar Devices To The PoNS Have Been Commercial Failures And Did Not Get Insurance Coverage Approval
Shown on ClinicalTrials.gov, there is a product called the BrainPort Balance device. This device is supposed to improve balance in people with balance deficits due to stroke. It is a non-invasive device that provides head and body position information to a person via their tongue. That's very similar to the PoNS device, which is supposed to improve balance in people with balance deficits due to traumatic brain injury. Of course, the PoNS is also a non-invasive device that stimulates the tongue, like the BrainPort.
Wicab was the creator and manufacturer of the BrainPort. It sold it between 2006 and 2010 in both Canada and the EU, but failed to gain widespread adoption due to its $10k price tag and weeks of training required at its facility. The following is a photo of the device on the cover of a 2010 Life magazine:
Wicab stopped its production in 2010 and switched to developing its next tongue stimulation product: the BrainPort V100. The BrainPort V100 helps people "see through their tongue", as shown in the following photo of it:
In June 2015, the US FDA approved the BrainPort V100 visual aid device five years after a 72-person clinical trial was completed. As stated in the article:
Now, the BrainPort V100 takes these concepts to new heights by teaching the tongue to see. The recently FDA-approved device is only one of many new medical innovations attempting to take advantage of our brain's plasticity – it's ability to adapt and relearn new skills – as a way to overcome disabilities.
However, sales were weak mainly because the company failed to get insurance coverage. An article from May 2016 quotes Wicab's CEO, Robert Beckman:
Regulatory approvals don't automatically equate to sales. U.S. sales have been "minimal" since receiving FDA clearance last June, Beckman says. (The product is also available in Europe and Hong Kong, according to Wicab's website.)
As of August 2017, only 200 devices had been sold in spite of national media coverage.
The biggest hurdle to acceptance of this technology is lack of reimbursement", Beckman said.
We believe Helius will have the same issues that Wicab had in securing insurance coverage. And without insurance coverage, we believe the PoNS device will also have anemic sales, similar to the BrainPort Balance device and the BrainPort V100. It will basically be the same movie playing itself again.
Helius Russian Partner, Altair LLC, Did Not Follow Through With Commercialization
In November 2014, Helius signed a development and distribution agreement with Altair, LLC, Russia to apply for registration and distribution of the PoNS device in the territories of the former Soviet Union. Helius would receive a 7% royalty on sales of the devices within the territories. According to the PR, Altair is owned by a neurologist named Evgeny Bugorskiy who has been working alongside PoNS inventor, Yuri Danilov, for the past 10 years and has been evaluating the device for the treatment of a number of neurological indicators.
From Helius' 2015 Annual Report, it states:
In November 2014 we signed a development and distribution agreement with Altair (a Russian company based in Moscow) to apply for registration and distribute the PoNS™ device in the territories of the former Soviet Union. Thus far the device has received a letter of conformity as an adjunct to physical therapy in Russia and Uzbekistan following regulatory applications to the health authorities of these two countries.
In September 2016, Helius announced the publication of positive results from a study in a St. Petersburg, Russia hospital investigating the benefits of the PoNS technology on children with cerebral palsy. It was a 65-subject (45-active, 20-control) study that included children between the ages of 3-13. It was sponsored by Altair, LLC.
That study took place over two years ago, fully paid for by Altair, and there has been no further news, that we are aware of, from Helius about new studies with the PoNS from Altair or any progress towards approval in the territories of the former Soviet Union.
In every 10-Q and 10-K since that study it says the same thing regarding Altair:
In November 2014, the Company signed a development and distribution agreement with the Altair company in Russia to apply for registration and distribute the PoNS™ device in the territories of the former Soviet Union. However, there is no assurance that such commercialization will occur.
It only takes one year or less for any type of medical device to get approved in Russia once an application has been submitted. From a PDF report from emergobyul.com, it states:

Source: emergobyul.com
Dr. Bugorskiy spent over 10 years evaluating the PoNS device, made the commercialization agreement with Helius, started the application process and Altair paid to have the cerebral palsy study done. After all that, to not continue the application process suggests that Bugorskiy does not have faith that the PoNS would sell well commercially in Russia. Altair also does not seem to be interested in funding any more clinical trials, as there have not been any news about it. We believe these are negative signs for the commercialization of the PoNS device.
Helius's Largest Shareholder Is A Chinese Investment Firm
As shown on page 49 of this filing, it shows a Chinese firm, A&B, holding the largest percentage of Helius shares at 11.5% as of 5/15/18. A&B is an investment and development company owned by Dr. Kong Lam who is the CEO of China Medical Systems Holdings (0867.hk) (OTC:CHSY). A&B entered into a strategic agreement with Helius to develop and market the PoNS therapy in China.
China Medical Systems 1H18 earnings report states that it will acquire the PoNS rights and assets from A&B related to China. We don't look at this as a bullish sign. This is not an arm's length transaction, as Dr. Lam has control of both Chinese firms. China Medical Systems has acquired other questionable, speculative assets such as nanocap biotech Can-Fite's (CANF) drugs, one of which is going through a phase III trial.
One of the medical device specialists we spoke to said that medical devices are hard to sell in China. He believes an investigational device such as the PoNS which doesn't have proof of efficacy will not have any meaningful sales in China.
Our Criticisms Of The BTIG Helius Report
As a sell-side analyst searching for investment banking dollars, we weren't surprised to see Sean Lavin of BTIG being overly optimistic in his report on Helius from May 2018. The following are our criticisms of the report:
The report states that medical literature reports that 30-65% of TBI patients have balance disorders during recovery. But the PoNS trials didn't treat patients during recovery, it only treated patients who suffered from a TBI injury at least a year ago. A much lower percentage have "chronic balance disorder" which is what the PoNS treated in the TBI phase III clinical trial.
It states that it should be a great media story which should drive adoption and reimbursement. Being a great media story wouldn't do anything for reimbursement, the insurance companies make their decisions based on data. As far as adoption, being a great media story didn't create great sales for the BrainPort devices, so it likely wouldn't help sales for the PoNS either.
It states that TBI-related disabilities have claims totaling an average of $315K while in the workers' compensation system. Lavin makes the argument that the price of the PoNS, $30K, being able to save a portion of that amount is compelling. Lavin is missing a couple things. First, chronic balance deficit isn't a common TBI symptom, and many of those TBI disabilities are for other symptoms. Second, the PoNS alone wouldn't need to be paid for, as it is an adjunct to physical therapy. The physical therapy treatments would also need to be paid for. Furthermore, we don't know how much physical therapy was required for these trials. If it's multiple hours per day, then the patient may not have the time to go back to work.
We believe the revenue estimates are way too high. The following are Lavin's revenue estimates for Helius per year: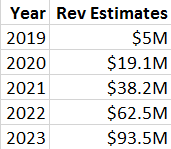 Source: BTIG Report
We don't feel like we need to go into detail about why these revenue estimates are ridiculously overstated in our opinion. Most sell-side analyst reports have overly optimistic revenue numbers for companies they are covering, and they certainly are here in our opinion.
Helius Medical's Funds From Its Recent Equity Raise Might Not Last Long
Helius Medical only reported $12.4M in cash on 9/30/18. It has since raised net proceeds of approximately $18.2M at $8.25 per share. The company has been burning about $5M per quarter.
Helius is ramping up its Clinical Experience Programs (CEPs), so it needs funds for these endeavors which will likely be expensive. Over the past three months, Helius has collaborated with six clinical sites. These programs are fully funded by Helius, the clinical sites aren't paying for any of it. Since the company was not doing these CEPs for most of last year, then we can expect cash burn to be above its previous $5M per quarter. Helius will likely do another equity offering in the latter half of this year.
Helius Medical's Clinical Experience Programs (CEPs) Are A Big Expense For A Questionable Return
Helius is implementing CEPs in order to test the PoNS treatment and increase its visibility. These CEPs are 100% paid for by Helius. So far, the company has reported four CEP partnerships in the US. This will end up costing a lot of money for Helius and Helius investors. These rehabilitation and research institutes are usually in need of funding. They would likely be very grateful for the opportunity to receive Helius' funds even if they believe the PoNS is an ineffective, placebo, device.
On 9/19/18, Helius announced that it partnered with the OSU Wexner Medical Center to conduct one of its Clinical Experience Programs (CEPs). CEPs are open label clinical studies of the PoNS therapy in patients suffering from chronic balance deficit due to mild to moderate TBI.
Deschamps stated in the above PR:
After we contract with a neurorehabilitation center to implement a new CEP, we will obtain institutional review board approval, train the CEP site's physical therapists and then begin patient recruitment. Importantly, Helius' CEPs will generate health outcomes data which we intend to use to support the value proposition of use of the PoNS device in coverage discussions with payers. Looking ahead, we expect to begin patient recruitment and enrollment at The Ohio State University Wexner Medical Center during the fourth quarter of 2018 and we look forward to announcing additional CEP partnerships later this year."
There's a lot in Deschamps' above statement that should not be encouraging for Helius shareholders. First, the company will have to train the CEP site's physical therapists. That will take time and money, and only then will it be able to recruit patients, which will also be time consuming and costly. Further, the company will need to generate positive health outcomes from the PoNS device to show payers in coverage discussions.
Furthermore, the CEPs are "open label" studies. Being open label, it will be harder for the company to convince an insurance company that the PoNS device itself shows positive results, or if it's the physical therapy treatment that is making the results. As stated by the medical reimbursement expert above, improvement from the device must be shown outside of an investigational setting, which the CEPs satisfy. However, the company did fail its phase III trial and will likely need to do more trials to prove efficacy that aren't open label.
On 10/24/18, Helius announced its second partnership of CEPs in the US at three clinical sites in New York state.
On 1/3/19, Helius announced a third CEP at the Oregon Health & Science University (OHSU).
Also on 1/3/19, Helius announced a fourth CEP at the Kessler Institute for Rehabilitation.
Excessive Management Compensation Is A Warning Sign
The following is the executive compensation of the top three officers at Helius: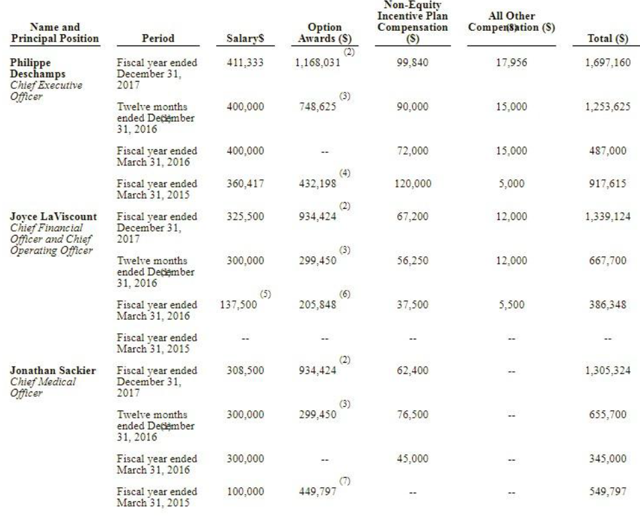 Source: SEC Filings
Including stock options, all three of the top executives earned over $1m each in 2017. This is from a pre-revenue company that hasn't proven that the product works effectively yet. The CEO was paid over $1m in 2016 as well. To have an excessive salary such as this for such a questionable product should make investors suspicious.
Lots of these types of mysterious companies have excessive executive compensation. For example, in 2013 and 2014, Organovo (ONVO), a company we exposed as being all hype and no substance, had the CEO making $1 million per month in stock sales. ONVO never lived up to its hype and today has a market cap of only about $120m.
Helius Short Interest And Borrow Rate
Helius Medical for the most part has gone under the radar of the short selling community. On shortsqueeze.com, it only shows 10.5% of the float is short. We've found the annual borrow rate to be reasonable, between 6%-15%, depending on which broker you use. Most brokers we've seen have borrow available, such as TD Ameritrade, Etrade, and Interactive Brokers. There are no publicly traded stock options for Helius.
Conclusion
The Helius PoNS device is a unique concept and that creates a presentable medical device company to uninformed retail investors. However, we believe evidence from the trials show that it is likely effectively nothing more than a placebo that can only be used as an adjunct to a rigorous physical therapy treatment. The redacted clinical trial information by the company is further evidence that the trial didn't go well.
We believe Helius was turned into a public company by opportunistic individuals who specialize in marketing who thought they can turn it into a marketable idea to investors, even if the device itself is ineffective. Even if the device is never able to sell well, the top executives and founders of the company have already gotten rich and will get richer as long as the company survives with their excessive salaries.
We doubt the PoNS will receive FDA approval, but it is a possibility as an adjunct to physical therapy, like the approval terms in Canada. An adjunct device is a marketing nightmare, because people don't like to do physical therapy, nor do they usually have the time for it. The physical therapy sessions in the PoNS clinical trials were extreme for the multiple sclerosis trial, at 3 hours a day every day, then 1 hour before bedtime. A person with a normal schedule would not have time for this and, therefore, likely would not be eligible to purchase the device since a physical therapy regimen is a requirement for purchase.
As Helius's recent cash burn rate is about $5M per quarter, we believe it will be higher going forward with the added expense of the Clinical Experience Programs. We have a one year price target of $5, but it could be lower if the company receives an FDA delay or rejection or its clinical experience programs are slower or more expensive than expected. In the long run, we believe the stock will approach zero as we don't believe it will get insurance coverage and sales will remain miniscule.
The following are the questions we emailed investor relations on January 14th, but didn't receive a response:
Have you had further conversations with the FDA and any idea when they will tell you if the PoNS is approved or not?
What are the total expenses with the CEPs, and roughly how much will they cost?
How much are you looking to sell the PoNS device for, and how much would it cost the patient, including all costs like the physical therapy?
Do you expect that patients will receive insurance reimbursement for the PoNS, and roughly how long will it take for the insurance companies to make that decision?
The phase 3 TBI trial compared the PoNS therapy with the baseline group, after the comparison to the sham group didn't reach the primary effectiveness endpoint. The baseline group was the participants before they had the physical therapy treatments. Is it possible that it's the physical therapy treatments that had the positive effects on the patients, and not the device? We'd like to understand Helius' view on that.
On clinicaltrials.gov, #NCT02429167 here: [Trial of device that is not approved or cleared by the U.S. FDA] - Tabular View - ClinicalTrials.gov a lot of the info is not provided and "redacted". Same with the archives page. Does "redacted" in this case means Helius never provided the info to Clinicaltrials.gov, or was it removed after being on Clinicaltrials.gov? Why isn't the information there like it is for your University of Wisconsin trial here: Noninvasive Neuromodulation for Treatment of Symptoms Due to Mild or Moderate Traumatic Brain Injury - Full Text View - ClinicalTrials.gov.
This article was written by
We provide deep research and valuable information on small cap stocks to hedge funds and high net worth individuals. We specialize in the technology and healthcare sectors. We have an over 80% success rate, see our reports at whitediamondresearch.com. See the 3rd party verified return on each of our bearish reports over the last 24 months at: https://breakoutpoint.com/as-summary/white-diamond-gvmtg/To inquire about becoming a premium subscriber, send a PM here or email us at research@whitediamondresearch.com.Follow us on twitter @whiteresearch.
Analyst's Disclosure: I am/we are short HSDT. I wrote this article myself, and it expresses my own opinions. I am not receiving compensation for it (other than from Seeking Alpha). I have no business relationship with any company whose stock is mentioned in this article.

Additional Disclaimer: http://whitediamondresearch.com/disclaimer/
Seeking Alpha's Disclosure: Past performance is no guarantee of future results. No recommendation or advice is being given as to whether any investment is suitable for a particular investor. Any views or opinions expressed above may not reflect those of Seeking Alpha as a whole. Seeking Alpha is not a licensed securities dealer, broker or US investment adviser or investment bank. Our analysts are third party authors that include both professional investors and individual investors who may not be licensed or certified by any institute or regulatory body.