I began writing this article last week recommending a BUY of V.F. Corporation (NYSE: VFC) in the $72 range. Shares sold for the most part in the $72 price range throughout 2018. The stock jumped 12.4% following Friday's earnings announcement on top of well-received earlier news about a spin-off of the denim brands. I still recommend accumulating shares after its current price spike to ~$83. VFC has upward momentum and the company value is in its people & organization who stick to its unequivocal mission statement and business plan.
Share price climbed for a decade and VFC continues producing key data in a turbulent clothing market. A McKinsey & Company study concludes that in 2019 "The industry as a whole is embracing new opportunities—even as dangers lurk." I have written about other clothing companies. My own company sold VFC products in our retail stores. I and 22 analysts expect a target price between $96 and $110 as reasonable and most of us have a BUY rating.
Numbers Are Great But Here's The Rest Of The Story
In sum from Seeking Alpha:
The company reports active segment revenue jumped 16% in FQ3 and international revenue rose 5%. Direct-to-consumer revenue was up 10%, lifted higher by 24% pop in digital revenue. Gross margin was up 60 bps Y/Y to 52.2% of sales during the quarter. Adjusted operating margin was up 280 bps to 16.8% of sales.Looking ahead, the company expects full-year 2019 revenue growth of over 12% and 2019 EPS of $3.73.
Smart People Sticking To The Plan
People knowledgeable about the workleisure apparel business helm VFC. They understand the changing culture and shopping experience. VFC growth in customer numbers and digital success prove McKinsey's message "Regardless of size and segment, players now need to be nimble, think digital-first, and achieve ever-faster speed to market." VFC maintains vaunting brands with value by sticking to the knitting. VFC is the "poster boy" for the Peters and Waterman example of business excellence.

Some brands of VFC courtesy of V.F. Corporation
The Chairman-President-CEO is with VFC 16 years with a total of 30 years in the outdoor and action sports industry. Other members of the senior leadership are no less experienced. If there is a hole here, it's in the need for more diversity in top management decision-making positions beyond tech management, human resources and legal. VFC internally addresses this issue with an Executive Inclusion and Diversity Council guiding global strategy, and a Global women's Activation Council that supports gender parity. Nevertheless, in the 21st century, a global company needs more diversity in the top floor offices to harness the cultural diversity of consumers worldwide, enhance critical thinking and effective marketing strategies.
VFC Prepares For Gen Z
VFC has been remarkably successful selling into the boomer and millennial generations, as VFC's extraordinary brand recognition proves. In part, its mission statement reads "We don't just make the world's best apparel and footwear, We power movements of sustainable and active lifestyles for the betterment of people and our planet." This might be considered the meme of the millennials.
Now comes the next generation, Gen Z or iGen, who I am teaching management and marketing in their college gap year abroad. My students come from the U.S., Britain, Holland, Belgium, Spain, South Africa, Australia, South America, Mexico, and more. Their instant recognition of VFC brands gives me confidence recommending investing in the steady, minimally volatile, well managed, and multi-brand name owner of specialty clothing and accessories. In a totally non-scientific survey, for instance, when I mention Timberland the students all responded with accolades. Vans® shoes elicit responses including clutch and lit (they explained to me those mean cool).
There is a noticeable cultural shift from millennials, Gen Y members, I have taught to Gen Zers. More Yers studied on scholarships and work savings to pay the substantial costs of overseas studies and treks. Gap year Zers are treated to this year by their parents or grandparents. I was surprised only a few hands raised when I asked them how many have had a job or sold Girl Scouts cookies?
Others, too, glean cultural shifts in the Z generation. They have neither the gross income of millennials nor accumulated much in savings but that does not stop them from being exuberant consumers. The situation will change in less than a decade when 61M enter the workforce.
They will inherit $30T from their Baby Boomer families.
Gen Zers are children from wealthier families with disposable income
They have an attention span of eight seconds before making a decision, which is why advertising commercials targeting them are shifting down to six seconds
Gen Zers are never without a smartphone or another mobile device using it constantly to search and connect to product sites. "Leisurely shoppers" is not a meme to describe their generation
They share a puissant spirit and are optimistic about their future. Gen Zers have not suffered in wars, watch much news about conflicts, and do not remember 9/11 or its impacts
Retailers better prepare to market and inspire them in new ways. More than half of Gen Zers made a purchase over their mobile devices in the last six months compared to just a third of Yers
Tech companies are their first workplace choices where pay is substantially greater than average jobs, and
They expect effective and efficient e-commerce. They buy it today and expect delivery in 4.5 days. Their favorite sites have names invoking speed: Telegram, Instagram, Snapchat (NYSE: SNAP), and Twitter (NYSE: TWTR). When I injected Facebook (NASDAQ: FB), I was told, "Oh no, that's for your older generation"—there's an ominous portent.
You Can Feel The Intensity
Forbes succinctly pegs the trends redefining retail in 2019. Suffice to say Gen Z shoppers prefer buying from companies with reputations for strong corporate responsibility and social consciousness, i.e., CSR. VFC iconic brands including Timberland, North Face, Lee, Dickies, and Wrangler clothing, footwear and accessories speak to their outdoorsy environmental creed. 94% of the Gen Z generation use mobile devices "to spread social and environmental messages" and share everything about their purchases. Only 86% of the general population factor CSR into buying decisions. But VFC brands Vans® and Dickies also broadcast images of fashion, value, durability, and long-lasting quality that seem to impress Zers.
"Blue-collar brand Dickies is a huge hit with the A-list lately," writes Page Six Style. The article touts the brand, which has a girls and women's line of clothing, scrubs for medical personnel and a host of other stuff. Kourtney Kardashian wore the affordable brand outfits to Paris for Fashion Week. GQ describes the trend among men as "The coolest pants you can own." I remember how the line of Dickies clothing we sold in our retail stores spiked in sales after Madonna was photographed wearing a Dickies t-shirt at a concert. We expanded our inventory from work clothes adding scrubs, men's shirts and pants, women's and girls clothes, hats, and belts.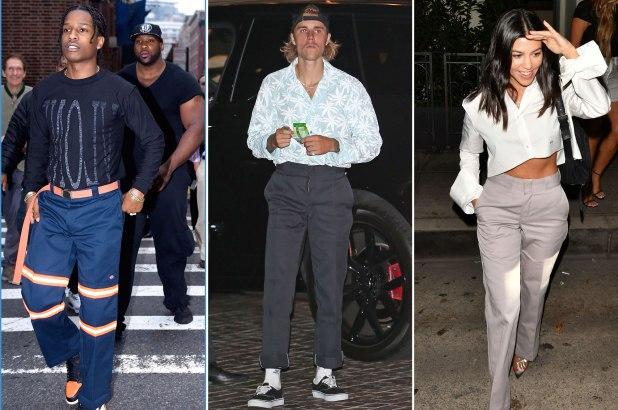 Source: A$AP Rocky, Justin Bieber and Kourtney Kardashian obsessed with these $30 pants
Contributing to VFC's success is in its "go to," easy to maneuver and informative online shopping site credited in their earnings announcement: "Our investments and focus in D2C continued to pay off with yet another strong quarter of double-digit growth led by Digital." The digital commitment effectively contributes to the company worldwide sales platform: "Our diversified international platform continues to deliver high single-digit growth." Growth is strong in China and Europe, while, "The Americas business increased 15%, driven by 9% growth in D2C and a 25% increase in Wholesale."
The Vans® brand is VFC's standout. Vans® is the global icon of youth culture. Revenues are expected to reach $5 billion by the fiscal year 2023, representing growth between 10 and 12 percent over the five-year period. Vans® is a home-run when it comes to social media engagements since VFC purchased the brand in 2014. This reflects the smart digital moves by VFC in reaching millennials and the upcoming Gen Z consumers.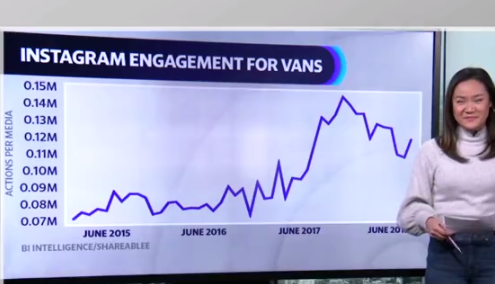 Source
Moving Forward
I only see two immediate short-term downsides for VFC investors. The trade war between the U.S. and China will end soon as will the government shutdown, but both events might affect revenues and earnings in the next quarter or two. In the meantime, investors collect ~2.8% yield on the dividend. Workleisure clothing, fashion, and outdoor apparel, footwear, and accessories make VFC look a company of amaranthine loveliness staying "hot" through the next generation. VFC's strength is focusing on people, knowing what consumers want and getting purchases to them effectively and efficiently whether online or brick and mortar. For instance, FUTURELIGHT from North Face is a new breathable, warming, waterproofing material for the outdoors. It received the top honor in the Best Emerging Tech category in Digital Trends' Top Tech of the 2018 Consumer Electronic Show Awards. VFC expects FUTURELIGHT will be one of the most dynamic textile innovations the outdoor industry has seen in years. I expect investors will find long-term value in VFC stock.