It's the middle of tax season, and despite a government shutdown, people will need to file their taxes. So we thought it was a good time to write an article about H&R Block (NYSE:HRB). This article focuses on the shift of tax preparation to digital do-it-yourself (DIY) solutions and what we believe is a misconception some people have about the impacts that shift will have on H&R Block longer-term, specifically related to the dynamics of oligopolies. We will also address some related misperceptions related to digital disruption in the tax business and overall industry growth.
The company that founded the US tax industry
H&R Block is one of the world's largest tax service providers, having prepared more than 720 million tax returns since 1955. There are approximately 12,000 company-owned and franchise retail locations in all 50 states, Puerto Rico and other U.S. territories, and on U.S. military bases around the world. An H&R Block branded retail office is located within five miles of most Americans. The Company provides assisted income tax return preparation, digital DIY tax solutions and other services and products related to income tax return preparation.
In fiscal 2018, H&R Block had revenues of $3.2 billion and prepared over 20 million tax returns worldwide.
US tax preparation is a fragmented mess, but DIY is on the way
The US tax preparation industry has long been a fragmented market with thousands of participants ranging from giants like H&R Block to individual CPAs or even just a family friend. It is also a big industry representing a $20 billion opportunity for the thousands of businesses and hundreds of thousands of employees trying to get in on the action. Historically, industry fragmentation was quite extreme resulting in an ultra-competitive landscape with no one company able to achieve a commanding share. The industry was based on offline, assisted tax filings with the aid of a tax professional in a physical location. As we can see from the chart below, even H&R Block as the largest assisted preparer in the US has only been able to carve out a 15% share in the category.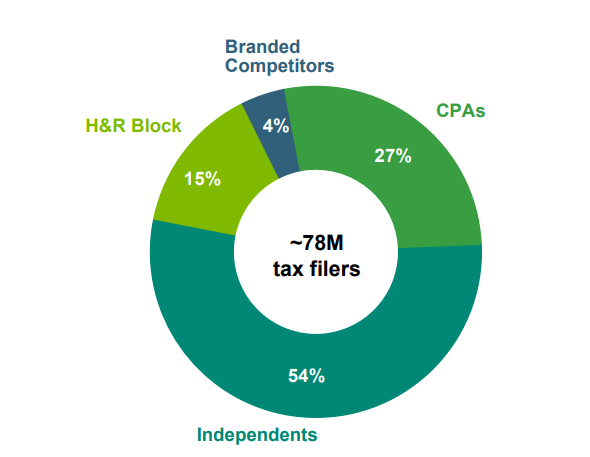 Source: H&R Block Investor Presentation, July 2018
According to Franchise Help, the vast majority of tax preparers are small businesses – 37% are run by a single person, while 53% employ less than ten people. Literally thousands of people and businesses are competing for a share of the opportunity created by 78 million tax filers. So the old assisted tax preparation industry is far from an oligopoly type of environment where a few powerful players can exercise pricing power.
But the industry is now experiencing the rise of DIY, online tax filing. More and more tax filers are converting to online tax software to complete one of the least-loved activities of the year. Growth rates of DIY filers around 10% versus the average recent industry growth closer to 3% do indeed confirm the shift to DIY software with IRS data and H&R Block confirming that over 40% of US taxpayers are choosing DIY. It is important for investors to understand the dynamics of this industry change.
US tax preparation is becoming an oligopoly – great for H&R Block
Many investors are claiming that the move to online DIY will doom H&R Block due to a shift away from assisted tax filings. Pessimists envision a sharp reduction in the number of assisted filings, where H&R Block is the leader, and a grand increase in online DIY where Intuit (INTU), with its tax software TurboTax is the dominant player. It is true that TurboTax has a strong lead in the DIY space, but that doesn't necessarily mean that a shift to DIY is bad for H&R Block. It also doesn't mean that H&R Block's assisted business is destined to aggressively crumble and fail.
What many investors overlook is that the digital DIY tax preparation industry in the US is an oligopoly. Intuit controls about 65% while H&R Block comes in second with about 15%. With a combined market share of near 80%, these two companies might even claim duopoly status. H&R Block tried to cement that duopoly status by buying TaxAct, but the acquisition was blocked in an unusual show of strength by the Department of Justice. There are a couple key points to keep in mind regarding the shift to DIY. First of all, H&R Block has about a 15% market share in assisted and DIY, so despite a shift to a world where TurboTax is the leader, they are not necessarily losing overall market share. They are simply moving from an incredibly fragmented industry to an oligopoly. They might not be the leader anymore, but their market strength is improving significantly. It is also important to point out that H&R Block is gaining share in the DIY space, so reports that TurboTax will rule the world are at least premature. The other critical point is demonstrated by the below graph. The growth in online DIY has come primarily from taking share from pen & paper DIY. That shift resulted in a great opportunity for TurboTax, but it didn't tank the assisted category. To be clear, the online DIY business is growing faster than assisted currently and is very slowly eating away at assisted's share, but it's hardly a blood bath for H&R Block's more traditional business. The majority of US taxpayers still opt for assisted tax preparation in fact.

Source: H&R Block Investor Presentation, July 2018
So the reality is that H&R Block's assisted business is not collapsing and that the company is not losing share in the overall tax preparation industry. In fact, H&R Block is gaining share in online DIY. More importantly perhaps, H&R Block is moving from a fragmented industry to an oligopoly with disciplined participants. While many investors are concerned about possible short-term impacts to revenues and profit margins with the shift to online DIY, we are more positive for the long-term regarding the financial outcome considering the normal dynamics that result from oligopolies, as we will review below.
Oligopolies ultimately lead to higher profitability
Investors shouldn't underestimate the power of oligopolies. There is a reason why anti-trust laws exist to prevent the over-consolidation of industries. Powerful players in an industry really can control pricing to some degree and ultimately achieve more attractive returns. Market domination helps keep competitors out, acting as a barrier to entry, and the reduced competition leaves the remaining companies with the ability to focus more on their own bottom line.
Over about the last couple decades, nearly all big industries in the US have become more consolidated. Concentration has resulted through a number of factors including dramatic merger and acquisition volume unhindered by antitrust cases which has not been offset by new company starts. It certainly seems as though antitrust restrictions have loosened up and allowed for increasing industry concentration.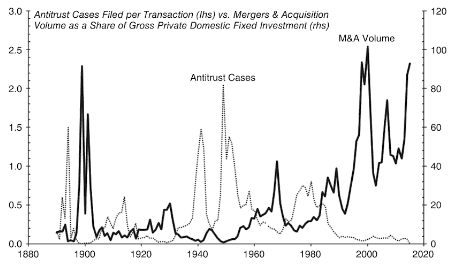 Source: Merger Manias: 1890 – 2015, Taylor Mann, Pine Capital
This phenomenon is particularly dramatic when viewed through the scope of publicly listed companies in the US. According to a recent Credit Suisse study, the number of US listed companies declined by about 50 percent between 1996 and 2016. US industries have fewer companies which end up being larger and older players with more control. Competition seems to be dissipating into thin air.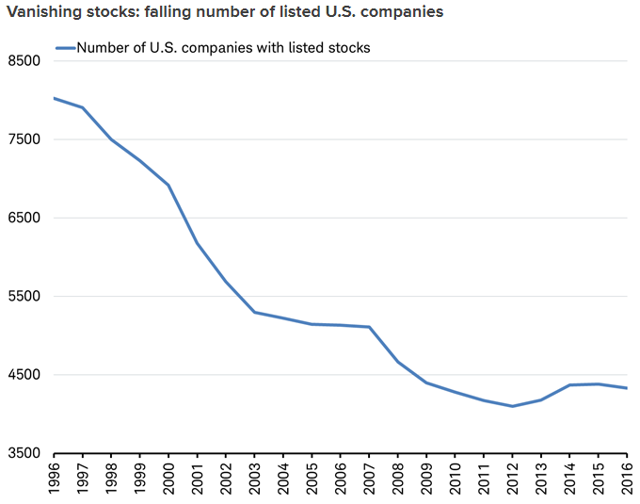 Source: Charles Schwab, World Bank data as of October 29, 2017
So there are fewer and fewer companies fighting for the same pie with the top companies gobbling up a higher and higher percentage of the profits. But does the higher level of industry concentration really lead to tangible advantages? A fascinating study by Gustavo Grullon, Yelena Larkin and Roni Michaely titled, "Are Industries Becoming More Concentrated?" sheds some light on the subject. The study concludes that the more concentrated an industry is, the higher the return on assets. And more importantly, it determined the source of the higher return finding that "the higher returns on assets are mainly driven by firms' ability to extract higher profit margins." With the effect being highly material, we can only conclude that oligopolies really do mean companies can focus less on competition and more on their bottom line.
At this point, some investors might be wondering if H&R Block's gradual move into an oligopoly is relevant for its future stock price performance. Lucky for us, Grullon and his colleagues also investigated whether investing in increasingly concentrated industries would result in superior investment returns. Their findings are quite spectacular and best described using their own words.
"To examine the changes to investors' welfare, we look at the performance of portfolios sorted on the change in concentration levels in their respective industries. Unlike in earlier periods, we find that over the period of 2001-2014, a zero-investment strategy of buying firms in industries with the largest increase in concentration levels and shorting firms in industries with the largest decrease in concentration levels, generates excess returns of approximately 9% per year, after controlling for standard risk factors. Thus, the higher profit margins that firms enjoy as a consequence of the change in concentration since the turn of the century are reflected in higher returns to shareholders."
That conclusion paints a rather rosy picture for H&R Block and Intuit and their strong positioning in the online DIY tax preparation oligopoly. For more information on the topic, including a mention of H&R Block and the online DIY tax preparation industry, we can recommend Jonathan Tepper's new book, The Myth of Capitalism. Investors may also want to review our recent article on the topic focusing on the North American recreational vehicle market and Thor Industries (THO). Returning to the tax preparation industry, we also note that both H&R Block and Intuit are companies with a long track record of strong double-digit levels of return on invested capital, so we hardly expect either of them to run anything less than a solidly profitable online DIY business over the long-term. Oligopoly pricing power would certainly help them to do so.
A few additional points on market share and growth in the tax preparation industry
There is some misperception regarding growth in the tax preparation industry, namely that there isn't any. The reality is that the industry is growing and resilient, providing a defensive back-drop for business and investment.

Source: H&R Block Investor Presentation, July 2018
There are also several opportunities for H&R Block to beat industry growth. As mentioned, they are gaining market share in the DIY category which may continue for some time. We also see some opportunity in the changing landscape of tax preparation. People generally think of a gradual shift from assisted preparation to DIY, but the reality is that the lines between the two are starting to blur. Both H&R Block and TurboTax have launched hybrid solutions which offer online assistance to DIY customers. The future will likely offer assisted, DIY and everything in-between. Some might be concerned that this metamorphosis will allow TurboTax to encroach on H&R Block's assisted business, but the reality is that very few companies will be able to offer a competitive hybrid solution meaning that the two leaders in the industry may eventually be able to turn more of the assisted category into an oligopoly as well as they steal share from helpless CPAs and Independents which simply cannot offer a competitive online product with all the necessary data security and technology spend. It is perhaps a monumental opportunity for both companies to gain substantial market share in the assisted category over time.
Conclusion: A DIY tax oligopoly should be good for H&R Block and its shareholders
We did not go into the complete fundamentals of H&R Block in detail in this article, but a quick glance would reveal consistently high levels of return on invested capital, a solid balance sheet, an attractive and growing dividend and a valuation that looks quite reasonable with a free cash flow yield around 11.6% and an EV/EBITDA multiple around 6.5. And the company has exceptional market positioning with a strong hold on its leading spot in the assisted tax preparation industry, a well-recognized brand and a large and growing piece of the online DIY oligopoly. Investors can certainly purchase a large amount of return on equity or return on invested capital for the price.
Regarding growth, the underlying industry is growing slowly and is resilient even in recessions (something investors might want to look for in this stage of the business cycle). And the company has scope to continue to gain market share. Emerging consumer expectations for a competitive online product and flexibility in how tax returns ultimately get done also provide huge scope for H&R Block to gradually consolidate more of the assisted returns space with hybrid product offerings. In any case, there is no catastrophic decline happening in the assisted category and no real indication that DIY will suddenly increase the rate at which it is nibbling away at assisted tax preparation. H&R Block is well positioned regardless.
Keeping the fundamental attributes of H&R Block's investment case in mind, this article focuses more on the potential longer-term benefits of the developing oligopoly in the online DIY space (a factor often overlooked by investors). Industry concentration should lead to more pricing control and higher barriers to entry. Ultimately, H&R Block should reach attractive levels of profitability and return on investment in the online DIY space over time thanks to its strong position in an oligopoly with disciplined players. In turn, investors will stand a better chance at achieving market-beating returns with H&R Block stock.