The semiconductor industry runs in cycles. We usually see a boom, and then a bust. This is in part the fault of the suppliers, as it is in their intentions to collect more market share by outproducing their competitors.
DRAM Supply Outpacing Demand
The DRAM industry has been growing both demand and supply, with the former outpacing the latter. Demand has been hovering around 20% growth over the past year, and this rate will likely continue. The pivotal metric in 2019 is supply, which might finally be outpacing demand.
For this reason, DRAM (and NAND) manufacturer Micron (NASDAQ:MU) is cutting its manufacturing growth by 5% (to 15%) in 2019. Its competitors, such as Samsung (OTCPK:SSNLF), are also reducing their output. This will help stabilize prices by dropping the rate at which supply outpaces demand.
For the semiconductor industry, this is beneficial. The "bust" portion of this cycle will be easier to weather for these companies. Investors in semiconductors will also see less downside risk (compared with the bust of 2016).
Instead of focusing on expansion during this time, MU will lower its capital expenditure and reorganize budgets. The company will be increasingly distributing cash to investments in technologies that increase its chip capacities. It is currently working on a sub-10nm node in collaboration with nanoelectric specialists.
MU Stock Profile
In light of this changing market, I do not expect MU's stock to pull back significantly within the next five months. MU is not reducing output but output growth. While we will see downward pressure on the price of DRAM, the pressure will be light on margins and dampened by the extra output.
MU as a stock has strong cognitive dissonance and mean-reversion properties. The stock tends to overreact (read: fall more than statistically expected) on bad news, while underreacting to good news. This creates a mean-reversion process, whereby MU quickly retraces its pullbacks; indeed, the stock's Fibonaccis are 80% in the short term (i.e., MU retraces 80% of its downtrends over the course of a month).
My current mean reversion numbers on MU show it 19% below "appropriately valued." That is, it has reacted in excess to bad news relative to the industry as has been artificially suppressed by 19% due to overreactions (e.g., panic selling, short selling). This also opens MU up to pair trades, such as buying MU and shorting the VanEck Vectors Semiconductor ETF (SMH) or another semiconductor ETF.
With MU trading at a PE of 2.8x, it is one of the best values in the semiconductor market, which trades at a PE of 18.6x. Stocks with PE ratios lower than those of their industries' tend to rally harder (than statistically expected) and fall more slowly than those with average or high PEs. In addition, MU's PB is 1.2x, which sets a fundamentally based support level for the stock only a little ways down from here; buying MU now is almost certainly buying near a bottom.
Analysts vs. Data
Revenue, earnings, and cash are all on the rise. The interesting part is that analysts expect these values to show negative growth in 2019. Yet, the current trends have not yet peaked: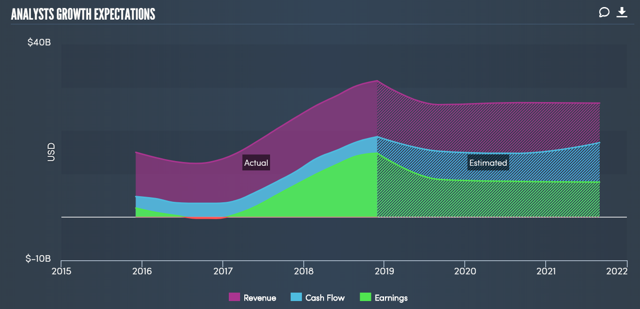 (Source: Simply Wall St)
I produced my own charts, using running averages instead of point estimates. MU's cash flow looks stronger than ever. Note the last bust at around 2016: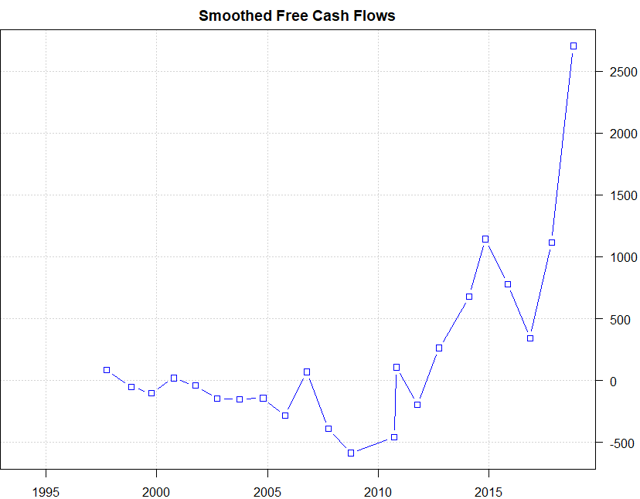 (Source: Damon Verial; data from ADVFN)
MU looks safer and more well prepared for the next bust. On that note, the last bust barely dented MU's growth rate. In fact, the company was still experiencing positive growth until the very end of the cycle: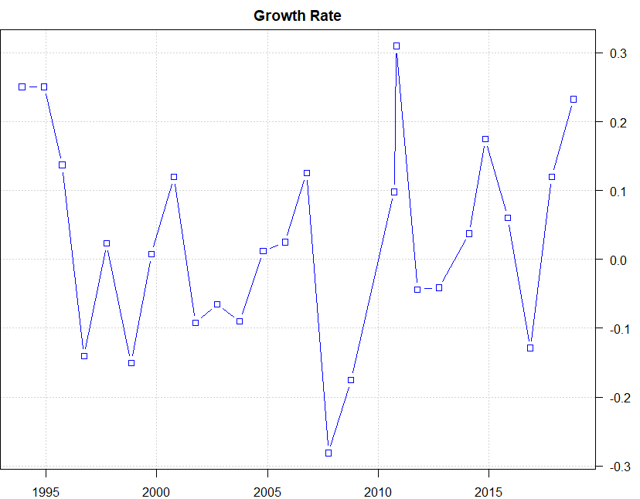 (Source: Damon Verial; data from ADVFN)
A running average shows how the smoothed growth rate was still positive in 2016. These busts don't hurt semiconductor companies as much as we'd believe from the panic. Micron, if staying on course, will be unlikely to experience significant growth or cash problems in the coming year: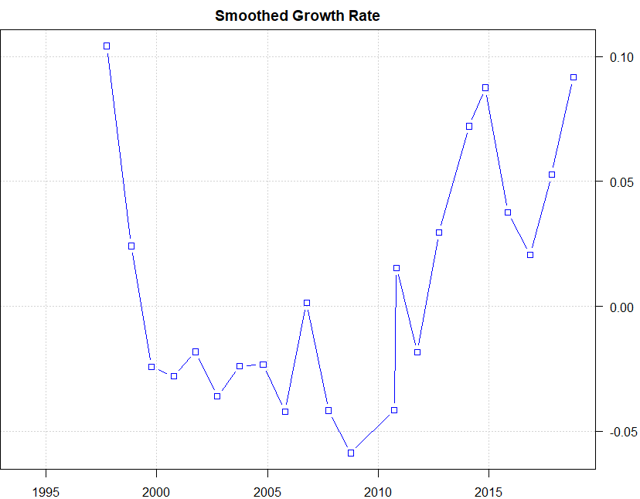 (Source: Damon Verial; data from ADVFN)
A Discounted Cash Flow Valuation for MU
I have applied these metrics to MU's discounted cash flow analysis. Instead of looking at mere point estimates, I prefer to plot the discounted cash flow valuations along with the stock, allowing a view of how these two metrics move together. For MU, my discounted cash flow valuation has consistently led the stock: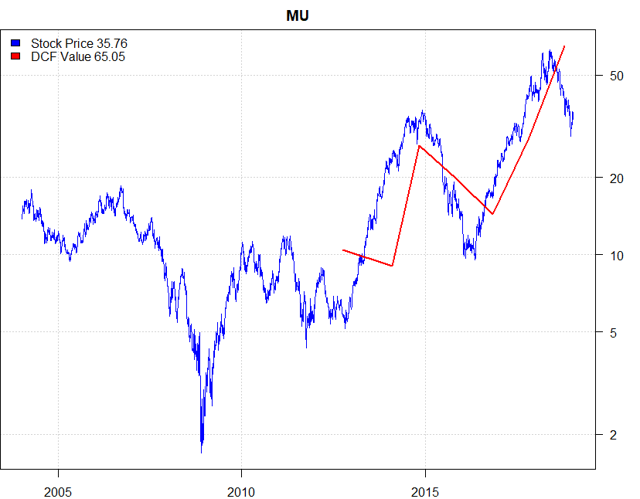 (Source: Damon Verial; data from ADVFN)
Some might find $65.05 an overly optimistic valuation for MU. I will point out that, while the dataset is small, my discounted cash flow values have consistently been crossed. You can consider these crossovers buy/sell signals, and the above chart is showing a buy signal when MU fell below $50.
Conclusion and Trade
In light of MU's sound financial situation, MU's mean reversion properties, and my discounted cash flow prediction, I feel MU is a strong bull in the medium term (the next five months or so). But with the semiconductor boom/bust cycle downside threat imposed by supply outpacing demand, investors might not want to buy MU outright. I recommend instead running an options trade on MU:
Buy Feb15 $30.50 put
Sell Feb15 $34 put
This is a limited loss strategy that allows you protection if MU unexpectedly falls. Yet, if MU rises beyond $34 by February 15, the profit of this strategy will be more than that of simply buying stock or call options. You also stand to profit if MU trends sideways.
Close the position on February 15 and re-up with the next month's contracts.
Happy trading!