Microsoft Is Becoming A Netflix Of Video Games, And That's Good News
Summary
The video games industry is rapidly shifting toward the game-as-a-service business model, as development costs are growing.
Although Microsoft has lost the current platform war to Sony, the company may reclaim its position in the near future with the game streaming and subscription models.
Cloud gaming is being actively developed by Microsoft in alliance with AMD, which was presented during the latest CES.
Microsoft is aggressively acquiring big game studios to enhance its portfolio of exclusive games for a future streaming service.
The gaming business may become an even more substantial source of revenue for the corporation in the coming years.

The shifts in the gaming industry force video games companies to evolve
The video games business has been growing rapidly ever since the beginning of the industry. Accelerating over the last few years, the growth has brought several challenges to the video game corporations, as it has become more difficult for publishers to consistently generate high returns.
The primary reason behind the challenges is the growing costs of game development. It has been established that budgets for video games are increasing about 10 times every 10 years, driven by the amount of content included in modern open-world titles. While video game publishers try to implement such strategies as microtransactions to boost financial returns, the model is too difficult to balance, evident by PR scandals around Electronic Arts' (EA) Star Wars Battlefront 2 and other games.
Therefore, it is predicted that the video games industry will see significant changes in the very model of content delivery in the near future in order to remain financially viable. The good news for Microsoft's (NASDAQ:MSFT) investors is the fact that the company is moving fast to become the leader under the future paradigm of video games entertainment.
It can be seen that the changes brought by Netflix (NFLX) to the video streaming segment are now being used as an example for Microsoft's services such as cloud gaming and video games subscription, which may become a huge source of revenue for the corporation in the coming years. Given Netflix's enormous valuation (around $150 billion), it is easy to imagine that Microsoft's gaming division can drive the tech giant's valuation higher even in case of difficulties in other segments, which in the end is beneficial for the investors. Let us review this in more detail.
Although Microsoft has lost the current console war, the company has recently
built a strong basis for the future of gaming with Xbox Game Pass
It became clear relatively soon after the launch of the current generation of consoles that Microsoft had lost the platform war. Sony (SNE) with its PS4 enjoyed a much smoother start, and now the company sold around twice as many consoles as Microsoft with its Xbox One.
However, with the launch of Xbox One X, a more powerful version of Microsoft's gaming console, a year ago, the corporation started to show signs of strength. For instance, in Q2 FY 2018, Microsoft increased its video games sales by a solid 9%, with a 14% increase in gaming hardware revenue, despite general slow sales in the segment (more information can be found in my previous article on MSFT: Microsoft: The Gaming Business Takes Off).
Even more important is the current transition in the software delivery model. By this, I mean the company's focus on the Xbox Game Pass service, which allows consumers to get access to the growing library of video games for a recurring subscription fee. Currently, Xbox Game Pass offers more than 200 titles, and it is crucial Microsoft promises to provide access to all first-party exclusives through Game Pass from the launch day. The latest examples include Sea of Thieves, State of Decay 2, and Forza Horizon 4.
Xbox Game Pass, Xbox Live, games, and other software and services are already bearing fruit for Microsoft. Thus, in the latest quarter, the tech giant increased its gaming sales by a hefty 44%, which made video games one of the fastest-growing segments in revenue.
Xbox Game Pass is an interesting business model on its own and may prove to be financially viable with more users and publishers joining the platform. However, Game Pass is even more important in light of the upcoming game streaming technology, which Microsoft is developing at the moment. This is because a growing package of video games, combined with an established user base, may provide a significant competitive advantage to Microsoft in the future, which we will discuss in more detail later in the article.
CES 2019 demonstrated clear signs that Microsoft is working with AMD on the cloud gaming technology
In general, cloud gaming is the way of delivering game content to consumers which implies a major part, up to 100%, of the computing process is done not on the local machine (for instance, game console or PC) but rather on an enterprise-grade server. In other words, games are streamed online, which means a consumer would not need to have a powerful device to play video games and could enjoy high-end titles on any gadget which has a screen and connection to the internet.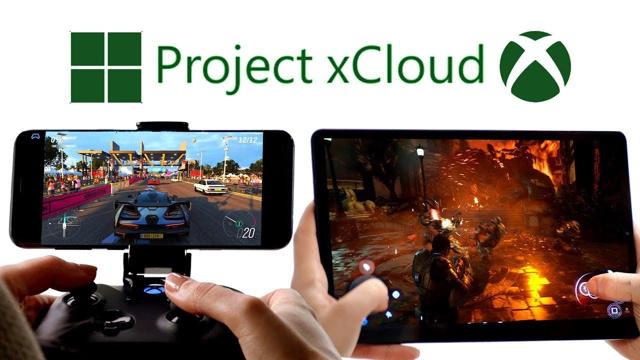 (Source: colteastwood)
Project xCloud, Microsoft's take on game streaming technology, was revealed to the public at the end of 2018. The company also mentioned xCloud during the latest earnings call:
Earlier this month, we announced Project xCloud, a breakthrough game streaming technology that puts gamers at the center of their gaming experience, enabling them to play games in high fidelity wherever and whenever they want on any device. And it will empower game developers to scale to hundreds of millions of new users across devices.
Some additional bits of news on Microsoft's cloud gaming technology were presented at the CES 2019 convention during Advanced Micro Devices' (AMD) corporate keynote. Lisa Su, the CEO of AMD, invited Phil Spencer, the head of gaming at Microsoft, on stage to talk about the partnership between the two corporations in the gaming hardware business. One of the points was gaming on a cloud.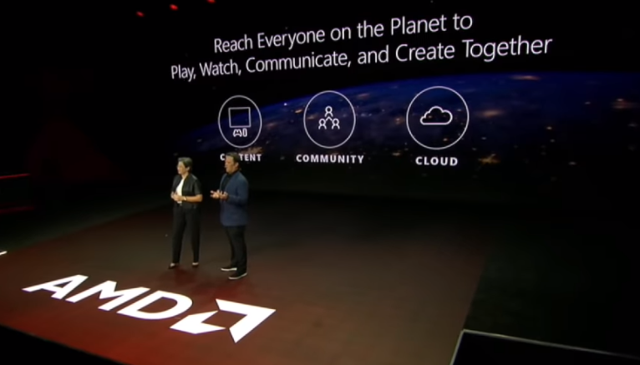 (Source: AMD CES 2019 keynote)
It appears xCloud could be not so far from production readiness despite the general lack of news on the project. And it became evident AMD will be the main provider of the datacenter chips, making cloud gaming technically possible. Microsoft's choice to cooperate with AMD is understandable, as the latter has developed custom chips for Xbox consoles.
The public trials of Microsoft's cloud gaming tech may begin in 2019, which in light of the announcements made during CES means there is a high chance the service may be ready for public deployment in 2020. Clearly, the sooner Microsoft launches xCloud, the higher is the net present value of cash flows generated by the service.
Cloud gaming will look like Netflix for video games, implying big spend on original content
It is no secret Netflix's business model implies a huge amount of spending on original films and TV shows. Moreover, the company needs to actively acquire rights for the third-party content in order to provide a bigger choice to consumers, making the platform attractive for users.
For instance, Netflix invested $13 billion on content in 2018, which is expected to increase to $15 billion in 2019. Clearly, this requires significant cash flows, which are currently being generated through financing activities such as raising debt.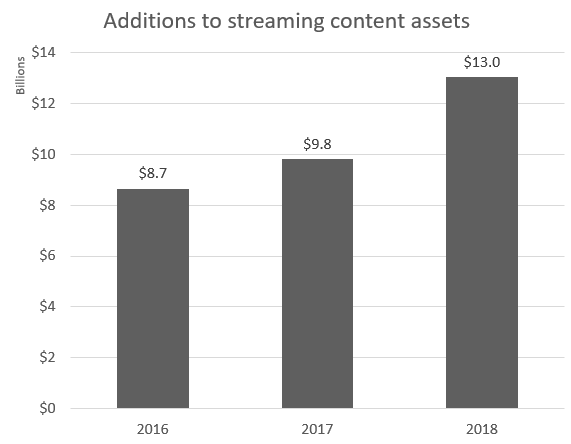 (Source of data: Netflix financial report)
In turn, Microsoft will likely need to use a similar model for its gaming content, although the number of new games launched in a year will unlikely be as high as the number of TV shows and films produced by Netflix. This is due to the very nature of video games which implies a more long-term user engagement. For instance, certain online titles can remain popular for several years, generating recurring revenue from subscription or in-game transactions.
Moreover, it is important to note that Microsoft has a substantially higher financial freedom when it comes to investing in growth, compared to Netflix. Hence, the tech giant reported more than $135 billion in cash and equivalent in the latest quarter, while Netflix had only $3.8 billion in Q4 2018. This gives Microsoft the power to invest and develop its video games offering over time.
Microsoft has (not so) quietly acquired a substantial number of game studios to enhance its portfolio of titles
In order to enhance its portfolio of original content (first-party, exclusive video games), Microsoft has been actively acquiring video game studios over the last year. In fact, 7 out of 15 of Microsoft's acquisitions last year have been game studios.
At the end of Q1 2019, the corporation counted 11 game developing companies under its management:
First-party content is key to our approach and we now have 11 game studios in our portfolio to deliver differentiated content for our fast-growing services like Game Pass.
Since then, the company has bought at least two more professional game studios, namely Obsidian, famous for Fallout New Vegas and several RPG games, and Inxile, the developer of Wastelands. This means Microsoft already has enough studios to create largely diversified game content and launch a new game every 3 months, considering an average development cycle for a game of about 3 years.
It is not difficult to imagine Microsoft will continue expanding its portfolio of studios in the near future. Therefore, by the time the game streaming service launches, Microsoft will have enough content and solid ecosystem to lure players to its platform. This will create a substantial competitive advantage and room for growth, making the gaming division a significant profit driver in the coming years.
The likes of Google and Amazon are likely to enter the competition
It is important to note that while Microsoft seems to be positioned ahead of other companies in the area of cloud gaming, the competition is likely to intensify in the future.
For instance, Alphabet/Google's (GOOG)(GOOGL) Project Stream has a similar aim to make game streaming possible by leveraging technology such as Google Cloud. The initial trial, which allowed testers to play Assassin's Creed Odyssey, is now over, and it can be expected the company will now move to the next stage of the project's development.
Another company that may enter the market in the foreseeable future is Amazon (AMZN), facilitated by its prominent cloud capabilities. Besides, Amazon already has a vast ecosystem for gaming, which includes a game engine Amazon Lumberyard, AWS Cloud, a streaming service Twitch, dedicated servers for gaming such as Amazon GameLift, and other pieces of technology. For more detail, read this article: Amazon As A Gaming Company.
The gaming industry may be a major catalyst for the future growth of Microsoft
Overall, it can be argued xCloud and Xbox Game Pass can become significant profit drivers in the near future. In order to estimate income potential, several numbers can be used.
First of all, it is crucial to note Xbox Live now has 57 million active users, it can be predicted that most of them could subscribe to the cloud gaming service over time. Microsoft sees these users as a loyal community that can be leveraged and monetized:
This loyal, high-value community is our strongest asset, creating expanding opportunity for monetization of first- and third-party games. Fortnite is a good example of that and all up, we are seeing record software and services revenue and engagement being driven on our platform.
Considering a possible average subscription fee of $15 a month and at least 50 million users, it can be calculated Microsoft's game streaming has solid potential to generate $9 billion in revenue from subscription fees alone on the early stages of xCloud's development. It is clear subscription fee would be complemented with in-game purchases, advertising, product placement or other sources of revenue that are used by the video streaming companies nowadays.
Thinking even further, it is likely the cloud gaming tech will broaden the target audience significantly, reaching PC gamers and mobile users. This would drive the total revenue number significantly higher, and in light of Netflix having 139 million users and Microsoft's projection that there will be 2 billion gamers by the time they launch xCloud (according to Phil Spencer's presentation at AMD's keynote), 50 million users looks like a significant underestimation, despite a possibility of intensified competition.
To sum up, the conservative forecast of $9 billion a year in revenue from cloud gaming is a significant number, even for such technology giant as Microsoft. To put it into perspective, the company generated about $110 billion in revenue in FY 2018, which means game streaming may lead to about 8-9% revenue growth in the medium term, creating a catalyst for the stock.
Less conservatively, Microsoft's cloud gaming sales may well reach the revenue levels of Netflix, namely $16-20 billion a year. This is because game streaming will reduce the entry barriers significantly, opening video games to a much broader audience, compared to the current state of things that implies a player must buy a pricey PC or a gaming console in order to enjoy AAA titles.
With a forward P/E ratio of about 23 and double-digit income growth, MSFT can become a solid investment for those seeking exposure to the future of gaming. Moreover, current investors of Netflix might also consider having a position in Microsoft for game streaming can present attractive financial opportunities and drive the valuation higher in the future.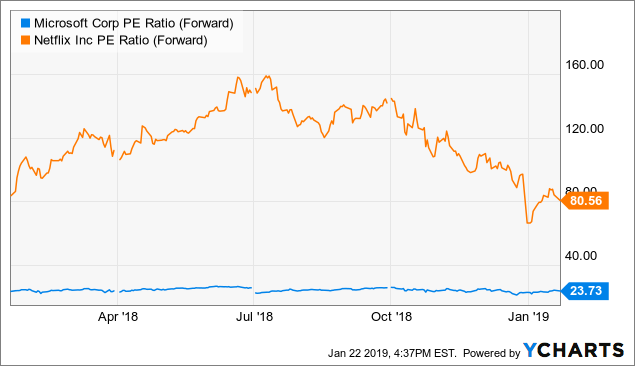 This article was written by
I write about growth opportunities in different sectors related to technology, providing analyses of fundamentals that are driven by current and future trends. Senior Data Analyst by day, I am building and managing my own portfolio of tech-related securities, which to date has consistently beaten the market.
Analyst's Disclosure: I am/we are long AMD, EA. I wrote this article myself, and it expresses my own opinions. I am not receiving compensation for it (other than from Seeking Alpha). I have no business relationship with any company whose stock is mentioned in this article.
Seeking Alpha's Disclosure: Past performance is no guarantee of future results. No recommendation or advice is being given as to whether any investment is suitable for a particular investor. Any views or opinions expressed above may not reflect those of Seeking Alpha as a whole. Seeking Alpha is not a licensed securities dealer, broker or US investment adviser or investment bank. Our analysts are third party authors that include both professional investors and individual investors who may not be licensed or certified by any institute or regulatory body.