Both the bull and bear cases for gaming and lottery provider International Game Technology (IGT) seem reasonably easy to make. The bull case is that IGT is cheap, trading at 6.2x EV/EBITDA, based on 2018 guidance, and 9.6x 2019 consensus EPS. The lottery business - 50% of revenue - should be reasonably stable and throws off tons of cash. There's a nice deleveraging story here and potential boosts to the gaming business from an improving slot machine replacement cycle, online gambling, and sports betting.
IGT has pulled back sharply of late - it's down by almost half from 2018 highs - but is trading near support. At these multiples, change in sentiment can lead to huge gains, given a small equity slice (right at 30% of enterprise value); this is a stock that just since 2016 twice has run up 75% in less than a year.
But the bear case seems equally obvious, particularly for investors familiar with the long-term story here. Profits are in multi-year decline, falling sharply after the 2015 merger of IGT and Italy's GTECH and stagnating ever since. The lottery business has heavy exposure to Italy, a huge risk given political uncertainty and a weak long-term economic outlook. IGT's VLT (video lottery terminal) business there continues to take hits from higher taxes and more restrictive regulation, which will continue into 2019.
The gaming business has been bleeding market share for years; continued losses would offset most, if not all, of the benefits of increased replacements (if and when they arrive). New casino openings stateside and worldwide should be limited, and IGT won't have direct exposure to sports betting in the U.S., whose profits will be much lower than some investors expect.
Those risks all need to be kept in mind. And I personally am quite familiar with the long-term struggles on the gaming business: I called for the ouster of former IGT CEO Patti Hart back in 2012 and highlighted the company's execution issues earlier that same year. The news hasn't been much better since then, as upstarts like Aristocrat Leisure (OTCPK:ARLUF) and Multimedia Games (now part of Everi Holdings (EVRI)) have continued to take market share and IGT's installed base has steadily eroded. It might not seem like the gaming business is a core driver of the story here: it generated less than a quarter of 2017 EBITDA. But profit figures understate the importance of gaming to upside the equity, given the leverage on the balance sheet and likely limited (but stable) growth in the lottery businesses in Italy and elsewhere.
Even with gaming concerns still present, however, there's an intriguing, and perhaps somewhat hidden, bull case for IGT here. The story of the IGT-GTECH merger hasn't played out: deleveraging has been much slower than targeted and profit growth has been minimal. But free cash flow is going to soar in the next two years and potentially beyond, which should help the balance sheet. Lottery revenue should be stable, which suggests the 2H 2018 cyclical sell-off in IGT shares may have been overdone. YTD and Q3 results were strong - IGT actually gained nicely after the third quarter release in late October before being swamped by the "sell anything remotely cyclical" market of November and December - and there are signs of a potential turnaround in that long-struggling gaming business.
If gaming can improve - and it's already starting to - the narrative can change and IGT can re-rate markedly higher. If it doesn't, near-term deleveraging should provide at least some support to the stock. This quite obviously is not a heads I win/tails I don't lose much situation, for myriad reasons. But back near the lows, it looks like the sell-off in IGT has gone too far - and that the potential for a substantial rebound is not yet priced in.
A Disappointment So Far
The easiest reason to dismiss IGT at this point is that the merger of GTECH and the legacy IGT business has been a major disappointment. The tie-up, announced in July 2014, was part of a wave of consolidation in the gaming equipment space that started when Scientific Games (SGMS) agreed to acquire WMS in early 2013. Two weeks after the GTECH-IGT deal was announced, Scientific Games acquired Bally; later that year, Global Cash Access would buy Multimedia Games (the combined entity is now known as Everi).
The deals were driven by a desire to gain scale - but also in response to coming changes in the gaming industry. The door to legalized iGaming in the U.S. had been opened by the late 2011 re-interpretation of the Wire Act. And so there was a belief that in the U.S. - and overseas, where online gambling was increasingly moving from 'grey' markets to regulated offerings - a "convergence" was on the way. The lines between land-based casinos, online gambling, and even lotteries would blur. The predictions were of something similar to the 'omnichannel' experience in retail: gaming providers needed to meet - and track - customers wherever the customers were, whether that was in the casino, on a smartphone in the hotel, or on a laptop in their living room.
And so Scientific Games bought Bally in large part for its gaming systems expertise (after Bally bought Shuffle Master for its stable of licensed table games), and GCA combined Multimedia Games slots with its payment business, and IGT/GTECH created an integrated portfolio of lottery, slots, and systems: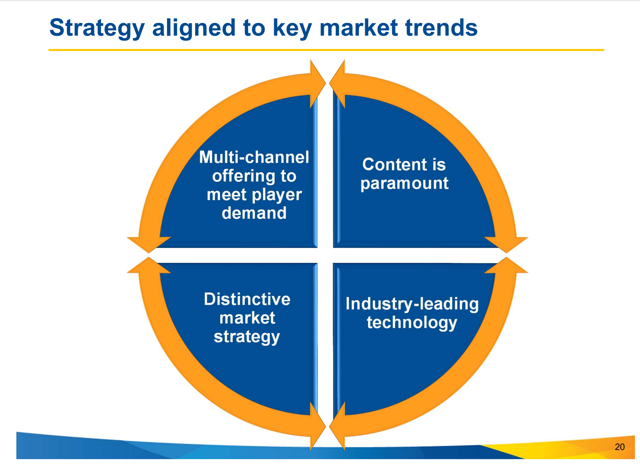 Source: IGT/GTECH roadshow presentation
The problem for not just IGT, but SGMS as well, is that the expected environment simply hasn't played out. Online gambling in the U.S. remains stalled. There are only two markets (New Jersey and now Pennsylvania) of any relevance, and even a solid New Jersey market has been a massive disappointment: Wells Fargo (WFC) projected $1.5 billion in year five revenue, while the actual figure was about $300 million.
Meanwhile, the slot replacement cycle hasn't cooperated. Regional casino stocks have soared since 2014 thanks to consolidation and cost-cutting - but a good chunk of those savings have come at the expense of slot providers. With no real innovation in terms of slot machines in some time (at least that has sparked customer curiosity, particularly among long-sought-after millennials), consumers seem happy to play older games - and operators are happy to let them do so. And so the supplier space, with the exception of share-gobbling Aristocrat and some other smaller players, largely has struggled.
For IGT itself, the news has been even worse. Its slot business has continued to lose market share and combined with pressures on the GTECH business in Italy, consolidated results are going in the wrong direction. The two companies combined had 2014 Adjusted EBITDA of $2.039 billion, according to the roadshow presentation, with $230 million in synergies on the way (that figure was eventually bounced up to $270 million). 2018 guidance is for $1.74-$1.78 billion. Profits took a huge step down in 2015 amid FX effects, lower earnings in Italy and a dramatic drop in IGT's installed base, and even considering the effect of the Double Down Interactive divestiture (a loss of ~$80M) have grown only modestly since then.
And so, since the merger, IGT shares have actually declined: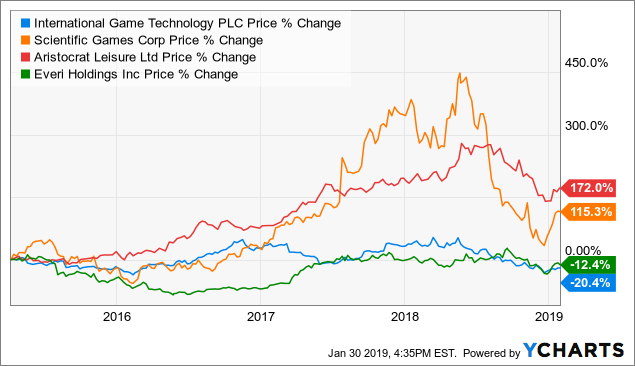 chart since 4/7/2015, first day of trading for 'new' IGT
Including dividends, investors admittedly are close to breakeven. But that's still disappointing in the context of gains at SGMS (even as that stock has pulled back sharply in the last seven months) and a solid macro/broad market environment that has pushed the S&P 500 up 29% over that span.
And so the key qualitative question here is: why is this time different? The legacy GTECH business sort of 'is what it is' at this point. IGT's gaming business has not been healthy for basically this entire decade. Overall EBITDA growth has been muted of late, even with the help of lingering synergies and even accounting for the Double Down sale and currency effects (a stronger dollar lowers EBITDA - and debt, as some bonds are denominated in euros). What changes that? What drives IGT higher?
Is This Good Enough?
The core of the argument for IGT at $16, however, is that perhaps not that much really needs to change for the stock to move higher - or at least hold its ground. From a broad standpoint, there are a few reasons why IGT looks interesting here as a potential overdone sell-off amid the wave of selling that has hit gaming suppliers (and to lesser extent operators) over the past few months.
First, IGT looks rather cheap. The midpoint of EBITDA guidance suggests a ~6.2x EV/EBITDA multiple - but the stock isn't quite that cheap. IGT's reported Adjusted EBITDA does include full contributions from joint ventures (most notably the consortium that acquired the lottery concession in Italy); net income attributable to those non-controlling interests is about $130 million over the past twelve months. Free cash flow guidance for the next two years given with the Analyst Day presentation suggests ~$200 million in annual distributions; the Italy segment generated ~$640 million in GAAP EBITDA in 2017, per the 20-F: the 38.5% minority share thus accounts for about $250 million.
Backing that figure out of the guided $1,740-$1,780 million in 2018 EBITDA, the multiple rises a turn to ~7.2x. But on a peer basis, that's still rather reasonable. SGMS is at 8.4x (with a whopping 6.7x leverage ratio) and smaller EVRI trades right at 7x with a slightly weaker balance sheet (4.85x leverage). Aristocrat and PlayAGS (AGS) have much higher valuations, but those smaller, more slot-focused companies are growing faster and have somewhat different stories.
The discount to SGMS exists in part because SGMS almost has to be valued above 7x given debt is 6.7x EBITDA. But even considering that fact, IGT's valuation at worst isn't out of line, and it remains at the low end of the historical range for the group and the stock itself. SGMS has had a good year, growing EBITDA almost 10% YTD - but IGT is on track for something like 8% excluding currency effects and a small one-time hit from revenue recognition changes.
And a second reason to at least be intrigued by IGT at the moment is that SGMS and EVRI both have seen their multiples expand rather quickly so far in 2019 - while IGT has been left behind: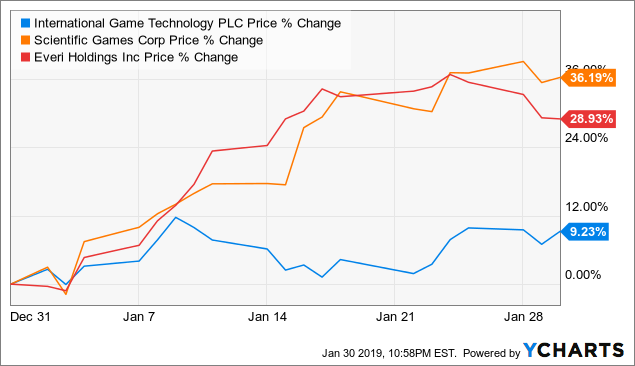 There's one more factor at play. IGT is set up for two rather big years in terms of free cash flow. The Italian concessions for lottery and scratch & win required substantial upfront concession fees (a pro rata share of which was contributed by partners) which slowed deleveraging - but they're done now: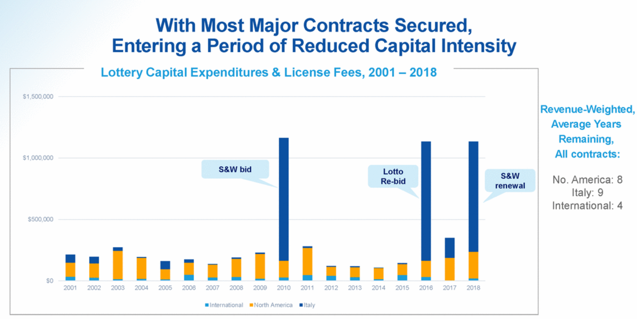 Source: IGT Analyst Day presentation
Capex is coming down as well, normalizing toward an estimated ~$500 million after creeping up to nearly $700M last year and ~$600M this year. And so free cash flow is going to be impressive over the next two years: the company at Analyst Day guided for $450-$550 million in each of 2019 and 2020 even after the estimated ~$200M a year in payouts to minority interests. Those figures don't include working capital movements (which are expected to be roughly neutral), or up to $50 million in growth capex, and IGT does owe ~$165M in annual dividend payments. Still, there should be $500 million-plus heading to the balance sheet in the next two years - a sizeable amount against a current $3.3 billion market cap and even a $10.8 billion enterprise value.
Those points alone don't make a bull case - but they highlight two aspects of that case. First, even though the post-merger story has been disappointing for IGT, that story isn't over. Aspects of it have been delayed. The stronger dollar has hit EBITDA: per management, every €0.01 change in the EUR/USD moves annual EBITDA by $8-9 million. The timing of the Italian concessions was pushed back, impacting capital allocation plans in recent years.
To be sure, the gaming business has disappointed, and there's been more pressure in Italy than management likely thought. An investor would be a fool to blindly jump at $450-$550M in annual adjusted FCF over two years when in 2016 the company was guiding for an average of $500M per year over the next five years. Still, there are reasons for near-term optimism - and to believe that the logic behind the merger isn't/wasn't totally off-base. In the meantime, cash flow of some size should be on the way - and even with limited growth will get the leverage ratio at or near a targeted 4x, further de-risking the story here.
And the second point, worth bringing up in the context of the peer comparisons, is that IGT may be a much safer story than equity investors believe at the moment. Shares have fallen in the sector downdraft despite the fact that 2018 performance has been solid (more on this in a moment) and that the business isn't nearly as cyclical or as leveraged as either of those peers. 43% of revenue comes from lottery - historically a stable business - against under 30% for SGMS and 0% for EVRI. IGT should be headed for 4x leverage even with ~zero EBITDA growth; EVRI can get there if it hits its recently released multi-year growth targets and SGMS may not get there this century.
Indeed, the bond market treats IGT much more favorably. Its debt yields 4.5-6.0%; Scientific Games bonds range from 6.0-7.6%, and EVRI's sole issue has a YTM of 7.9%. Yet equity markets, particularly in 2018, treated IGT as if it was a similar story to those peers - and haven't even given the stock the courtesy of doing the same as SGMS and EVRI have rallied strongly to start 2019.
Performance Improves
There's an argument then that investors are treating IGT like another cyclical gaming supplier when it's not. It's not as leveraged as peers - and the balance sheet will get even cleaner over the next two years. And with likely ~half of profits (owing to higher margins) coming from stable lottery contracts (with weighted average lengths of 8-9 years in the US and Italy, as seen in the slide above), the cyclical exposure here is not the same as it is for peers.
And in the meantime, IGT actually has had a pretty decent 2018. The story here isn't flawless by any means, but performance has been good. Adjusted EBITDA guidance has been moved to the top half of the original range despite ~1.5 points of pressure on growth from the stronger dollar.
The strength has been broad-based. The Italy segment is recovering after a big step down in 2017 due to lower fees and amortization of the upfront payment (which is applied contra revenue). There are still issues here, admittedly. The number of machines allowed has been cut. Taxes are going up again next year by 15-20 bps, an estimated $15-$20 million hit to EBITDA per the Q3 call. And regional bodies (beyond the national government) could put in more restrictions on VLTs.
Despite those pressures, however, operating income has risen double-digits so far this year. Profits are trending down from a longer-term standpoint - but the company's lotto and scratch & win contracts are in place for eight years, and represent 58% of wagers taken, per the Analyst Day presentation. And while Italy has had its share of struggles over the year, gaming interest hasn't dissipated: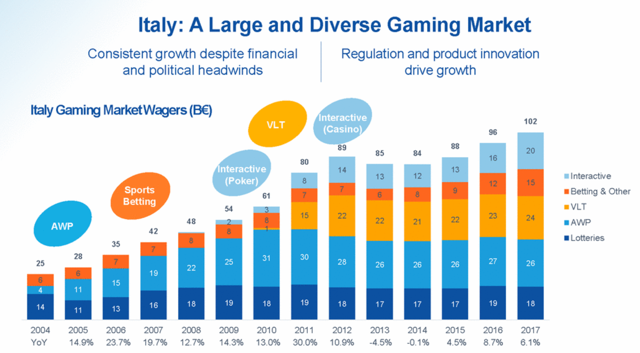 Source: IGT Analyst Day presentation
The North American Lottery business has had a lumpy year - but performance remains solid. Same-store revenue is up over 6% YTD, following a 0.7% performance in 2017 against a tough 8.1% comparison (owing to a major Powerball jackpot). IGT's Northstar JV with SGMS blew up spectacularly, and the company lost its contract in Kansas in 2016, but profits are recovering this year after a disappointing 2017. International has had a good year, owing to VLTs in Greece, with profits up.
And even North American Gaming, the long-time laggard, is starting to perk up. The declines in the installed base have stabilized: in Q3, the installed base rose year-over-year for the first time since the acquisition. Market share losses are starting to moderate:

Source: Eilers & Krejcik Gaming
And the replacement cycle seems like it's starting to arrive, with the second quarter particularly strong for the market as a whole and annual trends expected to perk up: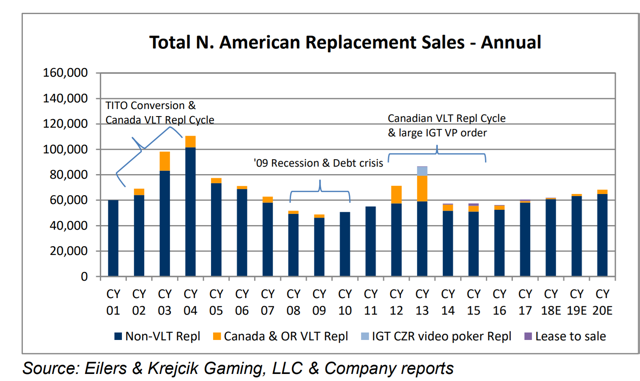 Source: Eilers & Krejcik Gaming
IGT still has work to do, admittedly. But the North American Gaming business is starting to show some signs of stabilization. The most recent Eilers & Krejcik survey shows IGT actually took market share in the fourth quarter. New cabinet introductions are hitting. The company's efforts in 3D and 4D have been a disappointment, so the company has reversed field somewhat and gone with a "more retro look" for some new games.
If IGT can stabilize share, revenue (whether through sales or leased participation units) is going to grow at some point - because the replacement cycle has to arrive at some point. Admittedly, the former CEOs of Scientific Games and Everi both made that argument a few years ago (one reason why they are ex-bosses) - but it's still basically true. There are more machines on U.S. floors now - and as successful as operators have been at managing slot expenses, at a certain machines simply break.
And if the Gaming business can show a turnaround - and there are green shoots across all three quarters this year - the narrative here can change, and IGT can re-rate higher. There are broader growth catalysts out there. IGT could have an opportunity to win the lottery bid in Brazil, though privatization there remains stalled until at least February after IGT (and everyone else) stepped away last year. China is an intriguing market. Again, I'm not a huge believer in the profit potential of sports betting, and that's going to be solely a systems business for IGT (who has said repeatedly that it won't compete with customers) through a partnership with William Hill (OTCPK:WIMHY). But there is some potential value there.
The biggest catalyst, though, is getting the IGT gaming business back on track. And if Q4 results in early March show success on that front - and complete a year in which installed base declines have reversed and revenue has grown - IGT might be viewed differently by investors. It's then a business with a stable stream of lottery profits - and upside optionality from gaming, not a deadweight that needs to be overcome by cost savings or other efforts. And if that gets combined with more deleveraging (and lower interest expense) and perhaps a bit of multiple expansion, IGT can be a huge gainer.
Valuation and Risks
IGT is a difficult stock to analyze from a fundamental perspective. There's only three full years' worth of post-merger performance, with revenue impacted by currency, accounting changes, the Double Down sale, and lumpiness in many of the company's sales categories (including systems and lottery products). Adjusted EBITDA is skewed by the non-controlling interest. SGMS' leverage affects the comparison to the most obvious and rational peer; there's no reason why IGT couldn't trade at a sub-6.7x multiple that in turn would value SGMS equity below zero. And given a ~30% equity slice of the EV, seemingly minor tweaks in terms of the multiple, or how the NCIs are treated, can change the estimated fair value by a few dollars at least.
So this is more of a 'feel'/qualitative case - but it's an intriguing one. IGT suffered from the sector declines of 2018 - but has been left out of the corresponding rally in 2019. A 7x+ EV/EBITDA multiple, even accounting for the minority interests, clearly leaves some room for expansion. So does an ~8x multiple to projected FCF in 2019 and 2020 (even at the low end of the range, and assuming the full $50M in growth capex). Deleveraging of $500 million, holding all else equal, plus the 5% dividend suggests double-digit annual returns over the next two years. And a turnaround in Gaming can change the narrative here, drive growth, and lead to multiple expansion.
2018 EBITDA less minority interests are in the range of $1.5 billion; 8.5x 2020 EBITDA of $1.7 billion, with net debt of $7 billion (down from a current $7.57B) gets the stock to $36, some 130% upside before dividends. That's not a guaranteed scenario by any means - it clearly requires Gaming growth, easing of political tensions in Italy, and the status quo in the lottery businesses domestically and overseas - but it's hardly outlandish, either.
Again, there are risks here. 7%+ of shares outstanding are sold short (and 14% of the float), and given the complexity here those shorts have done their proverbial homework. (Obviously, given $8 billion-plus in outstanding debt, there may be some capital structure arbitrage positions in that short interest as well.) IGT might be less cyclically exposed than SGMS/EVRI - but it's not a lottery pure-play by any means. Political and social pressure in Italy could further pressure margins in that key segment (about one-third of EBITDA, by my estimates). The New York Lottery contract is a big one (the fifth-largest in the world, according to IGT's Investor Day) and comes due in 2020. Cash tax rates already have been high (though it's possible, per commentary on the Q2 call, that those rates could come down in 2020). And, as noted, execution here since the merger (and before) has been choppy, to put it mildly.
Still, there's a nice case here. And while the bull case here still looks like a qualitative argument, a broad scenario analysis based on potential 2020 results shows that $16 looks like an attractive price to take a flyer here:
| | | | |
| --- | --- | --- | --- |
| Scenario | Bull | Base | Bear |
| EBITDA* | $1.7 billion | $1.57 billion | $1.35 billion |
| Notes | 8% growth less $20M Italy tax hit | 3% growth less Italy | Italy tax hit; Gaming declines ~10% a year; lottery flat |
| EV/EBITDA | 8.5x | 7.2x | 6.5x |
| EV | $14,450M | $11,304M | $8,775M |
| Net Debt | $7,000M | $7,200M | $7,500M |
| Market Cap | $7,450M | $4,104M | $1,275M |
| Price** | $36.34 | $20.01 | $6.22 |
| 2-year returns (incl dividends) | 138% | 35% | -49% |
* - excluding JV contributions
** - 205M diluted shares
And I still think, with the good news in Gaming and modest cost savings on the way, that IGT is likely to outperform the base case - and potentially add incremental multiple expansion as well, both of which would suggest a share price more easily into the $20s.
Cyclical risk can be hedged, including through a SGMS short, though hedge or no hedge I'm not a fan of shorting that stock. IGT remains not far from the lows - and at levels that have held in the past. The potential upside, whatever an investor's exact calculations, is substantial. The risks are real - but manageable, lower than peers, and should moderate given free cash flow in 2019-2020 (and the next decade in contracted profits from Italy). If the status quo holds, IGT might bounce along - but still offers a nice free cash flow yield and a 5% dividend. If the signs of a turnaround in the first nine months of this year are real, however, IGT could come roaring back.
Disclosure: I am/we are long IGT. I wrote this article myself, and it expresses my own opinions. I am not receiving compensation for it (other than from Seeking Alpha). I have no business relationship with any company whose stock is mentioned in this article.