Source: SVVC website
We thank our intern Bingyi Zhang for her substantial contribution to this article.
Firsthand Technology Value Fund (NASDAQ:SVVC) is a publicly traded venture capital fund which invests in private technology and cleantech companies. Investors typically hold shares in a fund like SVVC to get exposure to venture capital investments which are normally restricted to large investors in private funding rounds. Examples of SVVC's prior successful investments are Facebook (NASDAQ:FB), Cloudera (NYSE:CLDR), Twitter (NYSE:TWTR), and Yelp (NYSE:YELP).
The current top five holdings of SVVC are Phunware (PHUN), Revasum (RVS.AX), Pivotal Systems Corp. (PVS.AX), IntraOp Medical Corp., and QMAT. On January 28, SVVC provided an update on their top five portfolio holdings (as of December 31st), which account for 92% of the total portfolio NAV. They also disclosed that the new NAV/share of the portfolio on December 31st was $26.55/share. (They did not provide an updated total NAV in this press release, so to calculate total NAV, we used 7.2M shares outstanding.)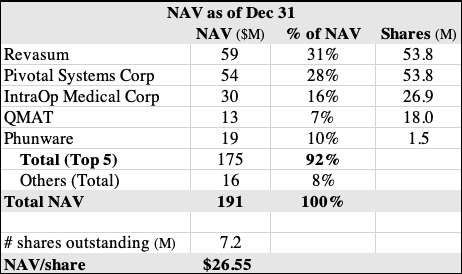 Source: SVVC press release 1/28/19
Since December 31st, there have been some major movements in the share prices of some of their holdings. We have calculated the change in NAV from the recent update for Pivotal Systems Corp., Revasum, and Phunware.
Pivotal System Corp. went public last July 1st and is now trading at $AU1.64/share (as of January 30th), resulting in a current NAV of Pivotal Systems Corp. of $64 million (an $11 million increase).

Revasum went public on December 4th and is now trading at $AU1.84/share (as of January 30th). This gives us a new NAV of $72 million (a $13 million increase).

Phunware commenced trading on the NASDAQ on December 27th and is a volatile high-flyer, currently trading in a wide range between $140 and $200 a share (January 30th close $180/sh). Using the mid-range $170/sh, the calculated current value of the Phunware holding is $255 million (a $236 million increase).

Since IntraOp Medical Corp. and QMAT are private firms which have limited public information available, we assume their NAV has not changed since December 31st. We also assume that the value of the holdings making up the remaining 8% of the portfolio has also not changed.
Taking the changes in NAV for Pivotal Systems Corp., Revasum, and Phunware into account, we calculate that total NAV has gone up by $260 million to $451 million, bringing NAV/share to $62.60.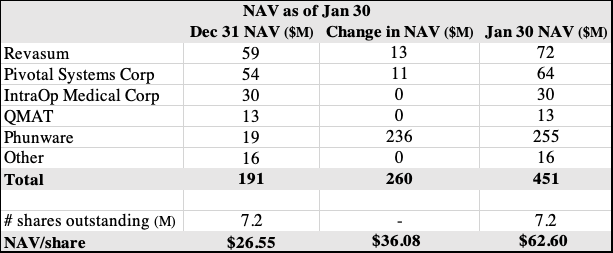 Since SVVC is currently trading at $13.22/share (January 30th close), this means that its discount to calculated NAV is now a whopping 79%!
The line graph below shows the historical evolution of the discount to NAV/share of SVVC and of 'comparable' fund GSV Capital (GSVC). (Technical note: SVVC NAV as stated by management on December 31st and adjusted only for PHUN's stock price movement starting January 2nd.)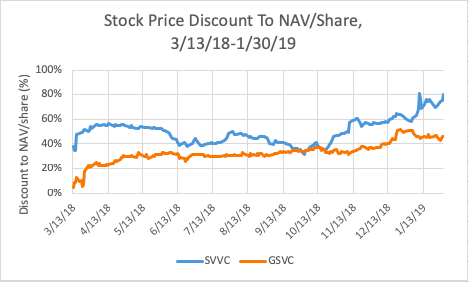 In the tables below, we see the historical discount of stock price to NAV/share in the trading day after the past few updates were announced for each company. From there, we come up with an "average" historical discount to NAV/share of 50% for SVVC, and 32% for GSVC. (Note: By "average", we mean a ballpark figure of the "normal" historical discount, more akin to the median, rather than the arithmetical average.)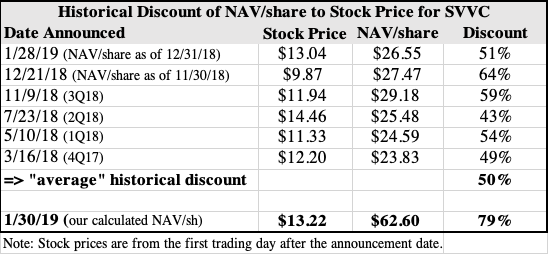 We mention that comparable GSVC has the reputation of being very unfriendly to shareholders, who have been patiently waiting for a special dividend or share buybacks to see some of their invested capital returned to them. In contrast, SVVC does not seem so unfriendly to shareholders, having announced a special distribution on November 20th, and also a $2 million share repurchase plan in August, which is in effect until March 2019. We cannot see any reason why SVVC's discount to NAV should be any higher than GSVC's.
Further, the question is why are any of these funds trading at a discount to begin with? Presumably, investors are trusting the fund manager to make venture capital investments on their behalf. Each such investment has by its nature huge upside and its corresponding risk should be mostly diversified away by the portfolio approach. There is no theoretical justification for an additional discount to stated NAV (which is the sum of the levels of the last funding round for each investment). Therefore, any discount to NAV can only come from distrust in management's competence, honesty, or lack of consideration for maximizing shareholder value. As mentioned previously, GSVC's management has justifiably been criticized for excessive pay packages irrespective of performance, and for not returning capital to shareholders. It's worth mentioning that SVVC's compensation plan (base fee of 2% of gross assets plus 20% of realized capital gains) might also be considered excessive and not shareholder-friendly. However, given SVVC's recent successes, the special distribution, and the share repurchase plan, some of the distrust should now be dispelled away. It all comes down to what level of discounting you think is warranted. In any case, as investments become publicly-traded and actual values are realized, the gap to NAV must close quickly.
We are now ready for our price target estimates. We assume that SVVC will eventually (soon) trade at: 1) closer to its "historical" discount of 50%; or 2) GSVC's historical discount of 32%; or 3) in the best case scenario, only a 20% discount. At a minimum, we see an upside of 137%.

It's obvious that Phunware is the main driving force behind the jump in SVVC's NAV, so investors may be worried that SVVC will not be able to sell their shares anywhere near current levels. Investor Relations has confirmed that the lock-up period for their Phunware shares expires 180 days from the merger date, so the shares will not be liquid until late June. Until that time, investors simply need to monitor PHUN's stock price to see how Phunware's NAV is holding up. Then come July, SVVC's monthly NAV updates should be scanned to see if the number of Phunware shares owned is declining, indicating that the Phunware exit is taking place.
Given the high volatility in the early days of PHUN trading, we felt it was necessary to examine the sensitivity of SVVC's NAV to Phunware's stock price. In our model, even if PHUN's stock price were to drop to $0/share (wiping away $250M+ of value), NAV/share would only drop to $25.85/share - still way higher than the current stock price. Assuming the same 50% discount for SVVC's stock price means a PT of $12.93/share, which is only 2% downside. Even with this very unlikely scenario, the downside seems limited.
These calculations show that SVVC provides an excellent way to gain exposure to high-flyer PHUN at a significant discount - thereby providing a great level of safety on the downside.
Because of the enormous gap between the SVVC stock price and the market value of its PHUN holding, this opportunity could be qualified as "quasi-arbitrage": long SVVC - short PHUN. This is not a true arbitrage because the hedge is only partial, and liquidity, lock-down, and transaction, holding, and shorting cost considerations do not make such a combined position a "slam-dunk" - as required by the definition of arbitrage.
Still, it looks very much like an arbitrage and will eventually become one if SVVC's stock price doesn't rise significantly. The huge potential upside 100-250% in a relative short time-frame makes SVVC a very compelling bet in a diversified portfolio.
Disclosure: I/we have no positions in any stocks mentioned, but may initiate a long position in SVVC over the next 72 hours. I wrote this article myself, and it expresses my own opinions. I am not receiving compensation for it (other than from Seeking Alpha). I have no business relationship with any company whose stock is mentioned in this article.
Additional disclosure: Disclaimer: The Elle Investments portfolio is managed utilizing a variety of strategies (quantitative, contrarian, event-driven, etc.). The commentary presented here is for research purposes and is not to be taken as investment advice. Readers are expected to perform their own due diligence and/or hire an investment professional prior to entering/exiting positions. Published research ideas are related to the specific market price and publicly available information at the time of article submission. In order to maximize returns for clients, Elle Investments will enter/exit positions without further notice.