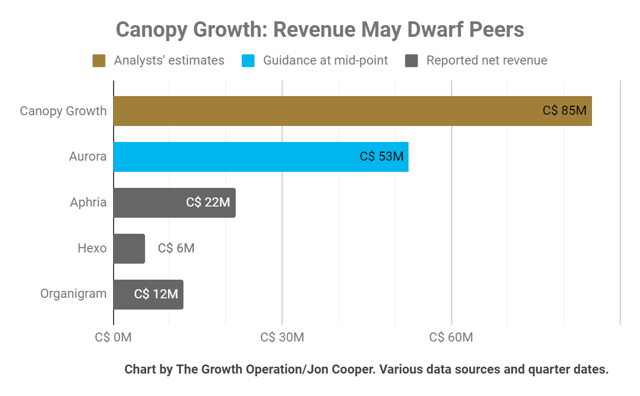 Earnings Week in Cannabis
The week of Feb. 11-15 is the biggest week of the quarterly cannabis earnings calendar that I maintain on The Growth Operation. During this week, at least two - and possibly more - of the most valuable Canadian cannabis companies report their earnings:
I have also seen some reports Cronos (OTC:CRON) could report their December quarter soon, but last year, they didn't provide an annual report until late April.
Each of these four companies has quarters ending Dec. 31, 2018. Those quarters will be the first quarters to include substantial recreational cannabis sales. Thus, these earnings reports are less predictable than most prior or future earnings reports. This may cause market volatility.
Revenue is Paramount
Each of these four companies is valued speculatively based on their future growth, as I discussed for Canopy Growth in Canopy Growth: Welcome To America. Because they are valued on growth, top-line revenue will be the most important number of each earnings report, while earnings per share are largely immaterial. Indeed, EPS isn't even the second most important figure - gross margins, net revenue per gram for recreational cannabis, and growing costs per gram will each be more important than EPS, in my view.
Expected Revenue and Changes Post-Aurora
Given the importance of top-line revenue, what does the market expect for each company?
| | | |
| --- | --- | --- |
| Company | Revenue Expectation | Source |
| Canopy Growth | C$84.98 million | Analysts (CFRA; Feb. 1st) |
| Tilray | U$12.45 million | Analysts (CFRA; Feb. 1st) |
| Aurora | C$50-55 million (net) | Aurora guidance (Jan. 8th) |
| Cronos | C$8.91 million | Analysts (CFRA; Feb. 1st) |
Aurora is the only one of these companies to have provided us with revenue guidance, guiding to C$50-55 million in net revenue after excise taxes. This guidance was sharply lower than analysts had been projecting, as I discussed in Aurora Lowers The Market's Expectations. Prior to this guidance, analysts had expected revenue of C$67 million: Aurora lowered this estimate by 28% at midpoint.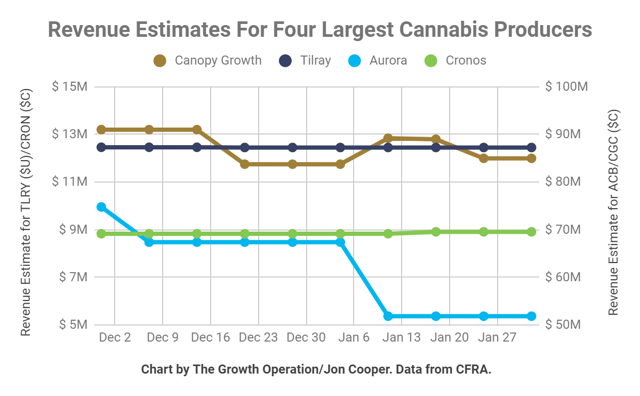 Analysts were too optimistic for Aurora's revenue guidance. This suggests they may also be too optimistic for other cannabis growers. However, analysts have not lowered other revenue estimates as a result of Aurora's decreased revenue guidance. Rather than lowering estimates for other producers, revenue estimates for Canopy Growth and Cronos have risen since Jan. 8th, with Cronos estimates rising fractionally and Canopy Growth estimates rising over C$1 million. Tilray estimates have been flat.
Canopy's C$85 Million: Unrealistic?
Given Canopy's size, and that Aurora's earnings guidelines provide a narrow revenue range, Canopy's earnings report is the most important for the broader cannabis market. Analysts estimate that Canopy Growth could report C$85 million in revenue in their February quarter.
Reporting C$85 million in revenue would be a huge leap for Canopy Growth. Last quarter, I reported that Canopy Growth generated C$23.3 million in revenue, on cannabis production of 15,127 kilograms and cannabis sales of 2,197 kilograms. Canopy Growth's revenue estimate would reflect sequential revenue growth of over 250% - massive growth by any standard.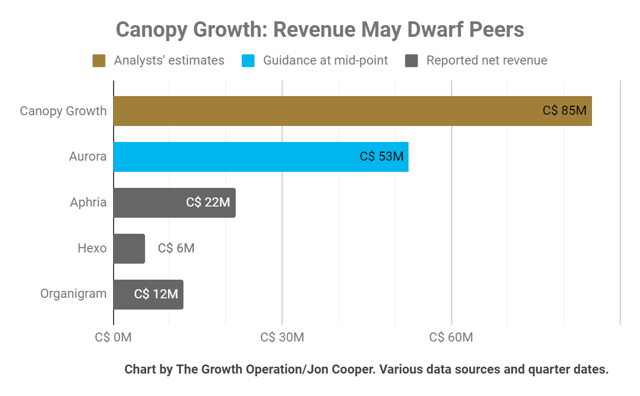 Further, Canopy Growth's C$85 million revenue estimate dwarfs any reported or guided revenue from other Canadian cannabis producers. The chart above masks variations in quarter end dates but illustrates the gulf between Canopy's revenue forecast and revenue from other large Canadian peers like Aurora and Aphria (OTC:APHA).
I have heard a lot of retail investors express skepticism about Canopy Growth's ability to meet analysts' expectations. This skepticism may be justified in light of (1) analysts' flat estimates, (2) the large sequential growth implied by the figures, and (3) Canopy's revenue dwarfing peers.
The Path to C$85 Million
Skepticism may be warranted, but I wanted to see just how realistic C$85 million might be, so I decided to build a relatively simplistic model.
This is an oversimplification, but we can split Canopy Growth's revenue into four major components:
Medical cannabis sales in Canada and worldwide.
Recreational cannabis sales in Canada as a cannabis producer.
Recreational cannabis sales in Canada as a cannabis retailer.
Other revenue including from new acquisitions which may have closed during the December 2018 quarter.
To estimate Canopy Growth's revenue for the calendar fourth quarter of 2018 (Canopy's third quarter of 2019), we should estimate net revenue from each of these four businesses.
Medical Cannabis Revenue Estimate: C$22.8 million
Medical cannabis revenue, including both Canada and worldwide, as defined here, includes all prior cannabis revenue: Last quarter, this was C$23.3 million, down from C$25.9 million in the prior quarter. The majority of this revenue is generated from medical cannabis sales in Canada, although Germany accounted for 10% of September quarter revenue.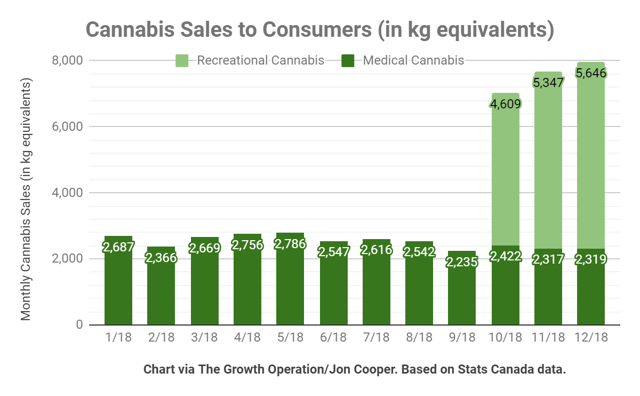 According to Stats Canada, based on updated market data charts from The Growth Operation and methodology described in The Cannabis Chronicles: Sales Cool Off In November, But Hexo And Aphria Stand Tall, medical cannabis sales declined 5% by weight in the calendar fourth quarter compared to the quarter prior.
It is also possible, although not inevitable, that Canopy Growth's net revenue per medical gram may change in the December quarter. For example, Organigram's (OTCQX:OGRMF) net revenue per gram of medical cannabis was essentially flat in their first quarter of legalization:
| | | |
| --- | --- | --- |
| Period | Medical Grams Sold | Medical Net Revenue/Gram |
| FY2018 (to Aug. 2018) | 936,463 grams | C$6.84/gram |
| Q1/19 (to Nov. 2018) | 220,635 grams | C$6.87/gram |
Source: Author based on company filings. Revenue per gram for FY2018 is a weighted average. Data includes only dry cannabis sales. Full coverage of Organigram is on The Growth Operation.
Thus, it may be fair to infer that Canopy Growth's unit revenue for Canadian medical cannabis may remain constant, while medical volume declines 5%, matching the broader market.
| | | |
| --- | --- | --- |
| | June 2018 | September 2018 |
| German Weight | 248 kg | 164 kg |
| German Unit Revenue | C$13.62/gram | C$13.58/gram |
| German Revenue (Est.) | C$3,378,000 | C$2,227,000 |
Source: Author based on company filings.
International revenue, especially Germany, is less predictable given less data and more variability in the past two quarters. Canopy also breaks out a limited amount of international revenue - primarily just Spectrum Cannabis sales in Germany.
| | | | |
| --- | --- | --- | --- |
| Revenue Estimate | Q2/19 | Change | Q3/19E |
| Canadian Medical Revenue | $21,100 | -5% | $20.0 million |
| German Revenue | $2,227 | 26% | $2.8 million |
| Total Medical Revenue | $23,327 | -2% | $22.8 million |
Source: Author's estimate.
Lacking other data, I will estimate that Canadian medical cannabis revenue drops 5%, while German revenue is the average of the past two quarters. This results in net medical revenue of $22.8 million in the December quarter.
Recreational Cannabis Revenue Estimate: C$25.9 million
Recreational cannabis revenue as a cannabis producer, as defined here, includes Canopy's revenue from selling its cannabis products to provincial distributors. Canopy has supply deals in every Canadian province and territory.
I have published recreational cannabis market share estimates for Canopy Growth, as well as Tilray, Cronos, Aurora, and CannTrust (OTC:CNTTF), on The Growth Operation in Canadian Cannabis Market Shares: An Estimate. That said, my estimates should not be taken too seriously. They are based on a variety of data including supply deals, known sales proportions, shelf space market share, analyst projections, Ontario sales figures, and other sources. They are further based on market size estimates from Stats Canada data.
Without getting lost in the details, I estimate that Canopy Growth would sell 5,100 kilogram-equivalents of recreational cannabis in their December 2018 quarter. This figure may be wildly off - there's very little hard sales data available. Take this with a grain of salt.
| | | |
| --- | --- | --- |
| | Recreational Revenue/Gram | Volume |
| Hexo | C$4.45/gram (est.) | 952,223 grams |
| Aphria | C$5.32/gram (est.) | 1,946,975 gram-equivalents |
| Organigram | C$5.09/gram | 1,514,912 grams |
| Weighted average | C$5.05/gram | n/m |
Source: Author based on company filings. Data is not completely apples-to-apples and should be used only as an approximation.
Unit revenue is also speculative, but we can estimate net unit revenue based on net unit revenue from cannabis companies that have already report recreational revenue: Hexo (OTC:HEXO), Aphria, and Organigram. A simple weighted average of their unit revenues yields a net revenue estimate of C$5.05/gram.
Selling 5,100 kilogram-equivalents of cannabis at a net unit revenue of C$5.05/gram would generate C$25.9 million in revenue.
Notably, this is much lower than many analysts are estimating primarily due to lower anticipated sales in weight. This sales total gives Canopy Growth a nearly 20% market share of the recreational cannabis market by weight. This ~matches e-commerce findings from Cowen & Co:
"Canopy has an 18 percent market share across pot e-commerce websites in five provinces, the biggest among Canada's pot producers, according to a report published by Cowen & Co on Friday."
Cannabis Retail Revenue Estimate: C$11.4 million
Recreational cannabis sales in Canada as a cannabis retailer is a category of revenue which, in my view, many retail analysts fail to consider.
Canopy Growth has a revenue stream that many other Canadian LPs do not have: Retail revenue. Specifically, Canopy Growth currently operates twelve Tweed stores, eleven of which sell cannabis. Canopy Growth further operates eleven Tokyo Smoke stores, five of which sell cannabis. In sum, today, Canopy Growth has 16 cannabis stores between these two chains.
Notably, revenue from these outlets is likely separate from wholesale revenue. Even where Canopy Growth's stores are selling their own cannabis, the market structure in Canada dictates that Canopy Growth likely has to sell wholesale cannabis to the province and then purchase cannabis from the province - even when it is Canopy's own cannabis. Canopy will then record the revenue from retail sales separately from its wholesale revenue. This may result in some degree of "double counting" where the same cannabis has been sold twice - once to the province and once to a consumer. Note that I am not an accountant, so if this is incorrect, please let me know in the comments.
I am not aware of data on Canopy's retail sales, but we do have data points from other cannabis retailers.
Sales data from National Access Cannabis (OTCPK:NACNF) (TSXV:META) and Fire & Flower (private, but planning an IPO) suggests that cannabis stores may generate about $12,500 of revenue per day.
There were 76 days of recreational cannabis legality in Canopy Growth's December quarter. However, Canopy Growth's 16 stores were not open for all of this time, as many of the stores were not open for Oct. 17th. Optimistically, let's suppose that each of Canopy's 16 stores were open for 75% of the quarter - opening on an average of Nov. 5th - and generated sales of $12,500/day:
| | | | | |
| --- | --- | --- | --- | --- |
| Stores | Days | Open Rate | Revenue/day open | Total Revenue (est.) |
| 16 stores | 76 days | ~75% open | ~C$12,500/day | ~C$11.4 million |
Source: Author's estimate.
This results in an estimate that Canopy Growth may have generated C$11.4 million in the December 2018 quarter.
Alan Gertner, former CEO of Hiku Brands and head of Canopy Growth's retail operations, recently announced he is leaving Canopy Growth. Gertner said that Canopy Growth's retail plan was in "incredible shape" according to BNN Bloomberg, but his departure may lead to some investors questioning the strength of the division.
Other Revenue: Unknown
Finally, Canopy Growth's revenue will include other revenue, such as from new acquisitions which may have closed during the December 2018 quarter.
This revenue can be difficult to estimate given limited information, especially where Canopy has purchased private companies.
For example, on Dec. 6th, Canopy Growth finalized an all-cash transaction to purchase Storz & Bickel GmbH & Co. Storz & Bickel notably make the Volcano vaporizer, which is widely used. For example, a custom-branded Volcano vaporizer is available in Florida from Trulieve (OTCPK:TCNNF). Canopy's purchase cost a price of "up to approximately €145 million", but the press release did not announce S&B's revenue - making it difficult to estimate potential revenue from this purchase.
Without any data on how much revenue this and other acquisitions may generate, estimating potential revenue here is a fool's errand.
Total Revenue: C$60+ Million
| | |
| --- | --- |
| Category | Revenue |
| Medical cannabis | C$ 22.8 million |
| Recreational cannabis | C$ 25.9 million |
| Retail cannabis | C$ 11.4 million |
| Sub-total | C$ 60.1 million |
| Other Revenue | Unknown |
Source: Author's estimate
In sum, I estimate that Canopy Growth revenue may top C$60 million, but my estimate falls well short of the C$85 million estimate of analysts, even if "other revenue" is quite generous.
The primary reason for this shortfall is because analysts expected Canopy Growth to sell a lot more cannabis than I believe is realistic.
For example, in November, GMP Securities expected Canopy Growth to sell over 12,750 kilogram-equivalents of cannabis in the December quarter. This estimate set Canopy's revenue for the quarter at C$89.4 million. However, the Canadian recreational market itself was only ~27,000 kilogram-equivalents in the quarter and the medical market was only ~7,000 kilogram-equivalents. In my view, an expectation that Canopy capture over 35% of this market is too optimistic.
I anticipate that Canopy Growth will miss the C$85 million revenue target from analysts.
That said, there are a lot of potential sources for error in my estimate. Canopy's share of the Canadian recreational market is almost wholly a guess and Canopy's growth outside of Canada is also unknown. Further, this estimate does not even try to quantify additions from Canopy's acquisitions. So, take this estimate with a grain of salt.
I do not currently plan to trade around Canopy Growth's earnings date, although I may amend those plans as we get closer to Feb. 14th.
Happy investing!
I run a cannabis investment newsletter community on the Seeking Alpha platform, called The Growth Operation. Among other features, members of this community receive:
Daily run-downs of breaking cannabis news - including news on both U.S. and Canadian cannabis producers.
Exclusive access to my in-depth research articles cannabis companies and the cannabis market in the United States and Canada.
Access all my past Seeking Alpha articles - even back-articles that are no longer free.
Free trials are available all month.
Disclosure: I am/we are long CGC, TSE:TRST, CSE:TRUL, HEXO. I wrote this article myself, and it expresses my own opinions. I am not receiving compensation for it (other than from Seeking Alpha). I have no business relationship with any company whose stock is mentioned in this article.