All figures in US dollars unless otherwise stated.
A Global, Multi-Sector Capital Allocator: Breadth Provides Advantage
Brookfield Property Partners LP (NASDAQ:BPY) (TSX: BPY.UN) or "BPY" and its predecessor entities have for many years capitalized on the fact that the real estate industry is cyclical and that regions or asset classes do not move synchronously.
Therefore, a diversified (by property type and geography) portfolio should demonstrate greater long-term stability than one with a specific geographic or property focus. Moreover, BPY's flexibility to shift capital to or from sectors and geographies that are in or out of favour gives it an edge to deliver premium risk-weighted returns.
BPY is a diversified global real estate company that develops, owns, and operates one of the largest portfolios of office, retail, multifamily, industrial, hospitality, triple-net-lease, self-storage, student housing, and manufactured housing assets. BPY's investment objective is to generate attractive long-term returns on equity (ROE) of 12% to 15%, with stable cash flows and asset appreciation, plus an annual distribution growth of 5% to 8%.
BPY management seeks to do this by acquiring high-quality assets in resilient, dynamic markets and pursuing diversification across geographic areas and real estate sectors. They continually recycle assets, selling stabilized assets at or near peak values and reinvesting the proceeds into higher-yielding strategies. BPY's portfolio features some of the world's best-known commercial properties, including Brookfield Place in Toronto, Canary Wharf in London, Potsdamer Platz in Berlin, and Brookfield Place, built as and still commonly referred to as the World Financial Center, located across West Street from the World Trade Center in the Battery Park neighborhood of Manhattan.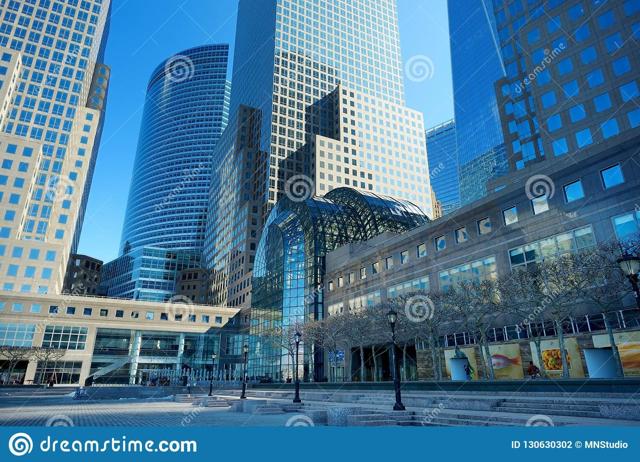 Brookfield Place in New York
BPY is structured as a Bermuda-based limited partnership. It is the publicly-traded real estate arm that is majority-owned by Toronto-based Brookfield Asset Management (BAM) (TSX: BAM) or "BAM." Brookfield Asset Management has a reputation as one of the shrewdest global real estate investors. BPY debuted on the Toronto Stock Exchange in December of 2013, after it was spun out from the parent company. The units trade in New York as well.
BAM owns 53% of BPY, which has 42% of its assets in malls and other retail properties, 41% in office buildings, and 17% in private real estate funds run by BAM. BPY invests alongside institutional investors in the private funds.
Those private funds have a strong track record, with 20%+ annual historical net returns and an emphasis on buying undervalued assets. Brookfield has a super-high quality real estate portfolio and allows holders to invest alongside a talented management team at a significant discount to net asset value.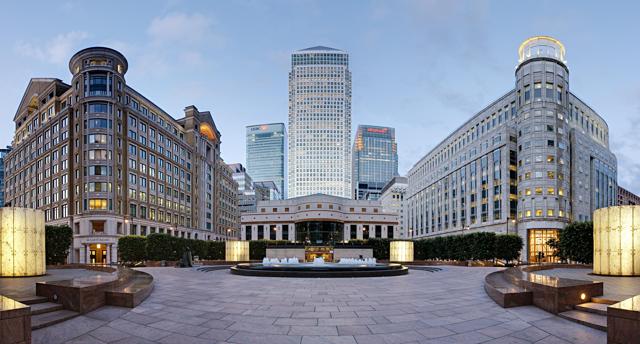 Canary Wharf in London (Source: Google Images)
Unlike U.S. REITs, BPY provides a quarterly estimate of its net asset value based on international accounting standards using appraisals and cash flow analysis. The NAV was more than $28 a share on Sept. 30.
The private ownership of BPY's portfolio companies provides the overall business with significant operating flexibility, including the ability to undertake projects with a scope, scale, and time horizon that would not be possible within a smaller organization. The private ownership model also provides BPY with greater access to free cash flow and up-financing opportunities, from which it can source capital to redeploy into other investment activities.
BPY's $160-billion portfolio includes assets in North and South America, Europe, and Asia-Pacific. Because its assets are diversified by sector and geography, the portfolio's exposure to movements in any single market is reduced, minimizing volatility. The partnership owns more than 450 million square feet of commercial space and employs some 17,000 people.
BPY is one of the world's largest real estate operations, with broad diversification both geographically and by sector. As the saying goes, "They aren't making any more land," and BPY controls a sizeable amount of what exists. You now have the chance to invest in a quality asset at a time when the units are on sale.
Brookfield Asset Management focuses its investment activities in markets with high barriers to entry, where the BAM team has informational, operational, or other competitive advantages. Its local presence combined with the global scale of its operating platforms means that it has unique access to real estate investment opportunities across all major markets and asset classes.
BPY's strategy of pursuing undervalued properties led to a huge deal last year, when, in August 2018, it completed a $15-billion takeover of Chicago-based GGP Inc. (BPRAP), an S&P 500 company focused exclusively on owning, managing, leasing, and redeveloping high-quality retail properties throughout the United States. GGP was the second-largest U.S. mall owner behind Simon Property Group (SPG).
Brookfield first bought into GGP in 2010, helping the latter emerge from bankruptcy with a $2.5-billion investment that was made in return for approximately 26% of the company. Hedge fund manager Bill Ackman's Pershing Square (OTCPK:PSHZF) also invested at the time, putting up $1.1-billion in exchange for an 11% stake.
This transaction has transformed BPY into one of the largest commercial real estate companies in the world, with an ownership interest in about $90-billion worth of assets. The move significantly expands the U.S. portfolio of BPY and its subsidiaries, including a new publicly-listed REIT that was created as a result of the deal, Brookfield Property REIT (BPR) or "BPR."
BPR is a subsidiary of BPY, intended to offer investors economic equivalence to BPY units but in the form of a U.S. REIT security. Dividends on BPR shares are identical in amount and timing to distributions paid out for BPY units, and BPR shares are exchangeable on a 1:1 basis for BPY units or their cash equivalence.
BPY was also part of a consortium that acquired two retail malls totalling 650,000 square feet in Shanghai for US$285-million. (BPY's share was US$72-million).
Over the coming decades, BPY believes that its in-house capabilities and expertise across a wide swath of property sectors will allow for the redevelopment, reconfiguration, and intensification of GGP's retail properties into alternate or mixed-use formats, at a more rapid pace and at better financial returns than might be possible by GGP as a stand-alone company.
Since BPY made its big bet on shopping malls last year, investors haven't been impressed. The hesitation from investors since then is understandable. Consumers are increasingly turning to online stores, in particular, Amazon (AMZN), which raises questions about the future of bricks-and-mortar retailing. It didn't help that the United States had too many malls even when online shopping was a novelty.
Chasing high yields can get investors into trouble if they gravitate toward companies whose business models are weak. BPY's business model is solid. And there are four reasons its contrarian take on malls should pay off, making the yield more of a gift than a warning sign.
First, Brookfield got a good price for GGP. Malls are out of favour, which the Bloomberg REIT Regional Mall Index makes clear: The seven-member basket of real estate investment trusts, which includes Simon and Taubman Centers Inc. (TCO), fell 38% from August 2016, to its low in April, amid the failure of Sears and Toys "R Us. Although Brookfield ended up sweetening its initial bid for GGP, some analysts felt that the final price was still too low.
Second, BPY already owned a 34% stake in GGP before making its bid for full ownership. And in 2016, Brookfield bought Rouse Properties Inc., a REIT that owned 35 malls in 21 U.S. states. This track record suggests that Brookfield isn't experimenting with an unproven contrarian concept here. Rather, it suggests the company's earlier bet on malls is showing signs of paying off.
Third, Brookfield has solid backing. If you are concerned that BPY is a lone contrarian in an environment dominated by mall skeptics, here is a comforting fact: sophisticated, long-term institutional investors, including the California Public Employees' Retirement System (CalPERS), CBRE Group Inc. (CBRE), and TH Real Estate (an affiliate of TIAA)-together, they have assets of US$560-billion-have sided with Brookfield by taking stakes in select GGP malls.
Fourth, the demise of malls is overstated. There is no doubt that online retailers are grabbing business from traditional outlets. But total online sales are still hovering around 10%, which doesn't point to mall extinction. As well, malls come in various grades. Many informed observers believe that the top grade, the Class A malls that underpin Brookfield's portfolio, are better-positioned to survive a further migration toward online shopping, especially as the mix of tenants shifts toward businesses such as gyms, shared office space and even online merchants that want storefronts.
According to Reis Inc. (REIS), a company that provides data on commercial real estate, U.S. neighbourhood, and community shopping centres are holding the line on vacancy rates at 10.2%, and even raised asking rents (year over year) by 1.7% in the fourth quarter of 2018, suggesting that owners can fill empty spaces.
Data shows that high-end malls in better locations are thriving while those in weaker areas are seeing declines that are dragging down the average. GGP owned high-quality retail properties in the U.S., including several locations on New York City's Fifth Avenue, not a bunch of third-tier malls that were getting destroyed by the Internet.
BPY is focused on offering "unique experiences" at its malls, giving customers a reason to go there beyond shopping. There are malls that, no matter what happens online, the real estate is still worth a lot of money and people will go to. And there will be things that the landlords do to make that a fun place to be, whether it is shopping, dining, training, or other activities. Malls are evolving, but they are not disappearing.
The deal created one of the largest listed property companies in the world, with an ownership interest in almost $100 billion of premier real estate assets globally and annual net operating income of approximately $5 billion.
BPY has the heft and financial backing to renovate and expand existing malls to meet these new demands. You can wait for concrete evidence that it is succeeding-but investors who pounce now will most likely get a better price and a bigger dividend yield.
The BPY units, already weighed down by the GGP bid announcement, rising interest rates, and slowing global economic activity, fell to a five-year low on Christmas Eve. But with the units down 25% in 2018 and now yielding a hard-to-ignore 7.35%, perhaps it is time to give shopping malls a closer look.
For income investors, the major attraction of the beaten-down stock is its attractive yield. BPY has a history of raising its distribution every year, and there is no reason to believe this will change. The strong underlying portfolio ensures the continuity of cash flow.
BPY stock has underperformed the market over multiple periods. The units have been weighed down by a number of factors, including rising interest rates, the potential impact of Britain's exit from Brexit and, more specifically to BPY, concerns that malls are no longer as safe an investment as they once were.
Three-Year Return for BPY on NASDAQ (orange) and BPY.UN on the TSX (blue)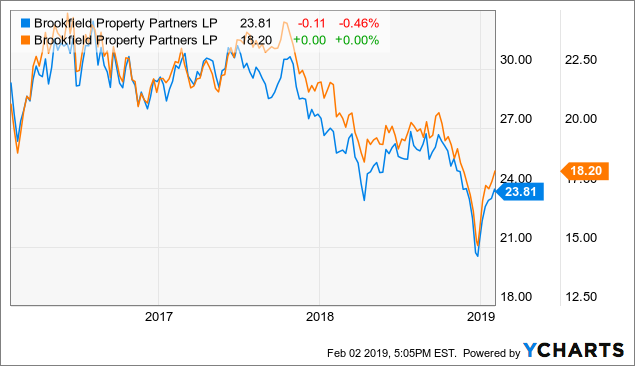 BPY is structured in much the same way as two of my other recommendations on Seeking Alpha: Brookfield Infrastructure LP (BIP) (TSX: BIP.UN) and Brookfield Renewable Partners (BEP) (TSX: BEP.UN). All are limited partnerships based in Hamilton, Bermuda. All trade on both the Toronto and New York stock exchanges. Each focuses on a specific area of expertise. All offer attractive yields. All have a history of regular distribution increases.
In August 2018, the BPY announced plans to commence development of the third and final office tower of the Bay Adelaide Centre in downtown Toronto. Scotiabank has signed a commitment to lease 420,000 square feet-approximately 51% of the building - for 15 years as the anchor tenant.
In 2018, the Canadian S&P Capped REIT Index posted a price gain of 1% and a total return of 6%, with the balance coming from distributions. The REIT Index trounced the Toronto Stock Exchange (-9%) and fared well relative to property stocks in Europe (-8%), the United States (-5%) and Asia (-4%). The result was on the heels of a total return of 10% in 2017. I am more optimistic about the forward return potential for 2019, with a projected total return of 12%.
2019 Return Outlook: More Optimistic About Return Potential
In the face of slowing growth concerns, many property market-related indicators remain favourable, including:
Low and relatively steady 5-year and 10-year interest rates;
Financing spreads, with an upward bias, but still within their long-term averages;
Capital flows into direct property; and
Generally strong property fundamentals across most asset classes and in most major markets.
Despite the prevalence of macro-indicators that suggest economic deceleration, property market fundamentals are supportive of listed property stocks:
Decelerating - but continuing - GDP growth across the US, Canada, and the global economy.
Residual momentum in the system from high consumer confidence and from low/declining unemployment.
Longer-term interest rates remain very low.
Mortgage spreads remain below their long-term average and corporate credit spreads remain reasonable.
With respect to retail real estate fundamentals, on balance, unenclosed retail centres continue to post positive same-property NOI growth and increasing density values underpin the value of retail real estate of the right type and location.
BPY is currently priced at a 20% discount its Net Asset Value (NAV). It possesses three key internal drivers of value growth:
Lease rate mark-to-market via contractual steps and spread capture on rolls;
Office occupancy normalization of 1 to 2 percentage points, to 94% to 95%;
Developments and redevelopments, which should collectively aid in driving annual NAV/unit growth over the next three to five years.
On the heels of the sizable GGP acquisition, 2019's capital allocation, operating and financing activities will be centered on:
Enhancing balance sheet flexibility and access to liquidity;
Capital recycling;
Improving core occupancy and advancing the development pipeline;
Repurchasing units at a discount to NAV;
Growing distributions in line with growth in underlying cash flows.
Monetizing part or whole interests in mall properties in order to repay GGP-related acquisition debt.
Key Value Drivers for NAV/unit Growth Over Multi-Year Horizon
I see three key internal drivers of value growth:
The capture of lease rate mark-to-market by way of contractual steps and renewal or re-leasing of maturing leases;
Office occupancy normalization to 94% to 95%;
Completion of the core office and mixed-use residential rental development pipeline.
With regard to the latter, BPY's development pipeline totals some 6 million square feet at BPY's share. With a total estimated cost of approximately $6 billion, this development program should drive NAV creation of more than $1 billion, thus helping to drive NAV/unit growth over the next three to five years.
Additionally, BPY's recent privatization of GGP has weighed on the unit price. Looking forward, this should be resolved and the units' valuation should return to the historical norm.
Distributions and Buybacks
The current quarterly payout is $0.315 per unit ($1.26 per year). Distributions are paid in March, June, September, and December. Recent history suggests we should expect an increase in the first quarter of 2019.
The partnership received approval last August for a normal course issuer bid (NCIB) to buy up to 21,091,764 limited partnership units, representing approximately 10% of its public float over the period ending August 19, 2019. Under the previous bid, BPY purchased 733,235 units at a weighted average price of $19.02.
Funds From Operations (FFO) and Distribution Profile
Strong FFO/unit growth has pushed the FFO payout ratio down to the low 80s. Distributions have been growing at about 6% annually for the past three years, and this pace should be maintained for the foreseeable future, including another distribution increase likely to be announced in February of this year.
Estimates, Price Target, and Rating
BPY aims to generate annual FFO growth of 7% to 9% over the next five years and increase the distribution at a 5% to 8% rate. It also aims to realize $500 million in annual gains from its investments in BAM-led real estate funds. These are ambitious goals, which are not fully reflected in the unit price.
BPY has a higher FFO distribution payout ratio of its than do major U.S. REITs, which yield an average of 4%. The company is valued at about 11x projected FFO, of $1.59 per unit, a discount to U.S. REITs.
My primary target valuation metric for BPY is P/FFO. BPY's FFO per unit was $1.45 in 2017. Analysts' consensus estimates for FFO/unit estimates for 2019 and 2020 are $1.67 and $1.70, respectively.
My $25 price target represents a 37% premium to BPY's closing price of $18.20 last Friday and a FFO multiple of 14.5x and 14.7x for 2019 and 2020.
I believe my target valuation reasonably reflects BPY's unique structural elements; for example, its high-quality portfolio of premier properties; its unique relationship with BAM, including the Master Service Agreement between the two companies; its high financial leverage, which allows BPY to earn a disproportionate amount on its assets and accelerate revenue growth (despite the risk).
Potential Risks
Even excellent companies come with risks. There is no such thing as a risk-free stock. In fact, there is no such thing as a risk-free return. Most people only associate risk with loss. While stuffing money under the mattress will avoid stock market risk, it simply exposes that money to other risks, such as purchasing power risk, or inflation risk. In other words, the "risk of avoiding risk."
In my article on BCE, I described it as a "widows and orphans stock." BPY has a higher risk model than BCE, but it comes with a higher yield and dividend growth rate, which are two of its attractive features.
Reflecting the private-equity mindset at BPY, the company has much higher leverage than comparable U.S. REITs. BPY's debt totals $46 billion, versus equity of $28 billion. Brookfield's ratio of debt to annual cash flow is about 12x, double the average of major U.S. REITs.
That leverage - which magnifies returns and increases risk - has lately been a negative for the company as investors focus on the health of corporate balance sheets.
In BPY's case, a significant change to long-term interest rates would be a material headwind, given its financial leverage and the capital-intensive nature of its business model.
Rising interest rates have cooled considerably in 2019. Rising rates negatively affect property stocks in two ways. First, these companies are heavily leveraged, so when loans come up for renewal, the interest rates charged will increase. Second, higher rates for safe government bonds means investors demand improved yields from more risky securities. That tends to depress share prices, which pushes up yields.
The longer-term risk is a prolonged recession, which would have the effect of reducing occupancy rates, putting downward pressure on rents and reducing the market value of properties. If the downturn were serious enough, it could result in a freeze on distributions or even a reduction in the payout.
Specific risks include:
Acquisitions that do not add value or fail to gain the confidence of investors;
An increase in interest rates and/or equity risk premiums;
Foreign exchange rates impacting the value of non-US$ generating investments.
I enjoy researching and writing articles on quality companies for Seeking Alpha. Investing is a hobby of mine, as is writing, and it is rewarding to be able to productively combine the two hobbies.
I had a long career in finance and investor relations, which meant I was closely engaged with both sides of the Street (buy side and sell side) on a daily basis. I have read thousands of sell-side equities analysts' research reports. Professional fund managers and sell-side analysts are short-term focused. They have been conditioned to be so, as they are measured and rated on a quarterly basis.
My investment horizon is substantially longer. In fact, my ideal holding period is forever. I strive to provide a more detailed, long-term-focused analysis of companies I research.
The true value of my articles stems from the insightful comments from Seeking Alpha members, and I continue to learn from the readers' comments on my articles. Collectively, your comments give me a prized opportunity to tap into the "wisdom of the crowd." Seeking Alpha members' comments continually reinforce for me how investing decisions must revolve around our personal investment and financial goals, which are as unique as we are.
Please share your thoughts in the "Comments" section beneath this article. With so many informed authors and readers, I find I learn as much from the insightful and value-add comments from readers as I do from researching for the article itself.
I recognize that Brookfield Properties Partners may not be for every investor, as each individual investor has their own unique investment and cash flow objectives. To understand why I recommend and continue to own BPY and why I consider the units to be a long-term hold, it is helpful to have knowledge of my investment approach, which can be summarized in four compound words: quality-value, large-cap, dividend-growth and long-term. For additional details, please refer to an interview conducted by Canada's leading business daily, The Globe and Mail newspaper, entitled "A Long-Term Outlook Helps This Investor Weather Market Volatility."
I focus on companies that fit this four-phrase description. Brookfield Property Partners fits this mold, and I will continue to hold my full position in the company, ideally "forever".
The focus of my articles for Seeking Alpha is on attractively valued, large-cap, dividend-growth stocks with sound business models, strong management teams and wide economic moats - "Forever Stocks," as I like to call them. I strive to provide an in-depth analysis of the companies I research. I wrote this article from the perspective of a long-term investor who follows a straightforward, four-part strategy:
1. Identify a company with strong competitive advantages.
2. Satisfy myself its competitive advantages are enduring.
3. Invest in this company when it is trading at a fair price.
4. Hold the stock "forever," unless there is a significant change to the fundamental investment thesis associated with the company.
If you found this article helpful, please "Follow" me on Seeking Alpha to receive notification whenever I publish a new article.