This is my fourth article, out of a series of articles, devoted to REITs. My previous articles, on Arbor Realty Trust (NYSE: ABR), Starwood Property Trust (NYSE: STWD) and Ares Commercial Real Estate Corporation (NYSE: ACRE), can be found here, here and here, respectively. As with my previous two articles, the topic for this article - Apple Hospitality REIT (NYSE: APLE) - was suggested to me by one of my readers.

Source: Google
Unlike my previous articles, which were about mortgage REITs, this article is about an equity REIT. The main difference between the two types of REITs lies in how revenue is derived. Revenue for mortgage REITs comes mainly in the form of interest income for mortgage loans, while equity REITs generate revenue mainly in the form of rental income obtained from its properties.
An Introduction
Apple Hospitality REIT, like its name suggests, is a REIT in the hospitality sector. The company was formed at the end of 2007, and began trading on the New York Stock Exchange on May 18, 2015, just under four years ago. Prior to its listing, in March 2014, the company merged with two other REITs, Apple REIT Seven and Apple REIT Eight, acquiring close to a hundred hotels in the process. In 2016, the company completed a merger with another REIT, Apple REIT Ten, acquiring an additional 56 hotels.
The company focuses on the select-service segment of the lodging industry in the United States, with 241 hotels spread across 34 states as of 30 September 2018. Select-service hotels are hotels which offer only limited services and amenities. Think of them as a mid-range option, better than a budget hotel but not offering the full range of facilities a typical hotel would offer. However, it would be a mistake to assume select-service hotels aren't well known, as many prominent hotel brands have their own select-service hotels. Such examples include TRPY by Wyndham, Hyatt Place, Courtyard by Marriott and Hilton Garden Inn. In fact, all of the hotels in Apple Hospitality REIT's portfolio operate under the latter two brands - Marriott and Hilton.
As with other hospitality REITs, the company's main source of revenue comes from the hotel rooms it lets out. The company's hotels are fairly well-diversified geographically, with the largest market taking up only about 6% of earnings. However, the company is still susceptible to the performance of the US economy as a whole. For instance, the recent government shutdown, albeit partial, saw hotels experience a 10% decline in activity.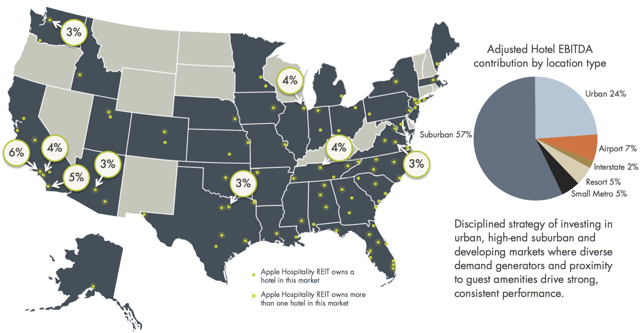 Source: APLE November 2018 Investor Presentation
All of the company's hotels are operated by third-party property managers. In 2016, the company decided to make changes to the traditional management fee structure paid to property managers. Instead of the typical base fee plus an incentive fee if profits are above a certain level, the company opted for a variable management fee based on a balanced scorecard. The balanced scorecard takes into account other qualitative factors such as customer satisfaction scores, instead of focusing solely on financial performance. In theory, this will incentivise property managers to work towards improving the hotels instead of being solely focused on profits, which will in turn lead to a better customer experience and increase the likelihood of customers coming back. However, it is still too soon to tell if this change has had an impact on the company's performance.
Select-Service Focus
As mentioned above, the company has a focus on select-service hotels. Compared to a full-service hotel, select-service hotels charge lower daily rates. However, this is offset by lower operating costs for select-service hotels due to, among other things, the lower number of staff required and the lower cost of maintaining the facilities. Therefore, on a whole, operating margins for select-service hotels tend to be greater compared to their counterparts.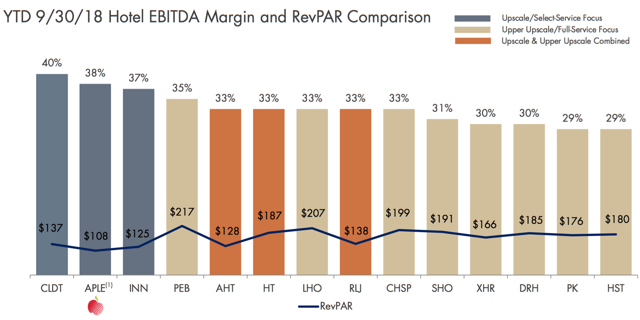 Source: APLE November 2018 Investor Presentation
Select-service hotels are ideal for business travelers, for whom the full range of facilities in a typical hotel is more often than not unnecessary. There has also been an increasing demand for select-service hotels in recent years, especially among millennials, as the demands of consumers change. With effectively all of its hotels being select-service hotels, Apple Hospitality REIT seems well-placed to benefit.
Strong Branding
All of the hotels in Apple Hospitality REIT's portfolio fall under either the Hilton or Marriott brands, both of which are global brands in the hotel industry. The brands, which have a combined membership of close to 200 million customers, provide the company with an existing pool of customers to draw from. In addition, the company is able to leverage on the strength of both brands to attract customers - after all, consumers are more likely to select brands they are familiar with over brands they don't know.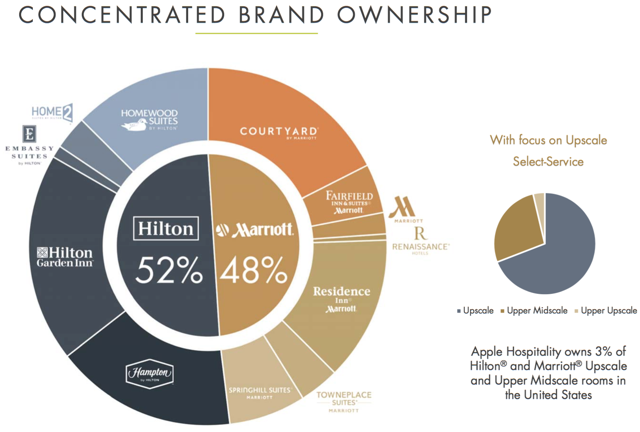 Source: APLE November 2018 Investor Presentation
Recent Performance
A look at the company's financials shows it has been doing well for itself since going public. The company's funds from operations have been on an increasing trend over the past few years. Do note that the huge jump from 2014 to 2015 is due to the merger with Apple REIT Seven and Apple REIT Eight.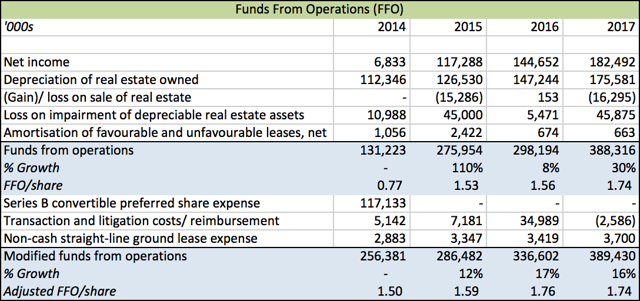 Source: Figures obtained from various APLE annual reports
It is a different story in 2018, however. While figures for the entire year are yet to be released (earnings for the fourth quarter are expected to be announced on February 25), the company's revenue for the first three quarters of 2018 has stayed mostly the same when compared to the corresponding period in 2017.
This lack of growth is not solely attributable to the company. Rather, it is something that applies to the hotel industry as a whole. In fact, the hotel industry is expected to experience slower growth in the next few years.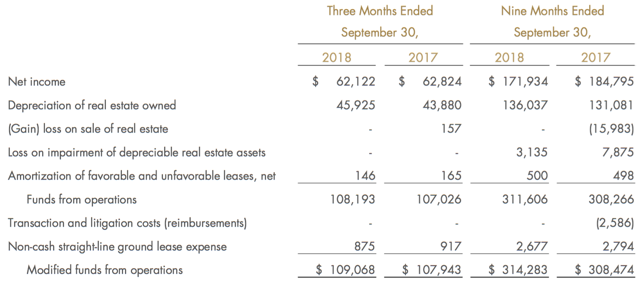 Source: APLE November 2018 Investor Presentation
Financially Stable
Despite the expected poor outlook for the hotel industry in the coming years, Apple Hospitality REIT is well-placed to withstand any setbacks. Of the approximately $1.3 billion debt the company currently has, the bulk of it has a maturity date of 2022 and beyond, meaning the company does not need to worry about payment in the near future. In addition, the majority of the company's debt is fixed rate, meaning the company does not have to worry about fluctuations in interest rates.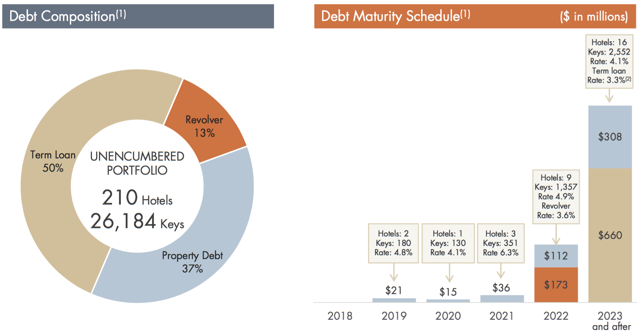 Source: APLE November 2018 Investor Presentation
When compared to other hospitality REITs, the Apple Hospitality REIT's financial security is even more obvious. The table below compares the company's debt-to-equity ratio (D/E ratio) against other REITs mentioned in its investor presentation. From the table alone, it can be observed that the company has by far the lowest D/E ratio among its competitors. Of course, this table isn't representative of all hospitality REITs, but it is sufficient to show just how little debt the company is taking. Do note that the table below takes into account the entire debt the company has, not just interest-bearing debt.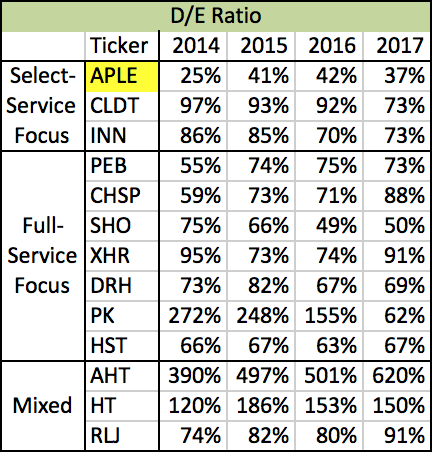 Source: Figures obtained from Morningstar
Dividend History
Since the company went public in 2015, it has paid a monthly dividend of $0.10/share which translates to a yearly dividend of $1.20/share. With the current share price somewhere around $16.20, the equates to a dividend yield of approximately 7.4%. That's nothing to scoff at, especially considering the company has been consistent in its payments. The fact the company pays monthly dividends instead of quarterly or even yearly dividends should also appeal to investors who are seeking a regular source of income (instead of reinvesting their dividends). Furthermore, both the company's funds from operations and modified funds from operations comfortably cover its dividend payout. Thus, there is no need to worry the company will cut its dividends.
Points of Concern
Unfortunately, Apple Hospitality REIT's share performance tells a different tale. Since it went public at $18.21 in May 2015, the company's share performance has been erratic to say the least. Most recently, it reached a low of $13.85 amid the market sell-off in December 2018. While it has rebounded from that low, its share price is still below its initial opening price, meaning investors who first invested in the company are suffering a capital loss (excluding dividends) even after three years. Looking at the company's fundamentals alone, there doesn't seem to be an obvious reason why its share performance has been so poor.
Apart from the fluctuation in share price, which the company is unable to do anything about, there are two things I would like to see before I consider investing in the company.
First, an increase in dividends. While the company has been consistent in paying its dividends and it seems unlikely it will cut them, the changes of it increasing dividends seems equally unlikely, at least for the time being. From its annual report, the company's objective is to "maximise shareholder value by achieving long-term growth in cash available for distributions to its shareholders." Well, the cash available for distribution has certainly increased, but it has yet to be distributed to shareholders. In fact, if inflation is taken into account, the company is actually paying out less each year. Given how the funds from operations have been increasing yearly, I struggle to understand the company's reluctance to increase dividends.
Of course, one possible reason which comes to mind is because the company wants to use this cash growth. This brings me to my next point - I would like to see the company take on more debt to fund its growth. The company has a healthy balance sheet, perhaps too healthy in fact. With a D/E ratio of just 37%, the company's D/E ratio is almost half that of other select-service focused REITs (at least in the table above). Thus, I would like the company to be less conservative and take on more debt to expand. This in turn will free up cash for distribution to shareholders.
Conclusion
There is much to like about Apple Hospitality REIT. It seems to have positioned itself well for the future by focusing on a market which is growing in popularity. At the same time, its finances are secure enough to ensure there are no concerns over its future. However, I believe the company can do more. The company has much potential, but has not shown any sign of fulfilling it. Thus, I would rather allocate my money elsewhere. Of course, this is solely my personal opinion, based on both my risk appetite and investment horizon. A different investor, perhaps one who is seeking the security of knowing exactly how much he/ she will receive in dividends each month, may very well feel differently.
As with my previous articles, I invite my readers to give me suggestions on what REITs I should write about next. Do let me know in the comments below (or via a personal message) if you have one in mind.
Disclosure: I/we have no positions in any stocks mentioned, and no plans to initiate any positions within the next 72 hours. I wrote this article myself, and it expresses my own opinions. I am not receiving compensation for it (other than from Seeking Alpha). I have no business relationship with any company whose stock is mentioned in this article.