In mid December, I did a deep dive into OncoSec Medical (NASDAQ:ONCS), concluding that the company was a promising speculative long, in large part because the market had too high expectations for the company's melanoma cancer trial and had thereby unreasonably punished the stock.
In this article, I'll build on the original by first reviewing the most recent update to the ongoing melanoma study and then turning to a discussion of how I think the company can improve its prospects and simultaneously benefit prospective patients. In today's update, I'm not covering the TNBC trial or the newly announced cervical cancer trial, as at the moment there is no new info on either. Nonetheless both contribute to the total blue sky potential of the company.
Melanoma Keynote-695 Study Update
On Friday February 1st, ONCS updated its Keynote-695 trial, including this set of slides. Similar to the occurrence in November 2018, but smaller in magnitude, investors sold the stock off due to disappointment with the updated results.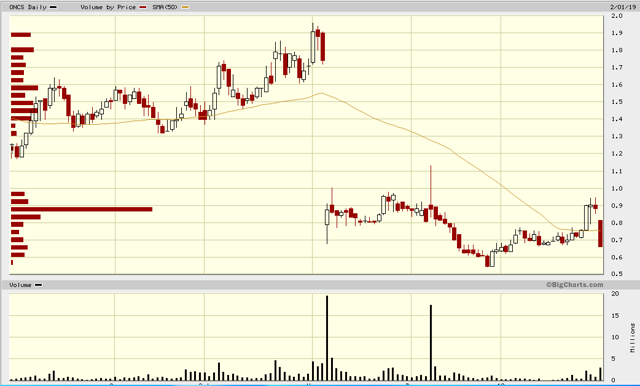 So let's look at the results.
First, note that the November update included 9 patients: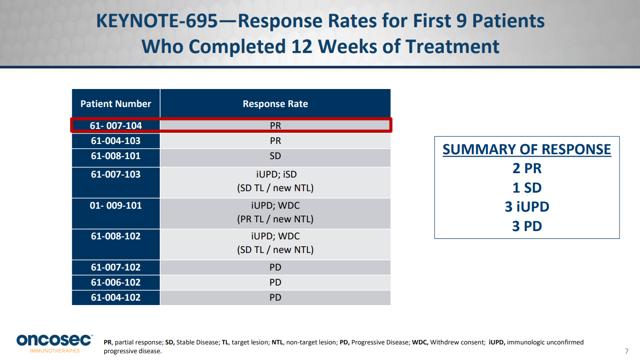 (source)
0 (0%) out of 9 had complete responses, 2 (22%) had partial responses, 1 (11%) had stable disease, the other 6 (67%) had progressive disease.
The February update (which had a data cutoff date of Dec 15, 2018) on 21 patients includes 1 (5%) complete response, 4 (19%) partial responses, 5 (24%) stable disease and the remaining 11 (52%) had progressive disease.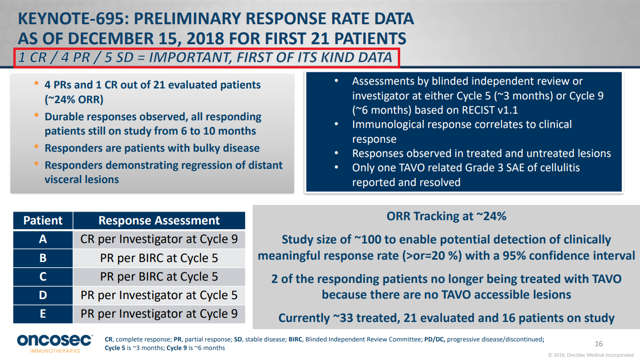 (source)
Thus the February data is clearly an improvement over the initial November data (CR >, CR+PR >, SD >). Moreover all responding patients remain on trial, though given that only 16 out of 33 patients (as of February 1st) treated remain on study, some of the stable disease patients likely have dropped out since December 15th.
Just as one of the partial responses from the November update later converted to a complete response, there's potential that the same could happen for some of the 4 partial responders in this update. For example, it's very positive that two of the partial responders are now only getting Keytruda, since all the lesions that were accessible to TAVO electroporation have cleared up. Another positive is the response of "patient D" after only twelve weeks: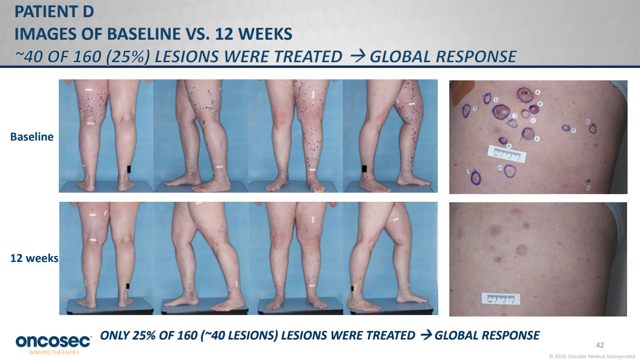 (source)
Based on this most recent data, I continue to think that the trial results are very positive given that there are no alternatives for this "salvage" patient population. Investors are only disappointed due to their unrealistic expectations that this trial would produce results similar to what was seen in the OMS-102 study. Which brings me to:
Moving Beyond the Salvage Setting in Melanoma
Recall that the OMS-102 study treated melanoma patients with a combination of Keytruda and TAVO just as in the Keynote-695 trial, but in the case of OMS-102, patients hadn't necessarily failed immune checkpoint inhibitor therapy, rather they had biomarkers which indicated that they would.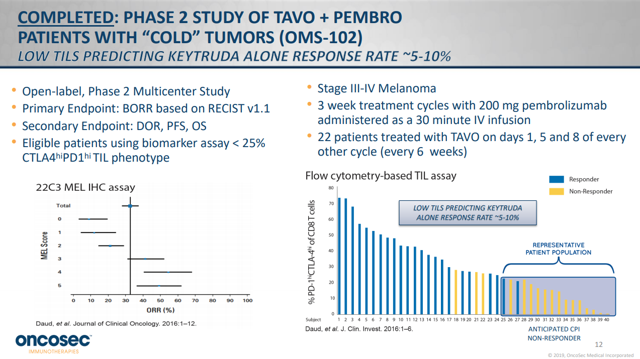 (source)
The results of this study were fantastic, and ONCS has recently updated the slide (by greatly increasing the amount of information provided) summarizing the patient progress and outcomes. Note in particular that 8 of the 9 complete responders came off of TAVO before achieving a CR and then over time converted to complete responses on follow up treatment with Keytruda alone: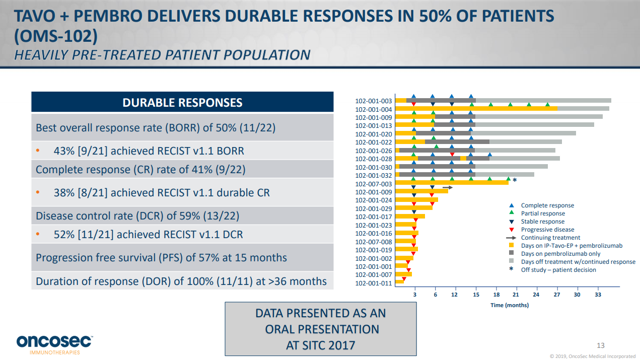 (source)
The difference between this study and Keynote-695 is that patients in Keynote-695 have definitively failed multiple courses of immune checkpoint inhibitors. See for example this slide from "Patient A" which shows almost a year of pre-treatment before beginning on TAVO in the Keynote-695 trial: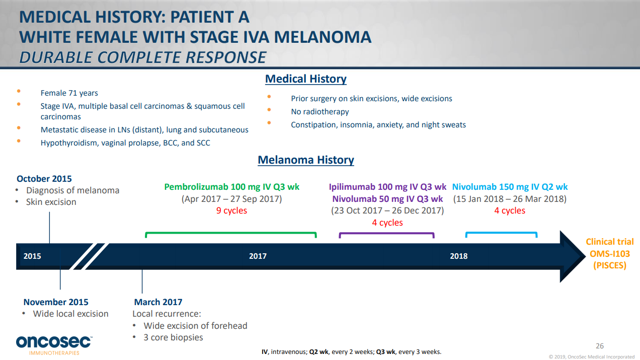 In my view, the essential difference between the studies can then be parsed into two inter-related aspects. Patients in the earlier study hadn't definitively failed checkpoint inhibitor therapy AND as a result they could be treated earlier in their disease diagnosis. But this second part could be crucial as presumably the patients' immune systems wouldn't be as stressed and exhausted in the early part of treatment vs. a year of strenuous treatment later. Avoiding this delay could potentially greatly improve patient outcomes.
So why not conduct another trial to test this? Use the same biomarker inclusion criteria as used for OMS-102, and then segregate the patient population into one arm of Keytruda alone, and the other arm as TAVO + Keytruda. If the earlier OMS-102 data is borne out and the TAVO combination is clearly superior, this would position the company to treat patients possessing biomarkers indicating the likelihood of cold tumors that much earlier in their diagnosis. Not only would this be a great benefit to patients, but it would simultaneously increase ONCS' potential market reach by moving beyond the salvage setting.
Upcoming Catalysts
The company has a number of potential catalysts coming over the next year to year and half, as seen in the table below. I'm most interested in further Keynote-695 updates and the first data from the TNBC Keynote-890 trial. I hope to provide further updates as new data warrants.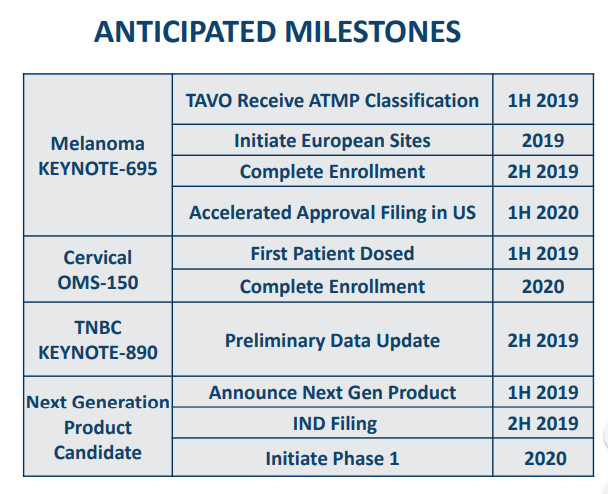 (source)
Risks
The biggest risk is that the company will need cash by early 2020, so a financing deal is likely to occur this year. Hopefully it will happen at higher stock prices than those of today, but the risk is it won't.
A version of this article was previously released to subscribers of Total Pharma Tracker, a Marketplace service with whom I am now collaborating. Some of my work will be available to TPT subscribers either exclusively, or in advance.