A Closer Look At The Tesla - Maxwell Technologies Deal
Summary
Maxwell Technologies is developing interesting cutting-edge technology.
The deal allows Tesla to trade equity for cash.
There's potential for a competing bid to come in.
Looking for a community to discuss ideas with? Special Situation Report features a chat room of like-minded investors sharing investing ideas and strategies. Get started today »
Tesla (NASDAQ:TSLA) just acquired Maxwell Technologies (NASDAQ:MXWL). This is a very savvy acquisition. Tesla is trading equity for cash, acquiring technology that can give its competitors a headache and it will allow Tesla to tout its proprietary and advanced battery technology. Helpful in the PR wars with the detestable short sellers. The transaction adds an interesting dimension to the Tesla trade.
I've recently reviewed the Tesla earnings call and I am currently short the stock. The primary reason being the company is running out of options and it is refusing to raise money.
Even if you are short you should be able to admit it when a company gets something right. This acquisition looks like one of those things. Props to Tesla on this one. Here's why I like it:
Equity for cash
Tesla traded equity for cash in this deal. It is paying Maxwell's stockholders in stock but after the close will get access to Maxwell's ~$69 million cash balance.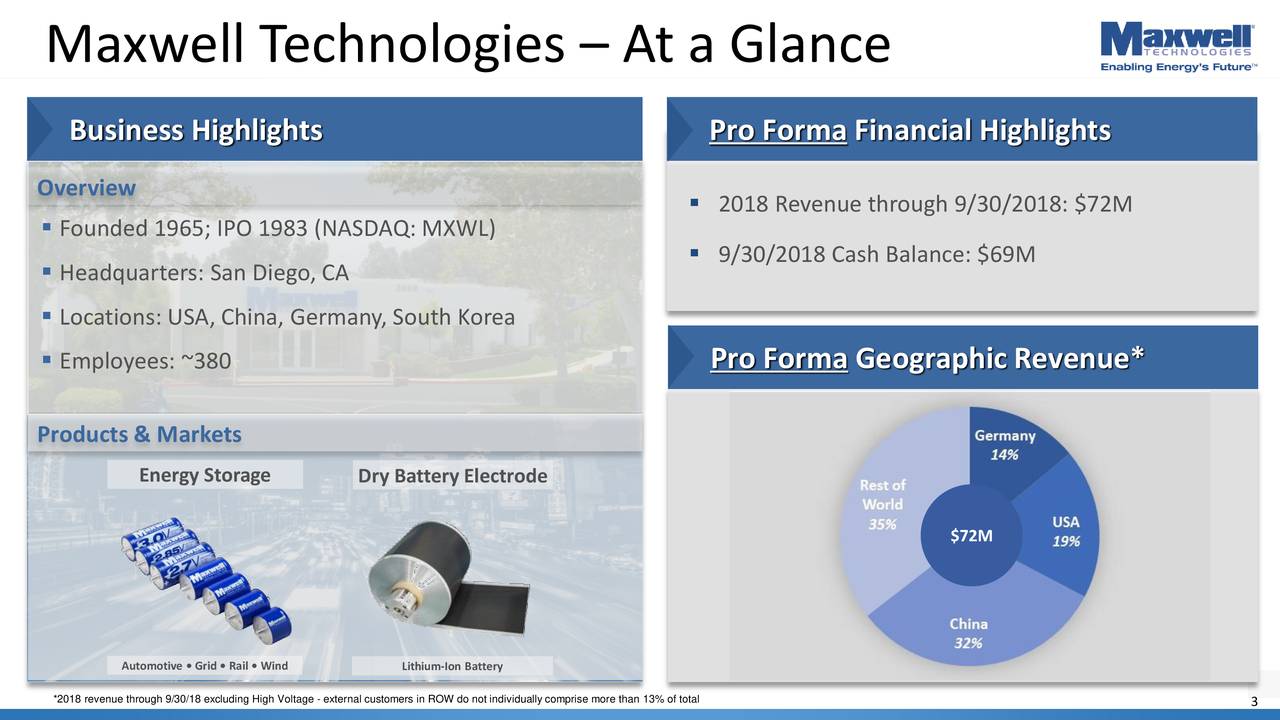 Source: Maxwell presentation
The economic reality here is that the purchase price of $218 million is only $149 million. Even better the price is paid with its rich equity while it receives actual hard U.S. dollars.
Annoying the competition
Maxwell is supplying the automotive market. It has a number of design wins to supply automakers with its products. These platforms are only now coming online, meaning revenue should ramp up from here.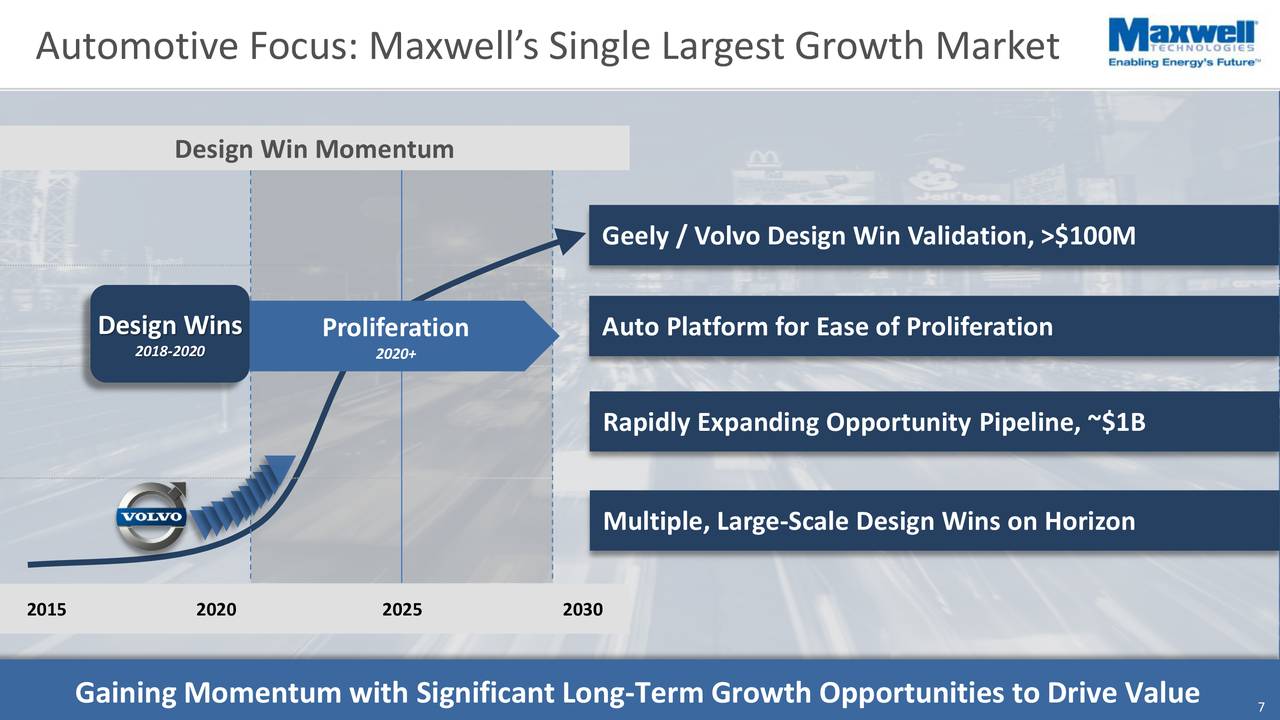 I understand that the company is the only company that is able to deliver e-active suspensions. That's interesting because this would grant Tesla a unique suspension (something people like about its cars already) advantage. From the last Maxwell earnings call:
We continue to see increasing interest in Maxwell's range of automotive solutions primarily in peak power, autonomous driving and E-active suspension applications. Each of these are large market opportunity for us, and with the technology and solutions we are developing, we believe we have a strong offering and competitive advantage.
It scooped up an opportunity to add to its cash balance and potentially deny competitors valuable IP.
PR Wars
Lately, Tesla doesn't have that many great things to talk about. Its sales and its guidance for future sales have been disappointing. It is not releasing any new products anytime soon. Executives are leaving en masse, the CFO being the latest example. This acquisition will give Tesla lots of cool technology to talk about like dry battery: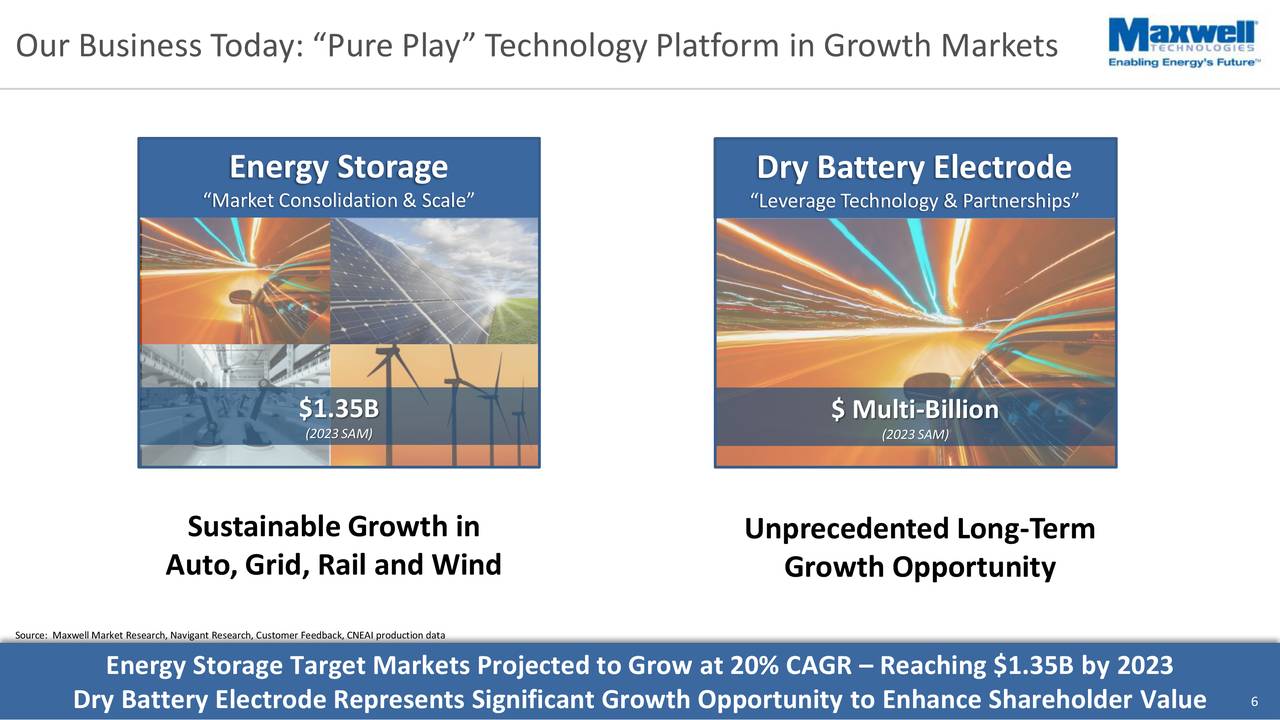 I don't want to sound too skeptical because this could very well be a really interesting technology. Dry battery technology could allow Tesla to manufacture batteries in a more environmental-friendly way with increased energy density.
From the Maxwell call (emphasis mine):
Concurrently we are activity pursuing additional avenues to enhance our balance sheet and our cash position, including a specific focus on non-dilutive measures. Despite some of the near-term headwinds we are facing, we do have significant momentum behind us. Our technology is evolving rapidly. We are in advanced discussions with some major OEM players for our dry battery electrode technology and our pipeline across all segments is expanding. Our long-term position in my opinion is stronger than it was a year ago or even last quarter.
Note the advanced discussions with multiple major OEM players.
Bargain hunter
Tesla has a bit of a mixed track record on acquisitions. The company got a great deal on its Fremont factory when it acquired it. I'm of the opinion the SolarCity acquisition was highly value-destructive but you could argue the jury is out on that one. This one looks really good to me. Especially if you consider it is paying in overvalued stock and acquiring $69 million of cash.
The market used to be real interested in Maxwell and its stock price reflected so. But because profitability did not materialize it started to raise money through equity. Perhaps it was viewed as a victim in the U.S./China trade tension as well: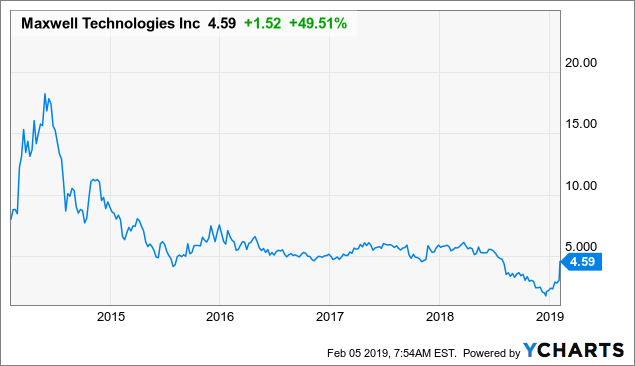 I'll readily believe Tesla has great insight in the value of Maxwell's technology which increases my confidence this is a good buy.
What to do?
As I've already admitted, I'm short Tesla. The trade I really like here is to buy Maxwell Technologies. The spread isn't that great with Maxwell having jumped to $4.59, it trades at only a 3.4% discount to the variable final deal price that should be around ~$4.75 worth of Tesla shares.
I still think that 3.4% spread is attractive because of two primary reasons 1) the companies are pushing to close this deal lightning quick. Reading the deal prospectus what really jumped out at me is how they are doing everything in their power to close the deal as fast as possible.
If it closes within three months that's still a 12%+ annualized return. A quick deal also limits the potential for things to go awry.
2) Potential for a competing offer. If you re-read one of the paragraphs I quoted above from Maxwell's earnings call it said:
We are in advanced discussions with some major OEM players for our dry battery electrode technology
Tesla views this as a chance to acquire key technologies for its electric vehicle line-up. Lots of other automakers are investing heavily in this space. The company is tiny and has $68 million in cash on the balance sheet, there are plenty of strategic players that can come in and overbid.
3) The Tesla offer gives credence to some of the company's emerging technology. You could argue that the stock doesn't have to fall back all the way to the pre-deal price if the deal breaks.
Risks
The deal break fee is quite modest. It isn't going to be much of a deterrence to Tesla to back out.
If the deal closes with Tesla averaging around $313 (during the measuring period), we receive about ~0.15 Tesla shares for each Maxwell share. That's about $4.75 worth. But if Tesla's stock dives below $245.90 the consideration is limited to 0.0193 Tesla shares per Maxwell share. If Tesla dives substantially below this number the deal is quite disadvantageous.
The stock jumped 50% on deal announcement. That means you could potentially lose as much as 33% if it falls back down.
Conclusion
I'm buying some Maxwell shares to offset them with a roughly corresponding amount of short Tesla. I like it well enough to initiate it. Especially because I can increase my already established short position while getting bailed out, in part, if Tesla's stock rises unexpectedly. Under most circumstances I'll collect the spread. There is a reasonable probability we'll see a higher bid here. There is a small probability I'll lose if Tesla dives hard but closes nonetheless.
Check out the Special Situation Investing report if you are interested in uncorrelated returns. We look at special situations like spin-offs, share repurchases, rights offerings, M&A events, etc. But we also have a keen interest in the commodity space. Especially in the current late stages of the economic cycle.
This article was written by
Special-Situation And Event-Driven Ideas To Improve Risk Adjusted Returns
15 years of investing and I feel like a rookie in his first year at the academy. My roots are in the value school but over time I've learned to respect different approaches. I'm interested in what quants do, options traders do, and even what WallStreetBets is doing (keep your friends close and...)
I gravitate towards special-situations. That means situations around companies or the market where the price can move in a certain direction based on a specific event or ongoing event. This eclectic and creative style of investing seems to suit my personality and interests most closely.

Since 2020 I host a podcast/videocast where I discuss (special-situation/event-driven) market events and investment ideas with top analysts, portfolio managers, hedge fund managers, experts, and other investment professionals. I highly recommend it (pick episodes around topics that interest you) for the amazing guests that come on with regularity.
I've been writing for Seeking Alpha since 2013 after playing p0ker professionally. In 2018 I founded Starshot Capital B.V. A Dutch AIF manager. Follow me on Twitter @Bramdehaas or email me Dehaas.Bram at Gmail
Analyst's Disclosure: I am/we are long MXWL. I wrote this article myself, and it expresses my own opinions. I am not receiving compensation for it (other than from Seeking Alpha). I have no business relationship with any company whose stock is mentioned in this article.

short Tesla
Seeking Alpha's Disclosure: Past performance is no guarantee of future results. No recommendation or advice is being given as to whether any investment is suitable for a particular investor. Any views or opinions expressed above may not reflect those of Seeking Alpha as a whole. Seeking Alpha is not a licensed securities dealer, broker or US investment adviser or investment bank. Our analysts are third party authors that include both professional investors and individual investors who may not be licensed or certified by any institute or regulatory body.