A healthy economy with a stable and strongly upward sloping yield curve is the perfect environment for mortgage REITs. The interest spread between short-term rates and mortgage rates has decreased somewhat, but as long as recession risk remains low, we expect the environment to remain benign for investments in mortgage REITs.
US economy
The expectations for the American economy are too pessimistic in my view. This is, for example, expressed in the fact that there are no further rate hikes expected from the Fed.
Exhibit 1: Expected rate hikes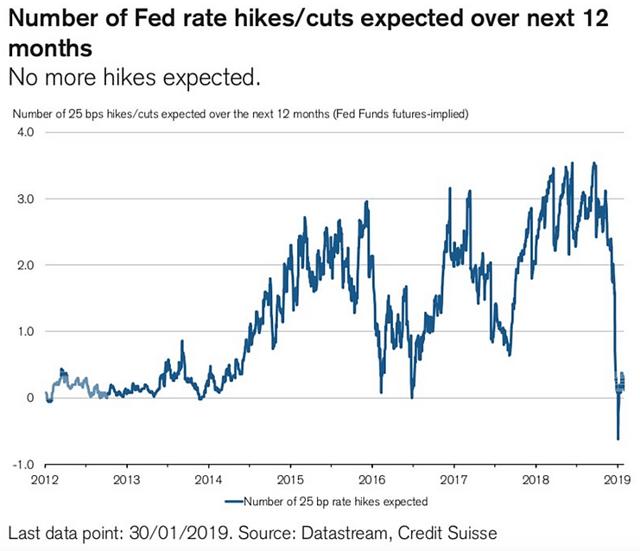 If the economy performs better than currently is expected, the Fed will have to increase interest rates further and the environment will be favorable to mortgage REITs.
Exhibit 2: Financial Conditions Index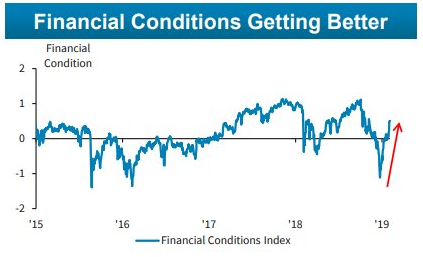 In any case the financial conditions are getting better, as evidenced by Barclays Financial Conditions Index and the Citi Economic Surprise Index. This index improved strongly for the United States, but also globally.
Exhibit 3: Citi Economic Surprise Index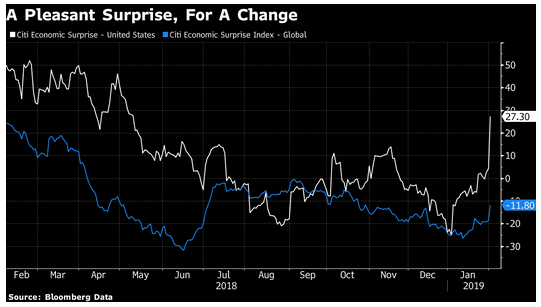 At the same time recession risks remain low.
Exhibit 4: Recession risk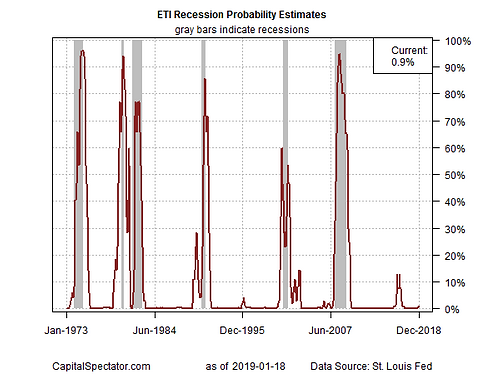 Mortgage REITs
While equity REITs invest in physical properties, mortgage REITs invest in mortgages or mortgage-backed securities, making them real estate debt owners. Mortgage REITs typically derive their returns from the income produced by the mortgages in their portfolio as well as changes in the mortgages' net present values. This is not dissimilar to equity REITs, which derive their returns from rents paid by tenants and the changes in its properties' valuations.
Mortgage REITs acquire mortgages, which generally have long maturity terms, such as 15 or 30 years. They finance the purchase of these with short-term debt, which generally comes with a lower interest rate than the mortgages pay. For example, if a mortgage REIT buys a 15-year mortgage that pays 3% per year and finances it with debt that costs 2% per year, the 1% spread represents the profit. The wider this spread, generally the more profitable it is for the mortgage REIT.
Of course, shareholders aren't interested in earning a 1% or 2% return, so these companies use a great deal of leverage to boost returns.
Mortgage REITs, for example, currently exhibit an average debt-to-equity ratio of 4.3x, which when multiplied by the current rate spread of 2.1% results in an effective spread of 9%.
One could say that mortgage REITs resemble a bit banks that also use short-term funding (besides equity) to give long-term loans and earn the spread. Mortgage REITs focus solely on mortgage while the banks' loans are more diversified. Leverage in a bank is higher than that of mortgage REITs.
Despite falling under the REIT umbrella, mortgage REITs are often analyzed separately from equity REITs due to differences in asset bases, business models, and funding profiles. In this vein, the Global Industry Classification Standard (GICS) classifies equity REITs in the 'Real Estate' sector, while mortgage REITs land in the 'Financials' sector.
Real Estate prices
A mortgage is a first claim on real estate with limited upside potential to real estate price gains and large downside to potential to real estate price declines. The risk exposure resembles the combination of holding a riskless bond and a short position in a put option on the real estate. During periods of strong real estate prices with stable or falling interest rates, mortgages should perform well. The huge decline in mortgages in 2007 and 2008, even while global bonds performed well, indicate the short put option on real estate implicit in mortgages. The value of traditional corporate debt often focuses more on the profitability of the operating firm than on the value of the company's tangible assets. The value of mortgages, however, is more closely associated with the value of the real estate than the profitability of the borrower.
The Housing Affordability Index measures the degree to which a typical family can afford the monthly mortgage payments on a typical home. A value of 100 means that a family with the median income has exactly enough income to qualify for a mortgage on a median-priced home. An index above 100 signifies that family earning the median income has more than enough income to qualify for a mortgage loan on a median-priced home, assuming a 20 percent down payment. For example, a composite housing affordability index of 120 means a family earning the median family income has 120% of the income necessary to qualify for a conventional loan covering 80 percent of a median-priced existing single-family home. An increase in the Affordability Index then shows that this family is more able to afford the median priced home.
During the housing crisis the index rose from 100 to above 200. Since 2014 the index is trending down and currently stands at 144.
Exhibit 5: The Housing Affordability Index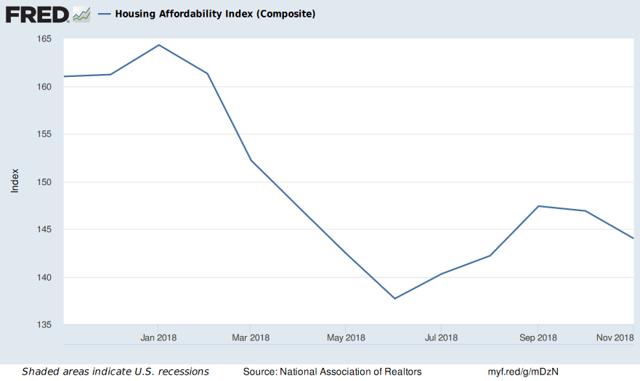 As we said, the value of mortgages, however, is more closely associated with the value of the real estate than the profitability of the borrower. As shown by e.g. the S&P/Case-Shiller U.S. National Home Price Index, the value of real estate keeps rising, while the affordability remains reasonable.
Exhibit 6: S&P/Case-Shiller U.S. National Home Price Index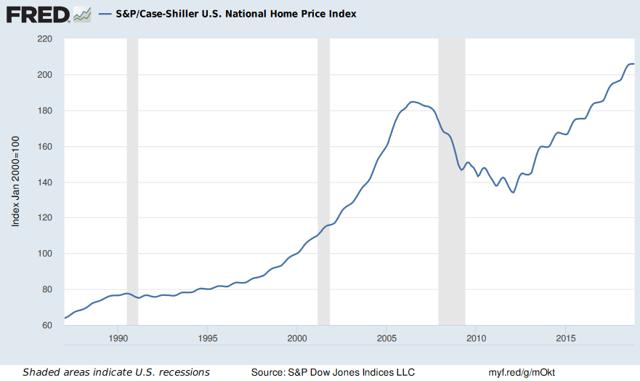 The risk of a house price decline seems limited, certainly because the economy is running smoothly and recession risk is low.
Prepayment risk
Changes in interest rates or borrower home sales affect the probability that some borrowers will refinance or repay their mortgages. When such a refinancing or repayment occurs, the investor holding the mortgage or MBS must reinvest the proceeds into the prevailing interest rate environment, which may be lower or higher. Mortgage REITs seek to hedge prepayment risk using similar tools and techniques as those they use to hedge against interest rate risks.
Interest rate risk
The interaction between mortgage REITs and interest rates is multi-faceted. Managing the effects of changes in short- and long-term interest rates is an essential element of mortgage REITs' business operations. Changes in interest rates can affect the net interest margin, which is mortgage REITs' fundamental source of earnings, but also may affect the value of their mortgage assets. And although the interest spread has come down the past years, it still remains above 2%.
Exhibit 7: Interest rate spread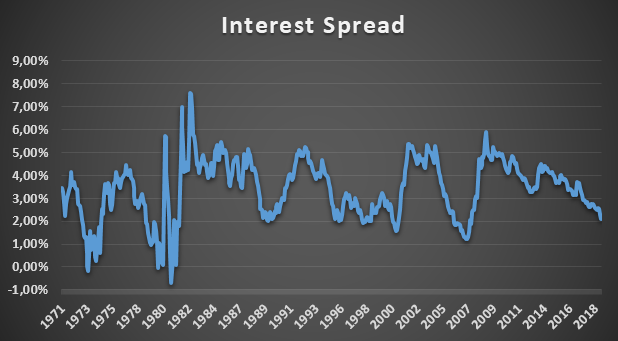 A healthy economy with a stable and strongly upward sloping yield curve is the perfect environment for mortgage REITs. When interest rates rise this can have a negative impact on the funding costs and at the same time decrease the value of mortgages they have on their books. Nevertheless, Nareit's Brad Case calls it a myth that an increase in interest rates is bad for real estate investors. The historical evidence shows that real estate investors - at least those who invest through exchange-traded REITs - have usually done better during rising-rate environments than when interest rates were declining. There's a perfectly good reason for that: interest rates usually increase because macroeconomic conditions are improving, and an improvement in macroeconomic conditions is usually good news for equity investments in both real estate equity and real estate debt.
As we said in the beginning, we think the expectations for the American economy are too pessimistic.
Take a look, for example, at the latest ISM figures. Over time, the ISM report has been a great leading indicator of GDP growth and the latest jump is this figure bodes well for the US economy.
Exhibit 8: ISM Manufacturing PMI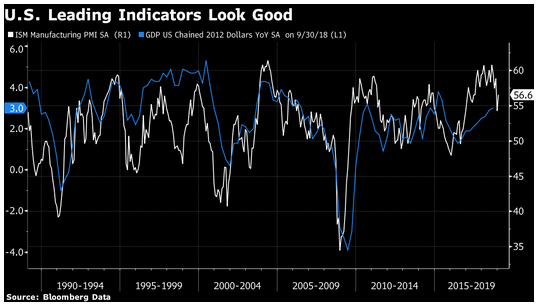 This implies that the current benign climate for mortgage REITs can continue.
Valuation
There is a clear link between the yield spread between mortgage REITs and bonds (both treasuries and corporates) and forward-looking expected returns.
Exhibit 11 shows the median annualized total return of mortgage REITs over the next three years based on their dividend yield spread to 10-year Treasuries at the beginning of that three-year period. The categories are defined so that each of them has roughly the same frequency.
Exhibit 9: Yield spread vs. treasuries and expected returns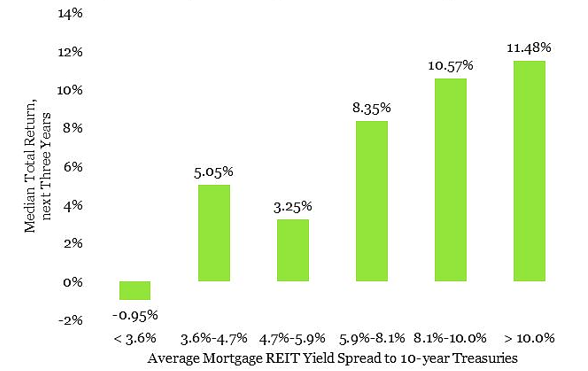 The current spread is 7.8%....
Many analysts believe that the dividend yield spread to Baa-rated corporate bonds has more predictive power than the spread to Treasuries, because the Baa corporate yield more closely matches funding costs for REITs.
Exhibit 10: Yield spread vs. corporates and expected returns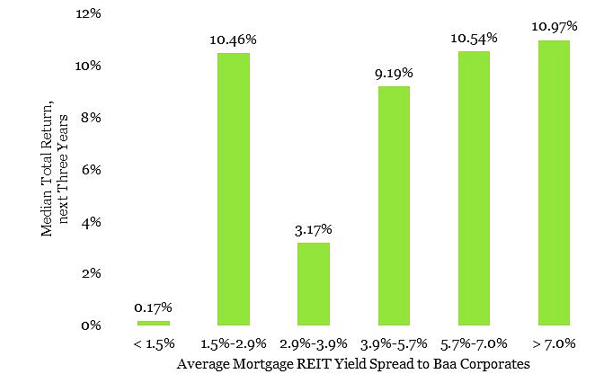 Current spread: 5.47%...
Both spreads correspond with an expected return of around 8-9% if history is our guide.
Is a current dividend yield in excess of 10% a signal that perhaps investors should look more closely at the investment opportunity in exchange-traded Mortgage REITs? The historical data suggests that the answer should be "yes."
Historical returns
A quick look at the historical returns reveals that you shouldn't invest in mortgage REITs for price appreciation. It's not about earnings growth, but all about the yield. And double-digit yields offer quite a bit of protection against price declines.
Exhibit 11: Historical returns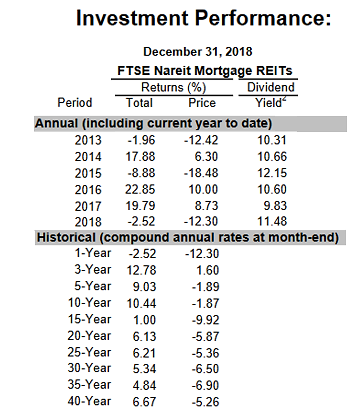 ETF composition
The biggest mortgage REIT ETF is the iShares Mortgage Real Estate ETF (BATS:REM) with almost $1.2 billion assets under management. The ETF has 34 holdings. The biggest names are Annaly Capital Management (NLY) and AGNC (AGNC), both representing more than 10% of the ETF. The ten biggest positions account for more than 70% of the portfolio.
Exhibit 12: iShares Mortgage Real Estate ETF Top-10 holdings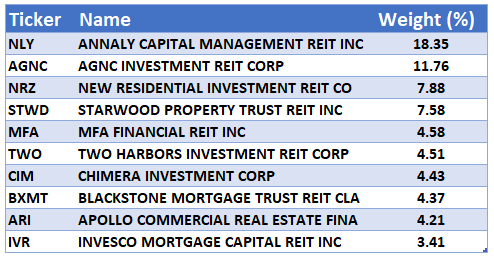 Recent performance
In 2018 the iShares Mortgage Real Estate ETF lost 2%, while the S&P 500 as measured by the SPDR S&P 500 ETF (SPY) declined more than 5%. Since the beginning of this year, the iShares Mortgage Real Estate ETF rose almost 10%.
Exhibit 12: Performance chart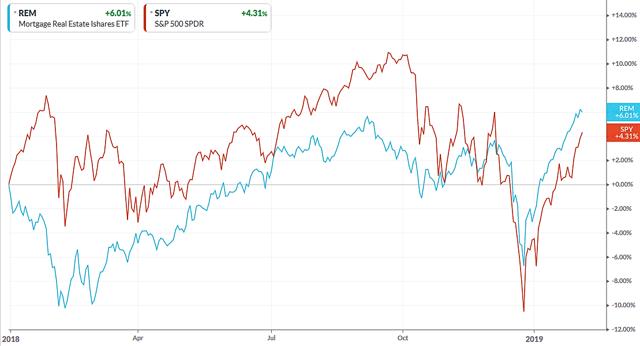 Source: Koyfin
Conclusion
If the American economy performs better than currently is expected, the prospects look bright for mortgage REIT investors (who understand the risks involved): dividends (currently yielding more than 10%) should be safe and the spread versus both treasuries and corporate bonds point to high single-digit expected returns.
This article provides opinions and information, but does not contain recommendations or personal investment advice to any specific person for any particular purpose. The information provided is for educational purposes only and does not constitute a recommendation of the suitability of any investment strategy for a particular investor.