The Strongest January Since 1987 Lifts U.S. Stocks
Summary
This January was the strongest in 32 years, especially for small-capitalization stocks, which had their strongest start in over 40 years.
I believe that companies which continue to surprise and guide higher, like Boeing, will continue to be market leaders.
In other words, China's economic slowdown, Brexit, and other global events are now influencing the Fed.
The S&P 500 rose 2.34% last week, nearly 8% in January, and 15% since Christmas. This January was the strongest in 32 years, especially for small-capitalization stocks, which had their strongest start in over 40 years. Despite this strength, the market initially got up on the wrong side of the bed last week after some big companies warned that sales were slowing down, mostly due to a lack of demand from China.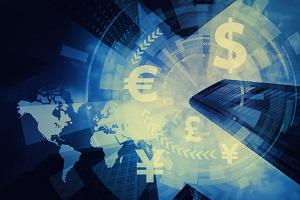 Complicating matters further for these multinational companies is the fact that the U.S. dollar remains strong, while the Chinese yuan and most other currencies remain weak, so when multinational companies are paid in eroding currencies, they all too often have to issue revenue warnings. The eurozone's growth is now increasingly precarious. Since approximately 50% of the S&P 500's sales are generated outside of the U.S., I expect more multinational companies to issue revenue warnings in the upcoming weeks.
Fortunately, some multinational companies are prospering. For example, on Wednesday, Boeing (BA) posted a substantial earnings surprise and provided positive guidance. So far, fourth-quarter results for S&P 500 stocks are running at an annual sales gain of 7.4% and annual earnings pace of around 13%. I believe that companies which continue to surprise and guide higher, like Boeing, will continue to be market leaders.
Navellier & Associates owns BA in managed accounts and a sub-advised mutual fund. Louis Navellier and his family do not own BA privately.
"As January Goes, So Goes the Year"?
With January up 8%, the saying "as January goes, so goes the year" is obviously a good omen. Between 1950 and 2017, the January barometer has been correct 58 of 67 times (about 87%), according to The Stock Trader's Almanac. However, I still expect market leadership to become increasingly narrow in the upcoming months, simply because earnings momentum will continue to decelerate due to more difficult year-over-year comparisons. Furthermore, since many multinational companies are now hindered by slowing global growth and a strong U.S. dollar, it remains imperative to own more domestic companies, especially the small- and mid-capitalization companies that benefit when the U.S. dollar is strong.
There are three primary reasons why the U.S. dollar continues to be strong: (1) The U.S. is experiencing stronger GDP growth than other developed nations; (2) the Fed has raised key interest rates substantially above most other reserve currencies, and (3) the U.S. has a strong, assertive leader.
Speaking of the Fed, Chairman Jerome Powell last Wednesday turned very dovish, essentially signaling that the Fed will not raise rates for the foreseeable future. Specifically, in his press conference after the Federal Open Market Committee (FOMC) meeting, Powell said the case for higher rates "has weakened" because of muted inflation and somewhat slower U.S. growth, stressing that the Fed will be "patient" before determining its next move. He also clarified that the current level of interest rates is "appropriate."
Looking forward, the FOMC minutes said the Fed continues to believe that "the most likely outcome" for the U.S. economy is sustained growth with strong labor market conditions and inflation near 2%. The most interesting comment in the FOMC minutes was this: "In light of global economic and financial developments and muted inflation pressures, the FOMC will be patient as it determines what future adjustments to the target range for the federal funds rate may be appropriate to support these outcomes."
In other words, China's economic slowdown, Brexit, and other global events are now influencing the Fed.
A Great Jobs Report Capped a "Mixed" Week of Indicators
The economic news last week was mixed. On Tuesday, the Conference Board announced that its consumer confidence index declined sharply to an 18-month low of 120.2 in January, down from 126.6 in December. This was the third straight monthly decline and substantially below economists' consensus estimate of 124. The expectations component plunged to 87.3 in January, down from 97.7 in December and is especially alarming. In past federal government shutdowns, consumer confidence has declined, so it will be interesting if consumer confidence will quickly rebound, or if we will fear another shutdown.
Nonetheless, consumer spending is expected to slow dramatically in the first quarter, while the record January cold snap in the Midwest and Northeast is also expected to curtail consumer spending figures.
On Friday, the Labor Department announced that 304,000 payroll jobs were created in January, substantially above economists' consensus estimate of 170,000. This marked the 100th straight month of net job creation. The unemployment rate actually rose to 4% from 3.9% in December, due to more workers entering the labor force, as the federal government partial shutdown apparently caused some contract workers to seek other jobs, which substantially boosted the number of workers looking for jobs.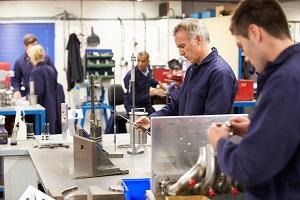 Wages only grew by 0.1% (3 cents) to $27.56 per hour, so wage growth was well below economists' consensus estimate of 0.3%. The labor force participation rate rose to 63.2%, the highest since 2013. The bad news is that the December payroll report was revised down to 222,000, from 312,000 previously estimated. Meanwhile, the November payroll report was revised to 196,000, up from 176,000 previously estimated, so in the last two months of 2018, the total of new payroll jobs was revised down by a cumulative 70,000 jobs. Overall, the job market remains very healthy, but with minimal wage growth, inflationary pressures will remain low, so the Fed will not be under any pressure to raise interest rates.
Also on Friday, the Institute of Supply Management (ISM) announced that its manufacturing index re-surged to 56.6 in January, up from 54.3 in December. This was a big surprise, since the consensus estimate by economists was 54.3. Back in November, the ISM manufacturing index stood at 58.8, so the abrupt deceleration in December alarmed some economists, who can now calm down a bit with the January resurgence. These positive ISM numbers bode well for growth in the manufacturing sector. As a result, some economists may now be revising their first-quarter GDP estimates a bit higher.
Overall, we are still in a 'Goldilocks' environment with strong job growth, low inflation, stable interest rates, a strong U.S. dollar, and the fifth quarter in a row of double-digit earnings growth for the S&P 500.
As a result, I think we can expect a very positive State of the Union speech on Tuesday night.
Disclosure: *Navellier may hold securities in one or more investment strategies offered to its clients.
Disclaimer: Please click here for important disclosures located in the "About" section of the Navellier & Associates profile that accompany this article.
Editor's Note: The summary bullets for this article were chosen by Seeking Alpha editors.
This article was written by
Navellier & Associates was founded by Louis Navellier in 1987 and since then has guided thousands of investors by applying our disciplined, quantitative investment process to a broad range of equity products. Every day, investors hire Navellier to manage their assets in a private account, mutual fund, or defensive portfolio. For over 25 years, we've been zeroing in on opportunities for long-term growth. We employ a veteran team of investment and client service professionals who deliver exceptional, personal service and industry-leading information to our clients. _________________________________ Important Disclosures that Accompany Navellier & Associates Articles: *Navellier may hold this security in one or more investment strategies offered to its clients. None of the stock information, data, and company information presented herein constitutes a recommendation by Navellier or a solicitation of any offer to buy or sell any securities. Any specific securities identified and described do not represent all of the securities purchased, sold, or recommended for advisory clients. The reader should not assume that investments in the securities identified and discussed were or will be profitable. Information presented is general information that does not take into account your individual circumstances, financial situation, or needs, nor does it present a personalized recommendation to you. Individual stocks presented may not be suitable for you. Investment in securities involves significant risk and has the potential for partial or complete loss of funds invested. One cannot invest directly in an index. Results presented include the reinvestment of all dividends and other earnings. Graphs are for illustrative and discussion purposes only. Although information has been obtained from and is based upon sources Navellier believes to be reliable, we do not guarantee its accuracy and the information may be incomplete or condensed. All opinions and estimates constitute Navellier's judgment as of the date of the report and are subject to change without notice. This report is for informational purposes and is not to be construed as an offer to buy or sell any financial instruments and should not be relied upon as the sole factor in an investment making decision. Any decision to purchase securities mentioned in this research must take into account existing public information on such security or any registered prospectus. Past performance is no indication of future results. FEDERAL TAX ADVICE DISCLAIMER: As required by U.S. Treasury Regulations, you are informed that, to the extent this presentation includes any federal tax advice, the presentation is not intended or written by Navellier to be used, and cannot be used, for the purpose of avoiding federal tax penalties. Navellier does not advise on any income tax requirements or issues. Use of any information presented by Navellier is for general information only and does not represent tax advice either express or implied. You are encouraged to seek professional tax advice for income tax questions and assistance.