The Winter Of Our Discontent (And Spring Of Hope?)
Feb. 06, 2019 5:20 AM ET
SPY, QQQ, DIA, SH, IWM, TZA, SSO, TNA, VOO, SDS, IVV, SPXU, TQQQ, UPRO, PSQ, SPXL, UWM, RSP, SPXS, SQQQ, QID, DOG, QLD, DXD, UDOW, SDOW, VFINX, URTY, EPS, TWM, SCHX, VV, RWM, DDM, SRTY, VTWO, QQEW, QQQE, FEX, ILCB, SPLX, EEH, EQL, SFLA-OLD, QQXT, SPUU, IWL, FWDD, SYE, SMLL, SPXE, UDPIX, JHML, OTPIX, RYARX, SPXN, HUSV, RYRSX, SCAP, SPDN, SPXT, SPXV
1 Comment
Summary
Today marks the 46th day of winter – the midway point of the 91-day season.
Wall Street's tale of the tape for the first half of winter began with a market bottom on December 24.
Also, as of February 1, fourth-quarter GDP is expected to be +2.5%, meaning "no recession in sight."
By Gary Alexander
It was the best of times, it was the worst of times, it was the age of wisdom, it was the age of foolishness, it was the epoch of belief, it was the epoch of incredulity, it was the season of Light, it was the season of Darkness, it was the spring of hope, it was the winter of despair…

– The opening lines of "A Tale of Two Cities" by Charles Dickens
To quote Shakespeare, last December marked what looked like "a Winter of our Discontent," but then Charles Dickens' more balanced laundry list gave us the full story: It was both the best of times – the best stock market gains in January in 32 years – and the worst of times, the worst December since 1931.
So which month is telling the truth – Depressing December or Joyful January?
Today marks the 46th day of winter – the midway point of the 91-day season. Wall Street's tale of the tape for the first half of winter began with a market bottom on December 24. The fall season (aptly named this year) brought a 19.8% fall in the S&P 500 – just short of an official "bear market" (-20%) designation. Since then, the S&P has recovered by 15% on a closing basis (in just 26 trading days since December 24).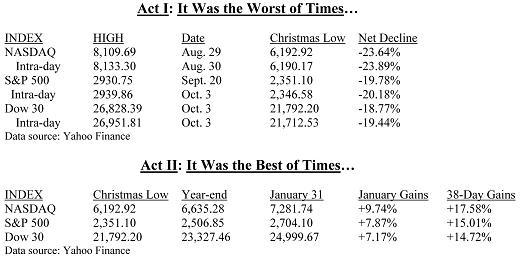 Act III is yet to come. Will we see another "worst of times" or just a "pause that refreshes"? (It's highly unlikely we'll see another 15% gain in the next 38 days. Trees don't usually grow that rapidly in winter.)
Last year, I hate to remind you, the markets soared by an equivalent amount in January – until the last three trading days of the month, when the market began a horrendous 10% decline in 10 trading days. Could that happen again? Anything's possible with algo-raiders, but the numbers don't justify a collapse.
Most Fundamentals Imply Further Market Gains
Earnings are coming in slightly better than expected. As of February 1, according to FactSet, 46% of S&P 500 companies have reported fourth-quarter earnings and revenues, with 70% reporting positive earnings surprises (exceeding analysts' estimates), with blended year-over-year (y/y) earnings growth of 12.4%, slightly above expectations of 12.2%. While 12.4% is down from the phenomenal 24+% gains in earlier quarters, any gains over 10% would be outstanding. Although we're not yet halfway through the reporting cycle, the last quarter of 2018 should mark the 5th straight double-digit gain for earnings, the 11th straight quarter of revenue growth, and the 10th straight quarter of y/y corporate earnings growth.
Also, as of February 1, fourth-quarter GDP is expected to be +2.5%, meaning "no recession in sight."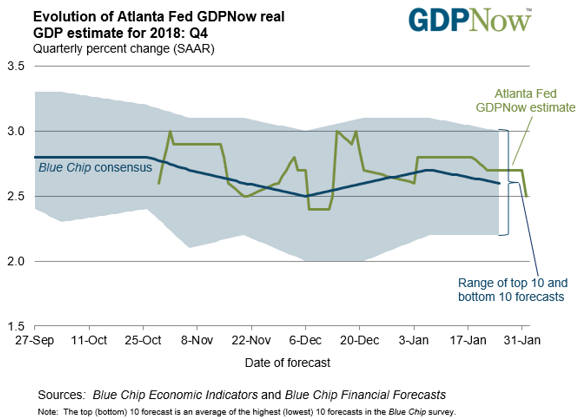 Graphs are for illustrative and discussion purposes only. Please read important disclosures at the end of this commentary.
The stock market is up partly based on an expected solution with China over its trade policies. China is in danger of a debt implosion or recession if they don't mend fences with the U.S. Meanwhile, President Trump has tweeted that China's slower growth rates should compel them to make a 'real deal' on trade.
The euro region is also slowing down. Last quarter, Italy's economy contracted for a second consecutive quarter, the definition of a recession. Germany barely escaped entering a recession. Italy's public debt is 130% of GDP. France raised fuel taxes and has suffered a variety of street protests. Italy is looking more and more like debt-ridden Greece once looked, so the U.S. is still the steadiest economy in the world.
Last Friday's jobs report was excellent. It appears that we have gone well beyond "full employment" to a growing "labor shortage." Reports from the Fed's January 2019 Beige Book said, "…all Districts noted that labor markets were tight" and "firms were struggling to find workers at any skill level." The previous Beige Book suggested that severe labor shortages were seen mainly at low- and middle-skill levels, but this time the Dallas district noted a lack of both high- and low-skilled workers, especially in construction, energy, hospitality, healthcare, banking, and transportation. Contacts in the San Francisco Fed region "observed intense compensation pressures for more highly skilled workers," and a majority of Kansas City area respondents "continued to report labor shortages for low- and medium-skill workers." Boston noted that finding workers was difficult, but "one contact reported that after a 'market adjustment' raised compensation by 10 percent to 15 percent, difficulties in hiring and retention dramatically eased." A Minneapolis district retailer noted that "every business is hiring, and the hiring pool is shallow."
The January Beige Book also reported wage increases across all skill levels. New York district employers are "budgeting for moderately larger wage increases in 2019 than they did for 2018." Philadelphia area contacts "typically cited increases for wages and benefits that averaged 3.0 to 3.5 percent. In one of the District's tightest labor markets, average wage rates were up 6.0 percent over the prior year."
Putting these numbers together, we should see a gradually rising market in the upcoming Spring of Hope.
Disclosure: *Navellier may hold securities in one or more investment strategies offered to its clients.
Disclaimer: Please click here for important disclosures located in the "About" section of the Navellier & Associates profile that accompany this article.
Editor's Note: The summary bullets for this article were chosen by Seeking Alpha editors.
This article was written by
Navellier & Associates was founded by Louis Navellier in 1987 and since then has guided thousands of investors by applying our disciplined, quantitative investment process to a broad range of equity products. Every day, investors hire Navellier to manage their assets in a private account, mutual fund, or defensive portfolio. For over 25 years, we've been zeroing in on opportunities for long-term growth. We employ a veteran team of investment and client service professionals who deliver exceptional, personal service and industry-leading information to our clients. _________________________________ Important Disclosures that Accompany Navellier & Associates Articles: *Navellier may hold this security in one or more investment strategies offered to its clients. None of the stock information, data, and company information presented herein constitutes a recommendation by Navellier or a solicitation of any offer to buy or sell any securities. Any specific securities identified and described do not represent all of the securities purchased, sold, or recommended for advisory clients. The reader should not assume that investments in the securities identified and discussed were or will be profitable. Information presented is general information that does not take into account your individual circumstances, financial situation, or needs, nor does it present a personalized recommendation to you. Individual stocks presented may not be suitable for you. Investment in securities involves significant risk and has the potential for partial or complete loss of funds invested. One cannot invest directly in an index. Results presented include the reinvestment of all dividends and other earnings. Graphs are for illustrative and discussion purposes only. Although information has been obtained from and is based upon sources Navellier believes to be reliable, we do not guarantee its accuracy and the information may be incomplete or condensed. All opinions and estimates constitute Navellier's judgment as of the date of the report and are subject to change without notice. This report is for informational purposes and is not to be construed as an offer to buy or sell any financial instruments and should not be relied upon as the sole factor in an investment making decision. Any decision to purchase securities mentioned in this research must take into account existing public information on such security or any registered prospectus. Past performance is no indication of future results. FEDERAL TAX ADVICE DISCLAIMER: As required by U.S. Treasury Regulations, you are informed that, to the extent this presentation includes any federal tax advice, the presentation is not intended or written by Navellier to be used, and cannot be used, for the purpose of avoiding federal tax penalties. Navellier does not advise on any income tax requirements or issues. Use of any information presented by Navellier is for general information only and does not represent tax advice either express or implied. You are encouraged to seek professional tax advice for income tax questions and assistance.