Q4 Update
As I write this, Facebook (NASDAQ:FB) shares are spiking almost 13% to ~$170 off an extremely strong Q4 report. The results delivered by Facebook should alleviate risks and allow the stock to move back up into the $200s, being one of the greatest turnaround stories of this year. Let's break down the Q4 results.
| | | | |
| --- | --- | --- | --- |
| | Actual | My Expectation | Consensus Expectation |
| Revenue | $16.91 billion | $16.88 billion | $16.39 billion |
| Earnings | $2.38 | $2.26 | $2.19 |
| MAU | 2.32 billion | 2.31 billion | 2.32 billion |
| ARPU | $7.37 | $7.30 | $7.11 |
As you can see, the company delivered results that were higher than my estimates across the board. They also either outperformed or met consensus expectations. All in all, it was a strong quarter from Facebook. Turning to the guidance, we got more clarity on revenue declaration and cost growth.
For Q1: Revenue growth rate to decelerate by a mid-single digit percentage compared to the Q4 growth rate.
For FY'2019: Continued deceleration on a sequential basis each quarter in 2019.
Expense growth of 40-50% in 2019, with capex between $18-$20 billion.
Conference Call Notes
I have compiled a set of notes about the conference call that interested me, particularly in the analyst Q&A section.
My first note regards a point Facebook CFO David Wehner made regarding long-term cost trajectory:
As we look out, we do expect that beyond 2018 - sorry, beyond 2019, we'll have expense growth more in line with revenue growth.
Right now, Facebook's operating margins are compressing. Management has warned about this for many quarters now, and the focus is finally turning toward cost growth. The combination of decelerating revenue growth and high operating expense growth has led to lowered expectations for profits. On average, analysts expect flat earnings growth in 2019. Beyond 2019, management is expecting margins to stabilize. Over the last 12-24 months, multiple catalysts have emerged, leading Facebook to spend more and more money cleaning up their platform. As their cost trajectory shows, the company is prioritizing platform security over the financial success of their business.
Thus, their headcount increased (while reporting a modest deceleration in Q4) by a staggering 42% Y/Y. These new employees are focused mostly on fixing platform-related issues, like election interference, disturbing content, or the spread of fake accounts and fake news. The scandals that have hurt Facebook over the last 12-24 months have been made well known. Yet, the company is spending the money and sacrificing economic success to improve their platform.
Longer term, Mr. Wehner is telling investors that operating expense growth will slow down to track revenue growth. While bears are raving about a revenue growth deceleration (more on that later) and margin compression, the CFO is saying that cost growth will come in line with revenue growth.
My second note regards management's stance on the economic impact to opportunities like e-commerce, messaging, and payments will have on Facebook's business. The focus (again, the comment is from Mr. Wehner) is on e-commerce in particular.
I'd say commerce broadly and e-commerce is an important vertical for our advertising business.
Management clearly understands that e-commerce is a logical step for Facebook (whether it be via Instagram or a standalone platform) to make if it wants to achieve even greater relevance. That being said, Wehner goes on to say the following:
I think those are still very small (referring to the new opportunities listed above) and we're very early in those being anything from a contribution point of view on revenue.
These new products will make a negligible impact on Facebook's business in the short term. Longer term, while they may have an impact, there are still a lot of questions about Facebook's ability to monetize them. These products simply aren't contributing factors economically for Facebook, and won't be in the next handful of quarters.
My final note has to do with Messenger and the cautious approach management seems to take with discussing its monetization. Here's what Sheryl Sandberg had to say:
Our approach to monetization anywhere is always very cautious and we are very - moving very slowly on Messenger, where we remain primarily focused on consumer growth and engagement.
Despite Facebook's slow move into monetizing Messenger, organic connections between businesses and consumers on the platform remains healthy.
We now have 10 billion messages being sent between people and businesses every month. And of course, that includes automated messages as well.
Eventually, there may be a way for Facebook to monetize all these connections on Messenger. Ten billion messages, with some of them being programmed messages, presents a lot of messaging power from brands to consumers. While a roadmap to Messenger monetization is not present currently, one should expect the monetization of the platform to take stride eventually.
The question now turns to the Facebook bear thesis. All across the Internet, and even with some sell-side analysts, I have seen sentiment toward Facebook turn negative. After this print, is the bear thesis still alive and well?
Bear Case #1: Slowing Growth + Contracting Margins
The first bear case is the most relevant threat to Facebook's stock out of all the components of the bear thesis. Facebook has been able to maintain 80%-plus gross margins over the last couple of years now, but it's the operating investments that are coming into question. Whether it's election interference, privacy, trolling and harassment, or any other platform-related issue, the company is moving to fix it. In order to keep users on the site, Facebook needs to keep the site clean, with the least controversy possible. Thus, the company has increased its headcount significantly over the last few quarters, an aggressive move that has led to accelerating cost growth and lower operating margins. For the most part, this cost growth comes out of higher expenses regarding more employees.
Content moderation and security is clearly a big priority for Facebook, yet the market is pricing shares (even after their big bounce) as if Facebook's efforts are not good enough. Yet not only is Facebook doing what's good for its users, it's doing what's good for its business longer term.
While increased costs may impact short-term margins, Facebook's long-term revenue growth trajectory should improve. Why? Because Facebook's platform cleanup will allow Facebook to exhibit better user retention. If users are using the app more, odds are advertisers will be willing to pay more for ads. So not only do they have better user retention, you might also get better user retention and/or growth. Basically, Facebook's ARPU and DAU growth should accelerate as the platform improves. This will pave the way for a re-acceleration in revenue growth.
The next question has to do with Facebook's operating cost structure longer term. While the guidance is for 40%-50% operating cost growth this year, we should see a meaningful deceleration in operating cost growth longer term. Why? The majority of this cost growth is going to come from an increase in Facebook's headcount, particularly around content moderation and platform security roles. Eventually, Facebook's hiring needs will plateau as the company works through platform-specific issues. On top of this, Facebook is one of the heaviest investors in AI. The utilization of AI tools to better the Facebook platform could allow Facebook to spend less on hiring when they can just automate what was previously done by humans. This lowers costs and increases efficiency. Facebook can then reduce headcount, resulting in a slowdown in operating expense growth and allow margins to expand once again.
Another reason that Facebook's top line growth is slowing (the key reason highlighted by management) is Facebook's transitioning of advertisers from the Newsfeed (Facebook's past) to Stories (Facebook's future). The transition, like many transitions with Facebook, is going to help the company expand in the next several years, but contract in the next several quarters. Facebook is positioning itself correctly for the long run by prioritizing Stories. Despite this, the adjustment could create revenue growth headwinds that weigh on short-term fundamentals and price action.
All in all, while Facebook may face some form of deceleration in revenue growth shorter term, I'm of the belief that Facebook is well positioned to bounce back off this slowing growth. On top of this, Facebook's operating cost growth will slow, and the company may even have an opportunity to cut costs over the next several years.
Bear Case #2: Facebook Is A One-Trick Pony
This is an argument that has been used less frequently than the one above, but is a valid argument that the bears make on Facebook. In Q4, 98% of Facebook's total revenue came from advertising.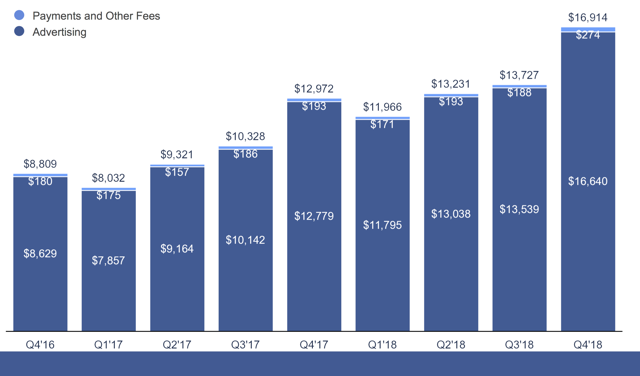 (source: Facebook IR)
And we can assume that the majority of Facebook's $16.6 billion in ad revenue came from core Facebook newsfeed placements. And to an extent, I agree with the bears. Facebook is almost fully exposed to the digital advertisement business. Any cyclical downturns in the business or market share grabs from competitors like Google (NASDAQ:GOOG) (GOOGL) or Amazon (NASDAQ:AMZN) can lead to instability in Facebook's growth trajectory.
While the rest of FAANG may have some economic exposure to different industries, Facebook is generating revenue solely from ads. For example, Google has exposure to AI, hardware, and the cloud. Amazon has great exposure to the cloud, retail (offline and online), advertising, and logistics. Facebook remains exposed to advertising. If the regulatory climate around Facebook heats up, or the growth of the ad business slows down, Facebook's revenue growth and profitability will take a hit.
This is a legitimate concern. That being said, Facebook is broadening its economic reach outside of just advertising.
Notice that in the above chart, the $274 million "other" business segment was up 42% on a Y/Y basis, outpacing advertising revenue growth of 30%. This revenue comes from smaller portions of the Facebook business. This segment includes things like the Facebook Portal and Oculus virtual reality headsets. While this business generated 2% of Facebook's Q4 revenues, we can see that it's growing by leaps and bounds. This portion of Facebook's revenue should increase multiple fold over the next few years.
Where's this massive growth going to come from? Well, Facebook said they are looking to expose themselves to e-commerce and payments. With the scale of Facebook's current operations within their large group of platforms, even a small percentage of their social media base can build a strong e-commerce business. Lets build it out.
| | | | | |
| --- | --- | --- | --- | --- |
| % of DAUs That Use Commerce | ARPU | GMV | Take Rate | Revenue |
| 1% (~27 million users) | $200 (Amazon Prime is at $1,400) | $5.4 billion | 12.5% | $675 million |
| 2% (~54 million users) | $350 | $18.9 billion | 12.5% | $2.362 billion |
| 3% (~81 million users) | $500 | $40.5 billion | 12.5% | $5.062 billion |
| 4% (~108 million users) | $650 | $70.2 billion | 12.5% | $8.812 billion |
| 5% (~135 million users) | $800 | $108 billion | 12.5% | $13.5 billion |
For the record the percent of DAUs in the table is based on Facebook's recent reporting of 2 billion DAUs across all their different platforms, not based off one platform in particular. Why? Because who is to say that Facebook limits commerce to just Instagram? Facebook has 2 billion users using at least one of their major platforms on a daily basis.
The 5% estimate might be optimistic, as there are only 101 million Amazon Prime members. To expect Instagram shopping to achieve the size of Amazon may be very unreasonable. Combine this with uncertainty around logistics, competition (notably from Amazon), and margin concerns, I cannot say with confidence that a Facebook e-commerce platform will be a huge economic success. That being said however, because of brand loyalty users have toward Facebook and Instagram, and the fact that brands are heavily marketed across these platforms, we should not rule out a potential commerce platform and its impact on Facebook's business longer term.
Secondly, Facebook has an opportunity in the payments business. While this is a competitive business, with the likes of PayPal (NASDAQ:PYPL) and Square (NASDAQ:SQ) being major competing forces in the market, we shouldn't rule out a payment processing platform from Facebook. After all, both WhatsApp and Facebook Messenger have 1 billion plus users. If even a sliver of these users begin to use a payment processing platform by Facebook, we could see increased revenue generation out of Facebook as a whole.
Then again, both e-commerce and payment processing are a long way out for Facebook. On top of that, it's not certain that these efforts will be successful.
This brings me to my next question:
If Facebook is a one-trick pony, will Facebook's one trick work out for the long term?
The way I see it, the advertising market, particularly in Facebook's specific segment of mobile digital advertising, remains strong.
Bear Case #3: Competition, Regulation, and Slowing Market Growth
This is the final part of the bear case I will cover. Overall, I believe it's the last legitimate bear thesis that I am yet to cover.
With regards to competition, the digital advertising landscape is getting increasingly competitive. In particular, I'm thinking of big companies like Amazon and smaller companies like Snap (NYSE:SNAP) and Twitter (NYSE:TWTR) all vying for a piece of this massive pie.
The market's overall long-term growth should remain strong. While I don't mean to name names, one bear in particular on Facebook, Brian Wieser at Pivotal Research, believes there are limits to growth in the overall market. He even said back in July that he used the phrase "limits to growth" 71 times in research notes over the span of 12 months. He said this in the summer on CNBC last year.
The reality is that very few investors seem to fully appreciate - even now - few seem to fully appreciate that digital advertising has limits. Total advertising has limits.
He later says the following during the same session:
The reality is that the advertising industry will grow at a 4, 5% rate. Digital advertising can grow teens. Facebook can take share inside of that, and unless you think Google is going to crater - which I don't - Facebook is constrained in its growth profile.
That being said, the market is expected to maintain a healthy growth rate from here to 2023. Here's a quick graphic: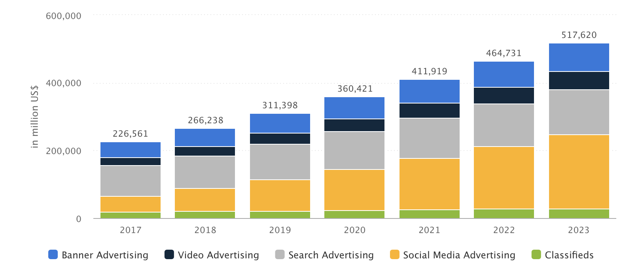 (source: Statista)
The expectation is for CAGR of ~10.7% from here to 2023. While this is substantially slower than Facebook's current revenue growth rate of 30%, the sheer size of the market limits growth.
Within that however, is social media advertising, which is far and away the largest segment of this graph. The expectation is for a market size of $218 billion by 2023, vs. 2019's $93 billion. That is a CAGR of ~18.6%, meaningfully higher than the overall growth rate of the digital ad business.
In 2018, the digital ad business' overall size was ~$68 billion, while Facebook's advertising revenue was $55.012 billion for 2018. This means Facebook held ad share of ~80%. Extrapolating this same market share of 80% to the year 2023 gets a revenue profile of $174 billion. I will go more in depth on my expectations for Facebook's business in a bit. That being said, I'm expecting $129 billion in revenue for 2023. This means Facebook's overall ad revenue share (with Instagram, WhatsApp, etc. include) is just 59%. From now to 2023, my expectation is for Facebook to be dinged 21% in their ad revenue share. This assumption allows other competitors like Snapchat and TikTok to gain share among advertisers. This share may be a generous one at that.
That being said, as time goes on, we should see deceleration in the market as a whole. Despite that, social media advertising growth should remain the strongest out the section of the advertising market.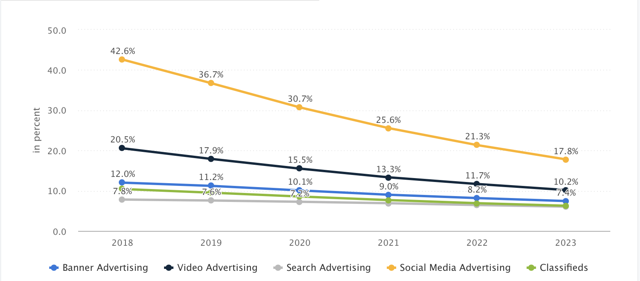 (source: Statista)
That begs the question: Where's all this growth coming from? I can point to a few areas where this growth might come from. The combination of a move to stories-based advertising, the introduction of augmented reality, Instagram's phenomenal success, and the introduction of Generation Z demographic into the market. In addition, digital media's share grabs from legacy markets like print, TV, and radio should all bode favorably for the market and its participants (Facebook).
All in all, I do not have a draconian view on the market as a whole and Facebook's share within it. Quite the opposite actually.
With regards to regulation, while some regulation may be presented, who is to say that Facebook would be hurt by it, potentially benefited by it. In Europe for example, while Facebook saw two quarters of negative user growth, users have returned. Monetization has remained strong in the region as well. And this comes after the (arguably) most intense regulation Facebook has felt in its existence. Monetization was not hurt for more than two quarters. Now, users are close to their all-time high.
While there's uncertainty around regulation, it isn't sure that regulation is necessarily a negative for Facebook. Increased regulation could help mitigate future crises (Cambridge Analytica 2.0) that Facebook ordinarily could not mitigate.
Valuation: The Fun Part
I, as with the rest of the stocks I cover, have elected to use a DCF model for valuing Facebook's stock.
First, I'm going to model Facebook's cost of capital. CAPM:
I get an equity risk premium of 516 basis points and a 10-year yield of 2.698%, with an unlevered beta of 1.4.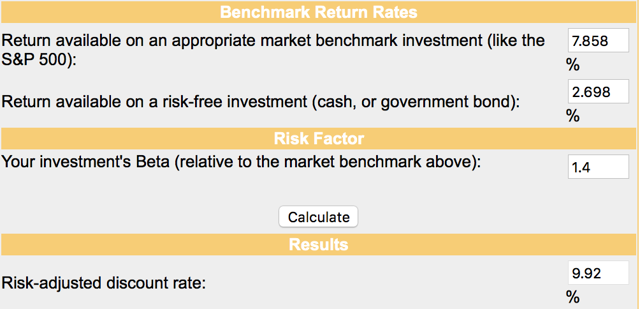 Because Facebook has no debt, I use Facebook's cost of equity as its discount rate.

Conclusion
Sentiment, particularly in the media had been extremely negative throughout 2018. Despite the near 40% bounce in the stock, I believe that the stock is headed far higher than its currently trading for. 2019 is the year in which sentiment on Facebook shifts to the positive. Facebook, while challenged, remains a growth monster. Facebook's near abundance of digital properties will enable future revenue growth. Facebook, even at this price, remains a buy.