In my recent article "Offshore Drilling: Key Topics To Watch In Q4 Reports", I argued that Seadrill (SDRL) must start contracting its rigs as it was not active on the contracting front during restructuring and it was high time to catch up with leading peers. Apparently, Seadrill is making its first major move – the company has just announced that it entered into a 50:50 joint venture with Angola's Sonangol.
The new joint venture, Sonadrill, will operate four drillships – two from Sonangol (Libongos and Quenguela, both currently under construction in South Korea) and two from Seadrill. The company noted that Seadrill drillships will come from either existing owned or managed fleet. Drillships will receive 5-year contracts.
Seadrill commented: "Sonadrill will give us the opportunity to gain incremental access to a market that is expected to show significant growth over the next years, further strengthen our relationship with key customers and provides an attractive opportunity to continue expanding our fleet of premium ultra-deepwater rigs".
So, what drillships may potentially take part in this endeavor? As per the press release, there are two options – employing owned drillships and managed drillships (Seadrill Partners (SDLP)).
Seadrill drillships
West Navigator (2000). A scrapping candidate.
West Gemini (2010). On contract with ENI (NYSE:E) in Angola until March 2019 with options until May 2019.
West Tellus (2013). On contract with Petrobras (NYSE:PBR) in Brazil until October 2019.
West Neptune (2014). On contract with LLOG in the Gulf of Mexico until December 2019.
West Saturn (2014). On contract with Equinor (NYSE:EQNR) in Brazil until September 2019 with options until March 2021.
West Jupiter (2014). On contract with Total in Nigeria until December 2019.
West Carina (2015). On contract with Petronas in Malaysia until May 2019.
Seadrill Partners drillships
West Polaris (2008). Warm stacked in Spain.
West Capella (2008). On contract with Shell (NYSE:RDS.A) in Malaysia until July 2019, then contracted work and options until June 2020.
West Auriga (2013). On contract with BP (NYSE:BP) in the Gulf of Mexico until October 2020.
West Vela (2013). On contract with BP in the Gulf of Mexico until November 2020.
Joint venture candidates
West Gemini. The rig is already in Angola, its employment in the joint venture is logical.
West Polaris. Seadrill needs to help out Seadrill Partners unless it wants to face a complete write-down of its stake in the company and the rigs in case negotiations with creditors end poorly, and Seadrill Partners' creditors become its new owners. For creditors to push maturities into the future, they need visibility on employment and cash flow. Securing a previously warm stacked rig on a five-year contract is a good step towards successful negotiations with creditors.
Impact on Seadrill and Seadrill Partners stocks
Both Seadrill and Seadrill Partners remain under pressure unlike leading offshore drilling stocks which had a great start of this year. The situation is especially challenging for Seadrill Partners' units which have lost more than 35% of their value since the beginning of this year.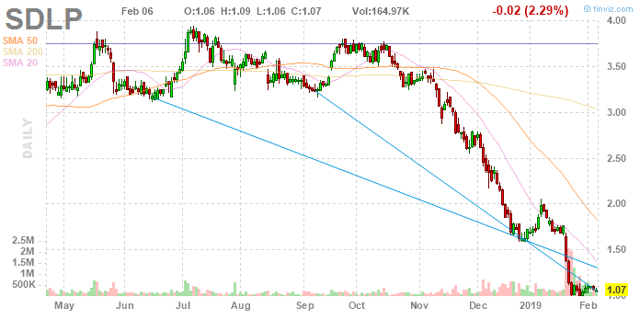 The market did not pay much attention to news about the Angola joint venture. Perhaps, the lack of details is the main reason – we don't know neither the drillships that will be employed from Seadrill side nor the dayrates. However, if it turns out that West Polaris will be among the employed rigs, Seadrill Partners' units might have a speculative boost.
I'd watch this closely although at current point it looks more likely that Seadrill Partners units' will break out to the downside, below $1.00, rather than to the upside in absence of catalysts (assuming the market does not change its mind on Angola news until the company reports its quarterly earnings). Seadrill shares are now heavily influenced by Seadrill Partners' dynamics (not surprising as Seadrill Partners' survival with the current capital structure is at stake) so I won't expect them to show good dynamics without at least some positives on Seadrill Partners in the near term.
If you like my work, don't forget to click on the big orange "Follow" button at the top of the screen and hit the "Like" button at the bottom of this article.