Allergan's (NYSE:AGN) fourth quarter earnings report put a quick end to the stock's near-term rally. Despite CEO Brent Saunders trying to put a positive spin on the company's prospects and against the generic competition it's about to face, investors headed for the exit. And with deep value on the share price and manageable debt levels on the balance sheet, what will it take for AGN stock to stop falling?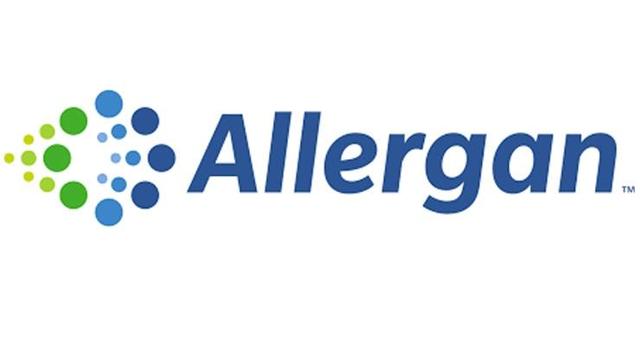 Q4 2018 Loss
Allergan reported a Q4 2018 GAAP loss of $12.83 but non-GAAP performance net income per share of $4.29. For full-year 2018, it lost $15.26 on a GAAP basis, but its non-GAAP performance net income per share came in at $16.69. Markets are no longer compelled to use the company's non-GAAP numbers as a measure of the business performance.
The company took a big goodwill writedown of $5.4 billion for the three months ended Dec. 31, 2018. The amortization is significant, too, coming in at $1.569 billion and somewhat consistent from last year's figure of $1.92 billion.
| | | |
| --- | --- | --- |
| 3 Months ended, in $M | | |
| GAAP to Non-GAAP Performance net income calculation | Dec. 31 2018 | Dec. 31 2017 |
| | | |
| GAAP (loss)/income from continuing operations attributable to shareholders | -4,299.9 | 3,506.6 |
| Adjusted for: | | |
| Amortization | 1,569.1 | 1,922.2 |
| Goodwill and other impairments and asset sales, net and related costs | 5,433.0 | 238.5 |
Source: Allergan
Given that Allergan had to write down a $1.6 billion intangible asset impairment related to Kybella, shareholders cannot have any confidence that management may commercialize new products effectively. In 2017, the media and analysts speculated that Allergan would fail in ramping up sales of Kybella. They were right.
Allergan added another $3.5 billion in a goodwill writedown for its U.S. general medicine segment, but its delta between that amount and the anti-infectives is large, even though the CEO said it would make an adjustment to the carrying value of the segment.
Below: Allergan gave up the 17% gain investors enjoyed ahead of the fourth quarter earnings report.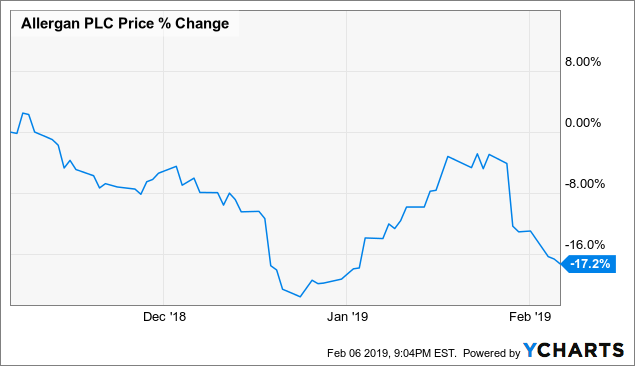 The lack of investor confidence over the company's execution on bringing new products to market while stabilizing the core business could lead to the stock falling further. In its Q4 presentation, the company pointed to the use of technology to drive key products like Botox, Vyc Ross, and CoolTone.

Source: Allergan
Generic competition became a bigger reality on Feb. 1 when the FDA approved Evolus' (EOLS) Jeuveau. And while Allergan already is setting sales forecasts that include the negative impact of LOEs (loss of exclusivity), markets are pricing in the pressure it will have on this year's revenue. In the fourth quarter, competition for Restasis and its products facing LOE led to a sharp drop in revenue in those line items:

Source: Allergan
Botox revenue brought in $946 million in global revenue and grew 12% year on year. Yet it's highly likely that sales will lag in the quarters ahead as patients have the option of getting treated with Jeuveau instead.

In an RBC Capital Markets' poll, 43% of a group of dermatologists and plastic surgeons expected patients would switch to the competitor drug. And to switch, patients will need the drug company to offer a discount of nearly 30%. These results suggest that Allergan will have to respond by cutting prices to ward off the competition.
Management forecast Botox and CGRP antibodies may coexist in the market as the market expands. For 2019, it forecasts growth in at least the mid to high single digits.
Tailwind with Vraylar
The strong growth for Vraylar is a positive tailwind for Allergan. Prescription levels and formulary coverage rates exceeded the company's expectations. For 2019, management is forecasting another strong year thanks to an effective consumer campaign that it ran last year.
Looking ahead, Vraylar's double-digit demand growth will continue. If the FDA action date in May results in a favorable decision, the drug for treating bipolar depression will get launched in the second half of this year.
Fair Value for Allergan Stock
Analysts have a $194 target price on Allergan stock. In the last week, the number of "buy" compared to "hold" calls was almost equal:
| | | | | |
| --- | --- | --- | --- | --- |
| Analyst | Firm | Ranking | Position | Price Target |
| Vamil Divan | Credit Suisse | | Hold | $161.00 |
| Seamus Fernandez | Guggenheim | | Buy | $229.00 |
| Irina Rivkind Koffler | Mizuho Securities | | Buy | $200.00 |
| Elliot Wilbur | Raymond James | | Buy | $181.00 |
| David Amsellem | Piper Jaffray | | Hold | $161.00 |
| David Risinger | Morgan Stanley | | Hold | $156.00 |
| Jason Gerberry | Merrill Lynch | | Buy | $199.00 |
| Randall Stanicky | RBC Capital | | Hold | $165.00 |
| Louise Chen | Cantor Fitzgerald | | Hold | $180.00 |
Source: Tipranks
Realistically, Allergan shares will not likely trade toward the $200 level without first correcting further. Until revenues grow at a faster pace, the stock does not offer a big enough dividend yield to keep shareholders content. Applying a Revenue Multiple model, and comparing the stock to Teva (TEVA), Bristol-Myers (BMY), Mylan (MYL), and Perrigo (PRGO), Allergan has a higher EV/forward revenue multiple. It may achieve good revenue numbers through strong sales of Juvederm, Botox, and CoolSculpting.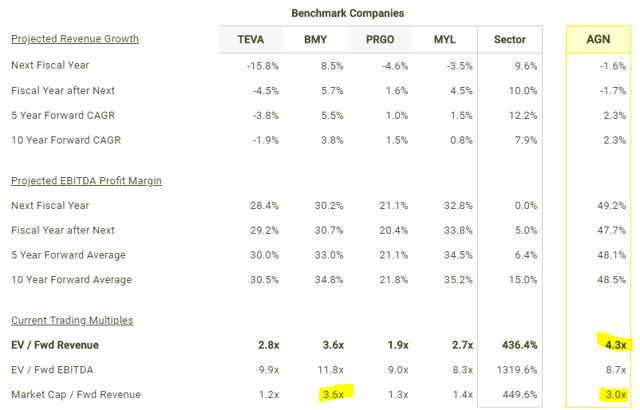 Your Takeaway
Selling momentum in AGN stock is still strong, so investors should wait for the stock to fall back to its lows in the $130 range.