New Age Beverages Is About To Take A Spill After Parabolic Rise With Upcoming Negative Catalysts
Summary
New Age Beverages (NBEV) is a $500M+ market cap struggling U.S. beverage roll-up attempting to reinvent itself by marketing CBD-infused drinks.
The Company's recent 'key' licensing deal to sell Marley branded CBD drinks comes with unfavorable economics as NBEV will pay a high 50% of gross margin for the license.
Insiders lock-up agreement expires on 2/6/19, which will allow over 6 million previously locked-up shares to be sold.
NBEV has run up 100% since its November financing at $3.50 without significant fundamental changes in our view.
NBEV has burned through most of its recent cash raise from a non-core acquisition, we expect more equity financings soon.
New Age Beverages (NBEV) is a Colorado-based beverage company that has accumulated a portfolio of C-tier beverage brands primarily by acquiring other struggling beverage companies. The company has generated annual losses since inception, but the share price is up >300% since September 2018 when the company announced its foray into the CBD (Cannabidiol) beverage space. Its market cap has increased from $75 million to $500 million during that period largely driven by intense speculation. We don't believe the company has accomplished anything significant in the past five months to merit this parabolic rally last fall, whose gains NBEV has largely held onto.
Looking beyond the hype, we believe NBEV is in actuality a highly promotional company that has never been profitable in the highly competitive beverage space. The unfavorable economics of its key CBD deal with Marley underscore how mediocre its business model really is. This report highlights the business challenges facing NBEV, its regulatory hurdles, and the unfavorable stock dynamics. We see ~50% near-term downside in the share price back to its November offering price of $3.50 per share as the stock's parabolic rally fades.
Questionable Pivot to CBD-Infused Beverages
The recent hype around NBEV's stock revolves around its new CBD-infused beverage initiative. In September 2018, the company announced its intention to debut its portfolio of CBD infused beverages at the North American Convenience Store show (NACS) in October 2018. The products consisted of CBD TEA, CBD Shot and CBD WTR, pics shown below:

Source: NBEV PR
The company initially stated on 10/16/18:
New Age expects to launch with distributors and independent retailers in the end of the current quarter
However, in the company's Q3 conference call, on 11/13/18, CEO Brent Willis started walking back this launch date:
So today, there's 14 states that we could execute it in. But even within those 14 states, to ship across state lines, it's complicated.
Later, when the Farm Bill passed through the senate in December 2018, the company subtly delayed their original timeline in a press release:
The Company expects to launch its CBD-infused products into national accounts as they come on board in conjunction with their April resets, and is prepared to penetrate the independent market and DSD distributors beginning in January.
Now it's February and NBEV has failed to communicate the status of the previously delayed rollout of the CBD-Infused beverages. Instead, the company introduced Marley branded CBD-Infused beverages, branded after the legendary Bob Marley.
The company announced on the morning of January 15, 2019 that they would hold a "Special Business Update Conference Call" on the morning of January 16. Speculation ran wild about the update, but on the conference call, management kicked the can down the road once again:
We initially said we would produce our portfolio in time for Christmas and we did. We did smaller initial sample runs on our CBD teas and CBD sparkling waters, and we accelerated our manufacturing learning curve process. These initial samples for retailers and distributors and the early feedback already gained since the NACS Show back in October have now paved the way for the launch of our Marley-branded CBD-infused beverages.
This pattern is worrisome. The company conducted an initial sample run, and then immediately followed that up with the launch of a new product line. As quickly as the company's first CBD drinks were introduced, they faded to the background, to be replaced by the next initiative. Investors will have to wait once again. From the conference call:
So, when will we see the products on the shelves and where we'll see them? The answer is in time for the major spring reset for key regional retail in the states that allow sales, which only really happen in March and April.
These delays suggest that a roll-out of new CBD-infused beverages is not such an easy task due to regulatory hurdles.
We Believe New Age Beverage Will Have A Hard Time Making A Profit On Its Marley Brand With Its Expensive Licensing Deal
In April 2017, NBEV acquired the license rights for the Marley brand for ready-to-drink non-alcoholic beverages that aren't cannabis related. In order to brand their new CBD-infused drinks with the Marley logo, NBEV needed to license the rights from private equity-owned company Docklight, which owns the Marley brand for cannabis-related products.
Their January 16th press release, doesn't cover any economic details about the licensing deal with Docklight. In the conference call that morning, Brent Willis provided a bit more detail, but in a statement that didn't tell the whole story. He said:
Financially, after covering the costs for producing and commercializing the brand, ingredients, et cetera, we are sharing in the profits 50/50
At first glance, one might think this statement implies a 50/50 split of net profits, which in itself is an aggressive split for a mere branding agreement.
However, in an 8-K released after market close that day, we see that the terms are even worse than Willis seems to imply. It states:
As consideration for the license, the Company agreed to pay Licensor a fee equal to fifty percent of the gross margin, as defined in the Agreement…
That's not sharing the net profits 50/50, but the gross profits. We also find it suspicious that the terms of the "Agreement" weren't filed with the SEC.
The 50% licensing fee is certainly not typical. This report by KPMG from 2012 says that a 25% royalty rate of the product's profits is standard across industries. This article from upcounsel.com also confirms the 25% standard licensing fee. It states:
Generally, the income approach uses the 25 percent rule, which specifies that the inventor is eligible for 25 percent of the licensee's long-term pre-tax operating profit made from the sale of the licensed product.
The above statement suggests 25% of net profits is a normal licensing fee.
The beverage business is tough enough when you don't have to give up 50% of gross profits. NBEV did a paltry 13% in gross margins over the last two quarters and has never generated positive net income after all its costs. The following shows NBEV's loss from operations for the 3 months ended 9/30/18 and 9/30/17.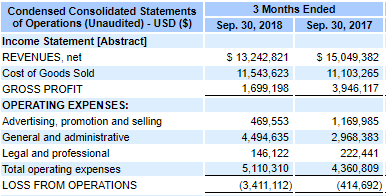 Source: SEC filing
The financials above show a very high general and administrative expense. The company's Q318 loss was big due to the high operating expenses. It will be even harder for the company to book a net profit with its Marley Brand because half of the gross profit will be added to its operating expenses. And the operating expenses will be larger as the company has been adding more brands.
These facts highlight the challenges a small player faces in the fiercely competitive beverage industry. In our opinion, it appears that NBEV may have been in a poor negotiating position with Docklight and ended up with a bad deal. They must bear all of the risks with commercialization and rollout and give up a massive portion of the return just so they can use the Marley brand for CBD infused drinks.
The 8-K also states that the Marley brand licensed territory is the United States. We don't know when they will be able to legally rollout the brand due to U.S. regulations. Furthermore, NBEV indicated multiple times that they plan to roll-out CBD beverages into FamilyMart in Japan. Since their Marley branded CBD beverages are only licensed in the U.S., that implies that they aren't going to be selling it in Japan until it gets licensed there as well.
In our opinion, NBEV's Marley CBD deal seemed to have the effect of propping up NBEV's near-term stock price more than creating long-term value.
New Age Beverage Has Regulatory Hurdles Ahead That Will Cause Further Launch Delays
NBEV stated that they aren't giving 2019 guidance, which we believe is a red flag for investors. In the update conference call, NBEV's CFO Greg Gould said regarding their CBD drinks sales launch:
we are not going to predict or at least communicate or forecast as of today where or how we will do with this product in 2019. We don't believe it will be prudent and because of the regulatory landscape there are still a number of moving parts and further upsides and frankly likely some obstacles along the way.
On December 20, 2018, FDA Commissioner Scott Gottlieb published a statement regarding the FDA's regulation of products containing cannabis-derived compounds. In this statement, it clearly states that using CBD as an additive is a violation of FDA regulations. In hisinterview on Fox Business, Willis said that it's only legal to sell CBD infused drinks in four states: Washington, Colorado, Oregon, and Michigan. We aren't going to go into more detail on this subject in this report because it has already been discussed, but you can read more about it in this article by Seeking Alpha author Philaretos.
Common Shareholders Have Experienced Massive Dilution
Since the end of 2017, NBEV's share count has grown 110% (35.2m shares on 12/31/17 to ~74m shares today). While revenue has grown, the company's EPS loss has widened. We believe this is a red flag and one that is indicative about the underlying poor health of the company.
More recently, NBEV has never wasted an opportunity to raise more capital and dilute their investor base. The following are the equity raises done in 2018:
November 9, 2018: Issued 14.84m shares @ $3.50/sh for proceeds for ~$52m
Sept to Nov 2018: Via ATM, sold 8.1m shares @ avg. price of $4.64/sh for gross proceeds of $37.5m
August 21, 2018: Issued 8.2m shares @ $1.28 for proceeds of $10.5m
April 9, 2018: Issued 2.3M shares @ $1.75 for proceeds of $4.02m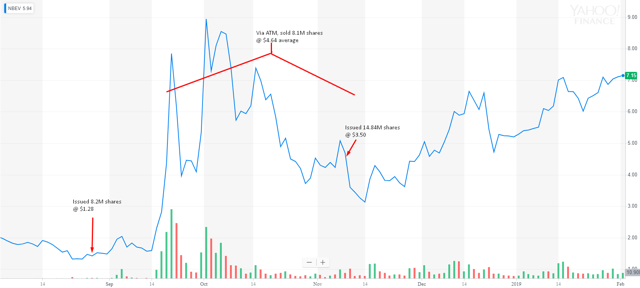 Source: Yahoo Finance
The last financing in November was priced at a steep 25% discount to the last close prior to announcement, which suggests a lack of real investor interest at even those prices. NBEV closed at $4.69 on 11/8/18 the day before the $3.50 offering. As shown in the above chart, the stock then sold off to almost as low as $3.00 the next few days before starting its uptrend.
We set our price target based on the last financing price of $3.50/sh which we believe represents a market clearing price for NBEV. The stock price has appreciated >80% from their last financing due to unfounded hype around its CBD beverage launch. But this launch was already expected. We don't believe there has been anything fundamentally new that happened to the company to justify this rally over the past three months.
NBEV's Insider Lock-Up Agreement Ends On February 6, 2019
What could cause an upcoming strong selloff in the stock, is the lock-up agreement insiders signed in conjunction with their November financing which expires on Feb 6, 2019. If management was willing to dilute shareholders at $3.50/sh, we think it is highly probable they look to dump their own stakes at the current nosebleed prices of around $7 per share.
As stated in the prospectus supplement for the offering:
Lock-Up Agreements. Our directors and executive officers have entered into lock-up agreements with the underwriters. Under these agreements, these individuals have agreed, subject to specified exceptions, not to sell or transfer any common stock or securities convertible into, or exchangeable or exercisable for, our common stock during a period ending 90 days after the date of this prospectus supplement.
The date of the prospectus supplement is 11/8/18, which makes the 90th day 2/6/19. This allows insiders to sell their shares starting on 2/7/19.
Here is a table of publicly reported directors and executives who own a significant amount of shares and are subject to the lock-up agreement: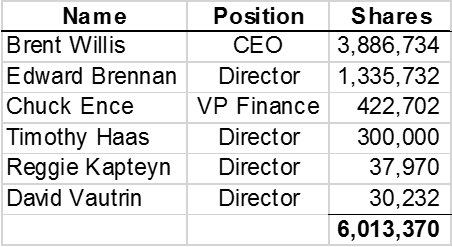 Source: SEC filings
Once insiders start filing that they are selling shares, we believe that will fuel a selloff. What we find even more alarming are the names no longer on this list. As we delved deeper into our diligence on NBEV, we discovered a notable list of insider departures in key positions. The amount of shares we totaled insiders to have above is about 6M. But that doesn't include the shares that the insiders who have left NBEV have reported who could sell or have already sold.
Key Insiders Leaving NBEV and A Strategic Holder Dumping Stock
CEO Brent Willis paints a rosy picture when he speaks with investors or with the media. However, a slew of insider departures suggests not all is well at the company.
Insider Departures:
Neil Fallon, the former Chairman and largest shareholder with 5.4M shares, retired at age 52 in Nov 2018. As Fallon is no longer an insider, he does not have to report any sales of stock. However, given he is a >5% shareholder, he does have to report if he falls below 5% ownership within 45 days of quarter-end. We expect to see this filing in the coming weeks.
Robert Evans resigned from the Board in October 2018 after he settled a disciplinary action with the SEC.
Three other VPs also left the company in Q4 '18: Troy Garagiola, VP of Supply Chain, Bernard R., VP International and Emilio Torres, VP Business Development. For a relatively small company like NBEV, we see these departures as red flags.
Aside from these departures, at least one other major shareholder has used this opportunity to dump their stock into retail hands. Marley Beverage Company LLC, which owned 2.8m shares of NBEV as of June 2017, owns only 500k as of December 2018. We find it ironic that Marley Beverage Company, the 3rd largest shareholder dumped 80% of their stake, when the recent stock price run was driven by retail euphoria surrounding the newly introduced Marley +CBD beverage line. While ironic, we are not surprised given this is the exact same thing that happened with Maverick Brands (a.k.a Coco-Libre acquired by NBEV in Apr 2017) who sold out their 2.2m share stake between May 2017 and December 2017.
In sum, there have been 2 Board departures, at least 4 key executive departures, and at least one major shareholder selling out in the last several months. Caveat Emptor.
NBEV Immediately Spent Its Raised Cash On A Non-Core Acquisition
As we stated earlier, NBEV raised ~$90m through equity offerings in late 2018. Given their decision to be a first-mover in the CBD market, it would be logical to deploy this new equity toward that goal. Instead, on 12/4/18, after the equity raises, NBEV announced the acquisition of Morinda Holdings for a price tag of $85 million, including $75 million in cash. Morinda owners are also entitled to a $15 million earn-out if they hit $20 million of EBITDA in 2019.
Morinda's main product is called Tahitian Noni-Juice which the company has sold via a multi-level marketing platform for years. NBEV has cited the company's Asia Pacific infrastructure as a key reason for the acquisition. We find this interesting because NBEV barely spoke about an Asian expansion prior to November 2018 when it was likely working on the Morinda acquisition in the background. Aside from the intent to launch a minor product in Asia in 2018, NBEV has been a North American focused company. Given its sub-scale issues in domestic markets, we find it strange that they would want to expand to more competitive markets abroad.
NBEV has spent its raised cash on this acquisition, delayed its CBD launch, and continues to have quarterly losses of $2M-$4M. We believe shareholders should brace themselves for another big equity raise soon.
NBEV Has A Suspect Auditor Reviewing Its Books
Given NBEV touts itself has the fastest growing beverage company in the world, one would think that they are also retaining appropriate auditors to review their rapidly changing and complex financials. Unsurprisingly, NBEV has retained Accell as their auditor since August 2016. Accell is a small auditing firm based out Tampa, Florida.
While small does not always mean bad, Accell received a bad report from the Public Company Accounting Oversight Board (PCAOB). According to its last PCAOB firm report in 2016, Accell had only 8 clients. In that report, the PCAOB also found that Accell had significant deficiencies:
Certain deficiencies identified were of such significance that it appeared to the inspection team that the Firm, at the time it issued its audit report, had not obtained sufficient appropriate audit evidence to support its opinion that the financial statements were presented fairly, in all material respects, in accordance with the applicable financial reporting framework. In other words, in these audits, the auditor issued an opinion without satisfying its fundamental obligation to obtain reasonable assurance about whether the financial statements were free of material misstatement.
We find it hard to believe that this firm would be able to properly audit NBEV's relatively complex financials given its history of being a serial acquirer. This is another red flag to add to this dangerous game of minesweeper.
NBEV Is A High Borrow Fee Stock
As many investors are bearish on NBEV like we are, the borrow fee is high. Although we found it isn't hard to find shares to short with brokers that have hard to borrow securities, because the float is big at 61.75M shares so there is lots of supply. The annual borrow fee rate is a whopping 105% on Interactive Brokers. Often when we see borrow rates that high, it's a sign that either the stock will sell-off soon, or that it will have a quick, vicious short squeeze. Either scenario will likely happen within a few days. We're betting on the former, as we believe there is enough volume and liquidity that a short squeeze would be unlikely, there are too many shareholders that might sell to keep it down on rallies. And we believe the fundamentals merit a selloff soon. The pot stock sector has calmed down a bit lately.
Selling calls or buying puts with February or March expiration are an option to avoid the borrow fee. But we've found when selling calls, it is quickly converted to short stock. And puts have a high premium cost.
Conclusion
While New Age Beverages has certainly charmed retail investors as of late, the company has a never-ending stream of red flags. The company appears to be flirting with contravention of FDA regulations with its recent CBD beverage initiative. They have negotiated what we believe is a bad licensing deal for their Marley CBD beverage brand. The company has been ruthless with issuing stock and the immediately spending the capital on an acquisition that we believe doesn't help getting their CBD drinks to market. Key insiders have left the company and a major strategic holder has dumped stock. With its recent parabolic move of over 100% since November, we believe NBEV will soon leave investors with an empty bottle in their hand.
This article was written by
We provide deep research and valuable information on small cap stocks to hedge funds and high net worth individuals. We specialize in the technology and healthcare sectors. We have an over 80% success rate, see our reports at whitediamondresearch.com. See the 3rd party verified return on each of our bearish reports over the last 24 months at: https://breakoutpoint.com/as-summary/white-diamond-gvmtg/To inquire about becoming a premium subscriber, send a PM here or email us at research@whitediamondresearch.com.Follow us on twitter @whiteresearch.
Analyst's Disclosure: I am/we are short NBEV.

Additional disclosure: http://whitediamondresearch.com/disclaimer/
Seeking Alpha's Disclosure: Past performance is no guarantee of future results. No recommendation or advice is being given as to whether any investment is suitable for a particular investor. Any views or opinions expressed above may not reflect those of Seeking Alpha as a whole. Seeking Alpha is not a licensed securities dealer, broker or US investment adviser or investment bank. Our analysts are third party authors that include both professional investors and individual investors who may not be licensed or certified by any institute or regulatory body.