In the first half of January, Alnylam announced preliminary Q4 sales for Onpattro (patisiran), the company's single commercialized drug. In addition, in mid-January, the firm declared a public offering of 5 million shares to cover further development and commercialization of patisiran and several other promising drugs.
Company Overview
Alnylam Pharmaceuticals (ALNY) is a commercial biotechnology company headquartered in the Cambridge that concentrates on developing therapies based on RNA interference. The company was founded in 2002 and was listed on the Nasdaq stock exchange in June 2004, raising $30 million at $6.00 per share. Also, as mentioned above, on January 15, Alnylam raising ~387.5 million at 77.50 per share of an underwritten public offering. Currently, it has a market cap of ~$9 billion and trades around $84.5 a share.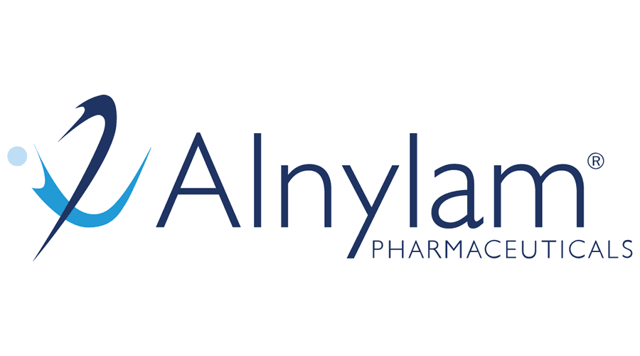 Pipeline Highlights
The company's pipeline consists of 9 clinical candidates focused on 4 strategic therapeutic areas such as genetic medicines, cardio-metabolic and hepatic infections diseases. Moreover, the company preserves major market commercial rights for 5 of 9 development candidates.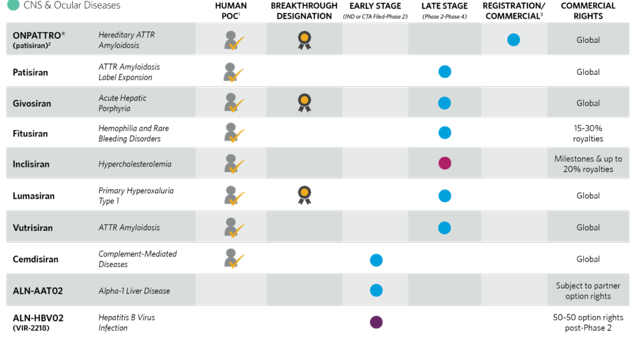 Source: Company's website
Commercial pipeline
The company has received FDA approval for the first RNA interference (RNAi) therapeutic, Onpattro, which is used in patients to treat neurologic phenotype of hereditary transthyretin amyloidosis (hATTR is a rare, progressively debilitating, and often fatal disease) in adults. A novel RNAi-based approach induced by improperly folded transthyretin (TTR) protein, which accumulates in heart, gastrointestinal tract, and nerves. Also, the biotech received approval in Europe for the treatment of hATTR Amyloidosis in adults, but only with stage 1 or stage 2 polyneuropathy. Thus, the number of patients drops sharply from ~15,000 to ~3,000 in the U.S and from ~10,000 to 2,000 in the EU. However, the company stated in their latest corporate presentation that the market opportunity for hATTR is around ~50,000 worldwide, but approximately half of them have a cardiac phenotype and Onpattro has not been approved by any regulatory agency for cardiac manifestations of amyloidosis.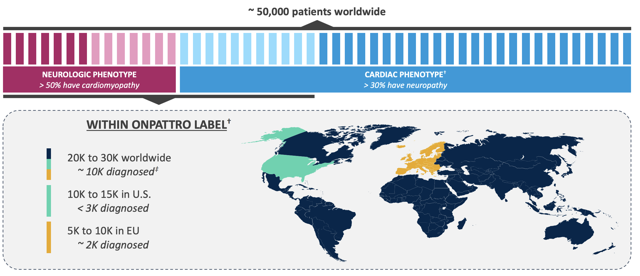 Source: Latest investors presentation
So, on January 7, Alnylam has announced the strong fourth-quarter performance of Onpattro sales. The firm recorded unaudited net product revenues ranging between $11-12 million exceeding previous quarter sales of half million dollars. Important to note that the company is currently selling Onpattro to over 200 patients in the U.S. and EU, the broad prescriber base has doubled since the third quarter to 250 U.S. start forms. Keep in mind that 35% of prescribers are hATTR cardiomyopathy patients as Apollo Phase III study showed ~50% reduction in all-cause hospitalization and mortality versus placebo in post hoc analysis. Thus, Alnylam will initiate Patisiran Apollo-B Phase III study in the second half of 2019. The study has a purpose of showing the drug's favor in patients with confirmed hATTR cardiomyopathy, with enrolling 300 patients to be randomized 1:1 to take patisiran IV q3w 0.3mg/kg and placebo IV q3w. Sequential primary endpoint: change in 6-molecular weight distribution (MWD) at 12 months.
In August presentation after FDA approval, the company announced average annual list price in the U.S. around $450,000 per year (slide 14), but patients who receive the drug in hospitals in the moment of treatment will have discounts due to the government bill, 340B. The average net effective price after rebates will be $345,000 per year. So evidently, this is the high price, but despite the rarity of the disease and a small number of patients, management believes that the price is in the line with other drugs in class and the expectations of Wall Street. However, Pfizer's drug, tafamidis, approved by EMA for the cardiomyopathy treatment will cost around $13,000 per month. Facing direct competition, the company trying to make it accessible to patients, introducing a money-back guarantee for an insurer. So, I would expect that the company has at least $135 million in 2019 Onpattro revenue. Also, this number can improve if the firm receives approval for cardiomyopathy treatment. But by adjusting the risk associated with competing products produced by Pfizer (PFE) and Ionis (IONS), I calculate an ultra-conservative Onpatro revenue of $100 million in 2019.
I also want to note the upcoming catalyst for Onpattro in 2019:
Start Apollo-B Cardiomyopathy Phase III in mid-2019
Japan launch in the third-fourth quarter of 2019
Provide patisiran to eligible adults in the UK through MHRA early access to medical services.
Receive additional regulatory submission in Canada and Switzerland.
Clinical Pipeline and Near-Term Catalysts
Vutrisiran, advancing continued innovation to patients with ATTR Amyloidosis. The drug showed mean max TTR knock-down(KD) of 83% after single 25 mg dose in healthy volunteers during phase I study. The biotech has initiated Helios-A Phase III study, enrolling 160 patients with hATTR Amyloidosis. The primary endpoint is an efficacy assessment versus Apollo placebo arm at 9 months. Additionally, the firm plans to initiate the Helios-B Phase III study for cardiomyopathy in late 2019.
Givosiran, currently under phase III study, the state-of-the-art drug has been developed to treat acute hepatic porphyria, a disease-causing incapacitating and potentially fatal attacks preliminary in a female. The number of potential patients is around 6,000 in the U.S and EU. The current Envision Phase III has the purpose of carrying out a placebo-controlled study in Acute Hepatic Porphyria (AHP) patients. Top-line data is expected to be announced in early 2019. Also, the company plans to file new drug application (NDA) and marketing authorization application (NYSE:MAA) somewhere in Q2-Q3 2019. In January corporate presentation, the company highlighted the average annual expenditures per recurrent attack patients of $400,000-$600,000 based on hospitalization charges and costs of treatment. Thus, if we assume a price of $200,000 per year that much lower than the company's guidance, adjusting Non-GAAP expenses (R&D, SG&A), the risk associated with clinical hold, we then obtain potential net product revenue at least $180 million in 2019.
Lumasiran, the drug that is being investigated to treat primary hyperoxaluria Type 1, a rare autosomal recessive disorder of increased oxalate synthesis resulting in kidney stones and renal failure. Alnylam released updated results of Phase I/II study in August 2018, showing 75% mean maximal reduction in urinary oxalate. Alnylam plans to initiate Illuminate-A Phase III study in order to discover percent change in 24-hour urinary oxalate excretion at 6 months. Top-line data is expected to be reported in late 2019. In addition, the biotech has the purpose of exploring the drug's superiority in the Illuminate-B and -C Phase III study in mid-2019. Expected U.S./ EU patient population is ~3,000-5,000. In the optimistic case, the company gets NBA submission in early 2020 with a potential market opportunity of $500 million.
Additionally, Alnylam has a large number of other clinical and late pre-clinical programs in their pipeline which represented below: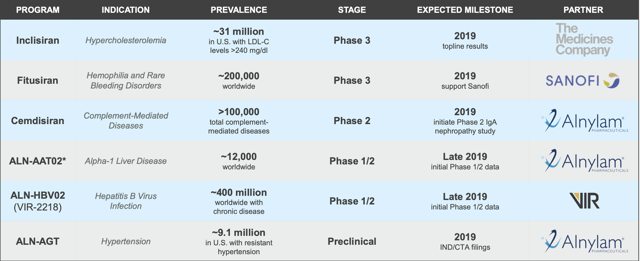 Source: Latest investors presentation
Financials
As of September 30, 2018, Alnylam closed the third quarter with a loss from operations of $254 million, which consist an increase of R&D expenses by 47% and an increase of SG&A by 146%.

Source: Company's 10-Q filling
R&D and SG&A expenses increased significantly during the three months ended September 30, 2018 as compared to the three months ended September 30, 2017 due primarily to increased stock-based compensation expense related to the accounting for performance-based stock awards as a result of the approval and launch of ONPATTRO and clinical achievements with regard to givosiran Phase 3 study. Alnylam expects that selling, general and administrative expenses, will increase during the fourth quarter of 2018 as compared to the third quarter of 2018 as the biotech continue to grow their operations, including the continued build-out of global commercial infrastructure for ONPATTRO. Actually, management provides 2018 guidance with ~780 Non-GAAP total expenses and $1 billion cash on balance. Also, in their latest 10-Q management stated the following:
Based on our current operating plan, we believe that our cash, cash equivalents and marketable debt securities at September 30, 2018, together with the cash we expect to generate from product sales and under our current alliances, will be sufficient to enable us to advance our Alnylam 2020 strategy for at least the next 12 months from the filing of this Quarterly Report on Form 10-Q.
However, I would estimate a high probability that additional cash will be required to finance their expensive late-stage activities which may cause additional public offering with following negative pressure on the stock.
The Outlook
Important to note that the firm has only one drug under commercialization and revenue are improving quarter over quarter. In the bull-case scenario, the company's revenue could strengthen if the company will report positive trial data associated with their advanced pipeline assets. FDA approval of Givosirancan lead to a significant increase in revenues of at least $180 million in 2019. Furthermore, positive clinical results of Vutrisiran, Lumasiran, Futusiran can cause a significant stock upside. Moreover, Alnylam has a couple of collaborative products in their pipeline that could bring milestone payments and royalties over time.
Conclusion
Putting it all together, adjusting by risk factor, I believe that Alnylam will generate around $200-280 million in revenue in 2019. Further, in order to be conservative in my valuation I used risk-adjusted median EV/ Sales multiple over the past 10 years of 55.5x, I find the EV of $11.1 - 15.5 billion. Then I evaluated the company's fair value based on enterprise DCF method, adjusting by NPV, adding cash and subtracting debt, I calculated the fair value of equity of ~$10 billion or around $94.1 a share using a diluted stock count or 14% potential upside. The stock has enormous growth drivers as the company develops its strong pipeline with solid future growth potential. For now, this is a speculative case and speculative price based on many assumptions which discussed in the article and investors should figure on a downside risk as well.
Disclosure: I/we have no positions in any stocks mentioned, but may initiate a long position in ALNY over the next 72 hours. I wrote this article myself, and it expresses my own opinions. I am not receiving compensation for it (other than from Seeking Alpha). I have no business relationship with any company whose stock is mentioned in this article.