DISCLAIMER: This article is not directed at, nor intended to be relied upon by any UK recipients. Any information or analysis in this article is not an offer to sell or buy any securities. Nothing in it is intended to be investment advice and it should not be relied upon to make investment decisions. Cestrian Capital Research Inc or its employees or the author of this article or related persons may have a position in any investments mentioned in this article. Any opinions or probabilities expressed in this report are those of the author as of the article date of publication and are subject to change without notice.
Summary
This is a Cestrian Capital Research "Initiating Coverage" note.
In these early days of the investable space industry, investors seeking exposure to the sector will need to consider taking positions in large conglomerates that include significant space divisions. Typically such conglomerates are in the Aerospace & Defense sector. In this note we initiate our coverage of just such a company, Raytheon Co.
Raytheon is a major space player. In 2018 the Space & Airborne Systems division achieved some $6.7bn net sales and $884m operating income, representing 25% and 19% respectively of the total sales and total operating income. Further, in the most recent quarter (Q4 '18) the company reported that its Space & Airborne Systems division was its fastest growing, achieving +13% revenue increase for the division vs. +8.5% for the business as a whole.
Our regular readers know that we have two growth hypotheses within the space sector – (a) expansion of commercial space activity and (b) expansion of strategic government activity in space.
We believe Raytheon is well positioned for future growth in the space sector as a result of the latter. Specifically, we believe that US government spending on strategic space activity is likely to increase in the coming years; and that Raytheon as a trusted defense supplier to the US government will benefit from the elevated priority of space activities. We note that of the +13% growth enjoyed by the Space & Airborne Systems division in Q4 '18, fully half of that growth came from "classified programs" (see the 8-K at Raytheon: Investors: SEC Filings). Finally as a backup to our thesis, we note the potential for increased defense spending arising from the US and Russia's apparent abandonment of the Intermediate Range Nuclear Forces Treaty; RTN is a key western missile supplier and stands poised to benefit from any renewal or upgrade of US or European missile defense systems. More broadly, current newsflow indicates that US defense budgets for 2020 will come in closer to the Pentagon's requested $750bn than former Secretary Mattis' $733bn budget. If so this will be a further tailwind for the defense sector generally - and we would certainly expect RTN to benefit from any budgetary increases.
In the last five years RTN has been an excellent bet. Indexing its share price to the Dow and the S&P500 over a five year period, it has soared versus both indices (+76% RTN vs +60% Dow vs +52% S&P500). It remains above those 5-year indices today but as the chart below shows, cumulative outperformance has come down quickly in the last 9 months or so.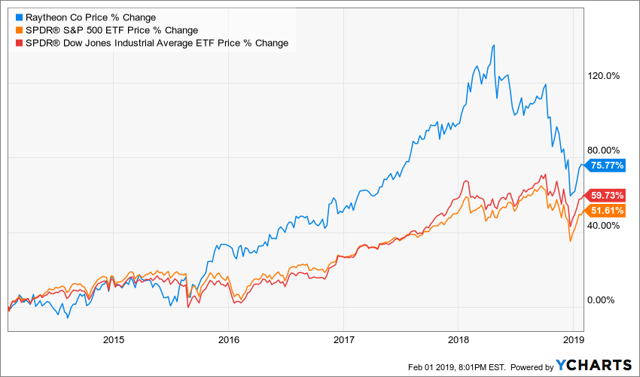 The stock sold off hard in Q4 of 2018, falling from a high of c.$227/ share in April 2018 to $147/share in December 2018. It rose with the market through January, touching and then exceeding its 50-day moving average. On 31 January the company issued Q4 results considered disappointing by the market, whereupon the stock fell back to touch the 50-day moving average.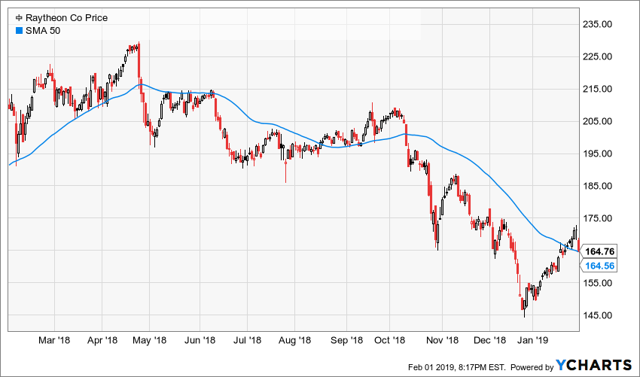 At the time of writing (6 Feb) the 50 day average is now acting as a support level, in part because the news cycle surrounding the breakdown of the US/Russia intermediate range missile treaty has been a short-term positive catalyst. It remains to be seen whether this support holds in the near term – we talk about short-term trading strategies below – but long term we believe Raytheon is a name to back – we think it will deliver solid growth and its valuation is compelling on both a fundamental and technical basis.
We rate RTN a Buy – Long Term Hold.
(For more information on how we define a Long Term Hold, see our investment strategy statement here >>.
We also highlight below a potential range-trading opportunity for RTN.
Background on Raytheon
History
Raytheon was established as the American Appliance Company in 1922. Its eventual name of Raytheon (meaning "light from the gods") stems from its invention of a type of helium rectifier for power grid applications. Its US government contractor DNA line can be traced back to the Second World War, when it was contracted by the US government to manufacture then-new magnetron hardware, a major step forward in radar technology (and basis of the microwave oven!). One of Raytheon's founders, Vannevar Bush, held a number of senior US federal government positions including being the head of the US Office of Scientific Research & Development, the primary agency for wartime research. Bush was pivotal in securing the colossal funding and political backing required from the US government for the Manhattan Project (the top-secret project to build a nuclear bomb in the latter half of the Second World War). This DNA persists today – the company is intertwined with US government agencies and departments and this is a key reason for its success.
Over time the company has layered in additional divisions and services, organically and via acquisition. Acquisitions have included Allied Signal (signal intercept technology, $490m acquisition in 2010) and BBN (computer networking, early leader in Internet technology, $350m, 2009). Demonstrating considerable vision and creativity for what many would consider to be an old-line defense business, RTN entered into a cybersecurity joint-venture, Forcepoint, with a private equity fund in 2015, acquiring Websense, a German web security business, and rolling it up with some existing RTN assets. RTN owns 80% of Forcepoint and the private equity fund owns the remaining 20%. RTN has also been relatively disciplined when it comes to disposals, something relatively rare amongst public companies. It disposed of a number of non-core businesses through the 1990s in order to hone its focus on the defense business.
Divisional Breakdown
Financial performance by division in FY18 was as below.

Source: Company 2018 Q4 8-K, plus author's analysis
(Note – the totals add up to more than the total revenue and operating income for the group – this is because of fairly material eliminations between the divisions, reductions for non-100% owned properties, etc – again the 8-K has the detail).
The company falls squarely into our "Investing in the New Space Race" service because of both its history – it designed and built the guidance computer and radio transmission systems for the Apollo 11 moon landing – and its present. If the Space & Airborne Systems were a standalone company, it would probably be valued at around $10bn and would be a core coverage business for us.
Financial Summary
RTN has exhibited strong fundamental performance in the last five years. In each year, revenue has grown, and operating income has grown faster still. The cashflow performance has been particularly strong, as a result of which the company has raised no new equity or debt in the period. Indeed in the last five years the company has used approximately $6bn to repay debt and purchase shares.

Source: Company 2018 Q4 8-K, plus author's analysis
Financial Outlook
RTN and its analysts forecast continued growth for the business and we are inclined to agree. The 2018 Q4 results included management's own guidance for 2019, which was revenue growth of 5.5% - 7.5%, and earnings growth of 12-14%. We take comfort from the fact that management believe each core division of the business is expecting to grow – in an inevitably customer-concentrated business, diversification is hard to find but at least all the core divisions appear healthy.
The "Forcepoint" division is the exception. Revenue growth in the last twelve month was just 4% and we see no evidence that management are expecting much of a short term pickup in growth. This is a marked underperformance vs the cybersecurity industry in which the Forcepoint division operates – an industry most observers believe is growing at in excess of 10-15% per annum. We would speculate that this new frontier for RTN is proving challenging as a result of inexperience. RTN is to be applauded for its move into this new field, which will no doubt become as important as traditional military hardware in defense matters in due course. But for now its operating performance is mediocre.
We may return to Forcepoint in future coverage. We would expect that the board of RTN will be looking closely at this division and either take steps to improve its performance – meaning restructuring or further acquisitions – or perhaps even divest it. (It would probably attract a much bigger revenue and earnings multiple than is the case for RTN as a whole, performance notwithstanding – if sold to a third party buyer this would provide RTN with relatively cheap cash, certainly less dilutive than new equity issuance, and if IPO'd, we would expect that RTN shareholders would receive some quantum of the newly divested 'tracker stock').
For now RTN investors should note that Forcepoint represents just 2% of total divisional revenue and 0.2% of operating earnings (in both cases before eliminations) and so even continued underperformance should not affect growth and cash generation too badly.
Valuation
Fundamentals
At the time of writing (5 February), the company is valued in-line with its peers of NOC and LMT on its fundamental metrics. It trades at an EV/TTM Revenue of 1.8x; LMT is also at 1.8x and NOC is at 1.9x. The story is similar as regards earnings multiples – RTN trades at an p/e of 17.2x, LMT at 16.8x and NOC at 15.1x.
But this masks the valuation appeal of RTN. It is growing faster than its comparables, and given that it trades at similar absolute multiples, it follows that it is trading at lower multiples as a function of its growth. This is not just an accounting trick or mathematical oddity. It means that, holding all other factors constant, as time passes the valuation of the business will fall more rapidly than its peers. Again, holding all other factors constant, the equal and opposite reaction of the market is potentially that its stock price will rise more quickly than its peers.
As a function of growth, RTN's valuation vs its peers is as follows:
EV/Revenue/% TTM Revenue Growth: RTN 0.27, LMT 0.33, NOC 0.14
p/e/% TTM Earnings Growth: RTN 1.19, LMT 1.50, NOC 6.50
The NOC valuation on a revenue basis is a little misleading, as its revenue growth for the year is 13.3% on a headline basis – but this includes a large acquisition, that of OrbitalATK. If NOC had grown at its likely organic rate of around 5% (looking at the TTM growth rate as at Q2 2018), the valuation metric would be 0.37.
Our point is simple. RTN is growing faster than its peers and this is not yet reflected in its valuation.
Opportunities for Investor Success
We see two possible ways for investors to profit from RTN going forward.
Possibility (1) - Long-Term Hold
We believe RTN to offer a good possibility for a long term hold and we think three years is a viable period – this is enough time elapsed for the company to be winning new space business and potentially new missile business as a result of market trends, but not so much time that some form of recession is likely to hit – at least not a recession which hits federal government spending.
Forecasting a share price three years out is something that even Nostradamus would struggle with. So here we adopt the simplest form of analysis to come up with a bull, base and bear case. Here's the logic behind our projections:
Assume revenue growth rate of 5% (bear), 7% (Base) and 9% (Bull).
Assume constant operating and net margins and tax rate
Assume running dividend yield of 2% on the current share price of 175.22
Assume that the bear case results in a p/e reduced by 10%, the base case no change in p/e, and the bull case results in a p/e increased by 10%
This gives us the following outputs:
3-year Base Case >> multiply current share price by 7% compounded over 3 years >> $215/share >> add 3 years of dividend at 2% yield on current share price >> $10/share >> total return of $225/share including dividends vs. current price of $175/share = c.28% gain.
3-year Bull Case >> multiply current share price by 9% compounded over 3 years >> $226/share >> increase by 10% for improved p/e resulting from higher growth >> $250/share >> add 3 years of dividends at 2% yield on current price >> $10/share >> total return of $260/share including dividends or a gain of 48%
3-year Bear Case >> multiply current share price by 5% compounded over 3 years >> $203/share >> decrease by 10% for reduced p/e resulting from lower growth >> $183/share >> add 3 years of dividends at 2% yield on current price >> $10/share >> total return of $193/share including dividends or a gain of 10%.
If we sense-check the outputs above we think the error bars around the forecasts include the following factors:
We have taken no account of any general market collapse, which usually leads to reduced p/e and every other kind of valuation multiple for all companies, regardless of merit. Equally we have taken no account of any kind of market boom resulting in increased valuations.
Our base and bull case revenue growth rates probably look a little ambitious to management, but on the other hand we assume earnings are growing at the same rate as revenues – in contrast to management's own guidance (2019 revenue growth 5-7%; earnings growth 12-14%) – so overall we think this is a little cautious of us.
We believe that RTN will in fact generate a significant amount of cash on its balance sheet not reflected in the above returns. The dividend payout ratio is low and the yield is only 2% - and we have kept that yield constant on today's share price despite the fact that the company has delivered consistent dividend growth for many years. We would expect the company to do something useful with that cash – an acquisition (which might boost p/e), a buyback program (which reduces share count so EPS goes up so share price should go up, all other things being equal), or a special dividend.
We believe something will happen with Forcepoint. Either it will be restructured and become more profitable and/or improve its growth (good for earnings and p/e respectively) or it will be divested, returning value to RTN shareholders.
Finally if we look around at what others are forecasting for the stock, Morgan Stanley has a 12-month 'base case' price target of $215/share, not so different to our 3-year base case, so we think we are probably on the cautious side.
In conclusion – we believe this stock offers good long term hold potential.
Possibility (2) - Trade the Support-Resistance Lines
Aside from 2018, RTN has not been a particularly volatile stock and so it doesn't always lend itself to range-bound trading in a channel. But in the investor's favor right now is the potential for a continued recovery back to price levels before the Q4 '18 selloff, which market momentum alone could support. Further, as the stock gets past its Q4 earnings the market seems to have shrugged off its initial worries about those results.
We identify the key support and resistance levels below. They aren't Fibonacci levels or anything so complicated, they are just the touch points on the 12-month candle chart – again a simple method that appeals to us!
RTN – Support and Resistance Levels, 12 months to 1 Feb 2019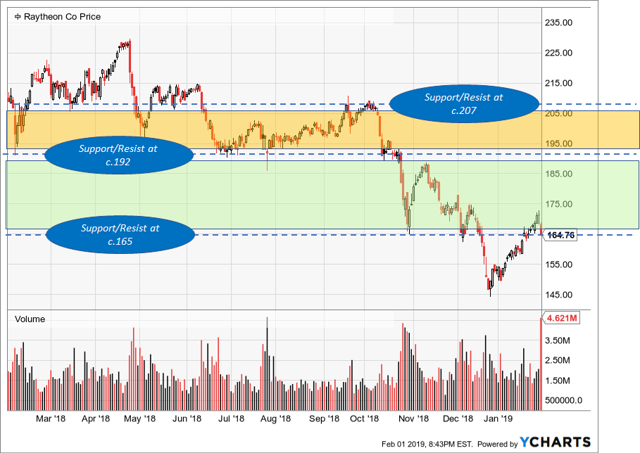 Looking at key support and resistance levels below one might consider the following strategies:
Firstly – how is the stock going to perform vs. its 50-day simple moving average? (See our earlier Instablog note on this here >>). Since its Q4 earnings release, the SMA-50 of around $165/share has acted as a support level. If that holds over the next week or two and the stock continues its market-linked rebound then investors should consider …
Secondly – how will the next support / resist line at around $192/share play out? That is getting close to the Morgan Stanley 12-month price target of $215/share. In our view the price targets set by the large banks are best used as a sort of 'air cover' for the investor – one absolutely must not count on them but if one aims off them ie. assumes the stock is likely to come close to those levels if there is no major company event or market dislocation – then they are a source of comfort for one's own thesis. Our own near-term view is that the $192/share level is likely to be a resistance level before it is a support level. So the short-term investor might look to enter the stock somewhere in the $165-170 range and exit somewhere in the $185-190 range. If successful such a trade would offer a short-term gain in the 9-15% range. Were such a trade to play out within say six months, that might offer an 18-32% IRR return.
Note – as we observed in our recent note on near-term trading AJRD, trading in the middle of such a range offers a higher probability of a successful trade at the cost of a reduced level of return – investors must make their own decisions as to how much risk they want to carry in such a trade. As a further observation, our own view is that such 'bracket' or 'profit-taker' trades are well suited to automated limit orders to take the emotion out of the entry / exit levels. But we make no attempt to direct each investor who again must form their own view on such a strategy.
Finally – is the c.$207/share support/resistance level likely to be challenged near term? For us that is a big near-term jump from today on the back of less-than-blowout Q4 results. $207/share would be a 25% gain from the closing price at the time of writing and, again, would be above at least one of the major investment bank's 12-month price targets. So we aren't sure that's a reliable short-term trade. We do feel good about the stock beating that price over three years, but that's an investment not a trade.
Note, Cestrian Capital Research is an equity-only, long-only research service. Investors comfortable with more complex derivative and / or shorting strategies may very well be able to find other ways to make money from RTN, but that is not our remit.
Next Steps in Cestrian's Coverage of RTN
We will keep readers posted on key developments in RTN. Look out for comments we post to this article and on our Instablog and StockTalk channels. If you have thoughts on our work please post them as comments or message us within SA and we will do our best to respond in a timely manner.