Alibaba (BABA) had made a big bet on Ele.me in 2018. This seems to be paying off as Ele.me has shown rapid improvements in its last mile delivery capabilities. Alibaba has invested billions in this venture, which has helped Ele.me improve its competitive position against chief rival Meituan Dianping which is backed by Tencent (OTCPK:TCEHY).
This can be seen in the stock performance of Meituan since its IPO in September. The current stock price is at HK$53 which is 25% lower than the IPO price of HK$72. Addition of new delivery services by Ele.me will improve the ability of Alibaba to increase its moat against chief rival Tencent. Better last mile delivery also helps Alibaba gain a big competitive edge in its core commerce operations.
2019 will be a decisive year
Alibaba took some strong initiatives to improve its logistics capabilities in 2018. It invested heavily in Ele.me to increase the ability to offer better last mile delivery services. In the last quarter of 2018, Ele.me partnered with Starbucks to provide delivery of coffee. It has also started providing drugstore deliveries. Ele.me provides half hour pharmacy delivery in Beijing, Guanzong, and Shenzen. It also provides one hour delivery of medicines in over 20 cities. China has the second largest pharmaceutical market in the world with an estimated GMV of $122 billion.
We should see a number of new services added to Ele.me as it takes advantage of the huge last mile capabilities. Currently, one of the biggest service offered by Ele.me is food delivery. Heavy discounts in this service have reduced the margins of Ele.me as well as rival Meituan.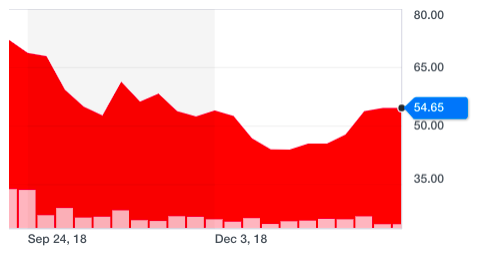 Fig: Falling Meituan stock price since its IPO in September. Source: Yahoo finance
For the September quarter, Meituan announced revenue growth of 97%. But the losses also increased massively as a fierce pricing war with Ele.me ended up reducing the margins for the company. Currently, Meituan has a market cap of $38.5 billion.
Advantages with Ele.me
One of the biggest advantages with Ele.me is the ability to attract greater investments from parent Alibaba. Ele.me also benefits from the enormous ecosystem created by Alibaba. Customers already using Alibaba's apps can easily make the request for delivery services and pay through their Alipay accounts. This makes the entire transaction more convenient and seamless.
It is unlikely that Meituan will reduce the pricing pressure in the near future as both the companies try to get a bigger market share. But over a long term, the delivery services could replicate the market share dominance of Alibaba in retail. This has been seen in payments also where Alipay closely follows Alibaba's e-commerce market share.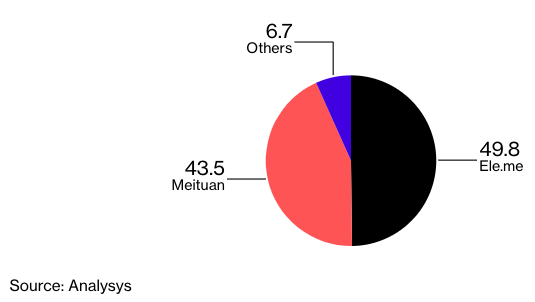 Source: Bloomberg
Last year, Bloomberg reported an almost even split in the market share of Meituan and Ele.me. With the aggressive investments in the latter half of 2018, Ele.me would have improved its market position.
Impact on Alibaba
Alibaba reported a decline in margins as it gained a majority stake in loss-making units like Cainiao and Ele.me. If Ele.me improves its overall market dominance, it will provide the company with better pricing power and lower the losses substantially. This will help Alibaba improve its margins and also build a better growth runway for new services.
Fig: Margin and forward pe ratio of Alibaba
According to Alibaba's earnings report, Ele.me served over 167 million annual active customers in 676 cities. Along with Koubei, it had a total of 3.5 million merchants on its platform. This increases Alibaba's ability to gain greater customer insight and improve the overall ecosystem of the goods and services provided to customers.
Currently, Alibaba is in investment mode where it is rapidly increasing investments in segments like Ele.me, Cainiao, cloud and digital media services. As the company reaches the requisite scale in each of these individual segments, we should see faster improvement in profitability and margins.
Investor Takeaway
Alibaba's Ele.me has launched a number of new services including coffee and pharmacy delivery. At the same time, competitor Meituan has seen a massive fall in margins and continuous decline in stock price since its IPO in September. Meituan has lost over 25% of its stock value within the last few months. If Ele.me is able to gain a decisive market share in last mile delivery, it will help the company reduce its losses and also provide Alibaba a bigger moat.
The growth of Ele.me should help in boosting the bullish sentiment for Alibaba as customer traction with Alibaba's ecosystem increases. Alibaba is priced at a very low multiple considering the huge growth potential in non-core commerce services.
Disclosure: I am/we are long BABA. I wrote this article myself, and it expresses my own opinions. I am not receiving compensation for it (other than from Seeking Alpha). I have no business relationship with any company whose stock is mentioned in this article.
Editor's Note: This article discusses one or more securities that do not trade on a major U.S. exchange. Please be aware of the risks associated with these stocks.