Investment Thesis
eBay Inc. (EBAY) is one of the largest online retailers in the world today with around 179 million active users, and 1.9 billion live listings at any one time. We think eBay is now moving into a structurally new phase, one with lower growth and a focus on cost rationalization. But there's still something here for income investors, with the company accelerating capital return via aggressive share repurchases and a new dividend (~1.6% yield).
We aren't, however, quite as positive on recent activist involvement by the likes of Starboard and Elliott. While the activists are pushing for the low hanging fruit, e.g., spinning classifieds/StubHub, we favor management's long-term view on the synergies between classifieds/StubHub and the core marketplace (see the quote from the 4Q call below).
Vis-à-vis our existing portfolio there are real and substantial synergies as I mentioned and they are growing across that portfolio and those synergies are not only for our shareholders, but for our customers. But we always evaluate our assets and will continue to do so.
Furthermore, the latest push for efficiencies via initiatives such as pulling back on SEM spend will likely impact GMV going forward. Overall, we agree there is short-term value to be unlocked; we think it comes at the expense of longer-term prospects. With the stock already at ~12x EV/EBITDA, we believe long-term investors would do well to steer clear of the stock for now.
Is eBay another retailer suffering over the holiday season?
eBay posted quarterly revenue of US$ 2.88 billion - in line with the consensus of US$ 2.77 billion - which was reported along with adjusted earnings per share (EPS) of US$ 0.71, beating the consensus estimate of US$ 0.59. Gross merchandise volume (GMV) declined 1% YoY in the US, and global GMV was around 1.5-2% lower than analyst expectations. As noted by one analyst, eBay is an online retailer reporting declining performance measures in the US over the holiday season. Furthermore, there is data to suggest that US e-commerce actually grew 16-19% over the holiday period. It has been noted that the multiple of enterprise value to adjusted earnings before interest, taxes, depreciation, and amortization for eBay is reliably positively correlated with its US GMV. eBay management has indicated that global GMV for 2019 is likely to be around 1%, and there is concern that this signals that US GMV for 2019 will be lower YoY.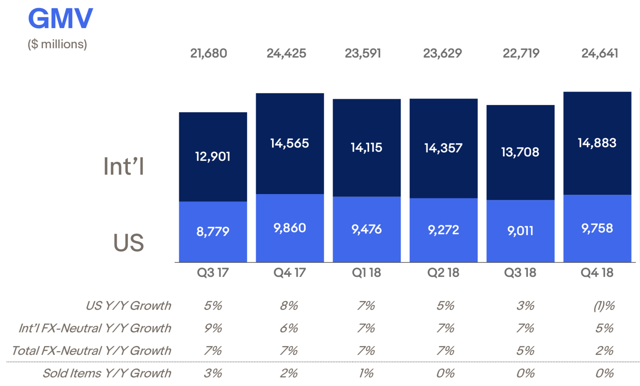 (Source: eBay)
eBay is, however, moving to return capital to shareholders by announcing plans to repurchase approximately US$ 6 billion of stock in 2019/2020 (in addition to the US$ 1.5 billion repurchased in the last quarter), and it has authorized a US$ 0.14 per share quarterly dividend. This may open the stock up to a new ownership base of income investors, the dividend yield is small at around 1.7% but it is income, and repurchases are supportive of the stock price.
There is a prevailing view that the capital return policy is intended to smooth over a few years of slower growth while the company makes some changes. These include driving cross-platform synergies between the marketplace, StubHub and classifieds, in the form of cross-merchandising, traffic sharing, and dual listings, and building a more extensive advertising business. This last point, concerning bolstering advertising, is crucial as currently there is a significant dependence on Google (GOOG) (NASDAQ:GOOGL) for driving traffic, and GOOG is becoming a marketplace in its own right. The end of the exclusivity agreement with PayPal (NASDAQ:PYPL) in 2020 will allow eBay to offer other payment options, something that has been a drag on GMV growth despite marketing efforts. Management is focused on delivering intermediated payments, where sellers can see reduced costs, and conversions are higher from buyers accustomed to using credit cards, and early tests have been promising. This feature will likely be fully scaled by June 2020. The introduction of a local feature, meaning buyers can pick up from a local store when convenient, has been late but welcome. eBay is also pushing into mobile which, given that commerce volume using mobile devices has been steadily growing, is a prudent move, mainly since auction updates can be delivered to a mobile device for timely action by users.
On the acquisition front, eBay acquired Terapeak last year. This platform helps companies decide what to sell and for how much. Other acquisitions include companies with expertise in artificial intelligence, machine learning, and structured data. All of these technologies will be integrated and will improve operations of eBay's platforms; for example, structured product pages are essential for search engine optimization, making sure users land on pages for products that are available. Management has stated that it is "constantly re-evaluating our portfolio" which has given rise to opinions that spinning-off StubHub and the classifieds businesses to unlock shareholder value is perhaps on the horizon. Indeed, activist investors such as Elliot Management (currently holding a 4% stake) think that StubHub and the classified business would be worth more on their own, and would enable eBay to focus on improving its marketplace technology and operations; this strategy was floated by Credit Suisse's (NYSE:CS) Paul Bieber back in 2017. But management currently sees StubHub and the classified business as adding value organically, and they are not currently viewed as divestiture options. They do greatly complement eBay's core marketplace business. The classifieds business captures customers looking to make local sales of items and is focusing more and more on motor sales, and StubHub is an industry leading secondary ticket marketplace.
Key risks to the business include
E-commerce, in general, is becoming more and more competitive. There is sustained, persistent competition from the likes of Amazon (AMZN), Alibaba (BABA), Etsy (ETSY), and also from GOOG and now Facebook (FB). More and more companies are expanding their presence online, including traditional brick-and-mortar retailers, for example, Walmart (WMT).
eBay has a business model based on fees derived from online retail transactions and is therefore susceptible to changes in consumer spending which will decrease in the event of a worsening global economy in general.
Following the expiration of the PayPal exclusivity agreement, eBay will be offering a more comprehensive payment platform. This is expected to be very positive in expanding the user base, and the number of transactions, but if the development is slower than expected this will affect the share price. The last four quarters have shown little to no improvement in performance metrics, and investors and analysts will be looking for improvement. The company is aware of this and is in the process of trying to return to growth, and the payment platform is part of the effort to achieve this.
Online shopping in the US is set to become more expensive due to the US Supreme Court ruling in 2018 that states can require internet retailers to collect sales taxes. Adverse state legislation could have a significant impact on eBay.
Conclusion
Overall, we think eBay is fairly priced at present, with the recent pop following activist involvement a double-edged sword. On the one hand, as value investors, we like the company's strong balance sheet and cash generative ability. Management's move to accelerate capital return is a big positive in our view.
However, we think the involvement of particularly vocal activists like Elliott and Starboard could prove disruptive to the company's long-term prospects as they appear to be pushing for short-term gains (classifieds/ StubHub spin) vs. long-term benefits (synergies). Plus, we are wary that some of the efficiency levers being pushed could adversely impact the top-line longer term. While we like the business, at 12x EV/ EBITDA and two disruptive activists in the mix, we think eBay remains a show-me story.
Disclosure: I/we have no positions in any stocks mentioned, and no plans to initiate any positions within the next 72 hours. I wrote this article myself, and it expresses my own opinions. I am not receiving compensation for it (other than from Seeking Alpha). I have no business relationship with any company whose stock is mentioned in this article.