Originally published February 7, 2019
AdvisorShares, a leading sponsor of actively managed ETFs, announced that the AdvisorShares Sabretooth ETF (BKCH) will begin trading today. It is managed by Sabretooth Advisors, a firm with deep expertise rooted in the ETF and capital market industries. Sabretooth also sub-advises the AdvisorShares New Tech and Media ETF (NYSEARCA:FNG).
The launch comes as global growth concerns could have cloud computing investors fretting, but the industry is still garnering strong demand. Tech giants like Amazon (NASDAQ:AMZN) and Microsoft (NASDAQ:MSFT) are still reporting strong earnings from cloud-based applications despite these concerns.
"The move to the cloud continues and all the cloud providers are gaining," said Kim Forrest, a senior portfolio manager with Fort Pitt Capital Group LLC. "Nobody is losing, it's just some people are faster than others."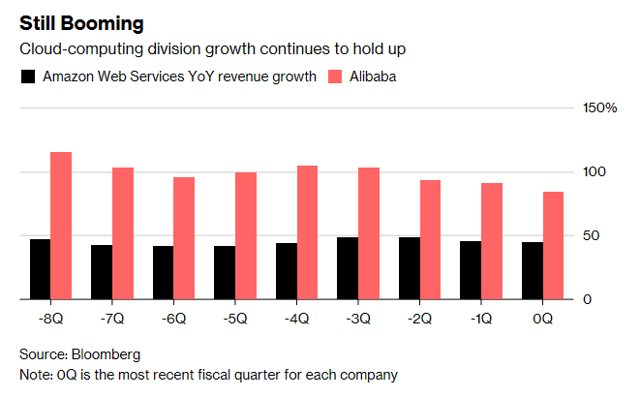 While leading cryptocurrency Bitcoin might be languishing amid its falling price, its underlying technology, blockchain, could see more widespread adoption. Last year, Forbes reported that research performed by online job board Glassdoor showed that the blockchain industry ramped up their hiring with a 300% increase in jobs.
According to the research numbers, 1,775 bitcoin and blockchain-related job openings were available in the U.S. as of August 2018. This represents an increase of 693 since the start of 2018 and a rise of 446 versus the same time last year.
According to CBInsights, "For use cases that don't need a high degree of decentralization - but could benefit from better coordination - blockchain's cousin, 'distributed ledger technology (DLT),' could help organizations establish better governance and standards around data sharing and collaboration."
The investment thesis for BKCH holds that companies utilizing cloud computing and digital companies implementing emerging technology like blockchain can realize increased profitability and appreciation in stock prices over an extended time horizon. BKCH invests in U.S.-listed equities and American Depository Receipts (ADRs) of such digital and cloud companies.
The portfolio manager believes these areas represent the future of technological record-keeping and information exchanging which can deliver a durable investment theme for growth equity opportunities and long-term performance.
Editor's Note: The summary bullets for this article were chosen by Seeking Alpha editors.