Investment Thesis
Avianca (AVH) is Colombia's flag-carrying airline, flying to 114 destinations and serving approximately 30 million customers every year. The company is currently very undervalued on the basis of its assets and this is almost certainly due to unwarranted fears associated with investing in Colombia combined with general confusion about the structure of the business. By purchasing shares in the company, a value-oriented investor can expect to receive a high return for a relatively small amount of risk.
Scared of Colombia?
I should perhaps begin this article by highlighting the fact that many investors are very concerned about the prospect of investing in a South American country which is generally considered to be violent and unstable. However, this unjustified fear is useful to the investors who realise that Colombia is actually a much safer place to invest than is widely perceived.
Firstly, I should perhaps discuss the brutal civil war in the country. While there has officially been a civil war ongoing in the country for just over 54 years, the conflict has essentially drawn to a close. The main rebel group, The Revolutionary Armed Forces of Colombia (FARC) signed a peace deal with the government in 2016 and in June 2017, the group formally disarmed itself and handed over its weapons to the United Nations. While there are associated groups still active (such as the ELN), these pose no real threat to the infrastructure of the country and are principally forced to operate away from towns and cities. It would certainly be extremely difficult to suggest that any current guerrilla group poses any material threat to Avianca and its operations in the country.
Secondly, I would like to talk about the perception that Colombia is some sort of narco-state. Despite the death of Pablo Escobar in 1993, many outsiders continue to view Colombia as a drug-dependent economy. While many would imagine that exporting cocaine represents a large proportion of Colombia's GDP, the truth is that in 2013 it was responsible for only 0.2%. Colombia's principal exports are in fact oil, coal, nickel, gold, flowers, coffee, bananas, tropical fruits, textiles and clothing.
Complicated Structure
Many prospective investors in Avianca are not just scared of Colombia, they're also confused by the ownership structure of the company itself. They're certainly entitled to be somewhat disoriented: Avianca operates and has ownership stakes in a selection of different businesses. Even the main passenger carrying unit is actually owned by two commercial entities (both themselves subsidiaries of the parent company Avianca Holdings).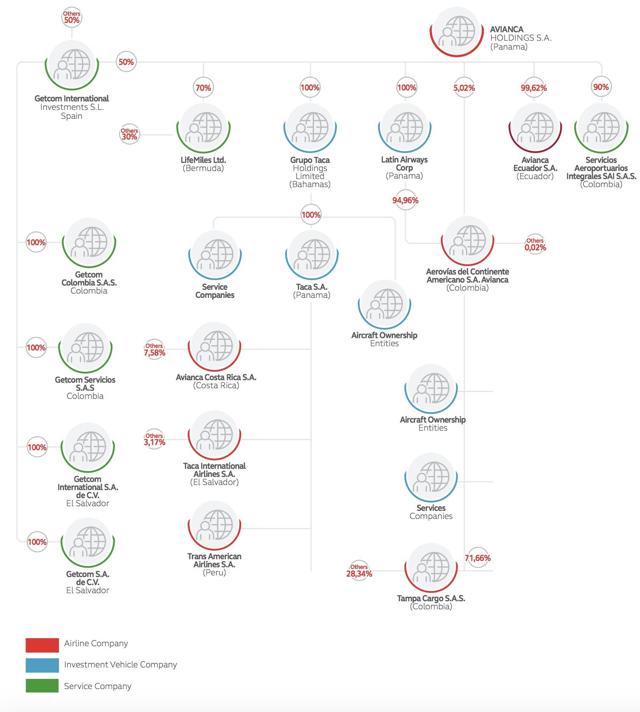 (Source: Annual Report 2017)
The basic summary of this diagram is that Avianca Holdings (AVH), based in Panama, directly or indirectly owns more than 99% of Avianca Continental Airlines and Avianca Ecuador, a 70% stake in the LifeMiles loyalty program and also stakes in a number of aircraft ownership entities and other much smaller side-businesses (such as a Colombian airport services company).
One thing readers will note is that Avianca Brasil is not shown in the diagram. This is because Avianca Holdings (publicly traded as an ADR) is completely separate from Avianca Brasil. A certain degree of uncertainty has been unnecessarily generated around the main Avianca business as a result of the recent filing for bankruptcy of the Brazilian company. While there are certainly some risks involved in investing in Avianca, the collapse of a business to which Avianca has simply licensed their brand name should certainly not cause alarm to investors.
As mentioned, another part of Avianca's business is the LifeMiles loyalty program. The size and scale of this operation should certainly not be underestimated. It has over 7.8 million members as well as more than 657,000 active co-branded credit cards. It's very possible that Avianca could even spin-off LifeMiles in the future in order to generate value for shareholders by focussing more on the core airline business.
Rapidly Growing Market
Avianca undoubtedly benefits as a result of being an airline serving a country which has just emerged from a brutal civil war, for many years scaring both tourists and investors away from the country. As a result of this conflict now having been acknowledged as over, tourism has steadily increased over the last few years. The country received 6.5 million visitors in 2017, a nearly 25% increase on the figure it received in 2016.
International tourism is likely to continue to rapidly increase a result of the increasing understanding that Colombia is much safer than it used to be, especially in heavily tourism-focussed areas such as the old colonial town of Cartagena. This growth in tourism will not only provide for Avianca an increase in the number of passengers it carries (the current load factor is around 83.1%), it will also increase the company's pricing power. Being the national flag-carrier certainly does provide the company with a certain degree of prestige and trust among international travellers. Additionally, It is also one of the only airlines will provides direct flights between certain destinations for the foreseeable future (London and Bogotá, for example).
Fundamentals Indicate Value
A perusal of the company's most recent balance sheet is certainly worthwhile. The latest figures on shareholder equity (i.e. subtracting total liabilities from total assets) yield a figure, $1.21 billion, considerably higher than the company's market capitalisation at the current price (at only $613 million). In terms of ratios, this has led to a steady fall in P/B over the last few years.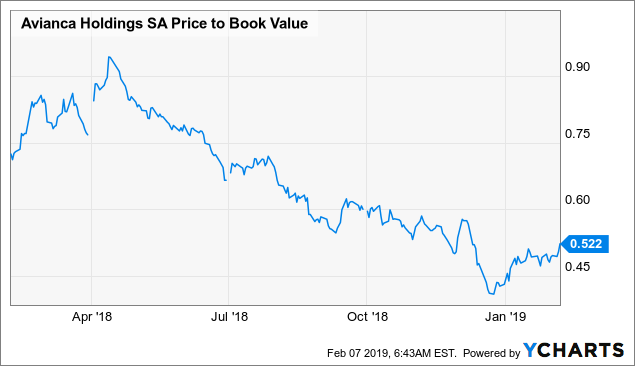 The company has a P/E ratio of 12.71, rather modest relative to the wider market and also pays an attractive dividend (the current yield is approximately 5.35%).
Risk and Reward
I would not like to give the impression here that there are no risks in investing in Avianca. Airlines are very dependent on a number of factors in order to maintain profits. Avianca uses US Dollars as its principal operating currency. Appreciation of the Colombian Peso relative to the dollar could therefore cause problems for the company. Fuel prices are also a potential issue. Fortunately, like a number of other airlines, Avianca annually enters into derivative instruments which hedge against significant changes in jet fuel price. Finally, future industrial action could cause problems for the company. The Colombian Pilots Union (ACDAC) illegally began strike action in 2017, though this was swiftly dealt with (by firing a number of the pilots involved) and the company won also won a significant lawsuit in relation to the illegal strike.
There is also an issue when one calculates that the total current liabilities are greater than the total current assets. The company is very strong on long-term assets but there is a small chance that if the company cannot get its debt under control it may face future liquidity issues. Liquidation is a complicated process that most investors would prefer to avoid. Fortunately, the fact that the current price provides a large margin of safety is very helpful should any liquidity issues arise.
Conclusion
Avianca is a company which is now available to buy for less than its total assets minus total liabilities. It's also a company with incredible potential for growth: after many years of civil war and widespread crime, the country it serves now has a stable platform from which to grow. Avianca itself will surely benefit massively from the increase in tourists this will generate.
I would enthusiastically suggest investing in Avianca with a long term perspective (5 years or more). I would, however, advise you to do so with your eyes open to the various threats that I have outlined that may impact Avianca's operations.
Disclosure: I/we have no positions in any stocks mentioned, and no plans to initiate any positions within the next 72 hours. I wrote this article myself, and it expresses my own opinions. I am not receiving compensation for it (other than from Seeking Alpha). I have no business relationship with any company whose stock is mentioned in this article.