Investment Thesis
Amid steadily growing search & portal business, shares of Yandex (YNDX) have not changed significantly over the last decade, creating discrepancy which is unlikely to persist for a prolonged period of time. As the company's top-line and bottom lines have been rapidly expanding, I believe it will not take much time before the share price catch up.
Corporate profile
Yandex N.V. is a leading Russian multinational internet and search engine company headquartered in Moscow. The company headcount currently counts over 7000 people in seven different divisions of which just one – search & engine – is durable growing and profitable. The rest of the company segments include e-commerce, taxi, classified advertisement, media services, and experiments. The greater majority of the company's revenues comes from Russia (about 93 percent) with the latter coming from the rest of the world.

Source: GlobalStats
Segment breakdown – search and portal leading the way
Taking a closer look at the company's segment revenue and EBITDA margins, it is clear that search & portal is the company's most important segment. Over the last year, the company's search & portal division has been growing its revenue at a stable rate of more than 20 percent and has managed to sustain its adjusted EBITDA margin over 40 percent. Even though taxi has skyrocketed in terms of revenue, its profitability has been in negative territory so far, presumably due to highly competitive and regulated nature of the market. Other segments such as media services and experiments have grown yet have also been unprofitable. Lastly, the e-commerce business line was profitable and growing for a while however has lately deteriorated.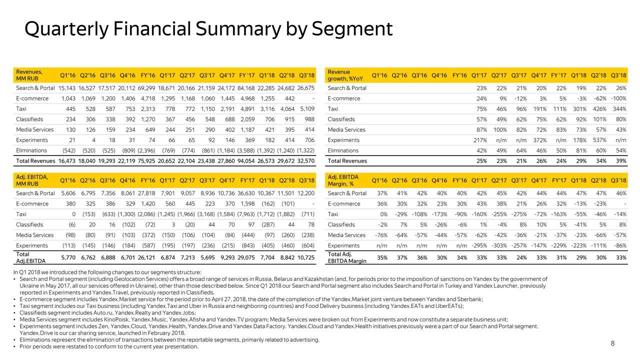 Source: Yandex Q3 2018 earnings slides
Key developments from the latest quarterly earnings call – new platforms on the rise
In the third quarter, the company recorded significant developments on their platforms front and monetized over 800 small online stores using Yandex Turbo pages technology, accelerating online mobile shopping. According to the company's statistics, monetization growth using Yandex Turbo pages has reached over 400 percent year-over-year. The company's Geo Services have experienced a growth of over 90 year-over-year percent. Apart from that, the company successfully acquired a company called Edadil which designs and develops discount and promotion application and has over 6 million monthly active users in 16 cities around the world. Other positive developments came from the automotive industry where the company celebrated with successes of Yandex.auto, Yandex.navigator, Yandex.drive, Yandex.music and Yandex.radio platforms.
High Capex, zero debt balance sheet
Looking at the company's financial statements, Yandex has had consistently high capital expenditures in recent years which signals that the company has been heavily investing into future growth and profitability. The company's relatively low indebtedness - 29 percent total liabilities to total assets – gives it better resistance to market stress.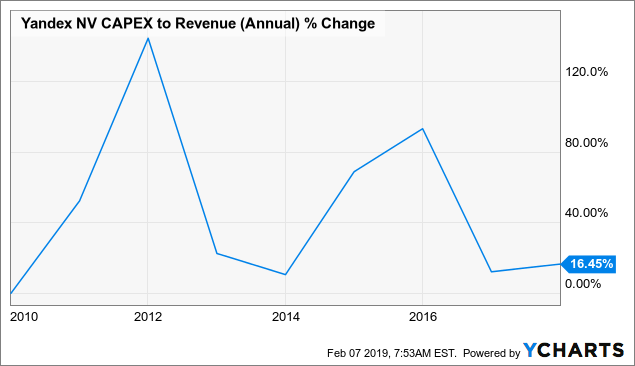 Improving web statistics
Based on SimilarWeb's website traffic statistics, the company's online engagement and number of visitors have been on rise. In January, the company website recorded over 67 million visitors of which is 26 percent more than in August last year.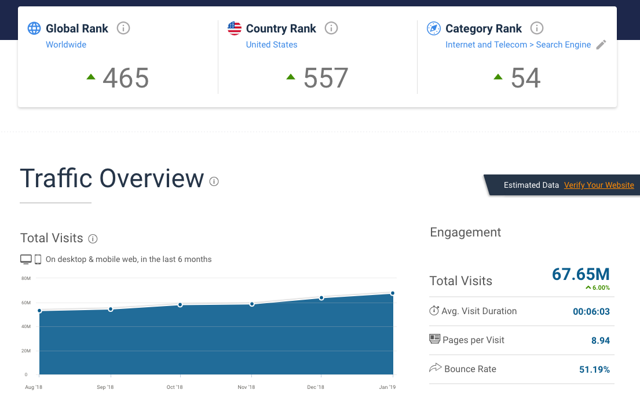 Source: Similarweb.com
Valuation
Plugging-in Yandex's financial statements' figures into my DCF template, the company's shares seem to be considerably overvalued. Under perpetuity growth method with a terminal growth rate of 2 percent, constant 24 percent annual revenue growth over the next five years and 15 percent EBIT margin, fair value of the stock comes at 571 RUB. Under the EBITDA multiple approach of a discounted cash flow model, the intrinsic value per share value of the company currently stands at 1255 RUB if we assume that the appropriate exit EV/EBITDA multiple in five years' time is around 10x.

Source: Author's own Excel model
From a different perspective working with operating earnings multiples, Yandex' shares look a bit more attractive. Using the Fast Graphs forecasting calculator with 20 percent adjusted operating earnings growth rate assumption, the company's intrinsic value by the end of December FY2023 are forecasted to reach up to $48 USD. This implies upside potential of a total annualized rate of return of a little over 7 percent.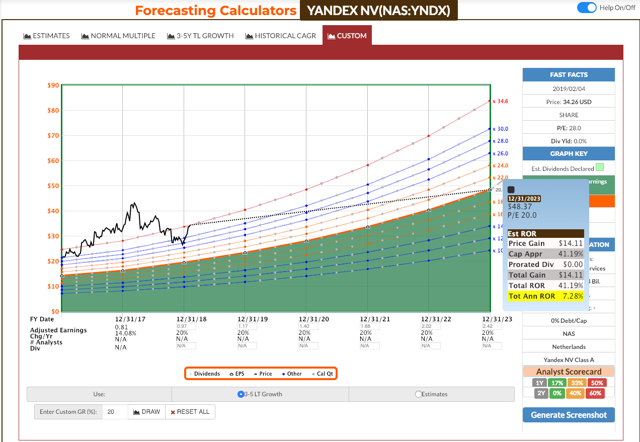 Source: F.A.S.T. Graphs
Lastly, in the light of revenue variation of Peter Lynch's popular earnings line for the projection of intrinsic per share values of the company, Yandex' shares look probably the most attractive. According to my model, assuming 24 percent annual revenue growth, zero percent annual equity dilution factor, a price-to-sales PS ratio of around 5.9x, the company's share price by the end of 2021 could reach 3964 RUB. This scenario suggests an annualized rate of return potential of approximately 15 percent in the following years.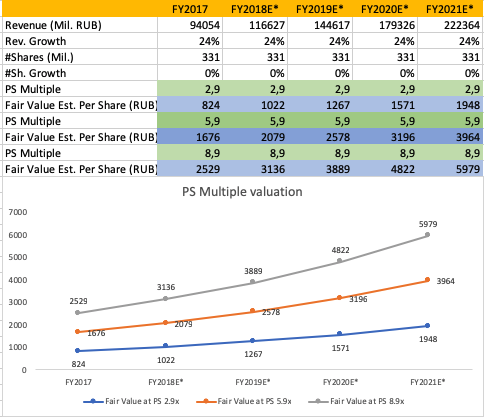 Source: Author's own Excel model
Key risks
Changes in foreign exchange currency rates, especially between RUB and USD, can significantly impact the company's share price potential gains and losses.
The company is subject to various risks stemming from general economic environment.
The company faces non-negligible competitive pressures which can drive down the company's profit margins.
If the company fails to develop new services and products which are attractive to its users, its financial results may suffer.
If the company fails to attract new talents and maintain the existing ones, its operations and financial condition may deteriorate.
If the company fails to secure a new lease arrangement before the current lease expires, the management's attention may be considerably distracted.
If the company fails to preserve and foster the company's corporate culture, its operations may be adversely affected.
The company faces various risks stemming from its cross-border operations as language, cultural differences can show to present a material challenge.
Any decline in the internet as a leading advertising medium may negatively impact the company's operations.
If the company's security measures are breached, the company's reputation may be adversely impacted.
If the company fails to protect its intellectual property through trademarks, copyrights and patents, its competitive position and operations may be adversely impacted.
The company faces various legal and regulatory risks stemming from rapid or unexpected changes in the legislative framework as well as inconsistencies between laws and regulations in different countries.
The bottom line
To sum up, Yandex is an outstanding internet company with a stable share in one of the most crucial markets in the world. Although the company seems to be overvalued, there is long-term potential. The company has been consistently growing core businesses and gradually increasing the number of its website portal visitors. With a planned expansion in cities outside the capital, Yandex is positioned to seize new opportunities and develop new partnerships.
Disclaimer: Please note that this article has an informative purpose, expresses its author's opinion, and does not constitute investment recommendation or advice. The author does not know individual investor's circumstances, portfolio constraints, etc. Readers are expected to do their own analysis prior to making any investment decisions.
Disclosure: I/we have no positions in any stocks mentioned, and no plans to initiate any positions within the next 72 hours. I wrote this article myself, and it expresses my own opinions. I am not receiving compensation for it (other than from Seeking Alpha). I have no business relationship with any company whose stock is mentioned in this article.