Prices in the oil markets have been volatile. Changes in the past few months, which affect Calumet Specialty Products Partners (CLMT), are significant. In our article, we are reviewing past methods, updating calculations for December and are looking at what the weaknesses in January might translate to in the 1st quarter. We are also discussing recent projects and providing in-site into Wall Street's thinking. Our discussion is mostly about the refining business. Some of this isn't bullish.
Reviewing Accuracy for Our Oil Price Calculation Methods
The internet provides several sources for the oil market prices. Calumet also provided three reference points in past presentations for checking our information sources.
In the 2nd quarter presentation, the company provided a delta reference point for WCS and WTI. From a difference, two points are referenced, the first and second quarters.
WCS/WTI discount narrowed by ~$8/bbl, negatively impacting Great Falls
The table below shows our 1st and 2nd quarter calculations for the WCS/WTI spread calculated from information on the internet. Our $7 is essentially the same as the ~$8/bbl reported by the company.
| | | | | |
| --- | --- | --- | --- | --- |
| WTI/WCS Spread ($) | 1st Month | 2nd Month | 3rd Month | Quarterly Average |
| 1st Quarter Average | 25.75 | 28.25 | 26.75 | 27 |
| 2nd Quarter Average | 18.75 | 17.25 | 23.5 | 20 |
| Difference | | | | 7 |
In the 3rd quarter report, Calumet reported the following:
Average WCS/WTI diff of ($29/bbl) vs. ($10/bbl) in 3Q17
A second table compares our calculation with Calumet's reported value.
| | | | | |
| --- | --- | --- | --- | --- |
| WCS/WTI Spread ($) | July | August | September | Average |
| 3rd Quarter (Ours) | 24.5 | 31 | 34.75 | 30 |
| Company's | | | | 29 |
The difference between the company's $29 and our $30 is immaterial. We are confident that, for the very important WTI/WCS spread, our calculations are accurate.
In the 2nd quarter presentation, the company published this comment:
LLS/WTI premium increased by ~$2/bbl, negatively impacting San Antonio
Again, the table below reinforces our data source for crack spread differences.
| | | | | |
| --- | --- | --- | --- | --- |
| LLS/WTI Spread** | 1st Month | 2nd Month | 3rd Month | Average |
| 1st Quarter | Missing* | 3.5 | 2.5 | 3 |
| 2nd Quarter | 3.5 | 5 | 8 | 5.5 |
| Difference | | | | 2.5 |
* Missing January 2018 data.
** All numbers rounded to nearest 0.5
Even with the one missing month, our sources were very close to Calumet reported differences.
From our combined sources, we are comfortable with the numbers from which our calculations are based. These numbers give us trends, not actual results. This concept becomes more evident in the final sections of our article.
Final Fourth Quarter Cash Flow Update
In our last article, "Calumet Specialty Products Partners: Is The Worst Behind It?," we included a cash flow table with showing differences between operating cost between the 3rd and 4th quarter updated through mid-November. Several key parameters changed in the last half most notable, the WTI/WCS spread, the Gulf Coast 2-1-1 and the LLS/WTI spread. We are updating the numbers for the three.
| | | | |
| --- | --- | --- | --- |
| Cash Flow Differences (Millions) | Mid-November | Updated | Cash Flow Difference* |
| WTI/WCS | $48 | $38 | - $23 |
| LLS/WTI | $8 | $7 | +1-2 |
| GC 2-1-1 | $17.5 | $16.5 | - $8 |
* 25,000 * 92 * $10 Great Falls Rate * days * difference
The above table shows that for the 4th quarter key metrics decreased by approximately $25 million. We expect a healthy cash generation in the $50 million or more range for the quarter. (Calumet pre-announced on February 4 shortly before we released this article the following: unrestricted cash increased $95 million QoQ and its coming self-help timing/amounts. Our analysis expected a major cash generation, but nothing close to the reported value. We left our statement, cash generation in the $50 million or more range for the quarter, exactly how it was stated before the company's update.)
January Cash Flow
It isn't the 4th quarter that concerns us, it is this coming 1st quarter. Although the Midland spread has dropped from $10 to $3-4, a sizable negative change, Calumet has hedges. Two other important parameters, Gulf Coast 2-1-1 and WTI/WCS, do, being significantly more negative than in any recent quarter, considerably.
For our comparison, we used the 2nd quarter of 2018 because the two parameters of interest during that quarter seem to be the closest to the information for the month of January. Another spread, LLS/WTI has actually tightened, a positive for the quarter compared to the 4th, but still approximately the same as the 2nd quarter. We note: the calculations are only for the month of January, excluding February and March. Our guess is it that the spreads will turn more bullish, increases for WTI/WCS and Gulf Coast 2-1-1 values, through the progression of the quarter.
The following table shows the comparisons using the 2nd quarter 2018 for WTI/WCS spread and Gulf Coast crack spreads.
| | | | |
| --- | --- | --- | --- |
| | 2nd Quarter 2018 | 1st Quarter 2019 (Only January) | Cost Difference (Millions) *, ** |
| WTI/WCS Spread ($) Great Falls Refinery | $20 | $11 | $20 |
| Gulf Coast 2-1-1 Spread ($) | $19 | $14 | $35-$20 |
* $9 * 25,000 * 90 Cost difference * Great Falls feed rate * days.
** $5 * 85,000 * 90 Cost difference * Total Corporate Feed * days.
We should note that, last year, the crack spread for January 2018 was also $14. By the end of the quarter, it increased to average about $16. February and March tend to be higher than January. At $16, the profit reduction is $20 million. We also expect the WTI/WCS to increase with the quarter. But, in the best light, Calumet's fuels business faces significant headwinds, when during the 2nd quarter, it only produced roughly $30 million of EBITDA. We again note: we have no additional information on any new hedges that the company may have added in the months of November, December, and January.
Recent Projects
The company added an Isomerate unit at San Antonio and Naphtha unit at Great Falls, which began operating in the 3rd and 4th quarter of last year. The quarterly effect is not fully known, but management has commented that the two will add $10 million or more on a yearly basis. Other cost-improving measures or profit-adding measures have been added since the 2nd quarter of 2018, which positively skew the results.
Wall Street's View
Calumet's bond structure includes a large block, which expires in 2021. During the more difficult period for the company, these bonds traded at 60 cents on the dollar. The most recent price is 94 cents. Wall Street isn't expecting bankruptcy. But the stock price continues to teeter near prices ($3) that indicate it might.
Calumet's Stock Price Chart
We have included a self-made chart for the company. The chart shows us that resistance exists at 4 and 5 especially at 5. We suspect that the weakness in price and the strength of the bonds is related to the unusually negative circumstances existing in the early part of the 1st quarter. It is also important to note the huge volume traded in the last 2-3 months of 2018. The total volume in that period is approximately 40 million shares, one-half the total outstanding shares. This is a huge wash-out.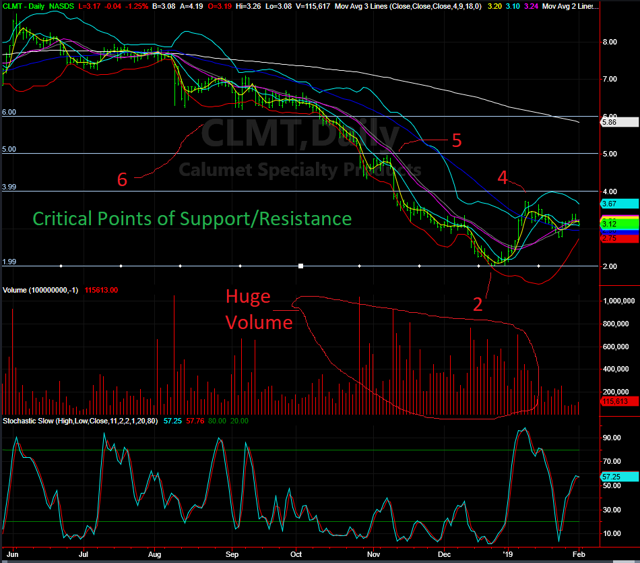 A Vision for Calumet's Future
Calumet is heading toward a specialty business only company. It currently has $1.6 billion in debt and $160 million in cash plus two saleable refining assets, Great Falls and San Antonio. It is believed that the Great Falls asset is worth between $400 million and $500 million and the San Antonio $0 and $100 million. The total between the two seems to approach $500 million. With a $160 million in cash and $500 million in salable assets, debt could be reduced to <$1 billion.
The financial structure drastically changes with almost no fuel assets and far less debt. With 1 billion or less in debt, yearly interest costs drop to $20 million a quarter ($80 million a year) and capital requirements drop to something less than $70 million for a year. Total yearly expenses fall to $150 million or less. With a specialty business generating $200-250 a year, the company is both solvent and able to pay dividends. We have made the assumption that the Shreveport refinery would be in its worse case, neutral.
Some Final Thoughts
Will the 1st quarter results for fuels and the company be a side-step or a step-back is still uncertain? We understand that we haven't yet predicted fuels EBITDA under better conditions nor the company's cash position, we don't expect to predict it under less than ideal conditions. What we believe is that the fuels result for the December quarter (minus the effect of non-cash LCM charges) and the results for the March quarter will provide us with a very good bracketed range. A long-term result might just be somewhere in the middle.
Calumet is certainly a two-faced story.
Disclosure: I am/we are long CLMT. I wrote this article myself, and it expresses my own opinions. I am not receiving compensation for it (other than from Seeking Alpha). I have no business relationship with any company whose stock is mentioned in this article.
Additional disclosure: We have sold off a few thousand shares put to us in late December.