Evolus, Inc. (EOLS) has received a green light from the FDA for its lead product Jeuveau on February 1, 2019. The drug is the only known Neurotoxin dedicated for the aesthetics or more specific treatment of glabellar lines. Following the FDA approval, plenty of industry experts are curious about how much market share can Jeuveau take away from Botox. The management has announced during the FDA approval call a very optimistic plan to be the number 2 in the U.S. market within the 24 months. In my opinion, the company can achieve a commercial success of the Jeuveau market launch because of a better clinical profile and cheaper price compared to Botox. The company will try to penetrate a target audience of millennials with a digital platform that enhances the beauty experience of users.
Phase III study and the FDA approval
David Moatazedi, President and Chief Executive Officer of Evolus, stated:
Evolus is the first company in nearly a decade to enter the fast-growing U.S. aesthetic neurotoxin market. What makes Evolus unique is our focus on delivering performance beauty products with a customer-centric approach. We are pleased to introduce Jeuveau™, the first FDA approved neurotoxin dedicated to aesthetics and manufactured in a state-of-the-art facility using Hi-Pure™ technology."

Source: Press Release, February 2019
The study was 5 months long, included 2,100 patients across multiple clinical trials in the U.S., Canada, and Europe. In the U.S., Jeuveau was tested against placebo, while in Canada/Europe against multi-billion drug under the brand name Botox that is produced by Allergan (NYSE:AGN). The company expects EU CHMP opinion in Q1 19 and potential EU approval in mid-2019.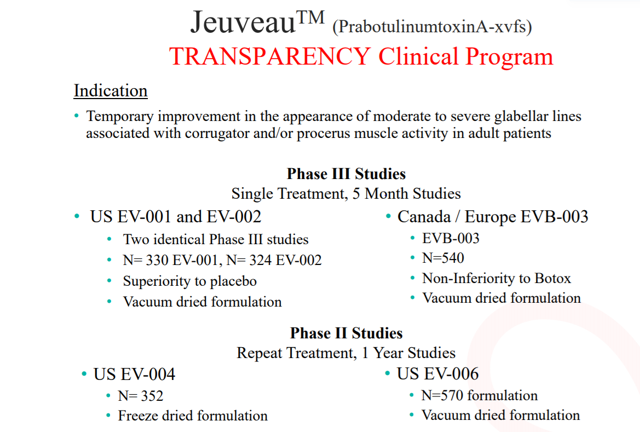 Source: FDA Approval Presentation, February 2019
The primary endpoint was a composite score ≥2 points glabellar line scale ("GLS") improvement at the maximum frown on Day 30. Well, the drug is dealing with the improvement of aesthetics; therefore, its effectiveness could only be measured by subjective tests from both investigators and subjects. The subject test was an assessment of how satisfied are patients (0 - not satisfied to 5 - very satisfied) with their glabellar line appearance at Day 0 and Day 30 after the treatment. The secondary endpoint was using the same method as the primary one but was testing the reduction of glabellar lines at Day 120 instead of Day 30.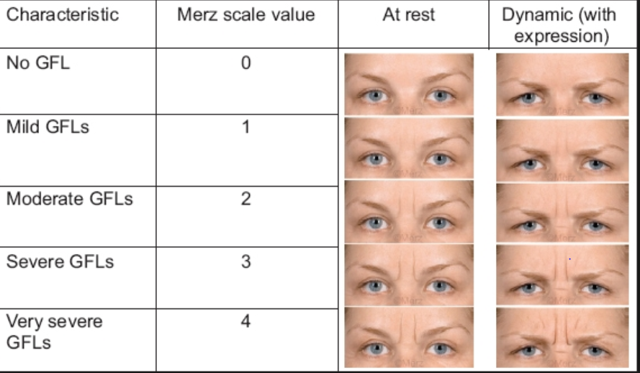 Source: Singapore Medical Journal, February 2019
The following pictures on the figure above provide a better insight into how to measure severeness of glabellar lines.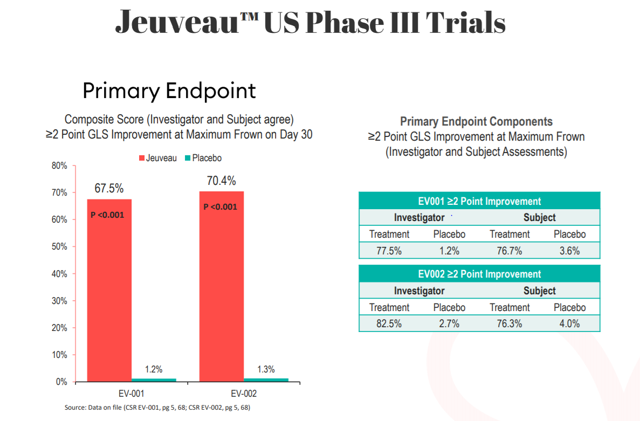 Source: FDA Approval Presentation, February 2019
Both clinical studies EV-001 and EV-002 reported statistically significant results with the composite score of 67.5% and 70.4%, respectively. To have a better understanding of results, patients Value 3 and 4 on the picture using the Merz scale reported a 1 or 0 after the treatment. In the EV-002 study, it is interesting how the Investigator reported a 520bps better improvement compared to patients. That reflects how less satisfied are patients with the effectiveness of the treatment compared to the subjective evaluation of investigators.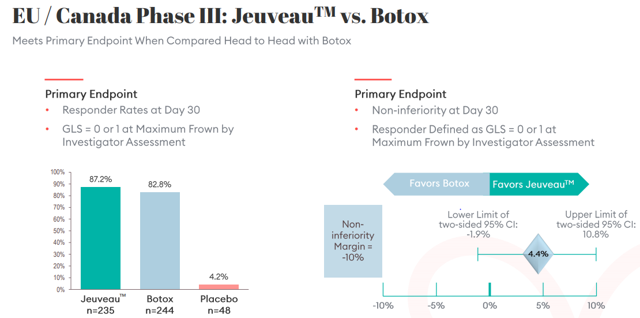 Source: FDA Approval Presentation, February 2019
The phase III clinical study in EU/Canada compared Jeuveau vs. Botox and responders could choose GLS=0 (no glabellar lines) and/or GLS=1 (mild glabellar lines). Results show a 4.4% statistical superiority of Jeuveau compared to Botox, and that is a first direct market threat to Botox. Jeuveau will be the only drug on the market using the same molecule size of 900 kDa as Botox. The other key competitor drug Xeomin produced by Merz has a molecule size of 150 kDa. The company expects to present the U.S. phase III clinical trial results versus Botox later in this quarter. If successful, then the company will most likely use them for commercial purposes.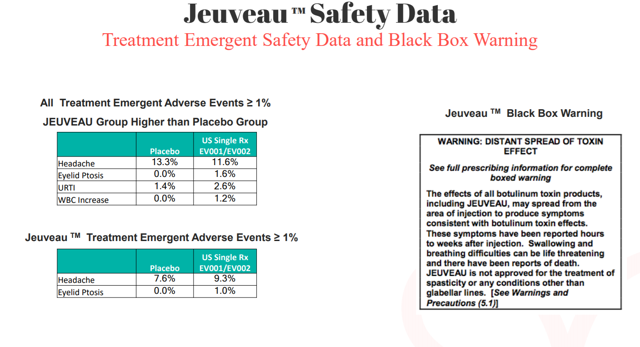 Source: FDA Approval Presentation, February 2019
Jeuveau showed excellent safety and tolerability profile with no drug-related deaths. The most common adverse event was a headache but still 170 bps lower than the placebo. However, the FDA granted a Black Box warning what is very common for this class of drugs. After the injection, a potential distant spread of toxin can lead to swallowing and breathing difficulties. They can be life-threatening and there have been already reports of death due to adverse toxin effects. Therefore, Jeuveau cannot be safely used for any indications other than the treatment of glabellar lines. Following the successful FDA approval now the big question is how much market share can Jeuveau take away from its key competitor Botox.
Market Opportunity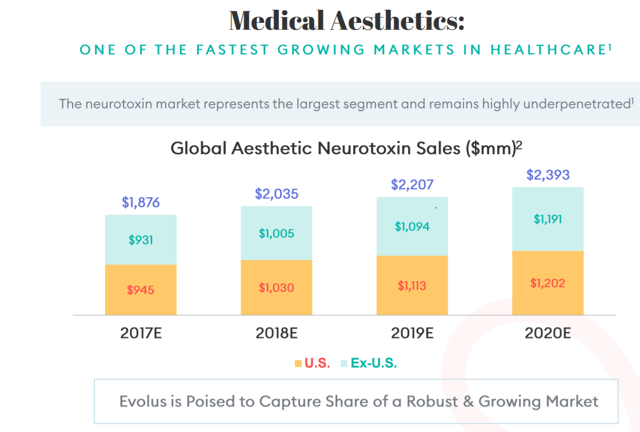 Source: FDA Approval Presentation, February 2019
Medical Aesthetics is one of the fastest growing markets in the U.S healthcare industry. Evolus projects global aesthetic neurotoxin sales of $2.39 billion in 2020 with a CAGR of 8.45 % between 2017 and 2020. If Evolus can capture at least 20% of the global medical aesthetics market share than Jeuveau can generate revenues of $560 million by 2022. Applying the peak revenues multiple of 3x than Evolus has a ~$1.7 billion valuation for its Jeuveau product compared to the current market cap of ~$700 million.
One of the key growth drivers is an increasing number of millennials compared to baby boomers. Millennials these days want to look handsome and pretty when they take selfies or post pictures on social media sites. Neurotoxin treatments are the most popular cosmetic procedure considered among millennials. Evolus expects that 1.7 million millennials in the U.S are considering particular treatment in 2020. Therefore, to target millennials, the company is considering putting a strong emphasis on social media for its commercial campaigns. The key focus is to build brand awareness through PR activities on Instagram or in fashion magazines and present the target audience an unrivaled beauty experience. The company has invested a lot to bring experienced tech professionals into its digital team and present the benefits of Jeuveau treatment in the user-friendly digital platform.
Botox Sales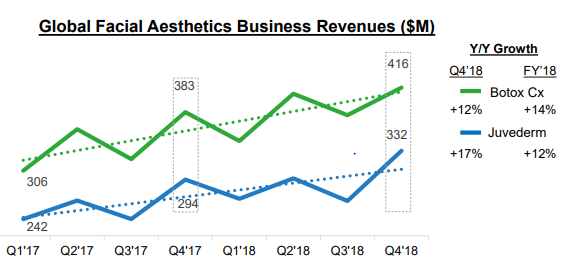 Source: Allergan Q4 Presentation, January 2019
Looking at how Botox has been performing over the last several quarters gives us a better insight into how healthy is the current global facial aesthetics business. Allergan reported Botox Cx Revenues growth of 12% Y/Y in Q4 18 compared to the global aesthetic neurotoxin sales CAGR of 8.45%.
In general, you'll find that Botox costs about $10-$20 per unit. While some offices and clinics charge a flat rate, depending on the area that they're working on, you'll more often find that you are charged based on how many units of Botox are used to achieve the results you're looking for. You need around 20 units to treat your forehead and 5-6 units to treat crows feet, making Botox an affordable alternative to going under the knife."

Source: Skintherapy website, February 2019
Jeuveau will start with a commercial launch in Spring 2019 and most likely with a price discount of 20-25% to Botox. On the Jeuveau label, there are a recommended number of 3 treatments over the course of one year.
Financials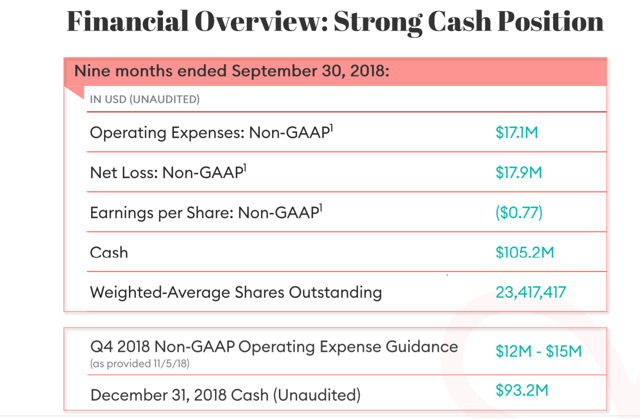 Source: FDA Approval Presentation, February 2019
The company reported cash and cash equivalents plus marketable investment securities of $105.2 million as of September 30, 2018, which is seven times higher than a non-GAAP operating expenses guidance of $15 million in Q4 18. I believe its cash position will be enough to fund its operations and CapEx requirements on a standalone basis over the next several quarters. However, the company is competing against big pharma firms like Allergan and might need a higher than expected sales & marketing resources. Therefore, the company might need to raise additional cash or look for a partnership with a larger pharma firm.
Technical Analysis
Following the FDA approval, the stock price surged 55% between February 01, 2019 and February 05, 2019. The stock has been very volatile over the last few days. I think the market is trying to evaluate how successful will be the commercial launch of Jeuveau and how much market share it can take away from Botox over the next 12 - 24 months.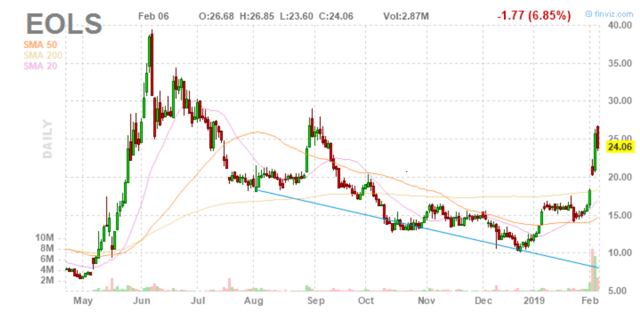 Source: Finviz, February 2019
Based on my Technical Analysis, I expect the stock price to test the next psychological level of $30 given its strong momentum. In the case, the company reports a very successful market launch of Jeuveau than the stock price can test $40 where the stock was trading before the huge tumble in June 2018. The current 200 SMA is ~$18, therefore, I recommend setting a stop-loss slightly below this level. The stock has upside potential with a reasonable risk/reward ratio given the recent FDA approval and reported better clinical trials results versus the key competitor Botox. The stock is also under-followed as it has only ~$700 million in the market cap. The analyst consensus price target is $30.50 and only 4 analysts are covering the stock.
Risks
The company is also competing in the global aesthetics market against big pharma companies like Allergan, Pfizer, and Merck that have greater marketing resources, R&D investments, and stronger sales network. The biggest risk to shareholder value is a potential excessive share dilution and the failure of Jeuveau commercialization, which would negatively impact the share price. A higher number of customers might still choose Botox over Jeuveau as it has a built a strong brand awareness over the last decade. The key competitors might also develop a competitive plan to prevent the Evolus from taking a significant market share.
Takeaways
Evolus is well positioned to compete against Botox in the global facial aesthetics business after the successful FDA approval of Jeuveau. It shows significantly better results in the EU/Canada phase III clinical study versus Botox, which has generated global facial aesthetics business revenue of $416 million in Q4 18. I expect the successful commercial launch of Jeuveau in the U.S. and a positive opinion from EU CHMP later this year. Investors in Evolus speculate at the moment that Jeuveau is ready to disrupt the global facial aesthetics market with its cheaper alternative to Botox. However, key risks to the investment thesis are a potential failure of the EU/Canada phase III clinical trials and lower than expected commercial success after the market launch of Jeuveau.
Disclosure: I/we have no positions in any stocks mentioned, and no plans to initiate any positions within the next 72 hours. I wrote this article myself, and it expresses my own opinions. I am not receiving compensation for it (other than from Seeking Alpha). I have no business relationship with any company whose stock is mentioned in this article.