The ProShares UltraPro S&P 500 (UPRO) ETF, which tracks (x3) the S&P 500, has surged by 53.17% from its 52-week low on Dec. 24, 2018. While an overly hawkish Federal Reserve and economic growth concerns dominated market sentiment in Q4 2018, a notably more dovish Fed this year have helped ease concerns and allowed risky assets to climb higher. Nevertheless, the tailwind from the dovish Fed may not last forever, as economic and corporate outlook continue to diminish.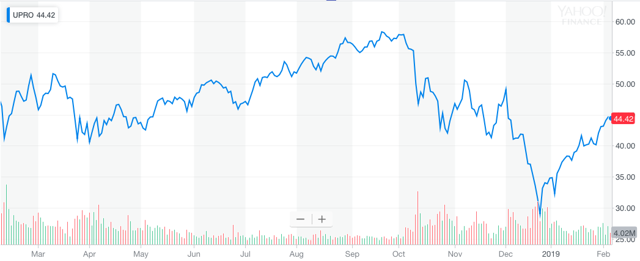 Source: Yahoo Finance
Prospectus Review
The investment seeks daily investment results that correspond to three times (3x) the daily performance of the S&P 500 Index. The fund invests in financial instruments that ProShares Advisors believes, in combination, should produce daily returns consistent with the fund's investment objective. The top holdings of the fund, as shown below, indicate that the fund managers vastly use "swaps" derivatives to achieve the fund's objective. The annual net expense ratio of the ETF is 0.92%.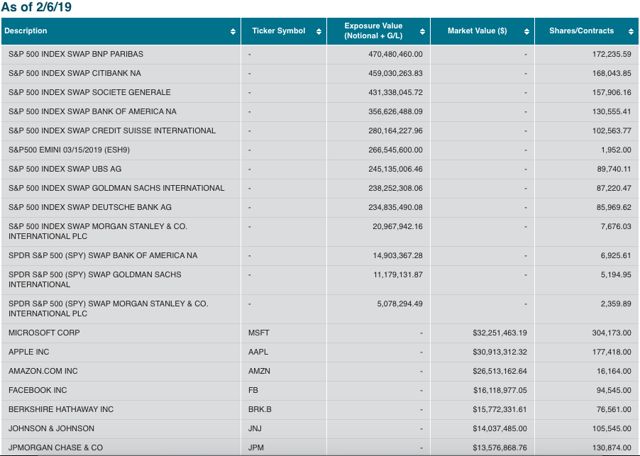 Source: Proshares.com
Risk Note: Investing in derivatives may be considered aggressive and may expose the Fund to greater risks and may result in larger losses or smaller gains than investing directly in the reference assets underlying those derivatives. These risks include counterparty risk, liquidity risk, and increased correlation risk. When the Fund uses derivatives, there may be imperfect correlation between the value of the reference assets underlying the derivative (e.g., the securities in the Index) and the derivative, which may prevent the Fund from achieving its investment objective.
The reason why I have chosen this ETF distinctively is because it offers the highest possible leverage (x3) to the S&P 500 Index in comparison to other relevant ETFs. While "leverage" certainly increases the risk profile of the security, I believe this particular asset class is worth taking more risks on in exchange for potentially higher returns. Over the very long-term horizon, the trend for equity markets is always upwards. Hence, while presently it may not be a favorable time to invest in the S&P 500, whenever equity markets begin to recover, this particular ETF will offer one of the highest returns possible. Therefore, I believe this is a good ETF for investors to include in their radar for potential long-term investments. Moreover, according to data from ETFdb.com, this ETF has one of the highest average trading volumes (almost 6 million) in comparison to other ETFs that also offer leveraged long exposure to the S&P 500 Index. This lowers the liquidity risk profile of the ETF, allowing investors to buy and sell shares in the ETF more easily.
Slowing earnings growth
55% of S&P 500 companies have reported earnings so far, out of which 68% have beat earnings estimate. That is not a very impressive figure, and it becomes even less impressive considering that earnings estimates for Q4 2018 had been notably lowered due to companies' issuing poor earnings guidance towards the end of last year. According to FactSet, the S&P 500 has delivered earnings growth of about 14.1% (for the companies that have reported so far). This marks a considerable slowdown from the start of 2018, as last year's first quarter delivered 24.5% earnings growth.
Furthermore, according to CNBC, it is the forward earnings guidance that is more concerning for equity markets:
However, the outlooks accompanying those earnings reports are not as rosy. Because of those poor forecasts, earnings for the first quarter of 2019 are expected to drop more than 1 percent, according to FactSet. That's the first year-over-year decline in earnings in more than two years.
Hence, given that earnings are expected to decline for at least the first half of this year, equities may have a hard time finding a reason to keep rallying higher. In fact, the UPRO ETF currently has a price to forward earnings ratio of 16.08, reflective of the ratio for the underlying benchmark, the S&P 500. This is not an attractive level for investors to buy into amid a deteriorating earnings outlook. If more and more companies continue to issue weaker earnings forecasts for the next few quarters, then stocks will have to fall accordingly to price in this earnings downturn. Alternatively, if stocks continue to rally amid further weaker guidance, then the S&P 500 and UPRO ETF could become too expensive and could be setting up for falling off a cliff when sentiment shifts from risk-on to risk-off.
Yield curve still flat following Powell's assurances
While equities have been rallying following Powell's dovish statements and willing to be 'patient' with future rate hikes amid a slowing economy, his words have done little to ease concerns of an economic slowdown/potential recession ahead. The Treasury yield curve is widely watched to forecast future economic conditions. It had been flattening for last year amid fears that an overly hawkish Fed may end up turning the slowdown in the economy into a recession. In fact, the front-end of the yield curve has already inverted. Flattening/inverting in the yield curve signal weaker economic conditions ahead and these conditions are still present following the Fed's accommodative guidance. Given that the spread between the 2yr and 10yr still remains around 17 basis points does not bode well for the economic outlook. Moreover, CME Group's FedWatch is reflecting that futures traders are still anticipating a 27.7% chance of a rate cut in January 2020, amid concerns that economic conditions could worsen further.
Therefore, given that the outlook for the economy still remains very dull, corporate earnings could continue slowing down, and we could indeed potentially witness an earnings recession. As a result, equity bulls may have a harder time justifying their stance, as one of the main pillars of the long bull market, earnings growth, begins to deteriorate.
Are we approaching the top of the stock market?
Ray Dalio, founder of Bridgewater Associates, claimed in his latest book 'Principles For Navigating Big debt Crises' that "the fastest rate of tightening typically comes about five months prior to the top of the stock market." Hence, given that the Fed is likely to slow down its pace of rate hikes and willing to slow down balance sheet unwinding this year, 2018 can be considered the period during which the Fed tightened the fastest, as it has not raised rates four times, nor allowed $50 billion to "run off" its balance sheet, in any preceding year since the financial crisis. Therefore, with the "fastest rate of tightening" behind us, the stock market could peak in the first half of this year, before we witness a major downturn.
Hence, while there could potentially be more upside potential for equities from here, it is not advisable for long-term investors to buy into this rally, as the next "all-time high" could potentially mark the peak of this bull run, after which investors may not want to be holding on their positions.
Bottom Line
While a dovish Fed has successfully triggered equities to rally so far this year, it may not be a good idea to buy into this rally. With the earnings outlook weakening and the yield curve/interest rate futures reflecting negative economic signals, I would not recommend long-term investors to buy into the UPRO ETF presently. I would instead advise to take advantage of any rallies to sell out of positions.
Disclosure: I/we have no positions in any stocks mentioned, and no plans to initiate any positions within the next 72 hours. I wrote this article myself, and it expresses my own opinions. I am not receiving compensation for it (other than from Seeking Alpha). I have no business relationship with any company whose stock is mentioned in this article.