Investors looking to increase exposure to US Large Caps can invest in the SPDR S&P 500 Trust ETF (SPY) and call it a day. After all, research shows most professional managers - those that supposedly know what they are doing - tend to underperform the index over the long run. The underperformance is much worse for mere mortals - the retail investors.
So why bother trying to beat the index with stock picking or sector allocations? The reason most retail investors underperform the index by an uncomfortably high margin is because they sell at market bottoms in a panic and then wait too long to get back in. At least an investment in the broad index guarantees you will maintain pace with it in either up or down markets - if you stay invested.
If you're like us, however, you might view the world through a set of 11 different lenses that make up each of the sectors within the index. There are situations and economic environments that favor some sectors over others. If you can properly identify those situations and which sectors will outperform, you might be able to eke out some extra returns.
As the chart below highlights, returns can vary from year to year. Defensive sectors like Real Estate and Utilities performed well over the past year, highlighted by the end of year collapse in the markets and a flight to safety. While Energy and Materials dropped 14% and 13.2%, respectively. Not shown is the newly customized Communication Services Sector, whose ETF, the Communication Services Select Sector SPDR ETF (XLC), doesn't have a full year of performance yet.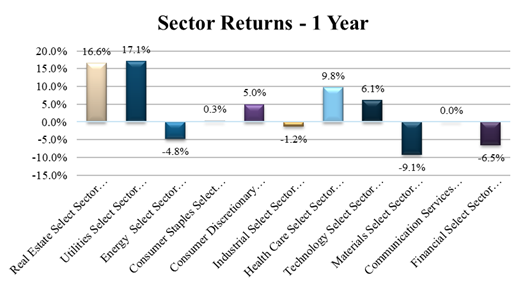 Our exposure to US Large Caps is primarily through SPY, but we also dabble in several sector ETFs when we believe there are outsized opportunities unique to a specific sector. We define outsized by our assessment of potential upside relative to the downside risk. We like to see at least a 2 to 1 and sometimes a 3 to 1 ratio to make tactical allocations. Today, we see a bit of a changing of the guard - or in industry parlance - sector rotation opportunities.
Over the last month, Industrials, Real Estate and Technology have dramatically outperformed other sectors, while some sectors that did well late in 2018 have been duds so far YTD.
One month doesn't make a trend, so we won't dwell on these latest short-term returns as a harbinger of the next 12 months, but sometimes these dramatic shifts could indicate the beginning of new leadership.
Our take on each sector follows along with a few individual stock ideas within each sector for investors looking to invest at what I call "the third level":
Level 1: S&P 500
Level 2: Sector Allocation
Level 3: Individual Securities
If you prefer to remain well-diversified, but still want to take sector positions, we've included the names of the relevant sector ETF within each section too.
Basic Materials - Slight Overweight
When volatility strikes, investors tend to gravitate to gold as a safe haven. The thought of an Armageddon-like result in the markets and people dragging their gold bullion around is straight out of a time well before I arrived on this earth. Many gold naysayers will tell you that gold doesn't pay a dividend and it doesn't produce anything, yet investors still buy gold when uncertainty looms.
You can also invest in gold miners if it gives you some sense of producing "something," but despite their supposed correlation with gold prices, their stock prices sometimes don't reflect the underlying price of gold - at least over short periods of time. Then you have the recent deals between Newmont Mining (NEM) and Goldcorp (GG) as well as Barrick Gold (GOLD) buying Randgold Resources (OTCPK:RGORF). Consolidation would be good for the industry as bigger players can leverage economies of scale to increase margins - which might lead to miners being a better investment than investing directly in the metal. That strategy wouldn't have worked very well over the last 10 years but that trend may start reversing.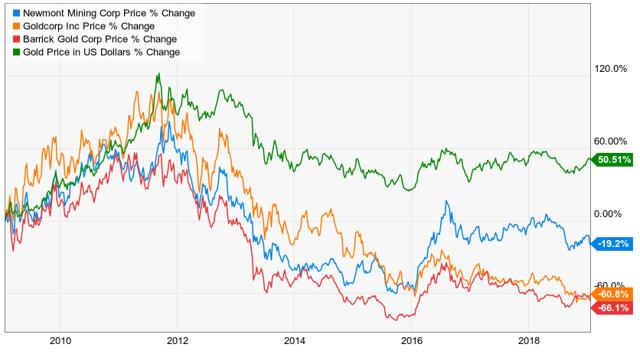 Trade tensions with China recently have further supported gold prices. However, the impact has been muted and any sign of a deal could result in a quick decline in price.
Meanwhile, tariffs have had a significant impact on steel prices. If tariffs stay at 25%, we could see a big impact from higher prices in 2019 and upside surprises during earnings calls. This is not the case with aluminum, which is faced with excess supply after the US lifted sanctions on Rusal (OTC:RUALF) - the Russian aluminum producer. That is probably a good reason why Alcoa (AA) is the biggest loser in the sector.
We believe steel will surprise to the upside and have US Steel (X) on our list of small- and mid-cap growth stocks. For a more diversified portfolio, investors can use the Materials Select Sector SPDR ETF (XLB).
Communication Services - Slight Underweight
The newly revamped sector now has Facebook (FB) as a member, which had been a drag on performance as public sentiment for privacy concerns and data security weighed on the stock until recently. The other top holdings of the Communication Services Select Sector ETF (XLC) are Alphabet (GOOG) (GOOGL), Netflix (NFLX), and AT&T (T). Recall that the sector was revamped late last year and now has components that were previously in Technology, Telecom, and Consumer Discretionary, making this sector much more difficult to predict. It might be the most diverse sector now, combining both high-growth/low-income names with high-income/low-growth names.
According to Argus Research, the new sector is approximately 66% growth vs. 34% value compared to its previous 100% value characteristics. And the dividend yield is lower than it was when it was just Telecom.
With 80% of the sector comprised of Media and Entertainment companies, consumer spending will be a big driver of the sector's performance going forward. This could be good news because the job market remains strong, consumer confidence is high - despite a recent drop - and wage growth has gained traction.
Despite strong consumer spending, however, companies have to contend with changing tastes and consumption via digital channels. Content providers should fare better than distributors - a big reason for Disney's (DIS) purchase of Fox and AT&T's purchase of Time Warner.
Meanwhile telecom services will face deteriorating margins as competition for subscribers intensifies further. That is, unless they diversify into other sources of revenue - like AT&T is attempting to do.
We like AT&T and are warming up to Disney but are concerned about integration challenges at both companies as well as the high expectations for Disney's opening of its Star Wars attraction.
Consumer Discretionary - Slight Overweight
Restaurant spending should continue to trend upward as consumers trade from higher-priced options or dining at home. The gap between the cost of a meal for four people dining out and dining at home has narrowed over the years - making it more convenient to dine out. With the job market still strong and wages rising, we see further strength in this segment.
And consumers that still want to dine at home are finding it increasingly easy to order from their favorite restaurants. Digital ordering and delivery has helped expand restaurants' market segments and helped them leverage costs to serve more diners than those that "fit" in their restaurant.
Within hospitality, RevPAR has improved amid higher convention attendance and modest supply growth - helping drive hotel revenues and profitability.
Meanwhile, retail spending should continue to benefit from stronger job growth, higher home prices, and lower energy costs. In fact, home improvement stores are reporting that consumers are working on larger projects on their homes.
Investors might be interested in the Consumer Discretionary Select Sector SPDR ETF (XLY), but a word of caution - Amazon (AMZN) makes up over 23% of holdings. We are bullish on Amazon but caution investors of too much concentration if they add the ETF while also holding the stock directly.
Consumer Staples - Slight Underweight
A highly defensive sector, growth prospects are still dim despite recent appreciation. As we mention in the consumer discretionary sector summary, consumers are dining out more and/or ordering meals through places like GrubHub (GRUB). GRUB is part of our Enhanced Portfolio, but its latest results disappointed. If long-term prospects are still solid, investors can pick up shares at a bargain - just know that competition is intensifying in the space.
One bright spot is beer consumption, particularly the imported variety, perhaps as an alternative to the boring traditional domestic brands or the craft brews popping up everywhere.
Energy - Overweight
Capex spending should increase less in 2019 than it did in 2018, which was a 25% increase from the prior year. Oil prices have declined considerably, causing production to slow down in places like the Permian Basin. While some producers can still operate profitably at prices below $50, an extended period of low prices could cause some producers to take some rigs out of operation.
The oil rig count had flattened out and declined slightly earlier this year. With oil prices recovering, we would expect to see more rigs come online, but in the meantime, those that kept production going should see an uptick to the bottom line in the short-term.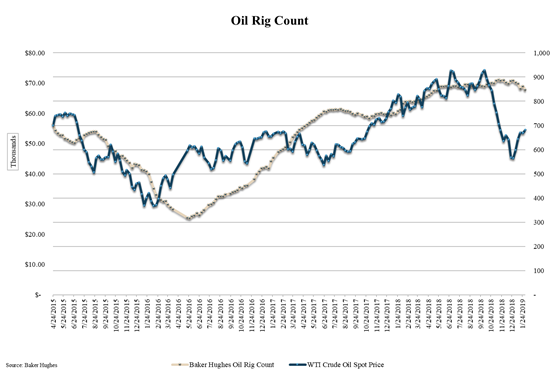 Oil prices should remain volatile, however, which might cause some producers to stay on the sidelines even longer, while those with lower cost operations might be able to take advantage of these spikes in prices - even if temporary. For this reason, we prefer the larger, vertically integrated producers and recently wrote an article on Exxon Mobil (XOM).
Offshore, international, and deep water drilling is likely to be pushed out until prices stabilize in the lower $60 level, another reason to stick with the big boys. For diversification, consider the Energy Select Sector SPDR ETF (XLE).
Financial Services - Neutral
While some companies benefitted from higher rates, others didn't. Banks typically benefit from higher rates - primarily if the yield curve is steep, but long-term rates have remained relatively low. Despite higher rates, the yield curve has remained quite flat - limiting the upside to some of the banks relying on lending.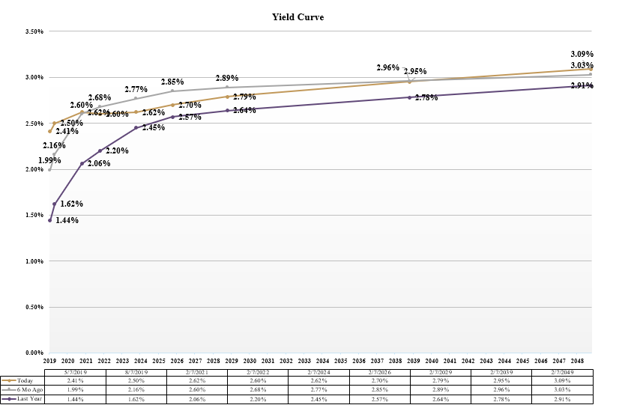 Those with more diversified portfolios like Citigroup (C), JPMorgan (JPM) and Bank of America (BAC) have other ways to increase profits.
Meanwhile, mortgage lenders see a noticeable decrease in applications when rates rise and despite the recent decline in the 30-year mortgage from 5% to 4.55%, rates are still higher than they were last year and are expected to rise further - albeit slower than anticipated.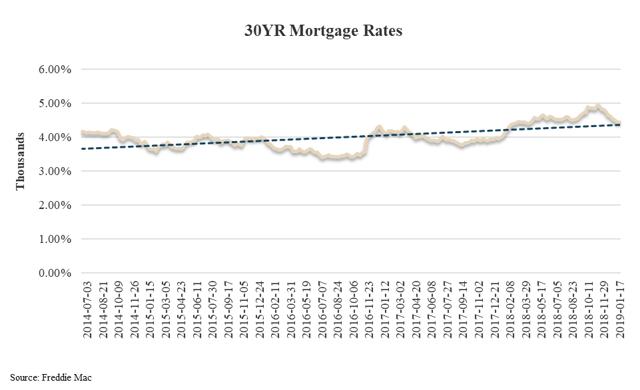 With the increase in rates, business lending has slowed even as consumer lending has picked up on the back of a strong labor market and elevated consumer confidence - even though it dropped to levels last seen in 2016
While credit quality remains high for businesses, consumers are starting to show cracks with default rates increasing slightly and savings rates declining as debt increases.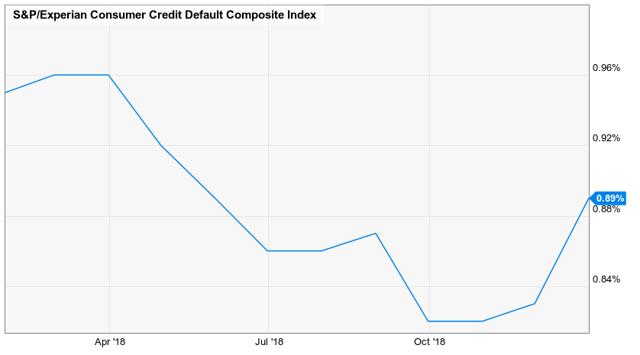 Large banks should benefit from the relaxing of the Volcker rule limiting proprietary trading. But other than the large multi-nationals with multiple business units, we also like regional banks, which should benefit from an increase in the level of assets required for bank stress tests to $250 billion from $50 billion.
Healthcare - Slight Overweight
Consumers are increasingly using healthcare despite higher deductible plans that have shifted costs from employers to employees. With the Affordable Care Act still lingering around, a higher-than-average number of consumers have remained insured, which has further increased spending.
Within Pharmaceuticals, higher drug prices will be a stigma that the industry will have to deal with, but new drugs are usually better than old drugs - the question is how do these companies pass along that value and make a profit without looking like they're price gouging. M&A activity is still strong in the industry as companies try to boost revenues inorganically.
Medical device usage has also increased.
We recently added Integra LifeSciences (IART) to our Small and Mid Cap Growth List.
For more diversification, we recommend broad exposure through the Health Care Select Sector SPDR ETF (XLV).
Industrial - Slight Underweight
A strong dollar hurts industrial companies that rely heavily on exporting. The dollar has strengthened over 21% over the last three years against major currencies. As rate increases slow, we could see a reversal, but any benefits to exporters could be limited by trade disputes.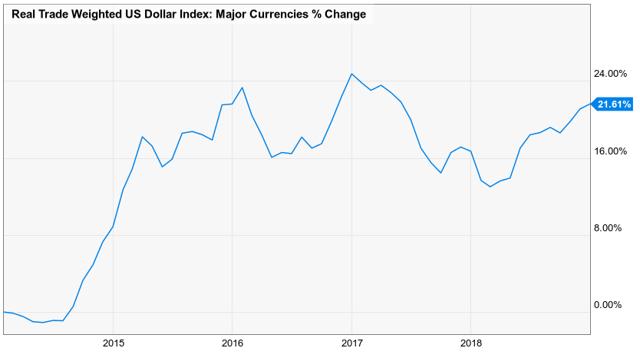 Furthermore, the initial surge in defense spending is weakening even though several military contractors may still benefit under the Trump administration.
And speaking of Trump, the increase in infrastructure spending never materialized - or at least not yet - as everyone seems to be worried about who will be paying for a border wall instead of trying to figure out how Americans will get around their own country.
If you're flying, you're in luck - airlines have been replacing their fleets which should ease the burden of high maintenance costs and give passengers nice shiny airplanes to fly in.
Real Estate - Neutral
Retail bankruptcies and store closings could negatively impact retail REITs, although we have stressed over time that the higher-quality Retail REITs have adjusted well to both. Companies like Simon Property Group (SPG) and Taubman Centers (TCO) command higher rents because their properties lead the industry in sales per square foot. In other words, when a retailer is looking to close stores, they usually don't close the stores in malls owned by these REITs.
Healthcare REITs have challenges of their own. They are highly sensitive to interest rates because of their long-term leases as well as policy changes that may affect Medicare and Medicaid payments.
They are also trading at the lowest P/FFO of all REIT segments, which means it's tempting to look for bargains in the space. Within Healthcare REITs, we prefer those focused on Medical Office Buildings, which are experiencing high demand as one-stop shops for patients.
Meanwhile, supply growth has hurt office and apartment REITs in urban markets, but we expect supply to moderate in 2019 within both sectors. We have flip-flopped on Apartment REITs and have recently been bullish on the sector as household formation has increased and rental rates have risen. With mortgage rates trending upward and home prices increasing, we expect affordability to remain a limiting factor to increases in homeownership, which bodes well for Apartment REITs and Single Family Home REITs - although limits to deductions in mortgage interest could limit house price increases in the future.
Technology - Slight Overweight
The recent sell-off was overdone, and there are bargains in the sector. High cash levels, low debt, and international exposure all help companies in the sector, and these are the characteristics investors should be looking for.
The removal of Facebook and Alphabet from the sector improves the dividend yield for the sector, but dampens the growth outlook, in addition to confusing many investors to think they are going to be getting exposure to these two FANG stocks with an investment in a technology ETF like the Technology Select Sector SPDR ETF (XLK). Not necessarily - so make sure you know what you are buying.
The sector is poised for strong, long-term growth as consumers gobble up data in devices ranging from mobile phones to gaming consoles. And let's not forget the need for security, personalization, and cloud-based solutions that are replacing central operating systems.
Utilities - Underweight
Despite recent outperformance due to a flight to safety, utilities face headwinds from rising rates and slow earnings growth. Their attractiveness versus risk-free bonds is diminishing as Treasuries reach 3%.
It's a great defensive play if we have another strong pullback, but it will lag the overall market when the market is rising. The play here is dividend growth - not high dividends.
The industry is destined to remain on somewhat of a treadmill as energy efficiency has resulted in flat growth since the Great Recession. More companies are providing solar and gas options for rate-base growth and efficiencies are improving further.
We believe dividends are secure, but they aren't going to grow much, and you're not likely to get much upside unless markets retrench again.
Summary of Allocations
A chart of our allocation recommendations is shown below. On opposite ends of the spectrum are Energy, which we favor, and Utilities, where we suggest a considerable underweight. All other sectors show a slight over- or under-weight, with Real Estate and Financials remaining neutral.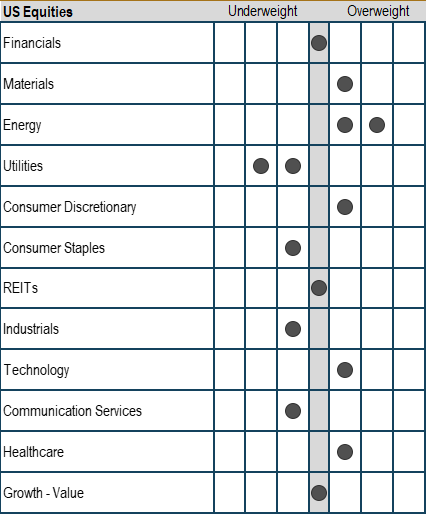 Source: REITs, Opportunities & Income Tools
We hope this summary has been useful and that you can apply it to your investment decision-making. Just remember, by no means does an underweight suggest zero exposure to a sector, only that your exposure to the sector should be reduced relative to sectors with more favorable outlooks.
And lastly, when in doubt, just stay with the SPDR S&P 500 Trust ETF for your US equity exposure.
Disclaimer: This article is meant to identify an idea for further research and analysis and should not be taken as a recommendation to invest. It does not provide individualized advice or recommendations for any specific reader. Also note that we may not cover all relevant risks related to the ideas presented in this article. Readers should conduct their own due diligence and carefully consider their own investment objectives, risk tolerance, time horizon, tax situation, liquidity needs, and concentration levels, or contact their advisor to determine if any ideas presented here are appropriate for their unique circumstances.