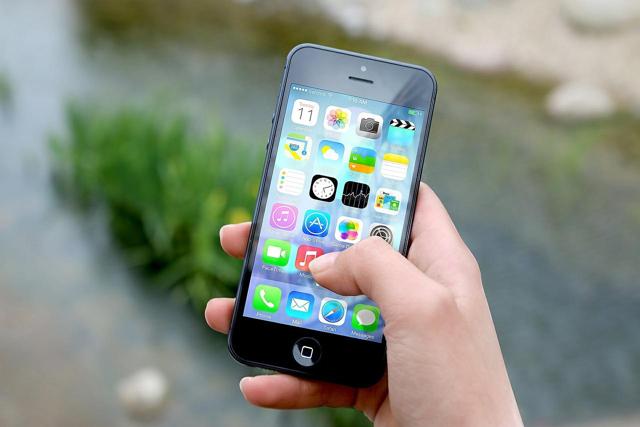 Apple (AAPL) is on sale. But should you be a buyer?
As the leaves turned this fall (maybe not in Silicon Valley), Apple investors went from mania to panic. The stock plunged from its all-time high north of $230 per share to under $150. Meanwhile, the company booked billions of dollars in profit and record EPS.
Now, the stock has recovered off its lows and is headed up again, with optimism around the trade war and an earnings report that honestly wasn't negative. Apple investors have been there before. For multiple times in the past 10-15 years, the stock has plunged to 10-11 times earnings amid rampant sell-side analyst and mainstream media negativity. I think that Apple investors should keep calm and hold onto the stock.
Apple is a highly cyclical stock, and there is endless money to be made trading cyclical stocks with good fundamentals. There is also the potential to get scared and sell your shares in Apple every time the media thinks it can't deliver.
In short, Apple investors should take a note from Journey and "don't stop believin'".
Apple is chronically undervalued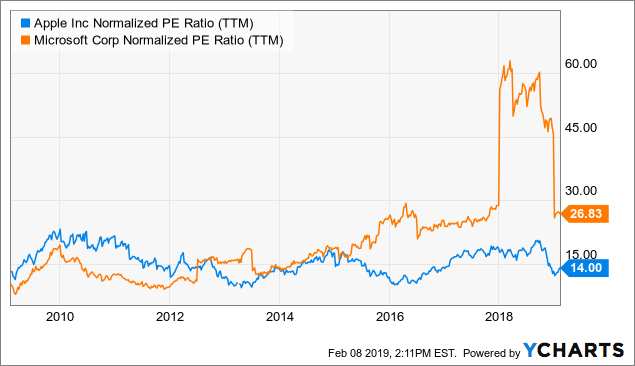 If you look over the past 10 years, Apple's PE ratio has fluctuated between 10 and 20. Microsoft's (NASDAQ:MSFT) PE ratio used to be the same, but now Microsoft is being valued as a growth stock, and Apple's valuation has fallen (ignore Microsoft's high valuation in 2018, it's a fluke from one-time events - the PE is about 25-27 currently).
Both companies have pristine balance sheets, nice dividends, sustainable business models and rock-solid credit ratings (Microsoft is AAA, Apple is AA). I consider both stocks as buys, but I would note that in the past 10 years when the PE ratios between these two companies have diverged, they tend to converge over time. Apple is perpetually cheap.
I've argued in previous articles that this may be a function of volatility, as investors in the aggregate refuse to bid up the stock higher than their risk tolerance, or due to the disposition effect, where Apple shareholders disproportionally target the stock for sales to fund their lifestyles or rebalance their portfolio. Any way you slice it, there may be some downside, but there isn't as much risk as you'd think.
Volatility doesn't always mean the risk of permanently losing your money
Apple is a good example of a split that sometimes happens between volatility and permanent impairment of capital. For example, junk bonds don't typically display a lot of volatility, but you can experience a permanent impairment of your capital if you buy bad ones. On the other hand, stocks of profitable companies trading at or below their book value can be shockingly volatile, but your risk of permanently losing money is low.
Standard deviation is the classic way that investors like to measure risk, but it may overstate the risk of buying a company like Apple right now. Apple currently has cash reserves of $285+ billion. This figure rises daily. The company also has some debt offsetting the cash, but as the cash pile grows, the floor for the stock rises. Even if the bears are right and iPhone revenue + service revenue stops growing, the value of the discounted cash flow puts a nice floor under the stock. As long as spoiled teenagers keep buying iPhones as opposed to some other company's phone, your money is safe in Apple, even if you can't cash it in for a profit for 1-2 year stretches.
This matters because Apple's standard deviation is triple the S&P 500 over the last 20 years. If you invest in Apple, your portfolio is going to swing, both to the upside and downside. This, in my view, helps explain why Apple is so cheap.
The fundamental view
Apple put together a pretty nice quarter despite lowering guidance amid the overwhelmingly negative expectations for the company. If you listen to the latest quarterly earnings conference call, you don't get nearly any of the negativity that Wall Street has dumped on the company.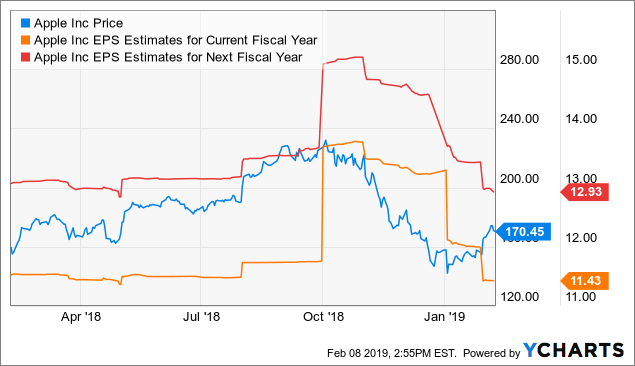 A lot of Apple's issues stem from currency fluctuations, causing phones to be overpriced in international markets and from the trade war. Apple needs a way to make phones cheaper abroad.
CFO Luca Maestri:
Our results were especially strong in the U.S. where revenue was up by more than $1.5 billion compared to a year ago and in several markets where revenue grew by double digits including among others Germany, Spain, Poland, Mexico, Malaysia and Vietnam.
Sure, consumers are upgrading their iPhones less frequently. This doesn't have to be a bad thing as Apple's margins are much higher (close to double) on services than they are on phones. Potential opportunities for Apple include offering better financing for customers so they can access the ecosystem for a low monthly cost, getting further into banking and payments, and offer better storage and app solutions. Google (NASDAQ:GOOG) (NASDAQ:GOOGL) is already paying in excess of $12 billion per year for the right to be the default search engine for iPhone. I would guess Apple has continual pricing power here.
If Apple is serious about services, though, it may have to sacrifice margins on the iPhone to increase its overall gross margins. This is the non-cynical view of Apple's decision to stop reporting iPhone sales. I have to say, I don't envy them trying to run a company for the long-term but with pressure to deliver the goods every quarter.
Taking Apple's earnings estimates at face value, the company trades for about 13 times annual earnings with a nice cash pile. There are worse risks you can take than to bet on another leg of growth. Of course, the risk of holding Apple is that the iPhone starts a long, slow revenue decline, but I feel that risk is adequately priced into the stock; especially if you have a diversified portfolio elsewhere, this is a risk you can afford to take.
Apple also has a reputation for making niche acquisitions that strongly add value. JPMorgan analysts are pounding the table for Apple to buy Netflix (NASDAQ:NFLX). Maybe they did it as a publicity stunt, but I think this is one of the dumber ideas I've heard from Wall Street in the past year. Netflix makes no money and is valued at close to $150 billion.
What Apple could do, however, is to try to buy up all of Netflix's junk bonds and wait for them to screw up.
I like this way better. If Netflix continues to deliver, Apple gets about a 5-6 percent return on its money. If Netflix finds itself starved for cash, Tim Cook can make it an offer it can't refuse, taking control of the company at the expense of Netflix common equity holders and management.
Conclusion
Apple is cheap. The company has levers it can pull to boost demand for the phones and maximize revenue. Wall Street isn't giving credit for it yet, but it will. Apple's low valuation is a reflection of volatility in the stock and not entirely of the risk of permanently losing one's investment. Apple shareholders should take a page out of Journey's playbook and "don't stop believin'."
Did you enjoy this article? Consider following me for future research updates!
Disclosure: I/we have no positions in any stocks mentioned, and no plans to initiate any positions within the next 72 hours. I wrote this article myself, and it expresses my own opinions. I am not receiving compensation for it (other than from Seeking Alpha). I have no business relationship with any company whose stock is mentioned in this article.