On January 30th, Tupperware (NYSE:TUP) posted disappointing results and announced a dividend cut. Its share price dropped almost 30%! Tupperware trades now at a P/E of 6 and a (forward looking) dividend yield of 4%. We can safely call Tupperware a value stock. But with every value stock we have to wonder if we're dealing with a value trap?
New CEO
Are the bad results proof of a broken business model and/or an incompetent (new) CEO?
On February 21st of last year, Tupperware announced that its Board of Directors elected Patricia (Tricia) A. Stitzel to the position of Chief Executive Officer and nominated her for election to the company's Board of Directors, effective May 9, 2018. Former CEO Rick Goings would serve as Executive Chairman and focus on the successful transition. Stitzel joined the company in 1997 and served as the company's Chief Operating Officer since October 2016.
So we have a new CEO and a few months later a very disappointing fourth quarter.
Exhibit 1: October guidance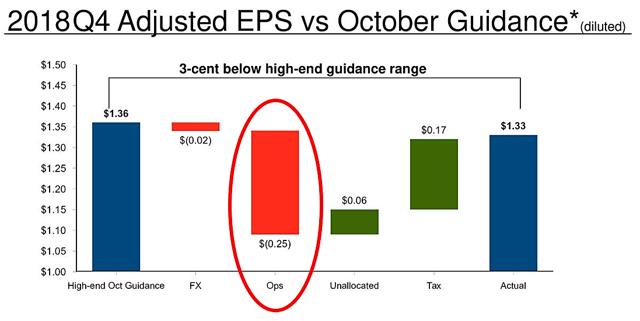 Compared to the guidance given at the end of October, Tupperware did operationally 25 cents worse than expected! Hmm…
We can't help to think about the story of The CEO and the Three Envelopes.
A new CEO was hired to take over a struggling company. The CEO who was stepping down met with her privately and presented her with three numbered envelopes. "Open these if you run into serious trouble," he said.
Well, three months later sales and profits were still way down and the new CEO was catching a lot of heat. She began to panic, but then she remembered the envelopes. She went to her drawer and took out the first envelope. The message read, "Blame your predecessor." The new CEO called a press conference and explained that the previous CEO had left her with a real mess and it was taking a bit longer to clean it up than expected, but everything was on the right track. Satisfied with her comments, the press – and Wall Street – responded positively.
Another quarter went by and the company continued to struggle. Having learned from her previous experience, the CEO quickly opened the second envelope. The message read, "Reorganize." So she fired key people, consolidated divisions and cut costs everywhere she could. This she did and Wall Street, and the press, applauded her efforts.
Three months passed and the company was still short on sales and profits. The CEO would have to figure out how to get through another tough earnings call. The CEO went to her office, closed the door and opened the third envelope. The message said, "Prepare three envelopes."
Tricia Stitzel has been working for more than 20 years at Tupperware, so she will never blame her predecessor openly on a press conference. But we do think that she does want to start the new year (her first full year as CEO) with a clean sheet.
A well-known way to check if a company has been manipulating its earnings is the so-called Beneish M-score.
The zones of discrimination for the M-Score is as such:
An M-Score of less than -1.78 suggests that the company is not an accounting manipulator.
An M-Score of greater than -1.78 signals that the company is likely an accounting manipulator.
Exhibit 2: Tupperware Beneish M-score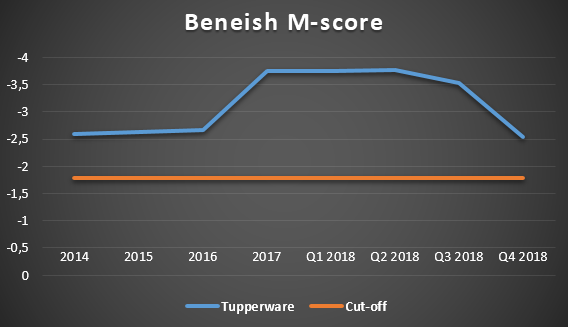 What do we see?
The Beneish M-score for Tupperware remains below -1.78 which suggests that Tupperware doesn't engage in earnings manipulation.
In the fourth quarter of last year, the Beneish M-score for Tupperware fell from -3.5 to -2.5.
So maybe there has been some "cleaning up"….
Difficult international markets
Tupperware experienced difficulties in a number of important markets, most notably China and Europe.
Exhibit 3: Regional sales split-up
Source: Company presentation
China did not perform in line with expectations and this is one of the places where negative macroeconomic issues showed through. Like many others, Tupperware "is seeing increasingly problematic consumer spending trends in China as their economy slows down".
China entered a growth recession in 2018 and policymakers there have taken measures, including lowering taxes and reducing bank reserve requirements, among others, to try and reinvigorate growth. Results from this monetary policy easing still remain elusive, but it has historically taken up to 18 months for industrial production in China to pick up following such measures, which bodes well for the Chinese economy.
Exhibit 4: Chinese economic stimulus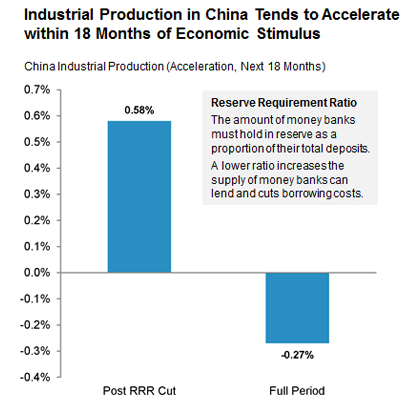 The U.S. and China reportedly made "tremendous progress" during the recent talks between President Donald Trump and China's Vice Premier Liu He. Although technology and intellectual property rights remain sticking points, China is slated to "substantially" increase its purchases of U.S. crops, energy and services. A resolution of the trade dispute would also have a positive impact on the Chinese economy.
In Europe, France, Germany, and Italy continue to be a drag. These struggling economies could be the beneficiaries if the trade dispute between China and the US gets not solved. The United Nations Conference on Trade and Development (UNCTAD) estimates that the tariffs imposed by Washington and Beijing will do very little to protect their respective economies, and that a majority of the bilateral trade will instead be diverted to firms in other countries, most of them European.
Exhibit 5: Trade tariffs beneficiaries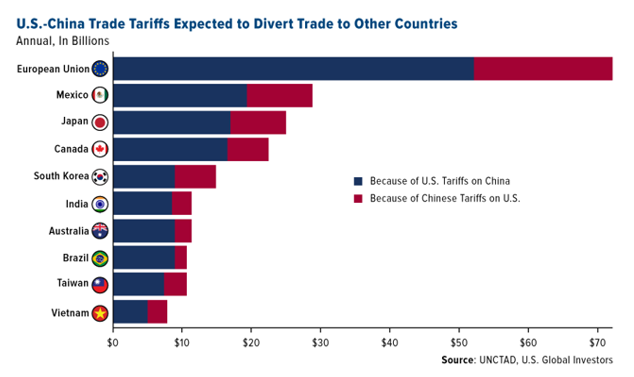 An orderly solution for the Brexit is another prerequisite for an improvement of the economic situation in Europe.
Dollar
Given the fact that 75% of Tupperware's sales happen outside the US, it's no surprise that the strong dollar is a strong headwind for Tupperware.
One of the possible implications of a less aggressive Fed in 2019 is a weaker dollar — especially if the European Central Bank (ECB) begins tightening later this year, as some analysts predict.
Mike McGlone, commodity strategist at Bloomberg Intelligence, believes dollar mean reversion will be the theme in 2019, which would favor gold and commodities. "It's unlikely for 2019 that the dollar will remain atop the list of best-performing assets," according to McGlone, who adds that "markets appear in the transition phase of passing the bull market baton from U.S. stocks to commodities."
From a valuation point of view, the dollar is still overvalued, based on the Real Trade Weighted U.S. Dollar Index.
Exhibit 6: Real Trade Weighted US Dollar Index (Major Currencies)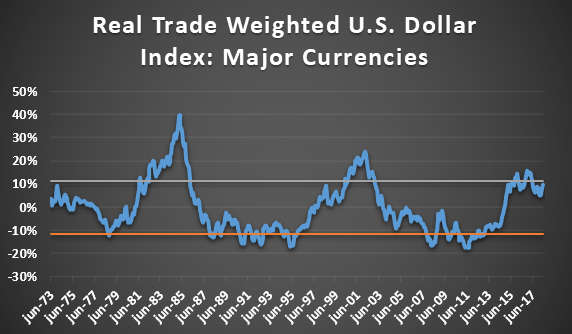 A weaker dollar certainly would be good news for Tupperware!
Returning cash to shareholders
The biggest disappointment and probably the main reason for the huge drop in the share price was the announcement by Tupperware that the quarterly dividend would be cut from $0.68 to 0.27 per share.
We can understand this decision for a couple of reasons.
The lowered dividend results in a dividend yield of 4%, which is nice. Before the share price drop, it resulted in a dividend yield of 3% and this placed Tupperware in the 70th percentile of dividend payers in the S&P 400.
The lowered dividend frees up $80 million per year to fund share repurchases and to manage the leverage. We will come back to this leverage. On share repurchases, Tupperware announced in April 2018 that it would do $200 million opportunistically and ended up doing $100 million in 2018. Tupperware indicated that in 2019, it would do up to the remaining $100 million, also opportunistically.
Exhibit 7: Cash returns to shareholders

As you can see, Tupperware returned almost $240 million in 2018! So far, the plans for this year are $52.7 million in dividends and $100 million in buybacks.
Tupperware stated that this would enable them to more quickly reach their debt-to-EBITDA leverage ratio objective of under two times. In exhibit 8, you can see Tupperware's calculation of their Debt to Adjusted EBITDA ratio.
Exhibit 8: Leverage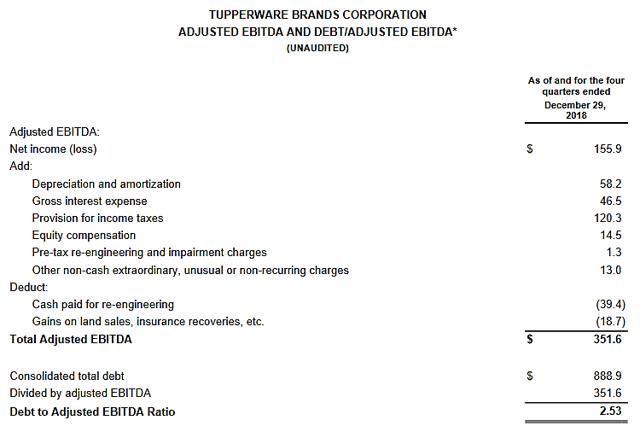 I really wonder why Tupperware doesn't take the cash on their balance sheet ($149 million) into account to calculate their leverage ratio. If we do, the leverage ratio falls back to 2.1.
Exhibit 9: Cash flow guidance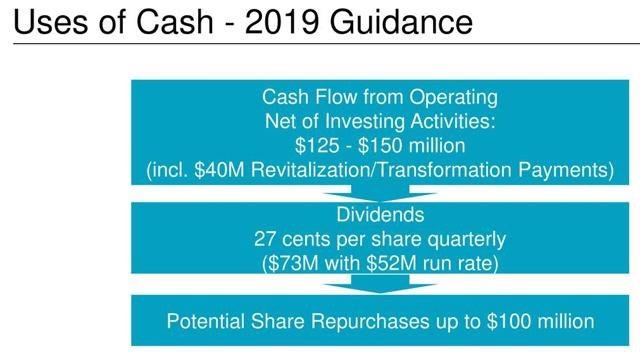 Source: Company presentation
If we follow Tupperware's cash flow guidance (which we think is conservative) and take the planned cash to shareholders ($152.7 million) into account, the leverage ratio (including the cash component) will drop below 2. If the guidance indeed proves to be conservative, there will be more room for share buybacks.
Valuation
Tupperware expects for this year a net income range between $199.4 and 206.9 million compared to $210.6 million in 2018. We think this guidance is conservative and expect for the time being that Tupperware will come out at the high end of this range.
Taking the planned share buybacks into account, the earnings per share can be expected to be higher than last year's $4.30.
This means Tupperware is currently trading at a P/E of only 6! The dividend yield is 4% as we said before.
Our DCF-based target price is $42. This implies a P/E of almost 10 and an EV/EBITDA of 7.5
Conclusion
The trend in Tupperware's share price is clearly down. When the trend is down, there are, according to Dennis Gartman, two possibilities: you can only be short or neutral. In the case of Tupperware, we are willing to take the other side of the bet. Tupperware is very cheaply valued, generates free cash flow, has a healthy balance sheet and is returning capital to shareholders. 2019 will be the first full year for CEO Tricia Stitzel and we expect her to beat the conservative guidance. And while we wait, we get a nice dividend yield of 4%.
Disclaimer: This article provides opinions and information, but does not contain recommendations or personal investment advice to any specific person for any particular purpose. The information provided is for educational purposes only and does not constitute a recommendation of the suitability of any investment strategy for a particular investor.