There are certain traits that make a company a strong dividend growth stock, and ultimately a productive long-term investment. We look at profitability, growth, structure of the business model, and other factors to hone in on companies that build wealth for investors over the long term. When we look at Paychex Inc. (PAYX), we see a lot of positive traits that indicate potential for consistent, wealth generating returns over the long term. We review this business model and identify where the company excels as a dividend growth stock. While the foundation for success is present, investors should note that there are near-term headwinds that the company could face. While now may not be the time to buy shares, every dividend growth investor should know who Paychex is.

Paychex provides payroll and human resource services to a variety of businesses. The company caters to small and medium sized businesses that may lack the resources to create their own solutions to fit these needs. The company was founded in 1971, and is based in Rochester, NY. The company operates as two segments: Management Services, and PEO (Professional Employer Organization) & Insurance Services. Management Services contributes the vast majority of revenues, primarily driven by the company's payroll management business. The total company brings in more than $3.4 billion in annual revenue.
Financial Performance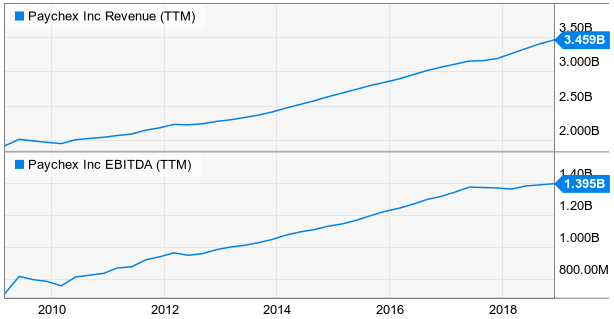 Source: Ycharts
Paychex has seen very steady but modest growth over the past decade. Revenue has grown at an average rate of 5.05% over the past 10 years, while earnings per share have grown at a rate of 5.16%. The business has done well as increased employment throughout the decade has resulted in more clients and more insurance applicants who all expand the company's client portfolio.
When we analyze the operational efficiencies of Paychex, the first area of concern is profitability. We want stable margins and strong cash flow generation. We can see that operating margin has remained stable over time. The chart below shows that margins have arced some, but remain on par with where they were 10 years ago. A company with stable margins is profitable through changes in its operating environment.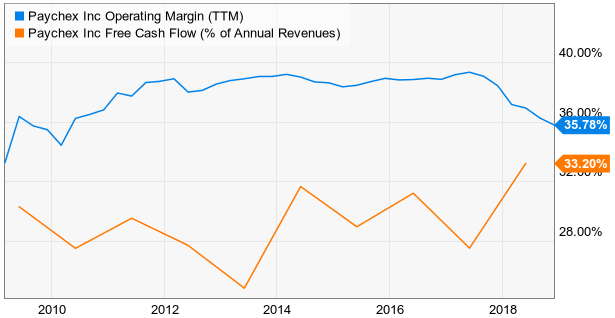 Source: Ycharts
Paychex really stands out when we look at the company's conversion rate of turning revenue into cash flow. Approximately $0.33 of every revenue dollar ends up as free cash flow that can be distributed any way the company deems fit. This is more than triple our normal benchmark of 10%, meaning that Paychex is an exceptional cash flow engine.
The next metric we look at for perspective is the cash rate of return on capital invested. This metric gauges how effective management is at deploying the resources of a business and generating cash with them. It is also a baseline indicator of the strength of a company's competitive "moat". We typically look for a rate of return in the low-teens or higher (13%+) as acceptable, and Paychex again easily exceeds this with a rate of 50.87%. The company's rising CROCI over the years indicates that management has added immense value to the business.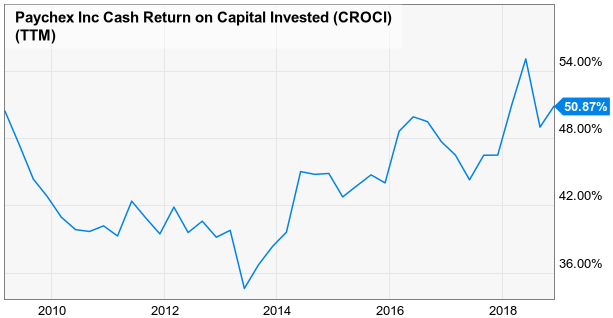 Source: Ycharts
The last area of review before moving on is the balance sheet. Financial discipline is an important component of a business succeeding as a long-term investment. Companies often take on too much debt/risk, and end up suffering from cash flow problems when the business faces an unexpected headwind.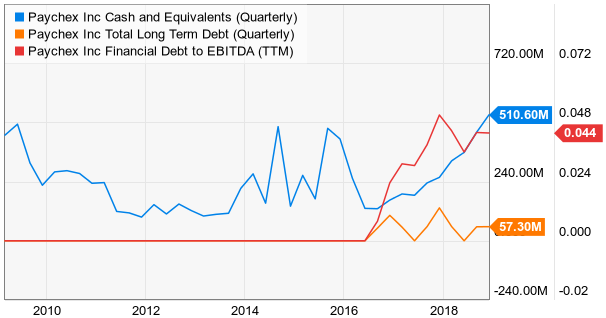 Source: Ycharts
Paychex maintains a very strong financial footing with its balance sheet. The business currently holds $510 million in cash against just $57 million in total debt. This makes Paychex debt free for right now on a net basis. I say "for right now" because the company just took on $800 million in debt as part of its acquisition of Oasis (more on that later). This new debt poses no threat to Paychex's balance sheet, and we expect the company to pay this down rather easily. This debt will show up next quarter because the Oasis deal closed in December.
Dividend Outlook
Paychex is rebuilding its reputation as a dividend growth stock after freezing the payout amidst the recession almost a decade ago. The company is currently working on a growth streak that spans eight years. The dividend is paid every quarter and totals an annual sum to investors of $2.24 per share. The dividend's current yield of 3.04% exceeds the yield being offered by 10-year US treasuries (2.63%). This makes Paychex a potentially attractive stock for income focused investors.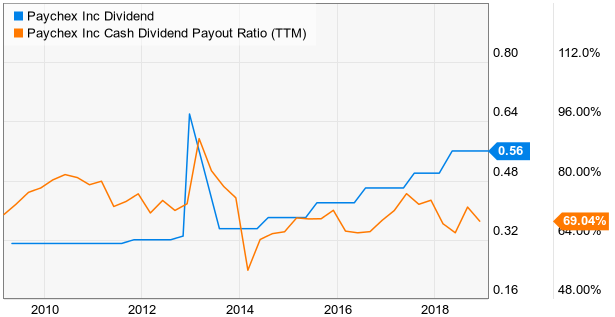 Source: Ycharts
The dividend metrics have all been moving in the right direction as well. Growth has accelerated over the past decade, with a 10-year CAGR of 6.0%. That rate has picked up, resulting in a five-year CAGR of 9.9%. The most recent 12% bump is even higher still. Despite this growth curve, the payout has actually managed to go down. The cash payout ratio was as high as 80% a decade ago, but has fallen to 69% of cash flow. Paychex runs a very capital non-intensive business, so the company is able to afford a higher payout ratio without worry. Investors can expect this dividend to keep its momentum until the macroeconomic tailwinds of high employment and strong economic activity subside. A dividend that yields more than 3% and grows at a double-digit rate is a great compounding tool over time.
Growth Opportunities & Risks
While Paychex has some very strong fundamentals and a stellar dividend growth record over the past 10 years, the outlook moving forward is a bit less certain. While the company's model is very solid, growth may slow down as the current operating environment is near "peak level" for Paychex.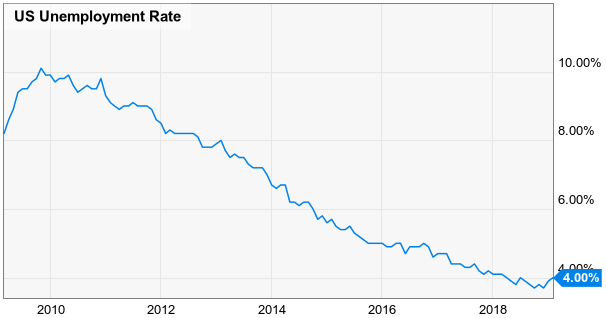 Source: Ycharts
The current unemployment rate in the US is near generational lows. Any rise in the unemployment rate (likely caused by the next time we have a recession) will have a negative impact on the performance of Paychex. This is likely the largest threat to Paychex because it is all but certain that these negative circumstances will materialize, it's just a matter of time. Unfortunately, we cannot operate in an economic growth phase forever.
With that said, Paychex isn't without some tools to drive growth. The company closed on its $1.2 billion acquisition of Oasis in December of 2018. This acquisition gives the company more scale, clients, and improves the company's offerings to its customer base. As we mentioned earlier, Paychex will shrug off the debt from this deal, so future acquisition opportunities remain on the table.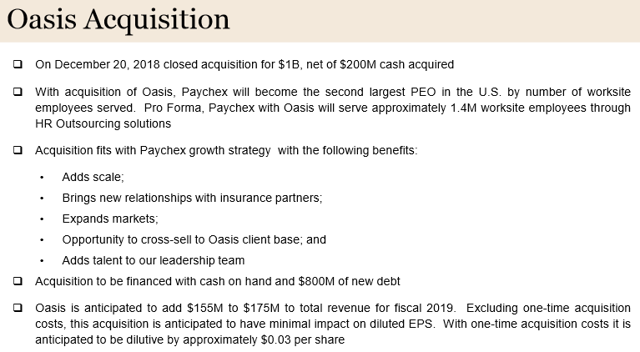 Source: Paychex, Inc.
The company can also expand into international markets if it so chooses to. The current business operates in the US, and international expansion would require an investment in resources as foreign markets have different rules and regulations, as well as requirements. There is nothing imminent in regards to international markets, but Paychex does have the financial resources to make that jump - either organically, or through M&A. Currently, Paychex services international business through a partnership with FMP Global.
Valuation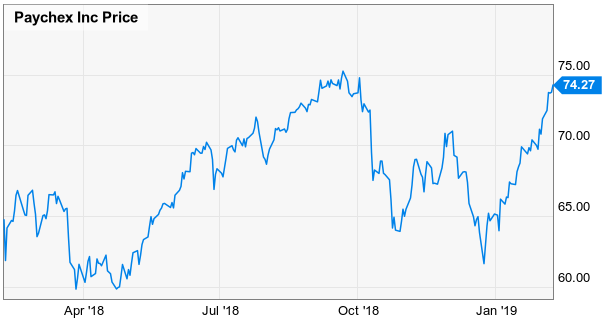 Source: Ycharts
At just over $74 per share, the stock is trading at the high end of its 52-week range. Analysts are projecting Paychex to earn approximately $2.85 for the full fiscal year 2019. This places the stock at an earnings multiple of 25.96X. This is a slight (8%) premium to the stock's 10-year PE ratio of 23.94X.
If we look at valuation from a free cash flow stand point, we can see that as the macroeconomic environment has warmed up, Paychex's stock has appreciated at a faster rate than its cash streams can grow. This results in a lower value proposition over time.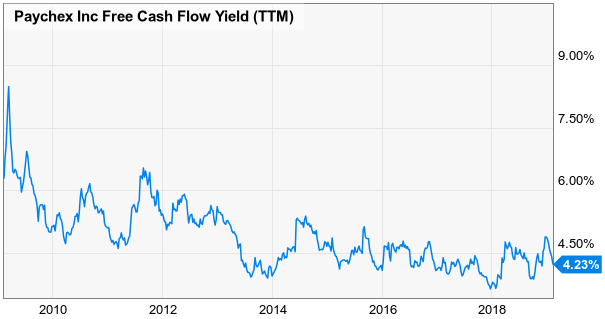 Source: Ycharts
Based on a combination of factors, including a premium earnings multiple, declining FCF yield and a current macro environment with more downside than upside to it, we feel shares of Paychex are overvalued at this level. We feel a more appropriate range (given the above data) would be in the 20X range. This would imply a target price of $57 per share. This isn't a prediction of where the price will go, rather a level at which we would see more reward for a long-term investment than risk.
Wrapping Up
While the fundamentals line up nicely for Paychex, it is apparent that a buying window isn't open at this time. With strong cash flow, a steady business record, a clean balance sheet, and a robust dividend payout, Paychex is a stock that all dividend growth investors should be aware of.
If you enjoyed this article and wish to receive updates on our latest research, click "Follow" next to my name at the top of this article.
Author Disclaimer: Wealth Insights is an investor and investment author. His content is not geared to anyone's specific investment goals, time horizons, or risk tolerance. Content is for illustrative purposes only and is not intended to displace advice from a fee-based financial adviser. Accuracy of data is not guaranteed.
Disclosure: I/we have no positions in any stocks mentioned, and no plans to initiate any positions within the next 72 hours. I wrote this article myself, and it expresses my own opinions. I am not receiving compensation for it (other than from Seeking Alpha). I have no business relationship with any company whose stock is mentioned in this article.