On Feb 7th, Canada's largest province announced six new supply deals with licensed producers in Canada, along with eleven new providers of cannabis accessories. This brings the total number of supplies to Ontario Cannabis Store up to 36 licensed producers and 21 accessories suppliers.
The new suppliers are:
Licensed Producers
Cannabis Accessories

Accoutrements
Helmet Head
Hush-Kush
Leef Canna Distributions
MOOD
Pacific Smoke International
Sackville & Co.
Smoking Sculptures
TVAPE
West Coast Gifts
48North Cannabis Corp. (OTCPK:NCNNF)
I will not cover the accessories producers here but being sold through Ontario Cannabis Stores is likely to be a smaller event for those companies: There are many places to purchase cannabis accessories, and Ontario Cannabis Stores is only one potential outlet. Meanwhile, selling cannabis itself in Ontario requires a supply agreement with the province of Ontario - so access to the largest cannabis market in Canada depends on having this supply deal.
The Market: Ontario's Slow Start
These six licensees are fighting for a share of Canada's largest cannabis market - and a market that will grow more quickly than the rest of Canadian cannabis over the next 3-5 years, as it is currently under-performing.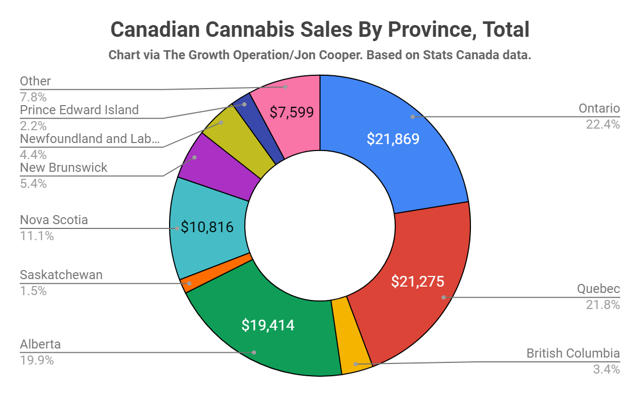 Through November, which I analyzed in a previous article, Ontario is the largest cannabis market in Canada with a 22% share of retail sales. This figure should disappoint. Ontario is a much larger share of the Canadian population than 22%:
| | | | |
| --- | --- | --- | --- |
| | Share of Retail Sales | Share of Population | Difference |
| Ontario | 22% | 39% | -16% |
| Quebec | 22% | 23% | -1% |
| British Columbia | 3% | 13% | -10% |
| Alberta | 20% | 12% | 8% |
| Saskatchewan | 2% | 3% | -2% |
| Nova Scotia | 11% | 3% | 9% |
| New Brunswick | 5% | 2% | 3% |
| Newfoundland and Labrador | 4% | 1% | 3% |
| Prince Edward Island | 2% | 0% | 2% |
| Other | 8% | 4% | 4% |
Source: Author based on data from Stats Canada.
Ontario's low cannabis sales are, in my view, primarily the result of not having any cannabis retail stores. Instead, Ontario had a cannabis lottery that has been criticized by industry insiders. That lottery did not properly filter applicants by skill or financial ability to open and operate a cannabis store, and has already led to at least one lottery winner being stripped of their prize.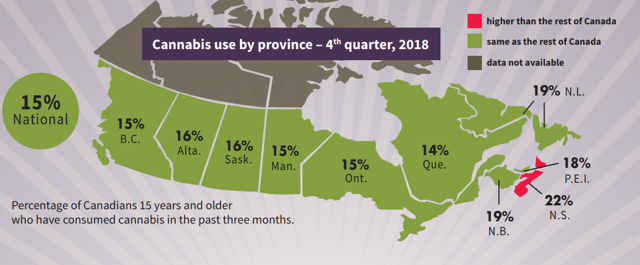 Source: Stats Canada.
Notably, cannabis use in Ontario is not particularly lower than in the rest of Canada, according to Stats Canada data. While Atlantic Canada has the highest cannabis usage at 18-22%, the rest of Canada is relatively uniform at 14-16% cannabis use.
Based on these figures, 38% of Canadian cannabis smokers live in Ontario. But, during the first two months of legalization, only 22% of recreational cannabis was sold in Ontario. Thus, while the Ontario cannabis market is the largest in Canada, it should be even larger.
As the Canadian cannabis market matures and retail stores continue to open across the country, such as stores by Feb 19th IPO Fire & Flower (FAF.V), Ontario is likely to grow faster than the rest of Canada and ultimately reach ~38% of national recreational cannabis sales. This will provide an opportunity for licensed providers in Ontario to capture a portion of this potentially lucrative market.
The Six New Licensees
Of the six licensees, I believe that this deal means the most for two companies, The Green Organic Dutchman and Indiva, and means the least for Pure Sunfarms and Whistler Medical. Both of the former two companies are gaining their first provincial supply agreement while the latter two companies already had access to the Ontario market through a parent or parent-to-be.
The Green Organic Dutchman: Back in October, I wrote about Aurora Cannabis backing out of their purchase of The Green Organic Dutchman. I noted that after the move by Aurora, TGOD looked much riskier due to not having cannabis production until mid-2019 and not having any provincial supply agreements. This left TGOD without short-term cannabis and without any pathway to the market.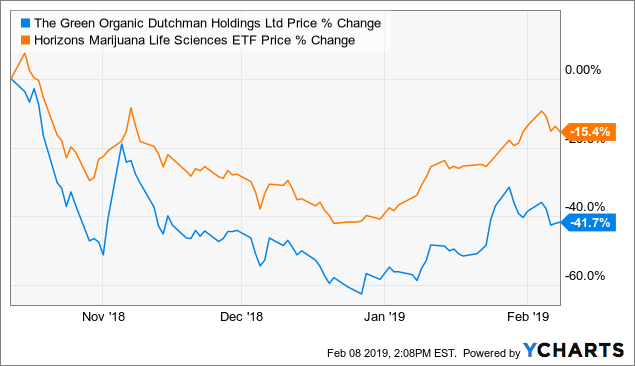 Since the Oct 12th breakup, TGOD's shares have fallen over 40%, nearly three times further than the broader cannabis market fell in the post-legalization sell-out.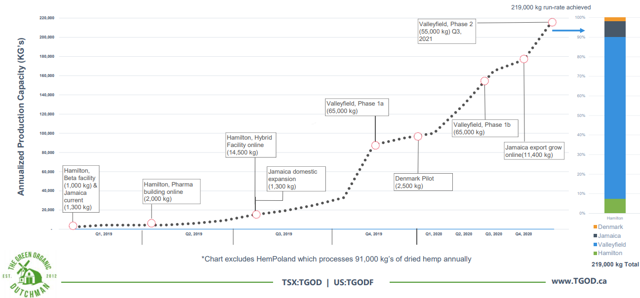 Source: TGOD Investor Presentation, February 2019.
However, TGOD management has not been sitting still. Since then, construction has continued with a Feb 1st construction update providing clarity on built-out plans, moves into Europe, and the spin-off of TGOD Acquisitions Corp.
Winning a provincial supply deal in Ontario is a great first step for TGOD management to secure Canadian distribution in Canada for their upcoming cannabis production, due to ramp up to over 80,000 kilograms/year (run-rate) in the fourth quarter of 2019.
'Ontario has the largest population in Canada and is a critical component to TGOD's national recreational rollout,' commented Brian Athaide, Director and CEO. 'This represents the first of many provincial supply agreements planned for our premium organic product as our domestic facilities near completion and production increases throughout 2019.'"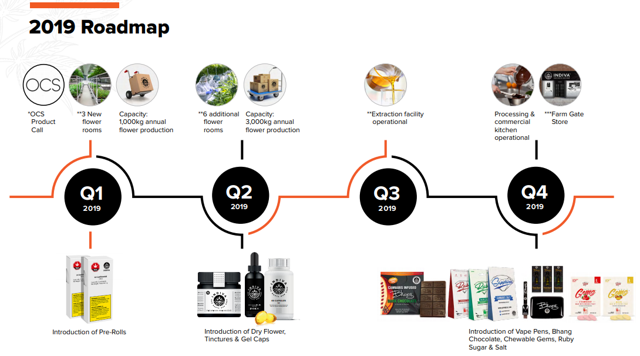 Source: Indiva Investor Presentation, First Quarter 2019.
Indiva: The other largest winner in Ontario's announcement, in my view, is Indiva. Indiva is a very small cannabis producer based in Ontario, with a fully-diluted market cap of C$73 million based on Indiva's investor presentation. Indiva's production capacity this quarter is listed at only 1,000 kilograms/year and Indiva's press release suggests that the roll-out into Ontario will be for a limited number of products beginning April 2019:
This initial partnership will consist of two strains of pre-rolls, manufactured and shipped with care from Indiva's London, Ontario facility. The products will be available on OCS.ca and to OCS Wholesale clients starting in April 2019.

'We are thrilled to be one of the first licensed producers that will have products on OCS shelves in time for the grand opening of all Ontario stores April 1st,' said Niel Marotta, President and CEO of Indiva. 'I'm very thankful for our team's hard work in getting Indiva to this milestone.'"
Gaining a supply agreement in Ontario is a good first step for Indiva, but an investment in Indiva is still extremely speculative: Indiva is a very small company whose success is far from assured. Investors considering an investment in Indiva - or any small cannabis company - should be very cautious and should invest knowing the risks that these companies may fail.
Pure Sunfarms and Whistler Medical: For Pure Sunfarms and Whistler Medical, this supply agreement is less important. Each company already had a path to the Ontario market through a parent company or a parent-to-be.
Pure Sunfarms is a 50/50 joint venture between Emerald Health and Village Farms. Emerald Health already had a supply agreement with Ontario signed in September 2018, through which Pure Sunfarms products could reach the Ontario market. That said, this is still a victory for Pure Sunfarms, albeit a lesser victory compared to TGOD, in my view.
'Pure Sunfarms' supply agreement with the OCS – our first with a provincial government distributor – is a tremendous step forward for our organization, putting our branded, quality products on the OCS web site and, soon, retailers' store shelves, and into the hands of our consumers,' said Mandesh Dosanjh, President and Chief Executive Officer, Pure Sunfarms. 'The confidence of the OCS in Pure Sunfarms' ability to reliably supply safe, consistent, quality products is a testament to the hard work of the entire Pure Sunfarms team who have been relentless in advancing our organization to this stage. We are thrilled to be working with the OCS in Canada's most populated province and look forward to finalizing additional supplier agreements for other provinces and growing the Pure Sunfarms brand nationally.'"
This is Pure Sunfarms' first supply agreement although 50% owner Emerald Health has at least four provincial supply agreements.
For Whistler Medical, this is the company's second supply agreement with Whistler Medical already having a supply agreement with the province of British Columbia and five products for sale on British Columbia's online cannabis site and products for sale at Vancouver's cannabis stores.
This would be a relatively strong win for Whistler Medical, gaining access to a market much larger than British Columbia, except that Aurora Cannabis agreed to purchase Whistler Medical last month, as I covered on Seeking Alpha. That purchase hasn't closed yet, so this supply deal could be useful in the unlikely event that the purchase doesn't close. However, in all likelihood, this will just be a duplicate pathway to market since Aurora already has supply deals in at least six provinces including Ontario.
Whistler Medical, at least until it is acquired by Aurora, is privately-held.

Source: Invictus Investor Presentation.
For Invictus, this is its second supply agreement under its Acreage Pharms brand - not to be confused with Acreage Holdings (OTCQX:ACRGF). Invictus already had supply deals with BC, Alberta, and Saskatchewan but does not have any products for sale on British Columbia's cannabis site. Given that Invictus doesn't appear to be able to keep its products in stock in British Columbia, adding more supply agreements may not increase sales in the short term. Longer term, however, as production capacity ramps up, this deal with Ontario will enable Invictus to reach a larger market.
As shown above, Invictus is a small cannabis producer, with an implied cannabis production capacity of ~5,900 kilograms/year. While larger than Indiva, many of the same warnings apply here: Investors should be cautious investing in these smaller companies.
Finally, Sundial should also gain from this Ontario license. Sundial is based in Alberta and already has a supply agreement with its home province. Sundial is privately-held.
Thoughts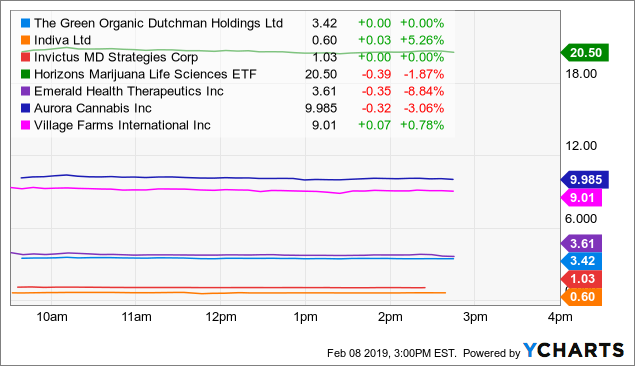 Overall, this is good news for each of the six licensed producers who gained access to the Ontario market. This is especially good news for Indiva and TGOD, both of whom have gained their first supply agreements. Each of the three independent, publicly-traded cannabis companies that gained Ontario supply deals are outperforming the broader cannabis market today, with TGOD and Invictus flat (over a 2% decline in HMLSF) and with Indiva up 5%.
To a lesser degree, this is also good news for Ontario consumers, who may have a bit more cannabis selection both online and in stores, when stores open in Ontario. Stores are expected to open in April including possible locations in Toronto, Brampton, and St. Catherines.
Happy investing!