Enterprise software stocks drove the stock market's growth for the first three quarters of 2018. Since Christmas Eve, the sector has returned to its hyper-growth nature, leading the market's bounce back. This high beta sector has become massive over the last decade, with new software companies still popping up almost monthly.
In a sector that has several stocks with P/S ratios above 20 with negative earnings, I believe investors should be selective in this area. To help with this, I believe investors should look for stocks with a P/S/G ratio below .4 (P/S ratio divided by revenue growth) and stocks with what I call a "layoff friendly" offering.
First, the last few years have shown that SaaS stocks are valued based on top-line growth, but valuations can easily become absurd, so I use a .4 P/S/G as a cutoff criteria, not as a fair value estimate. Second, I want to target stocks that are "layoff friendly". These are offerings that management could justify buying in the middle of a layoff announcement, as the cost of the software provides an easily measured ROI. Examples of this would be software stocks that improve efficiency and/or introduce automation. In IT, an excellent example of this is ServiceNow (NOW). In accounting, BlackLine (BL) provides similar benefits.
Continuous Accounting
BlackLine provides a SaaS solution that integrates with financial data sources and provides a single platform to access this data. This creates a platform for BlackLine to build value addition add-ons and offerings that focus on streamlining processes such as reconciliations, compliance, and journal entries.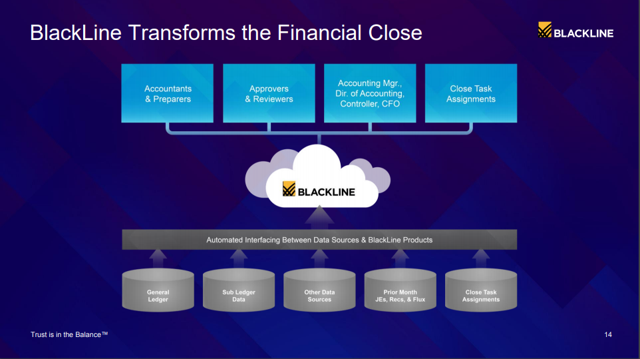 Source: BlackLine IR
In a recent Deloitte survey, the number one most pressing issue for CFOs was technological change. Digitalist magazine explained the problem that CFOs hope to address with the technological change:
"Decentralized manual procedures and inconsistent workflows lead to widespread process inefficiency and long financial close cycles that lack transparency, predictability, and accuracy. With limited enforcement of internal controls, compliance gaps in audit continue to widen and aging items creep toward material weakness.

It's an alarming foundational issue that results in CFOs being unable to trust the numbers that are supposed to reflect their organization's performance, making it difficult for them to be fully informed while making critical business decisions."
From a technical standpoint, BlackLine's data integrated platform provides access to several possible capabilities. In a broad sense, manual accounting processes can be automated, such as quarterly and month-end activities, reconciliations, and control/compliances. Capabilities can be expanded to create dynamic workflows as well, thanks to tools relating to automation frameworks, machine learning, and real-time data.
BlackLine also has the backing of Gartner. Gartner lists BlackLine as one of three leaders in the space, noting:
"BlackLine is a well-recognized brand in the finance industry and we see many finance personnel taking the product with them as they migrate to new companies. Brand recognition has increased since BlackLine went public in 2016. It has also been successful in establishing relationships with leading financial management service providers, as part of its Finance Transformation practices."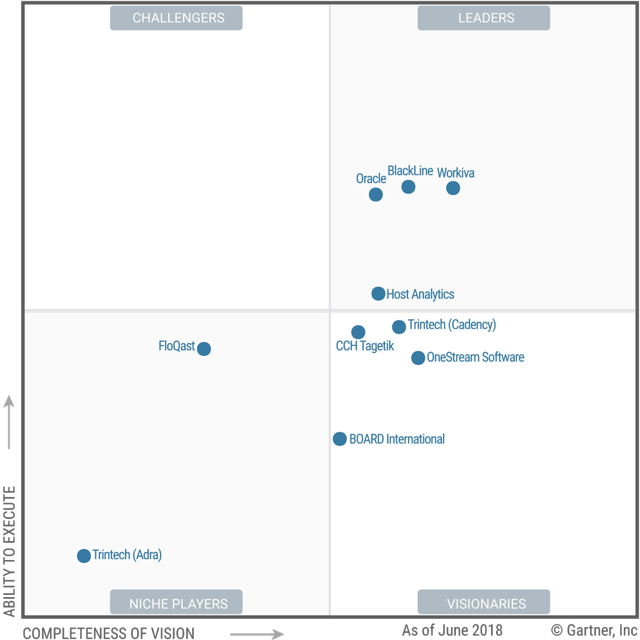 Source: Gartner, Available through BlackLine (link here)
Go-To-Market Strategy
Though management mentioned that the SAP (SAP) deal wouldn't make a large financial impact, I do want to touch on it, because it helps explain some of BlackLine's limitations, as well as its growth strategy. The SAP deal is a new re-seller agreement where SAP is incentivized to pitch BlackLine's products as an add-on to a SAP integration. The deal is mutually beneficial, as SAP has an incentive to pitch BlackLine, and BlackLine maintains a healthy relationship with SAP, as the 10-Q noted that 19% of revenue is generated from SAP ERP customers. Management explained:
"With this expanded partnership, SAP will add BlackLine solutions to its price list, enabling its sales team to sell BlackLine worldwide with the same processes, contracts, incentives and conditions as the rest of the SAP portfolio. Hundreds of SAP customers are already using our software and this new agreement will make it even easier for SAP customers to adopt and benefit from BlackLine."
And in the Q&A section, management elaborated:
"So I look at this new expanded partnership as something that's going to be very positive over the long term and really help us with our reach. If you think about it, I think that the latest numbers that I was looking at is that globally, SAP has something like 30,000 ERP customers, all right and over 8000 ERP financials customers that have more than a 1 billion in revenue and these are not yet BlackLine customers."
SAP generates 60% of its revenue outside of the United States. In addition, BlackLine announced a joint venture with Japan Cloud last October for access to the Japanese market. Management stated:
"We did partner with Japan Cloud computing and it was a logical choice to move into Japan. If you look at the size of the market there as well as our continued push farther east from the APAC region and so we picked a great partner, I think we're optimistic about its long-term prospects and it's just a part of our longer-term growth. What's so great about our product is that it actually does address problems that every single company in every single geography actually has."
BlackLine has room to grow in the international market, as the international market represents about 20% of sales.

Source: 10-Q
BlackLine has partnerships with the Big 4 firms and SAP to promote its offerings, which is a strong competitive advantage when paired with its recognition from Gartner. On the limitation side, I do worry that the resell agreement was negotiated out of weakness, as BlackLine is heavily reliant on SAP. On a higher level, BlackLine could be exposed to overall financial ERP risks, as BlackLine provides an add-on solution, and a cloud provider such as Workday (WDAY) could potentially replicate BlackLine's offerings in its own cloud, especially as Workday continues to increase investments in finance. To mitigate this, BlackLine may need to create a similar agreement with Workday and others.
Financial Health
In software companies that are either unprofitable or barely profitable, there tend to be a couple of key financial health indicators to consider across the sector. In my view, the key health indicators for this sector are debt levels, growth rates, share-based compensation, and cash flow. The latter two tend to be related, as several companies have lower P/CF ratios which are buoyed by huge share-based compensation numbers.
Debt is easy to check off, as BlackLine doesn't have any debt. Shares outstanding growth was low as well.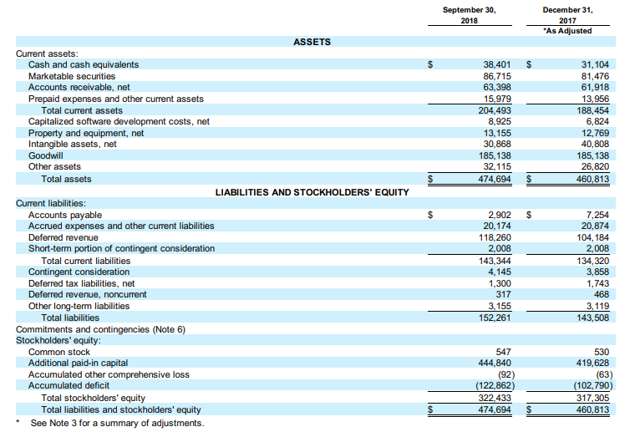 Source: 10-Q
Next, growth rates are slowing down. Revenue growth has been slowing, as last quarter revenue growth was 29% yoy, a rate that has been decreasing since a high of nearly 50% from two years prior. It's hard to say whether the growth rate will plateau or if it will reaccelerate. Cross-selling capabilities and contract expansions should be able to offset a decrease in customer growth rates to provide a growth rate in the low 20s long-term. On the bottom line, spending should also slow to the point that BlackLine can soon show meaningful progress in raising its operating margin to its 20% long-term target.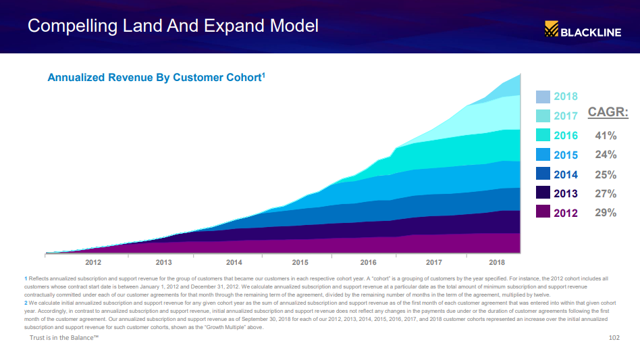 Source: BlackLine IR
Lastly, BlackLine's cash flow is buoyed by its share-based compensation. The sector as a whole has several top performers with share-based compensation rates above 20% of revenue. Share-based compensation isn't always a red flag or something to be feared, but it is something I consider when evaluating software companies. BlackLine has its share-based compensation at a reasonable 8.9% of revenue over the last nine months, which eases concerns with dilution and sustainability.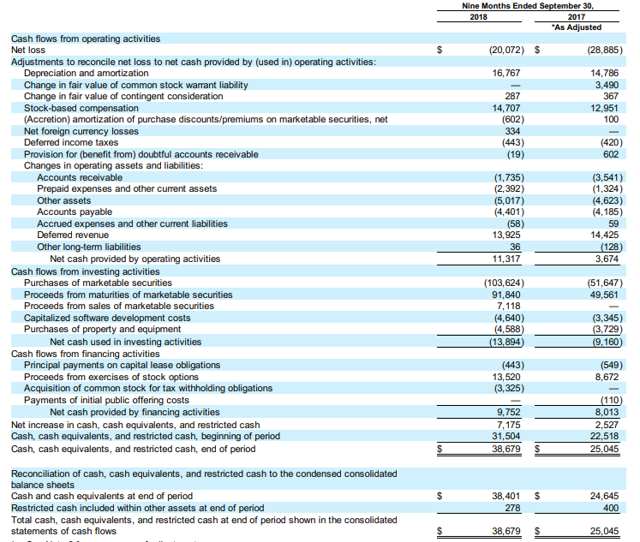 Source: 10-Q
Valuation
Valuation wise, the whole sector has been hot since 2019 started, and valuations went from high to insanely high for many SaaS companies. Below are key valuation metrics for BlackLine:
| | | | | | | |
| --- | --- | --- | --- | --- | --- | --- |
| Stock | Price | Forward P/E | CF Growth | Forward P/S | P/S/G | Gross Margin |
| BlackLine | $47.60 | 476 | 37% | 9.31 | 0.32 | 77.85% |
Source: Morningstar, Seeking Alpha
BlackLine is valued based on future profitability expectations, with the general belief that the company, along with its peers, can eventually turn on the switch and start translating high gross margins into high operating margins.
EBITDA is still negative, and cash flow is barely positive. Based on forward P/S and a 29% revenue growth rate, BlackLine has a "reasonable" P/S/G relative to the sector. I have become hesitant to rely heavily on relative valuations, as I believe it obscures the risk of an entire sector being overvalued. Also, I see a downtrend in revenue growth, and if it continues, that P/S multiple will likely decrease as well. Assuming top-line growth levels bottom out in the low 20s, P/S/G then shoots up above .4, which is my arbitrary cutoff for valuation risk. Because of this downtrend, I believe BlackLine is overvalued, unless revenue growth re-accelerates.
Operating cash flow growth is healthy at 37%, which I believe should escalate as BlackLine is in the middle innings of profitability, as the company is currently near breakeven, with long-term guidance for operating margins of 20%.
Again, the sector is high beta, so valuations have become stretched again, thanks to the market's comeback. Also, acquisitions are ramping up again, led by the Ultimate Software acquisition, as well as expectations of Adobe (ADBE), Alphabet (GOOG) (GOOGL), and Salesforce (CRM), among others, to make big M&A moves. BlackLine is also a possible takeout target as well.
Takeout Target
BlackLine has a reasonable enough valuation to still be a takeout target even after its recent run. A large ERP firm could believe that BlackLine has valuable technology/brand recognition that they can use to drive cross-selling growth. The obvious choice is SAP. As mentioned earlier, SAP has thousands of current customers that aren't using BlackLine, and SAP may choose to use its new agreement as an evaluation metric for an acquisition. However, fears of BlackLine losing valuable revenue from its integrations with SAP competitors could prevent this.
This is why I believe there are three main possible acquirers of BlackLine: SS&C Technologies (SSNC), Ion Group, and Vista Equity (or another PE firm).
As I mentioned in a recent article, I expect SS&C to make a push into the intracompany payments/cash management market. A BlackLine acquisition would get it into the corporate treasury market, and could allow it to cross-sell a cash management offering. However, I don't see SS&C making a large acquisition in 2019. Private firms Ion Group and Vista Equity both have been investing heavily in treasury and cash management/accounting, and BlackLine will provide a nice fit to their portfolios. Ion Group is believed to have the largest market share in treasury, and BlackLine would be a possible complementary piece to its recent REVAL acquisition, and Vista Equity has used recent acquisitions to form Finastra. Finastra may expand more after Vista Equity's purchase of Apptio, which leads to me believe it may be looking to create a large financial cloud as well.
Risks
As mentioned above, BlackLine is heavily reliant on SAP. In addition, Workday may pressure BlackLine to make a deal as well, or it could follow Oracle (NYSE:ORCL) and expand on a relationship with a different software provider. In addition, ServiceNow is also expanding its financial offerings, which could present a future risk, although this could take time for ServiceNow to enter this niche market, and ServiceNow may avoid it.
In addition, risks mentioned earlier such as sector valuations, revenue growth slowdown, and profitability and share based compensation are also of concern.
Business wise, I like Gartner's explanations of the company's weaknesses, and will share two of them that I believe are relevant to investors. First:
"BlackLine's prices have been steadily increasing, year over year, since going public, and its pricing is considered 'premium' when compared with that of other vendors offering similar products. However, BlackLine can be very competitive when pitched against multiple vendors. Its international capability is still emerging, so prospective customers should check that it offers local support where they need it."
And second:
"BlackLine's transaction matching for reconciliations is often a concern for companies during contract negotiation, according to Gartner client inquiries. We have encountered many cases where organizations chose to limit the amount of reconciliation matching, which can lower the value of the implementation."
The latter is a functionality concern, and is self-explanatory. The former is an interesting note. Companies don't always choose the best technology or best solution; some companies weigh costs heavier than ROI, as ROI isn't always guaranteed or easily measured. In my intro, I mentioned the need for software stocks to be "layoff friendly", and businesses may be choosing to make efficiency investments with a focus on cost, not ROI.
Investor Takeaway
Sector risk is a major concern for BlackLine, and I believe valuations are becoming stretched since 2019 began. However, BlackLine has a nice niche offering with clear growth opportunities through SAP and international expansion which have the possibility of reenergizing growth rates. BlackLine has strong relationships with ERP vendors, so any acquisition could be tricky. Similar to many stocks in this sector, valuation risk keeps me from making a move, but its value-addition offerings keep it on my watch list.
Disclaimer: The above references an opinion and is for information purposes only. This information is general in nature and has not taken into account your personal financial position or objectives. It is not intended to be investment advice. Seek a duly licensed professional for investment advice. Past performance is not an indicator of future performance.
Disclosure: I am/we are long SSNC. I wrote this article myself, and it expresses my own opinions. I am not receiving compensation for it (other than from Seeking Alpha). I have no business relationship with any company whose stock is mentioned in this article.