President Trump said he will not meet President Xi before the March 1 deadline that will end the 90-day hiatus of additional tariffs on $200bn of Chinese goods. The White House economic adviser Larry Kudlow said that both sides remain "a pretty sizable distance" away from making a deal. Markets reacted badly with global stocks falling and ending a previously sharp and consistent rally.
In light of the Fed's seeming turnaround on its previous hawkish policy stance, we take a look at what a Fed pause may mean for credit closed-end fund sectors. In our view, high yield is well positioned to outperform, though investors should be aware of a number of headwinds such as a flat yield curve, a lower credit spread premium, and a tighter discount.
Macro
As the macro data previously delayed by the government shutdown comes in, it appears to confirm a gradually slowing trend in economic activity. Factory orders are trending lower, possibly driven by greater uncertainty around global trade deals. Firms do not appear to be stocking up for a potential dislocation in trade activity ahead of the end of the 90-day hiatus in the US-China negotiations.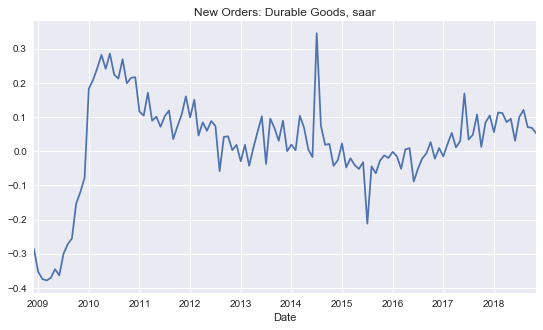 Source: ADS Analytics LLC, FRED
Bank lending standards is a strong leading indicator of corporate credit spreads so the latest tightening of standards stands in stark contrast to the rally in high-yield bonds. This is not surprising, however, as the tighter standards take some time to work through the lending channels and impact borrowers.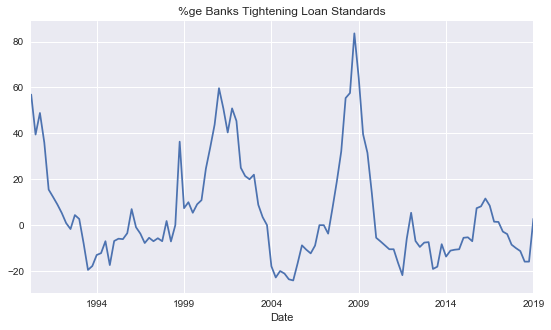 Source: ADS Analytics LLC, FRED
The amount of the tightening itself is below the previous two episodes, so it is not yet at alarming levels, however, this is one indicator we are watching carefully.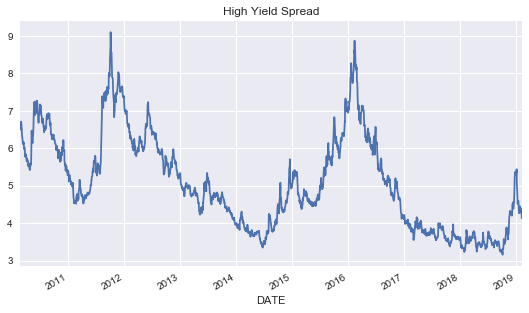 Source: ADS Analytics LLC, FRED
Market
Unlike the previous few weeks, this past week was fairly mixed for fund returns. Relatively defensive and fixed-income assets outperformed such utilities, bonds and mortgages. Higher-beta assets such as emerging markets and commodities underperformed on increased skepticism of a trade deal.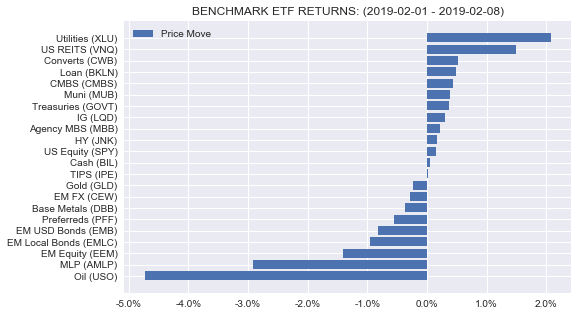 Source: ADS Analytics LLC, Bloomberg
Most CEF sectors finished higher on a NAV basis with discounts ending mostly wider, signaling a risk-off mood. Mortgages, being more idiosyncratic sectors did well. Fixed-income sectors generally had middling performance with the exception of external EM debt which sharply sold off, reversing its previously strong performance. MLPs were weak on the back of negative trade news.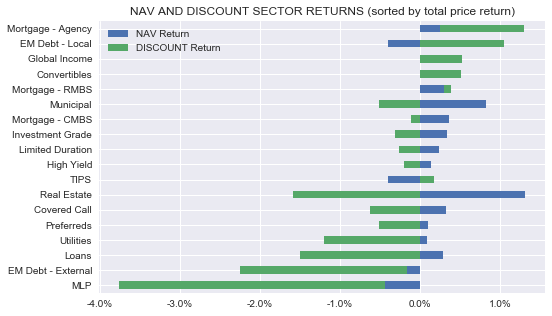 Turnaround Management
One of the biggest, and perhaps most surprising, themes of the recent market environment is the policy about-face on the part of the Fed, having gone from a relatively hawkish stance to what could be an end of the hiking cycle.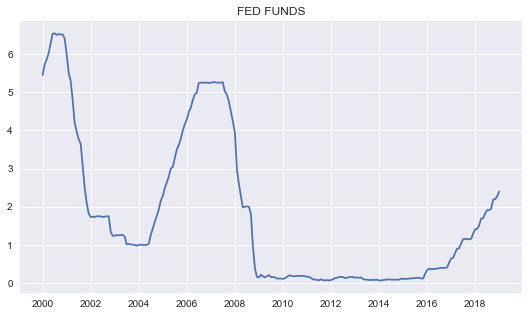 Source: ADS Analytics LLC, FRED
This change in the main policy rate has potentially important implications on portfolio allocation decisions. If the Fed does decide to leave the Fed Funds rate flat for some time, a key market lever will move to neutral. This will impact such drivers of funds returns as the cost of leverage, the rate that borrowers pay on their floating-rate loans and credit spreads, as all-in yield investors adjust their allocations.
This week we thought we would take a look at the credit CEF sectors and how they performed through previous flat Fed Fund regimes.
First, it's worth taking a look at the returns of the four sectors in question since the financial crisis.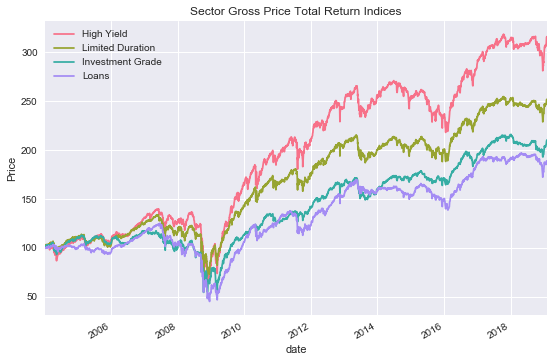 Source: ADS Analytics LLC, Bloomberg
The top performance of the high-yield sector we attribute to a few different things: an overall higher yield which adds up year-after-year, a relatively muted default rate experience outside of the crisis period and upward sloping credit spread and interest-rate curves which generated stronger roll-down returns for the sector.

Source: ADS Analytics LLC, Bloomberg
If we run the numbers since the end of the financial crisis when rates were significantly lower than earlier in the century, we get a much closer range of annualized returns, but high-yield remains on top.

Source: ADS Analytics LLC, Bloomberg
Let's see what happens if we restrict our window to the three previous periods when the Fed Funds rate remained unchanged. We plot the total performance of each sector during each period in the bar chart below. One of the periods is significantly longer than the others, so we have to squint a little bit to read the chart, but the conclusion is unmistakable - high-yield returns were significantly stronger in each of the three previous periods when the Fed Funds rate remained unchanged.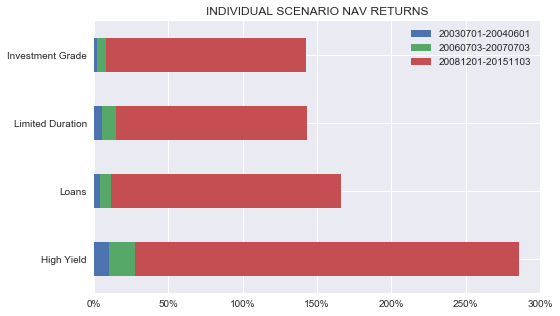 Source: ADS Analytics LLC, Bloomberg
Could this time be different?
Let's consider what could prevent high yield from dominating the other sectors over the medium term:
Yield Curve - The yield curve is still very flat relative to history, which gives sectors like high yield and investment grade a much smaller interest rate pickup relative to limited duration and loan sectors.
Credit Spreads - The spread pickup enjoyed by high yield over the other sectors is significantly smaller than the historic average.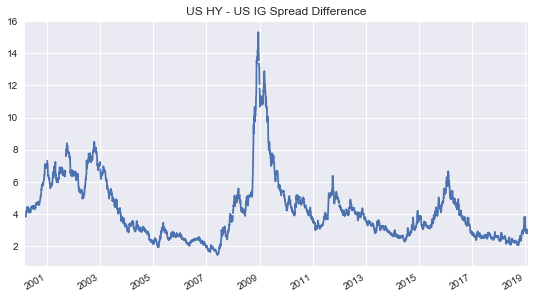 Source: ADS Analytics LLC, Bloomberg
Discounts - The discount of the High Yield sector is higher in absolute and relative terms to two of the three other sectors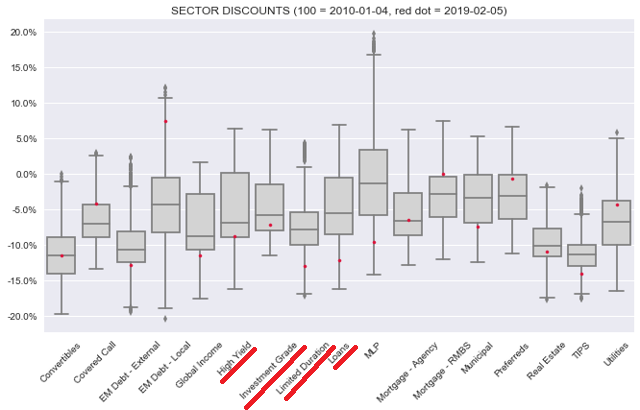 Source: ADS Analytics LLC, Bloomberg
Likelihood of recession - In case of a recession, high yield is likely to hold up less well than the other sectors, even loans, which despite the loosening in standards, are still expected to have higher recovery rates.
We think these arguments deserve careful considerations - in the medium term, we still expect the yield premium of the high-yield sector to pull it towards the top of the return league table; however, the path there may very well be bumpy.
Conclusion
The nearing shift in the Fed monetary policy regime and the likely pause in the Fed Funds rate may require investors to rethink their sector allocations. Our analysis of previous Fed-on-pause regimes suggests that high yield may be set to outperform the other credit CEF sectors. Risks to this view, however, include a flat yield curve, a lower credit spread premium, and a tighter discount. In our view, these issues will restrain, but are unlikely to hold back the sector's relative performance in the medium term.
Disclaimer: This article is for information purposes only and does not constitute investment advice or an offer or the solicitation of an offer to buy or sell any securities. Past performance is not a guarantee and may not be repeated. Investment strategies are not suitable for everyone and you should always conduct your own research or speak to a financial advisor. Although information in this document has been obtained from sources believed to be reliable, ADS ANALYTICS LLC does not guarantee its accuracy or completeness and accept no liability for any direct or consequential losses arising from its use. ADS ANALYTICS LLC does not provide tax or legal advice. Any such taxpayer should seek advice based on the taxpayer's particular circumstances from an independent tax advisor.
Disclosure: I/we have no positions in any stocks mentioned, and no plans to initiate any positions within the next 72 hours. I wrote this article myself, and it expresses my own opinions. I am not receiving compensation for it (other than from Seeking Alpha). I have no business relationship with any company whose stock is mentioned in this article.