By Bob Ciura
The best dividend growth stocks to buy and hold for the long term have a few key characteristics in common. They have leadership positions in their industry, durable competitive advantages, and the ability to grow revenue and earnings over long periods of time.
AmerisourceBergen (NYSE:ABC) has all of these qualities. It is currently ranked #12 on the Fortune 500, with more than $160 billion in annual revenue. This is a highly profitable business, and has displayed a remarkable ability to continue growing revenue and EPS even in a challenging environment for pharmaceutical distributors.
ABC stock is attractively valued, with a low P/E in comparison to the company's strong future growth potential. In addition, the stock offers a nearly 2% dividend yield and the prospect of annual dividend increases. ABC is a Dividend Achiever with over 10 consecutive years of dividend increases. This makes the stock a buy for long-term value and dividend growth investors.
Business Overview And Recent Results
AmerisourceBergen (in its current form) was created in 2001 by the merger of AmeriSource and Bergen Brunswig. Today, it is one of the largest healthcare distributors in the United States. ABC provides pharmaceutical products and business solutions to a variety of customers, which include healthcare providers, veterinary practices, and livestock producers. The company also services global manufacturers to improve supply chain efficiency. ABC generates annual revenue of $167 billion, with a presence in more than 50 countries around the world. More than 90% of the company's revenue comes from its pharmaceutical segment.
Its high-quality business model has fueled impressive growth in recent years, including 15% compound annual EPS growth over the past five years and 16% annual EPS growth over the past 10 years.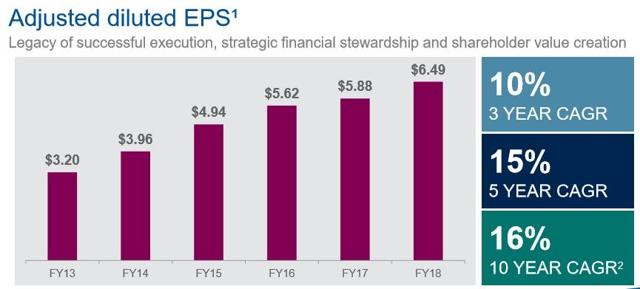 (Source: Investor Presentation)
In late January (1/31/19), the company announced financial results for the first quarter of fiscal 2019. For the quarter, revenue of $45.4 billion increased 12% and beat analyst expectations. Pharmaceutical segment revenue led the way with 12% growth in the quarter. Adjusted earnings per share of $1.60 also beat estimates and increased 3% from the same quarter a year ago. The company slightly reduced its full-year forecast by lowering the top end of EPS guidance. ABC now expects adjusted EPS in a range of $6.65-6.85, from $6.65-6.95. It narrowed fiscal 2019 guidance to reflect the extended delay in the reopening of PharMEDium's Memphis facility. This is not expected to impact the company long term, and ABC still expects EPS growth of 4% at the midpoint of 2019 guidance.
The pharmaceutical distribution industry is challenged today, with increasing demand for generics and political criticism of high drug prices. This has created pressure on drug prices, which is a negative catalyst for the major pharmaceutical distributors. If that weren't difficult enough, there are fears of heightened competition from e-commerce giant Amazon (AMZN), which is rumored to be considering entering the healthcare industry. Amazon's nearly $1 billion acquisition of online pharmacy PillPack last year was widely viewed as a precursor to a bigger move into the healthcare industry. Given these headwinds, it is even more impressive that ABC continues to generate growth year after year.
Growth In A Challenged Environment
ABC had a strong year in 2018, partially thanks to the company's $815 million acquisition of H. D. Smith, the largest independent pharmaceutical wholesaler in the U.S. The acquisition is a positive growth catalyst for the company, as it will strengthen its position in U.S. pharmaceutical distribution. In fiscal 2019, it expects to grow earnings per share by 5% at the midpoint of guidance. This is a modest growth rate, but still impressive given the challenges in pharmaceutical distribution right now. ABC is expected to grow earnings per share and dividends by 8% per year from fiscal 2019 to 2024.
While the company is facing deflationary threats, the industry broadly remains very healthy. The U.S. pharmaceutical market still enjoys multiple positive tailwinds, including economic growth, an aging population, and new product launches each year. For these reasons, the pharmaceutical market continues to grow overall, and is expected to continue growing at a 5.5% compound annual rate through 2022.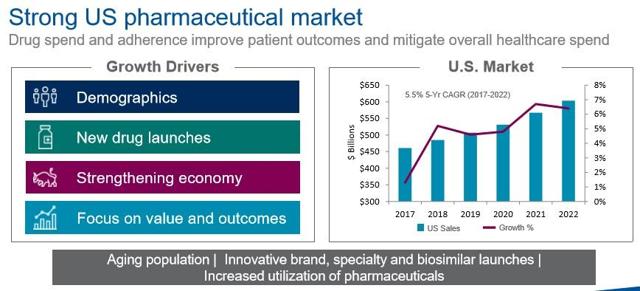 (Source: Investor Presentation)
A big reason for the company's continued growth - even in a difficult climate - is its competitive advantages, which are impressive. ABC is the #1 distributor of specialty pharmaceuticals and the #1 distributor of animal health products in the United States. It operates a vast network, shipping over 3 million products each day from over 30 distribution centers, and operates in over 50 countries around the world. Its global scale is nearly unparalleled. And given the high regulatory barriers to pharmaceutical distribution, it would be very difficult for a new competitor - even Amazon - to enter the market and successfully take share from ABC.
Attractive Valuation and Expected Returns
Ultimately, the returns generated by a stock come from three sources: earnings growth, dividends, and any expansion of the price-to-earnings ratio. ABC looks promising on all three counts. The company generated double-digit EPS growth in the trailing three-, five-, and 10-year periods. It is not unreasonable to expect future EPS growth in the range of ~8% per year. In addition, the stock has a current dividend yield of nearly 2%, plus the ability to grow its dividend each year. ABC raised its dividend by 5.3% on November 6th, 2018. An annual raise above 5% is a solid hike for a company battling through an industry downturn.
Lastly, the stock appears to be undervalued today. Investor sentiment has eroded across the U.S. healthcare distributor stocks, as evident by compressing valuation multiples. Today, ABC stock trades for a price-to-earnings ratio of 12.5, based on 2019 expected EPS of $6.75. This is a fairly low valuation for a highly profitable company that leads its industry and is still growing EPS at a healthy rate. Our fair value estimate for ABC shares is a P/E ratio of 15.0, near the 10-year average valuation of the stock.
If the stock valuation expands to the fair value estimate over the next five years, it would increase shareholder returns by approximately 3.7% per year. The combination of 8% annual EPS growth, the 1.9% dividend yield, and an expanding P/E ratio result in total expected returns of 13-14% per year through 2024. This is a strong rate of return, which earns ABC stock a Buy recommendation.
Final Thoughts
Every industry goes through periods of heightened competition and structural changes. The ability to adapt is critical for a company's long-term success. The market has become more pessimistic over the U.S. pharmaceutical distributors, but these fears appear unfounded for ABC. The company has a proven track record and still retains its competitive advantages. It is likely the current period is merely a temporary slowdown. ABC stock checks all three boxes of a buy-worthy stock - it has positive EPS growth potential, a low valuation, and a solid dividend yield with the potential for annual dividend increases.