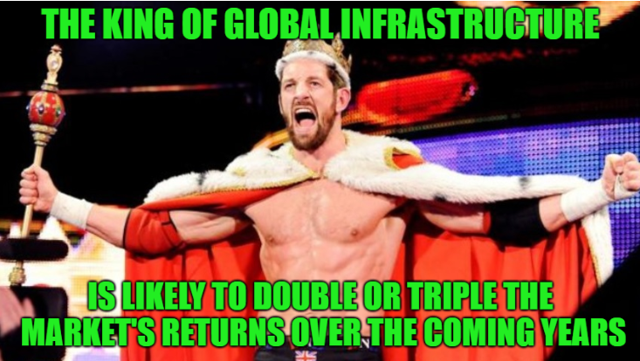 (Source: imgflip)
My new Deep Value Dividend Growth Portfolio or DVDGP (beating the market by 9% so far) is a collection of my top recommendations for quality, low-risk dividend growth stocks, that I buy opportunistically at good to great prices.
While that portfolio is rather diversified (there are a lot of great income stocks worth owning), when it comes to my favorite "buy and hold forever" stocks few can beat Brookfield Infrastructure Partners (BIP). I'm such a fan of this high-yield and fast-growing limited partnership, that I consider it the world's best income growth stock.
That's for four main reasons, including a fantastic recession-proof business model, the world-class management team, and the longest growth runway I know of (50+ years and over $100+ trillion in addressable market). Best of all, from today's valuation (about 10% undervalued) Brookfield Infrastructure is likely to beat management's long-term goal of delivering 12% to 15% total returns (16% to 17% over the next five to ten years).
That means investors are not just likely to enjoy generous, safe and fast-growing income, but probably returns that will be two to three times what the S&P 500 delivers. That makes Brookfield Infrastructure a "strong buy" for almost any diversified income growth portfolio, as long as you're comfortable with its risk profile (unique among utilities and it uses a K-1 tax form).
1. A Global, Recession-Proof Business Model Built For Safe And Fast Growth Income
Brookfield Infrastructure is one of the many LPs that make up the Brookfield Asset Management (BAM) empire of private equity funds and publically traded LPs and REITs.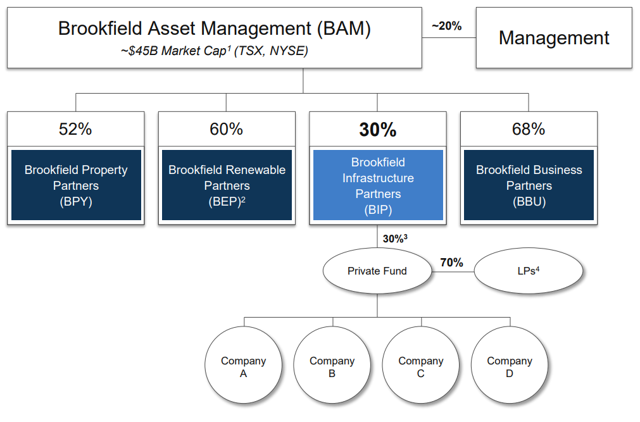 (Source: investor presentation)
Its structure is MLP-like in many ways but with important differences, including being designed in such a way (double pass-through structure) as to not generate UBTI.

(Source: Brookfield Infrastructure Investor Presentation)
That makes it safe for retirement accounts like IRAs and 401Ks. However, that same structure makes for even more tax complexity than most MLPs (see risk section). I'm more than willing to put up with the tax headaches once per year (which Turbotax easily deals with) because of Brookfield's overall excellent investment profile which points to market and peer-crushing returns continuing for decades to come.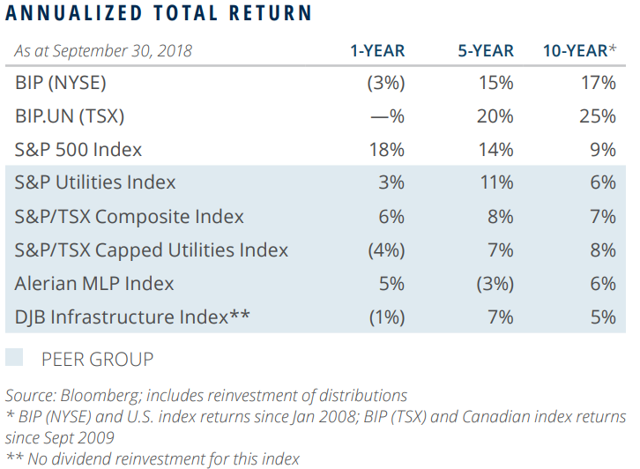 (Source: BIP factsheet)
Over the past 10 years, BIP has managed to deliver sensational total returns of 17% CAGR. That not just puts to shame the S&P 500 but MLPs, utilities and infrastructure stocks as well. While past glories are no guarantee of future success, I expect BIP will deliver similar returns over the coming five to 10 years and here's why.
Now, I am not saying that BIP is going to manage to grow its FFO/unit at the same prodigious 18% as the past 10 years. But in order to deliver historical total returns from the current valuation, it need merely grow cash flow by about 10% which analysts (and I) think is likely.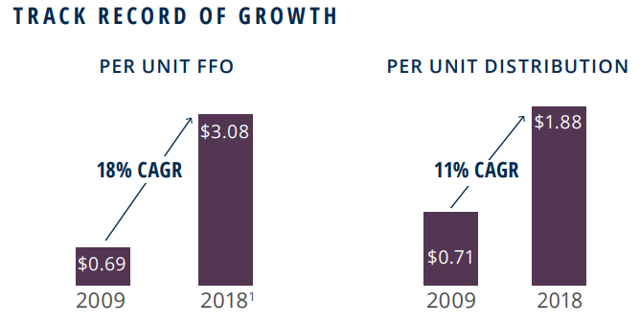 (Source: BIP factsheet)
The first reason is due to the overall business model, which is to acquire a world-class collection of cash-rich assets all over the globe.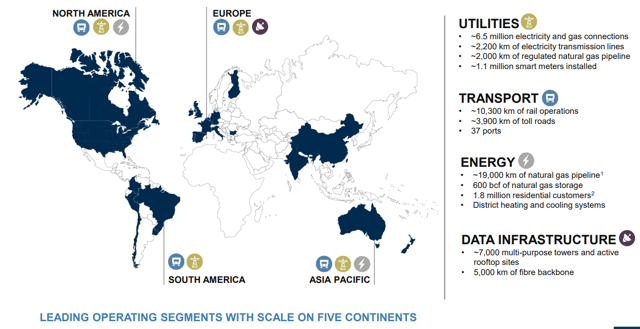 (Source: investor presentation)
Those assets are bought opportunistically when management expects to generate 12+% cash yields on invested capital.
Today Brookfield's $37 billion in assets include 32 business on five continents. In other words, Brookfield Infrastructure has its finger in every part of the global infrastructure pie, owning critical infrastructure that enables global growth and without which a country's economy couldn't function.
Those assets have relatively low maintenance costs and EBITDA margins of over 55%. This means that BIP enjoys highly stable and recession-resistant cash flow, 95% of which is either regulated or under long-term contracted. 75% of cash flow is indexed to inflation and 60% is under minimum volume guarantees which helps support very fast (for a utility) payout growth while still maintaining management's long-term goal of a 60% to 70% FFO payout ratio.

(Source: earnings supplement)
That's despite a stated long-term distribution goal of 5% to 9% which is designed to deliver 12% to 15% total returns per the Gordon Dividend Growth Model (relatively accurate since 1956 and Brookfield's official total return model).

(Source: earnings supplement)
But while 5% to 9% payout growth for a utility is itself an impressive goal, Brookfield has managed to usually overdeliver on that target rate. That includes growing the distribution at double-digit CAGR since its IPO and raising the payout by 7% for 2019, the 10th consecutive annual increase (making BIP a dividend contender by Dave Fisch's CCC list criteria).
That's what's helped make this a rockstar total return stock. Why do I think that Brookfield has the potential to continue underpromising and over delivering?
Well, that's thanks to the world-class management team, a $100+ trillion, 50+ year growth runway (the largest and longest of any stock I've ever seen), and no less than three proven strategies for growing that stable cash flow at industry leading rates.
2. The Industry's Best Management Team Has A Proven Track Record Of Delivering Growth
| | |
| --- | --- |
| Metric | 2018 Growth |
| Funds From Operation | 5.2% |
| FFO/Unit | 0% |
| Adjusted Funds From Operation | 4.4% |
| AFFO/Unit | -0.6% |
| Distribution | 8% |
(Sources: Earnings Supplement, Gurufocus)
At first glance, you might think BIP's strong track record of fast growth was broken, given the flat nature of its FFO and AFFO/unit (what pays the distribution). However, the reality is that Brookfield's growth prospects remain strong (analysts expect 10% CAGR FFO/unit growth over the next five years, two or three times that of the traditional regulated utility).
BIP's weak 2018 results were due to the first of its growth strategies, which is opportunistically recycling older assets after management has owned and operated them for a long time and increased their value significantly.
Over the past 10 years, BIP has sold 10 businesses for proceeds of $3.3 billion that generated 25% average annualized returns on investment. That includes the 2018 sale of its Chilean electrical transmission business for $1.3 billion that generated 18% CAGR returns on investment. For context, those rates of return are similar to the 20+% levels that make Warren Buffett the greatest investor in history and is why I literally consider Brookfield the Berkshire (BRK.B) of global infrastructure.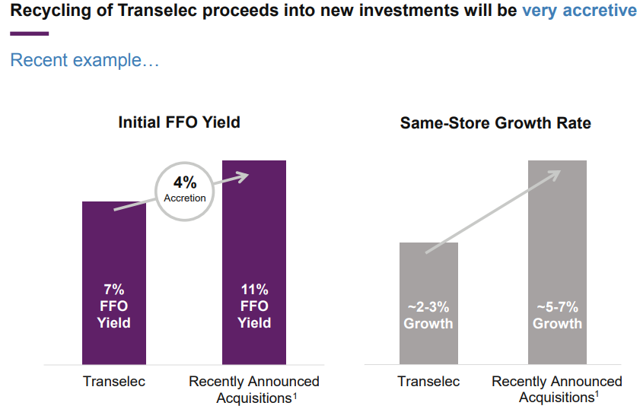 (Source: Investor presentation)
The Transelec transmission system was bought 12 years ago and after its value had increased significantly management sold it to fund no less than six new investments in assets that are both growing much faster, and offer superior cash yields on invested capital.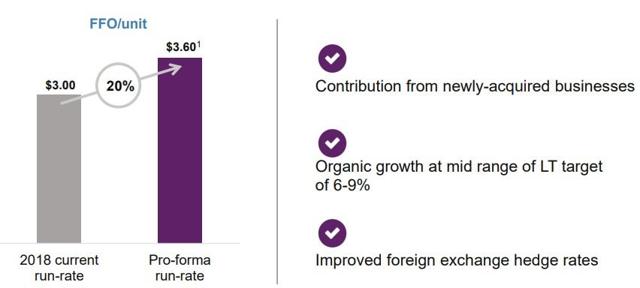 (Source: Investor presentation)
Those new assets mean that Brookfield Infrastructure's pro-forma FFO/unit will jump to about $3.60, representing 16% growth in 2019. And that doesn't factor in any other net investments the LP makes this year.
Over the next 12 to 18 months Brookfield is planning on $1.5 billion to $2 billion in asset sales, locking in rich profits on previous investments to reinvest them into higher-yielding new opportunities. That includes selling 33% of its Chilean toll roads business for $365 million.
Those new investments include $940 million BIP is investing in its share of the Enercare deal, and the first part of Western Canadian midstream business that Brookfield is buying from Enbridge (ENB). Management is planning on shortly closing on three more acquisitions totaling $700 million (in the first half of 2019).
BIP's ability to invest opportunistically and deliver Buffett like investor returns is itself enough reason to recommend the stock. Another is the management team that makes such profitable long-term value investing possible.
The world-class management team, provided by BAM, is led by CEO Sam Pollock who has been with BIP since its inception a decade ago. Pollock leads a team of 13 senior managing partners, who average 20 years of industry experience, including 12 years at Brookfield. The executive team overseas 160 employees (including investing specialists who hunt for great deals) and 28,000 global employees who actually operate its empire of assets.
But masterful capital recycling is just the first of three growth strategies BIP has. The second is organic growth (expanding what it already owns). BIP has a $2.3 billion backlog of organic growth projects scheduled for completion over the next two to three years. That investment will not just grow cash flow on its own, but make its assets more valuable for later sales as part of its capital recycling strategy.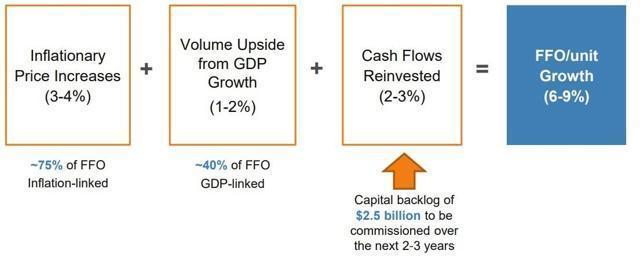 (Source: Investor Presentation)
Brookfield's 5% to 9% long-term payout growth guidance is purely based on its organic growth plans and doesn't factor in capital recycling or growth through acquisitions. The LP has a goal of achieving 6% to 9% cash flow growth through its inflation-adjusted contracts, increasing volumes, and investments into expanding and improving its assets.
But goals are one thing, strong execution is another. Fortunately, Brookfield has a great track record of delivering on its guidance, including organic cash flow growth.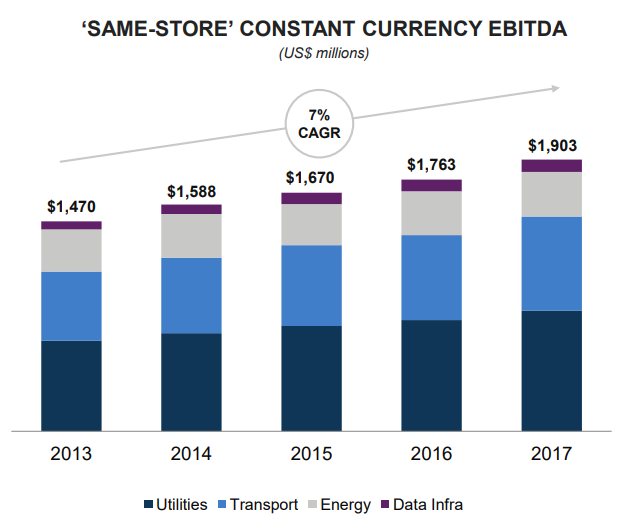 (Source: investor presentation)
But wait there's more! As if industry-leading organic growth and rockstar investment returns on invested capital weren't enough reasons to love Brookfield Infrastructure there is one final growth catalyst BIP has to generate strong payout growth and market-crushing returns.
And that catalyst happens to be the biggest reason I'm so bullish on the stock. That would be Brookfield's proven track record of growing through smart M&A. According to the Harvard Business Review, 70% to 90% of M&A deals fail to deliver long-term shareholder value. And as you can see Brookfield is a very M&A happy business.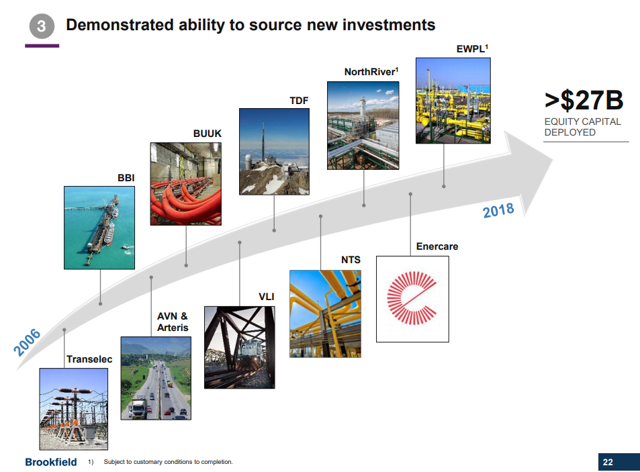 (Source: investor presentation)
Yet its historical returns on capital prove that Brookfield's opportunistic approach to buying beaten down but quality assets, improving them, and then selling them at a major profit, makes them masters of their industry when it comes to growth through acquisitions.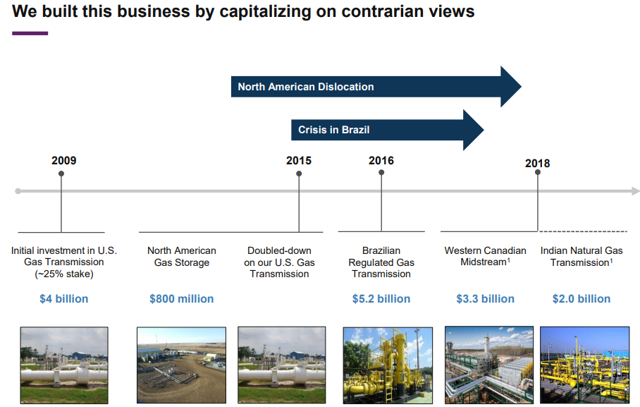 (Source: Investor presentation)
More importantly, Brookfield Asset Management's industry-leading position (the largest publicly traded hard asset manager in the world with over $330 billion in AUM) means that BIP gets to take part in a lot of great deals.
What's more, the volume of smart acquisitions that Brookfield can target is not going to shrink but likely grow.

(Source: investor presentation)
By 2025 S&P Global estimates that the US, Canada, EU and Australia alone will need an additional $5.4 trillion in new infrastructure investment. For context since its IPO BIP has invested just $8.2 billion in order to drive that 18% CAGR cash flow per unit growth.
Given the massive need for increased infrastructure spending, private equity and LPs like BIP are going to have a target rich environment for making great investments.
But while Brookfield's growth potential in the developed world is large enough to probably ensure decades of market-beating returns, the opportunities in emerging markets are even greater.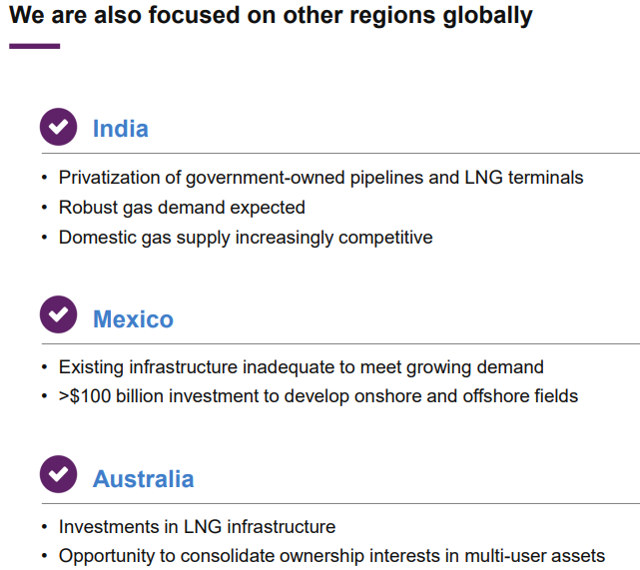 (Source: Investor Presentation)
Brookfield is also cashing in on increasing opportunities in India and Mexico, where demand for new infrastructure is exploding. And India is just a fraction of the long-term growth potential in Asia.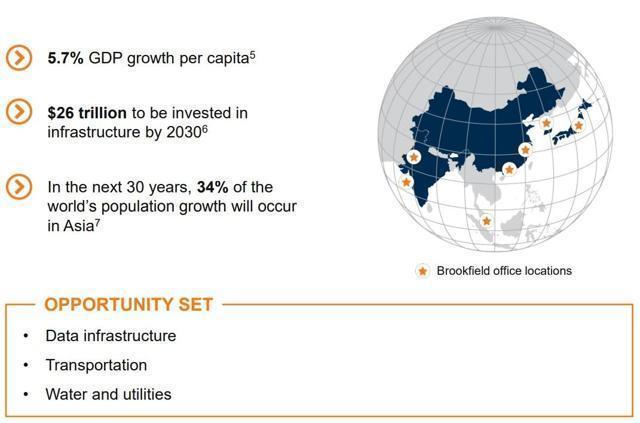 (Source: Investor Presentation)
By 2030 Asia will need $26 trillion of new infrastructure spending, a mind-boggling sum to support the world's fastest economic, population, and urbanization rate. That includes a middle-class that's expected to hit 3.5 billion within 11 years and will make the need for transportation, water and utilities, and data infrastructure a rich investment opportunity for Brookfield.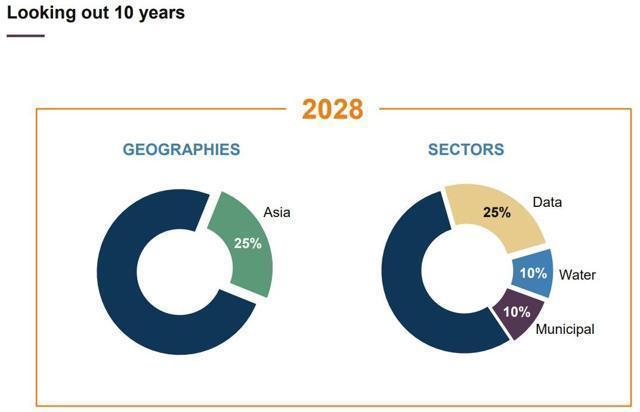 (Source: Investor Presentation)
Massive future investments in Asia is why BIP expects that within nine years 25% of its cash flow will be coming from that region, and 25% of cash flow will be coming from data infrastructure alone. In other words, if you want to cash in on big data and global 5G BIP is the best stock you can own.
But as if all these growth opportunities weren't enough to convince you of Brookfield's bright future, consider this. According to the G-20, by 2040 alone the world will need nearly $100 trillion in new infrastructure spending. And the world's population and economy are expected to continue growing strongly for several decades after that, meaning that BIP's total addressable market size over the next 50+ years is far larger than $100 trillion.
I literally can't think of any company with a larger or longer growth runway than BIP. That's why I expect management to deliver on its 12% to 15% total returns not just for a few years, or even a decade, but for 50+ years.
But of course, a huge growth potential is worthless without the ability to fund massive growth investments. Which is where Brookfield's brilliant management team once more comes in, thanks to its masterful skill with smart and disciplined use of debt.
90% of its borrowing is fixed-rate debt, with eight-year average maturity bonds, and 5% average interest rates. 81% of the debt is non-recourse, self-amortizing project level loans, which help BIP grow at a fast clip while insulating investors from any potential debt defaults.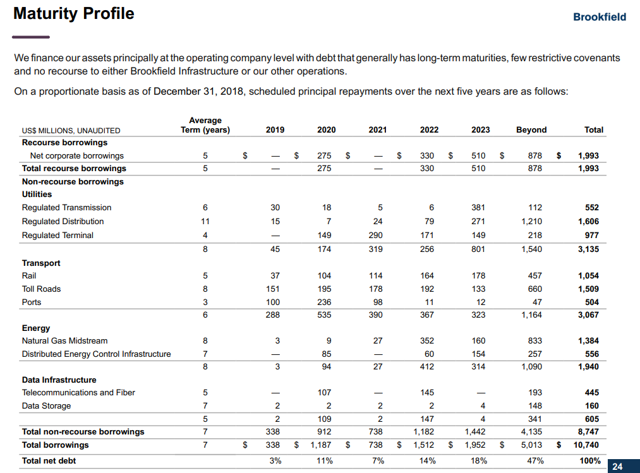 (Source: earnings supplement)
In essence, Brookfield has built a wide moat around BIP's cash flow through mortgage-like debt to ensure it can grow quickly, but safely. But don't just take my word for it. S&P has BIP rated as "BBB+" showing that the bond market and credit rating agencies are very comfortable with the LP's debt strategy.
Further proof of that is the fact the BIP was able to refinance $1.5 billion in debt in 2018 while lowering its average interest rate by 0.1%. The LP now has no major debt maturing for five years, minimizing its potential exposure to rising interest rates in the future.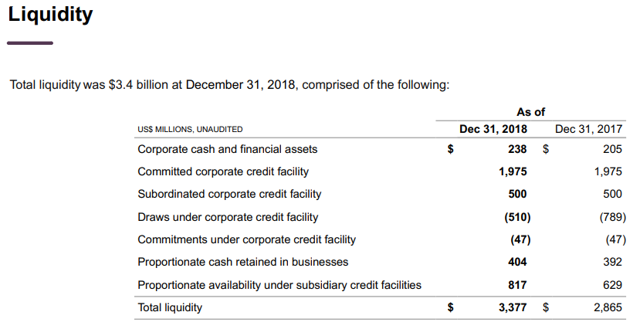 (Source: earnings supplement)
BIP currently has almost $3.4 billion in liquidity available to it, a figure that steadily grows over time as the asset base expands and management proves its the best in the world at what it does. For context in 2018, the LP invested a total of $1.9 billion across all its investment strategies ($1.1 billion in acquisitions and $800 million organic growth projects).
That large access to low-cost debt reduces the LP's reliance on fickle equity markets to fund its ambitious growth plans. That's according to CFO Bahir Manios who told analysts at the Q4 conference call
Going forward, we expect the majority of our growth to be funded by the proceeds from asset sales and cash flows retained in the business. This is different than when we started the business 10 years ago. In previous years, we issued equity to fund much of our M&A investment activities on large-scale capital projects. Even though our funding model is evolving, we still have excellent access to the capital markets. As a result, we may nonetheless issue equity when we have outsized investment opportunities or in circumstances when it makes financial sense to do so. But we are no longer dependent on this approach." - BIP CFO (emphasis added)
Now it should be said that BIP's greater focus on a partial self-funding business model is likely to mean an end to double-digit payout growth. But fortunately, a stock's intrinsic value (and ultimately its price) isn't a function of distributions but the cash flow that supports them. And BIP's long-term plan to reduce its payout ratio will likely drive double-digit cash flow growth for many years if not decades to come, ensuring great long-term total returns.
The bottom line is that Brookfield Infrastructure represents the best way for high-yield investors to tap into the single largest secular growth opportunity in history. That makes it the ultimate "buy and hold forever" SWAN blue-chip and what I consider to be the greatest income growth investment on earth.
3. Payout Profile: Generous, Safe And Rising Distribution Leads To Market-Beating Total Returns
What ultimately drives all my recommendations (and portfolio decisions) is the payout profile which consists of three parts, yield, safety, and long-term growth potential. Combined with valuation this is what tends to determine long-term total returns.
| | | | | |
| --- | --- | --- | --- | --- |
| Stock | Yield | 2018 AFFO Payout Ratio | Simply Safe Dividend Safety Score (Out Of 100) | 2019 Pro-Forma AFFO Payout Ratio |
| Brookfield Infrastructure | 5.1% | 94% | 65 (Safe) | 72% |
| S&P 500 | 2.0% | 33% | NA | NA |
(Sources: Simply Safe Dividends, Yardeni Research, Multipl.com)
After its 7% 2019 distribution hike, BIP's yield sits at a very attractive 5.1%, far above the 2% the S&P 500 is offering or the 3.4% that most utility investors enjoy. But more importantly, that distribution is safe, despite what 2018's high payout ratio might lead you to believe.
That's because 2018's AFFO/unit was hurt by the timing of Brookfield Infrastructure's asset sales and based on the pro-forma figures provided by management on just six pending 2018 deals the payout ratio will fall to about 72%.
The other half of the payout safety equation is the balance sheet.
| | | | | | | |
| --- | --- | --- | --- | --- | --- | --- |
| Stock | Debt/Adjusted EBITDA | Interest Coverage Ratio | Corporate Debt/Adjusted EBITDA | Corporate Interest Coverage Ratio | S&P Credit Rating | Average Interest Rate |
| Brookfield Infrastructure | 6.7 | 2.9 | 1.2 | 27.8 | BBB+ | 5.0% |
| Utility average | 3.8 | 4.9 | 3.8 | 4.9 | NA | NA |
(Sources: Earnings supplement, Gurufocus, Fast Graphs)
As I already explained BIP's initially alarming leverage ratio and low-interest coverage ratio are due to its high use of non-recourse debt (81% of the balance sheet). At the corporate level (what investors are liable for) the leverage ratio is just 1.2 and the interest coverage ratio nearly 28. That's why the LP's credit rating is so strong and it continues to borrow ever larger amounts of long-term debt at lower interest rates (that are far below its 12% to 13% cash yields on invested capital).
As for long-term growth here we need to break out BIP's likely distribution growth from its cash flow growth. Management is planning on using a lower payout ratio in the future which means we're likely to see distribution growth in line with that 5% to 9% long-term guidance.
| | | | | | |
| --- | --- | --- | --- | --- | --- |
| Stock | Yield | Long-Term Expected Payout Growth | 5-Year FFO/Share Growth (Analyst Consensus) | Expected Total Return (No Valuation Change) | Valuation-Adjusted Total Return Potential |
| Brookfield Infrastructure | 5.1% | 5% to 9% | 10% | 15.1% | 16.2% to 17.2% |
| S&P 500 | 2.0% | 6.4% | 6.4% | 8.4% | 3% to 8.5% |
(Sources: Simply Safe Dividends, Fast Graphs, management guidance, Gordon Dividend Growth Model, Dividend Yield Theory, Multipl.com, Moneychimp)
However, the actual growth rate of BIP's cash flow per unit is expected to be slightly above the upper end of management's guidance, with FactSet Research reporting the five-year analyst consensus at 10%. I consider that a reasonable estimate given management's track record of excellent execution and the LP's strong liquidity position combined with that massive growth runway.
Assuming no change in valuation, that 10% cash flow growth should be enough (within 20% margin of error historically speaking) to deliver about 15% long-term total returns, the upper range of management's goal.
That's roughly double what Brookfield (and my) favorite return model says the S&P 500 is likely to deliver and also better than the S&P 500's historical 9.1% CAGR total return. But when you adjust for valuations then BIP's total return potential over the next five to 10 years rises to about 16% to 17%, compared to 3% to 8.5% that most analysts expect from the S&P 500 over the coming years.
That means that not just is BIP offering more than 150% the yield of the market, but it's likely to achieve similar payout growth and two to three times the S&P 500's total returns over the next few years.
4. Valuation: A Good Time To Buy The Best Infrastructure Stock In The World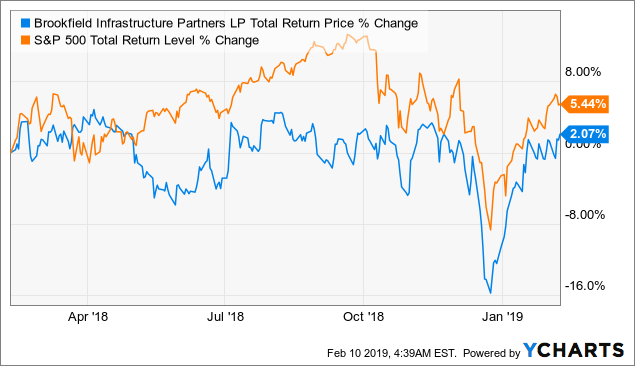 Thanks to that tepid 2018 cash flow growth BIP has had a weak year, losing to the market. But as I pointed out 2019 is expected to be a strong growth year for BIP, which is on track to set new records in terms of business growth. That makes today a great time to initiate or add to your position in the stock.
| | | | |
| --- | --- | --- | --- |
| Stock | P/Forward FFO | Implied Growth Rate | Long-Term FFO/Unit Growth (Analyst Consensus) |
| Brookfield Infrastructure | 10.9 | 1.8% | 10% |
| Average Utility | 12.9 | 2.8% | 2% to 5% |
(Sources: Simply Safe Dividends, Benjamin Graham)
Based on just the pro-forma FFO/unit that last year's deals are set to deliver, BIP is now trading at 10.9 times FFO, which is far below the average for utilities. Remember that BIP is growing cash flow at a rate that puts most utilities to shame yet it's currently priced for about 2% long-term growth. That's less than one-fifth of what analysts and I expect it to deliver and far below the 7.5% organic growth rate that management is guiding for.
This means that BIP is likely looking at significant cash flow multiple expansion this year that should send its price rising far faster than FFO/unit growth itself. How much faster? For that, I turn to my favorite valuation method for blue-chip income stocks, dividend yield theory or DYT.
This is the only valuation model/strategy that asset manager/newsletter publisher Investment Quality Trends has been using since 1966. The result has been decades of market-beating returns and 10% lower volatility to boot.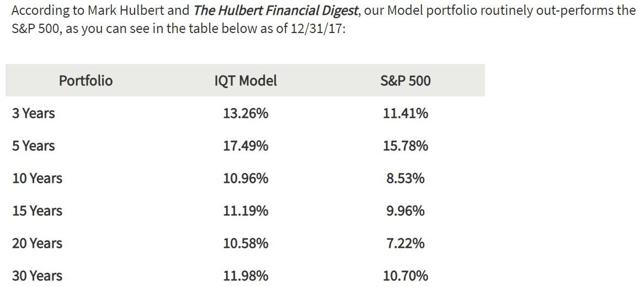 (Source: Investment Quality Trends)
Mind you IQT only recommends blue-chip stocks with at least 25 consecutive years of uninterrupted dividends (one of six of their quality criteria). That means that a lot of great income stocks like BIP (which has existed for just 10 years) aren't in its investable universe. Yet even excluding younger and faster dividend growers, IQT has managed to beat the market by 10% annually for 30 years while less than 7% of mutual fund managers can even match the S&P 500 over 15 years.
In other words, the power of DYT as a valuation tool is not just something I dreamed up but has a historical track record that beats almost anything on Wall Street.
DYT just compares a stock's yield to its historical yield. Unless the thesis breaks yields tend to revert to their historical levels over time, so long-term average yields approximate fair value.
| | | | |
| --- | --- | --- | --- |
| Yield | 5 Year-Average Yield | 10-Year Median Yield | Estimated Fair Value Yield |
| 5.1% | 4.6% | 4.5% | 4.6% |
(Sources: Simply Safe Dividends, Gurufocus)
You can see that BIP's long-term yield is about 4.5% to 4.6% and for my fair value estimate I take the higher figure. That means I'm happy to recommend BIP at a 4.6% yield or better, under the Buffett principle that "it's better to buy a wonderful company at a fair price than a fair company at a wonderful price."
| | | | | |
| --- | --- | --- | --- | --- |
| Fair Value Estimate | Discount To Fair Value | Upside To Fair Value | Long-Term Valuation Boost | Valuation-Adjusted Total Return Potential |
| $44 | 10% | 11% | 1.1% to 2.1% | 16.2% to 17.2% |
(Sources: Simply Safe Dividends, Gurufocus, Dividend Yield Theory, Moneychimp, Gordon Dividend Growth Model)
But BIP isn't just a wonderful company stock at a fair price, I consider the greatest income growth stock on earth to be 10% undervalued, per DYT. That means the price could rise 11% just to return to its historical fair value.
Over five to 10-years (the time horizon of my valuation-adjusted total return model) that equates to a 1.1% to 2.1% annual valuation boost and pushes BIP's total return potential to 16% to 17%. During times when the stock becomes overvalued that return potential will rise even more.
While the historical margin of error for that model is 20%, the bottom line is that BIP is set to become a double-digit market-beater from its currently attractive valuation. Thus I consider it a "strong buy" right now based on my blue-chip valuation scale.
Dividend Sensei Blue-Chip Valuation Scale
0% to 9% undervalued: buy
10% to 19% undervalued: strong buy
20% to 29% undervalued: very strong buy
30+% undervalued: firesale price (table pounding buy)
Of course, that's only for investors comfortable with the risk profile.
Risks To Keep In Mind
The biggest downside to owning BIP (which is what much of the comment thread is always about) is the complex tax treatment. Specifically, BIP is structured as an LP whose assets are themselves LP's. That's both to avoid UBTI to make it safe for retirement accounts, but also helps with its heavy use of non-recourse debt (a critical component of the growth strategy).
Not just does that mean it uses a K-1 tax form, which is a non-starter for some investors, but because of the double pass-through nature of its structure, investors are liable for 80% (due to tax reform) of the LP's taxable income.
While most of the distributions are classic return of capital or ROC (which reduces your cost basis) the taxable income part reduces the favorable deferred tax treatment and adds some tax prep complexity. I consider this once a year additional hassle well worth it given the overall benefits of the stock, but some investors do not.
What about risks to the business model themselves? Well, one is that the same global diversification that gives BIP its incredible growth potential also exposes cash flow to higher currency risk.

(Source: earnings supplement)
Management uses two-year currency hedges to minimize cash flow volatility but it still deals in a wide assortment of currencies, including volatile (vs USD) ones in emerging markets. In the future, its growth plans in China will increase that, as will further investments in emerging markets which represent the biggest growth opportunities.
The LP's hedging program meant that in 2018 effectively 65% of pre-tax FFO was in USD, but it had a big unhedged exposure to Brazilian Reals, which helped create 35% non-USD derived cash flow.
How volatile can currency fluctuations be? Well to give you an idea in 2018 the data infrastructure segment's results were reduced by 5% due to a weakening of the Euro.
Similarly, Brazil's Real has had a tough 2018, which helped lower full-year results from that country. Management is expecting a recovery in 2019 to boost results (by about $0.2 to $0.25 per unit FFO). Similarly, UK and AUD hedges are expected to see a 5% boost in 2019 but the point is that emerging market currencies are highly volatile which can make for lumpy growth in cash flow from year to year.
And besides currency fluctuations (which tend to cancel out over the long-term), we can't forget that all utilities must struggle with regulatory and political risk. But where most utilities only deal with a handful of local/state regulators (political appointees) Brookfield must deal with hundreds of regulators in dozens of countries, including emerging market economies known for occasional major political shifts and epic amounts of red tape.
Mind you literally no one in the world has more experience (nearly 120 years) at navigating the byzantine regulatory world of international infrastructure as well as Brookfield. But the point is that occasionally promising deals will fall through (such as the failure of the Indian cell-tower deal in 2017).
Finally, while BIP's business model is essentially that of a utility, anyone owning this stock needs to remember that BIP has historically been far more volatile than traditional regulated utilities.
For instance, where many utilities (like SO, DUK and D) have betas ranging from 0.12 to 0.26 (up to 88% less volatile than S&P 500 over the past three years), BIP's three-year beta is 0.92.
1-year beta: 1.03
3-year beta: 0.92
5-year beta: 1.03
10-year beta: 0.79
While Brookfield's beta should theoretically fall over time as its track record of delivering safe and growing distributions in all economic conditions grows longer, it's unlikely to ever offer the kind of super low volatility that some utility investors expect.
On the flip side, higher volatility can be a long-term investors' best friend since it allows you to more frequently add to your position at more attractive valuations that can boost not just your yield on cost, but long-term total returns as well.
Bottom Line: Now's A Good Time To Buy The Best High-Yield Dividend Stock In The World
Don't get me wrong, I know that plenty of investors hate K-1s and thus avoid limited partnerships. If you're one of those people then Brookfield Infrastructure, as great as its fundamentals are, just isn't for you.
But if you're comfortable with the added tax complexity, Brookfield Infrastructure is as close to a "buy and hold forever, must own" stock as you can find on Wall Street.
That's not just because its global reach and 50+ year, $100+ trillion growth runway potentially provide for decades of strong payout growth and market-beating double-digit returns. More importantly, Brookfield Infrastructure's management team and strong balance sheet give its the ability to actually execute on that potential, which is likely to richly reward high-yield investors for the foreseeable future.
Brookfield Infrastructure has spent the past year undervalued due to heavy asset sales as part of management's normal capital recycling strategy. But with 2019 set to be a boom year for the LP, now is likely a fantastic time to add this blue-chip SWAN stock to your portfolio. At today's valuation (about 10% undervalued), BIP is likely to not just easily deliver on management's long-term target of 12% to 15% total returns, but probably beat that with potential total returns of 16% to 17% over the next five to 10 years.
Disclosure: I am/we are long BIP, BAM, ENB. I wrote this article myself, and it expresses my own opinions. I am not receiving compensation for it (other than from Seeking Alpha). I have no business relationship with any company whose stock is mentioned in this article.