When investors hear about covered-call writing for the first time and the opportunity to generate instant cash flows into their brokerage account, they get super excited about it. However, most retail investors continue to make huge mistakes with this strategy supposing it's a free lunch. Every strategy has its advantages and limitations, no doubt about that, but in the end it's all about understanding and mastering those aspects to use them in your favor. To learn more about the basics of covered-call writing, read my recent blog post.
In this article, I'll discuss a defensive setup with Nvidia (NVDA). While Nvidia is a volatile stock, it can be a very compelling vehicle for covered-call writing if you stick to your own targeted monthly return and risk tolerance. In my case, I'd be happy with a consistent initial one-month return of 2%-4% like I highlighted in my portfolio review of January.
Option Selection
Assessing the Options Chain
First of all, let's take a look at Nvidia's options chain and assess time value returns, downside risk protection, and breakeven levels.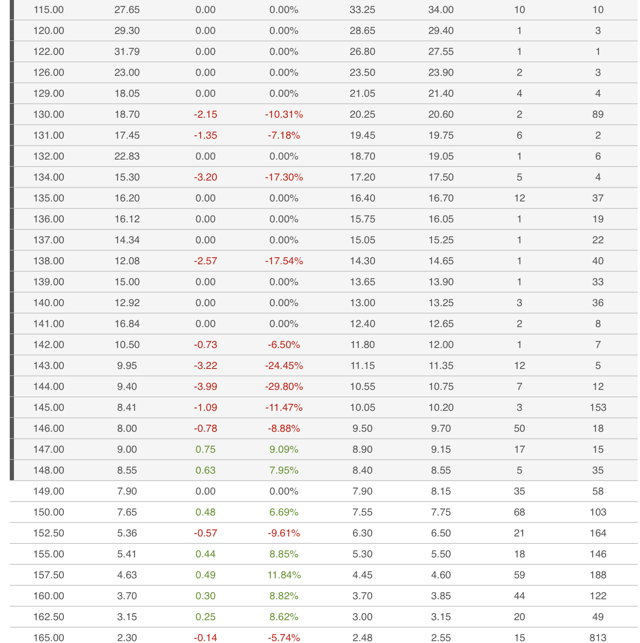 (Source: Author's work)
Let's see how these numbers play out. Therefore, I need to feed the options chain into the following table: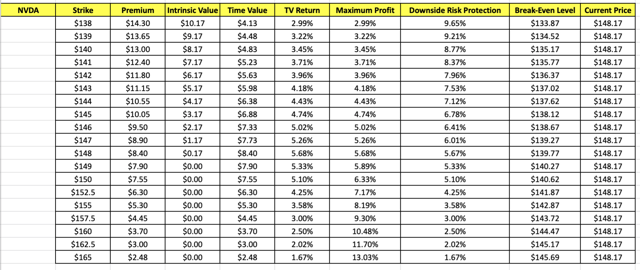 (Source: Author's work)
As previously mentioned, Nvidia is a volatile stock due to the nature of its business. So no wonder that even deep in-the-money contracts generate annualized time value returns of more than 30% due to elevated implied volatility.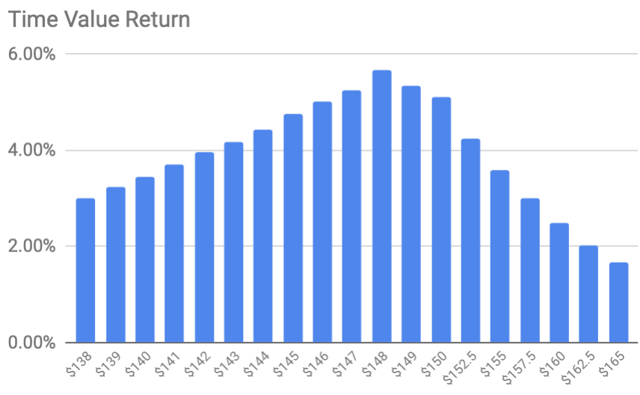 (Source: Author's work)
For instance, the $138 calls generate a maximum profit of 2.99% with total downside risk protection of 9.65%. This makes a lot of sense for defensive investors feeling the chart technicals are mixed or when the market is volatile. No matter into which direction the price is heading, you still capture that one-month maximized return of 2.99% unless shares drop below $138. Your breakeven level is a comfortable $133.87. On the other side of the spectrum, bullish investors can choose the out of the money calls with a strike price of $165. Selecting this strike allows you to generate a maximum profit of 13.03%, of which 1.67% is time value.
(Source: Author's work)
Technical Conditions
On a daily basis, Nvidia shares struggle with the MA55. Consequently, I expect shares to trade between $127 and $160, which is a huge range to play. Furthermore, the RSI doesn't provide any meaningful information to predict the next big move. On a weekly basis, I expect some stabilization between $130 and $165.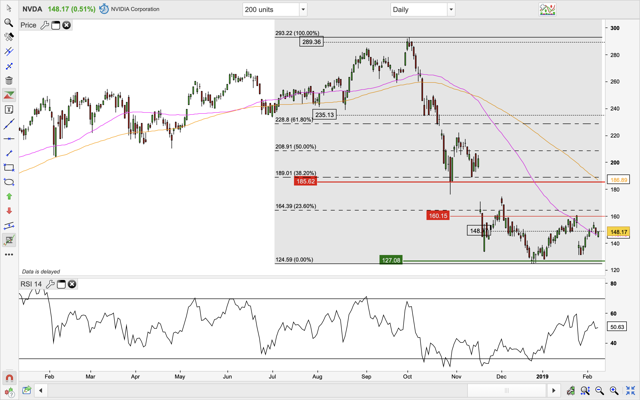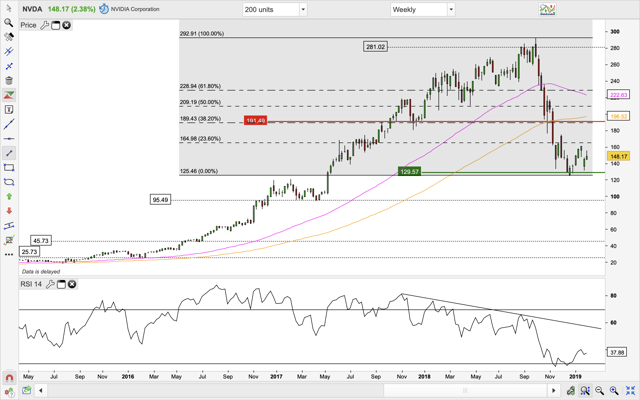 (Source: marketscreener.com)
Option Pricing Model
My Defensive Approach: In-The-Money Calls
To figure out the impact on an option's price, let's investigate how the pricing of the three option strategies would evolve over time. It's all about the following variables:
| | |
| --- | --- |
| Delta | Measures the rate of change of an option's value relative to the change in the stock's price |
| | Provides for an approximate likelihood of an option expiring in-the-money |
| Gamma | Measures the rate of change of the option's delta relative to the change in the stock's price |
| Theta | Measures the rate of change in the option's price per day of decay |
| Vega | Measures the change in the option's price per move in the volatility |
Having looked at Nvidia's technicals, I'm going to use the conservative $134 in-the-money call in my theoretical option modeling, based on the next parameters:
Volatility of 53.1%
Risk-free rate of 2.634% (US 10-year yield)
Days until expiration: 25
As shown in the graph below, the reason why AMD options provide attractive time value returns is because of the elevated historical and implied volatility:

(Source: Marketchameleon)
The theoretical options pricing results in the following data set:

(Source: Author's work)
Selling a call involves earning a premium, so we collect time value (positive theta, the opposite of buying a call). Right now, there's a 79% chance that the $134 call will be in the money at expiration. From now on, the theta indicates time value depreciates by around 12.6 cents per day.
As we are getting closer to expiration, time value of an option (theta) continues to decrease exponentially, which means pricing becomes intensively volatile (gamma). We continue to collect theta along the way, but the impact on the options pricing becomes significant heading into to the last days before expiration. As you can see from the graph, theta suddenly starts to drop as the option contract then consists of only intrinsic value.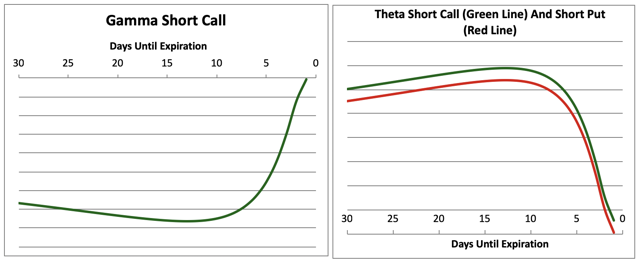 (Source: Author's work)
If I sell the $134 call, total maximum profit would amount to our collected time value ($303 for 100 shares), while our breakeven level stands at $130.97, reflecting downside risk protection of 12.84%.

(Source: Author's work)
Managing Our Trades
Covered-call writing is not a lazy strategy whereby you just have to sit back and collect time value along the way. It's about looking closely at the time value remaining in your option contracts sold and your breakeven level. In Nvidia's case, let's assume shares rise above $160 in a short period of time. We've agreed to sell our shares for $134 and received intrinsic value that is paid for by the option buyer, translating into a maximized one-month return of 2.26% before any trade commissions. Consequently, the delta of the $134 call will increase from 0.79 to at least 0.9, indicating time value approaches zero. If we decide to unwind our position, we will elevate our profits to the highest possible levels as time value of the initially sold contracts approaches zero. So, when there's enough time left until expiration Friday and the cost-to-close is low, we can move on the next trade with the same cash in the same month. As such, our maximized return of 2.26% can be improved by a new trade setup in an entirely new position. But therefore, you need to feed the options chain into your calculator to see whether it is appropriate to close your position faster than initially anticipated.
If Nvidia shares drop below $130.97, we could start losing money.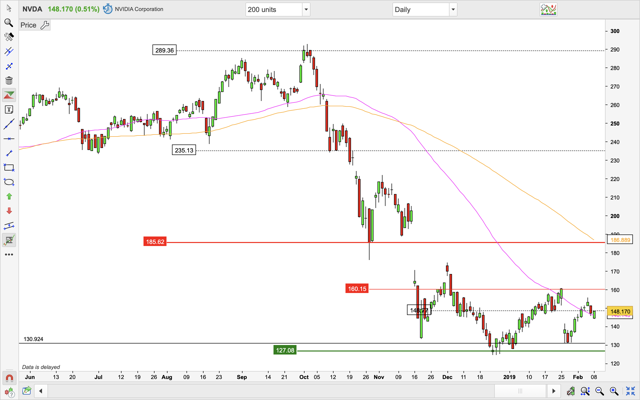 (Source: marketscreener.com)
However, I've selected a deep in-the-money call, specially chosen for an attractive time value return and downside risk protection. Should the price drop to less $130.97 at expiration Friday, we can close our position with a (small) loss or select an at-the-money call to capture higher initial returns.
Investor Takeaway
Selling the $134 call against Nvidia provides opportunities for defensive covered-call writers who want to generate an initial one-month return of 2.26% while getting an insurance policy on top of it (total downside risk protection of 12.84%). Depending on Nvidia's future price action, we may institute an exit strategy to enhance our total one-month return.
As usual, I'll highlight the performance of these setups in my monthly review, but real-time updates are shared with premium members of my website.
Disclosure: I/we have no positions in any stocks mentioned, and no plans to initiate any positions within the next 72 hours. I wrote this article myself, and it expresses my own opinions. I am not receiving compensation for it (other than from Seeking Alpha). I have no business relationship with any company whose stock is mentioned in this article.
Additional disclosure: Nvidia is currently one of my model trade setups shared with premium members.