My December double-down saw a good January
At the bottom of this article, I share an update of my stock portfolio. Each position's cost basis and relative weight are shown, but not its value, as I have done before here and here. I also list my sales, although I've only sold three stocks in the 5.8 years since I first bought Apple (AAPL) (the labeled "Held" shows the weighted average number of years since purchase). I'd welcome any feedback as I am always trying to improve my game, albeit as a part-timer!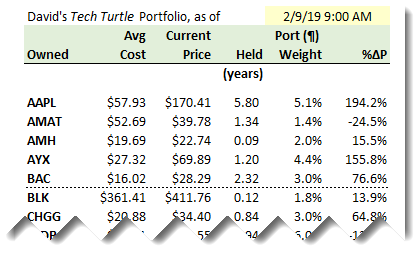 In December and January, I added introductory positions (~2.0% of portfolio) in two REITs: CyrusOne (CONE) and Ventas (VTR). Ventas just reported Friday, saying it "expects 2019 to be a pivot year and its transition back to growth." Ventas is a safe, high-quality REIT (senior housing, triple-net and office, including a smart focus on university-based research) temporarily suffering from the senior housing market's overbuild, but for which it is well-positioned beyond the current cycle. My forward dividend yield is 5.50% ($3.17 ÷ my cost of $57.16), and the current dividend yield is 4.93%. Five REITs now comprise ~9.1% of my portfolio (AMH, CONE, DOC, INVH, and VTR). To help make REIT decisions, I am highly influenced by Brad Thomas' newsletter and his SA articles. I am also influenced by Hoya Capital Real Estate (who is great at summarizing the top reasons to be bearish/bullish and REIT sectors, as in Single-Family REITs) and by Colorado Wealth Management Fund (e.g., Why Own When You Can Rent).
In addition to the REITs, I decided to take advantage of December's sell-off by increasing my housing-related exposure. This was part of a larger bet in which I added several names from my watchlists, mostly due to favorable or better valuations. Valuation is my first criteria; I don't generally own anything that I fear is too expensive. Except a few of my gains are unexpected, so I've tagged them for evaluation. My Tech Turtle portfolio is 50.0% allocated to technology (where I am most comfortable), but with respect to just the housing-related names, I added:
A new position in Redfin (RDFN) on 12/3, a technology company somewhat disguised as a real estate company.
A new position in American Homes 4 Rent. I already held Invitation Homes and, liking the risk/reward profile of single-family rental (SFR) theme over the long-term, decided to cover both bases rather than sweat pros/cons between two category leaders.
A third purchase of Lennar (LEN), where I started to buck momentum maybe a bit early when I bought the first tranche in May 2018. I previously wrote why I like Lennar. Since then, I've added to the position twice, lowering my cost basis, and am surprised to be treading water given its slow descent during all of 2018. In early January, management committed a cardinal sin and deferred fiscal 2019 guidance "due to continued softness and uncertainty." I view the subsequent, counter-intuitive +10.0% stock price increase as more evidence that the market does not differentiate between homebuilders in any short time frame.
Started a speculative position in William Lyon Homes (NYSE:WLH). More below.
In the short-run, it does not matter which homebuilder you buy. There are valid reasons to avoid them.
As mentioned, an interesting feature of the homebuilder peers is their very high pairwise correlations under short time periods. Here are daily return correlations over the last year, and these daily correlations are essentially similar for any horizon up to five years, with the slight exceptions of NVR and LGIH as the horizon approaches five years (Source: Stock Rover):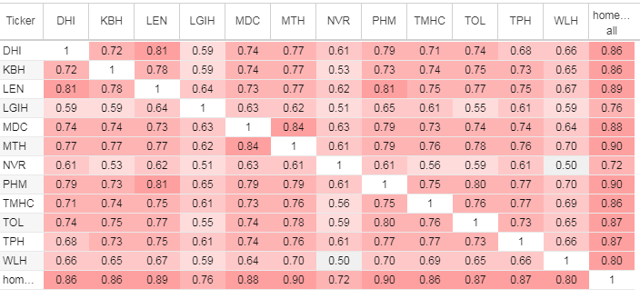 With respect to short-term returns, homebuilders therefore trade as a tight-knit cohort. My takeaway is that under short time horizons, it makes little difference which homebuilder you buy. Taking that further, given they are highly susceptible to macroeconomic sentiment, I do not see any reason to buy any homebuilder unless you can be patient. I'm sympathetic to those who avoid them, but I cannot resist the valuations on LEN and WLH, the largest and smallest homebuilders among my 12-company peer group respectively (by market capitalization; see below) (Source: Stock Rover).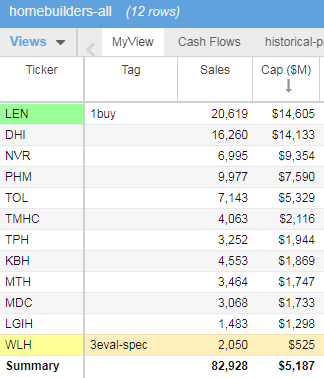 Of course, during all of 2018, both sentiment and momentum around homebuilders were negative; e.g., even if we include January's reversal, the trailing one-year relative strength (RS) of the above set of homebuilders is worse than -20.0%.
In the long run, I think tailwinds are stronger than headwinds
What are the key characteristics of the U.S. homebuilder business? The homebuilding industry is:
Sensitive to cost inputs, especially labor. Due to demand elasticity (see below), these higher costs are not easily passed along.
Highly dependent on local conditions, but large homebuilders are geographically diversified and generally smart about planning their mix.
Seasonal. Orders increase in the second calendar quarter and closures follow so that revenues peak in the second/third calendar quarter.
Almost undifferentiated by brand, which never ceases to baffle me given this is everybody's most expensive purchase. Toll Brothers (TOL) is an exception, but it is sui generis. Its national average sales price is $864,300 (before buyers add $165,000 in upgrades!) compared to Lennar's average of $413,000, D.R. Horton's (DHI) average of $298,900, KB Home's (KBH) average of $399,200, and William Lyon's average of $495,400, for example.
Vulnerable to high price elasticity of demand, but this is not true of price elasticity of supply.
Among those factors, demand elasticity seems to be the most important. The demand curve depends on:
Consumer health, including employment, incomes, confidence, and credit quality.
Affordability.
Mortgage rate, which I think is a sub-class of affordability, but is broken out because it has a dramatic effect on sentiment (and therefore momentum).
Demographics.
Currently, I view only one of these factors as a threat: affordability. Mortgage rates are likely to be a tailwind in 2019, and demographics are a "tail-gale" (that's my word for a strong tailwind). Currently I'm not too worried about consumer health. If you think a recession is imminent, as some do, then homebuilders are not for you.
The 30-year fixed mortgage rate is persistently a non-constant spread on the 10-year Treasury yield: if you think 10-year yields will go up, you pretty much think 30-year mortgage rates will go up. This spread in theory should be a function of the additional risks: longer term, credit risk, and prepayment risk. But those are somewhat constant. So the primary driver of changes to the 30-year mortgage rate fundamentally reduces the drivers of long-term Treasury yields: anticipated inflation and realized inflation. I'm just not too worried about higher reported inflation. The Fed knows better than me, and it is not worried about reported inflation (I use "reported" to acknowledge measurement problems). January's recovery happened because Powell used the word "patience" because he's not worried about inflation. There are important additional supply/demand factors that I'm netting as a wash for the moment, namely: on one side, will unprecedented US deficit/debt levels prompt borrowers to demand a higher yield (the credit risk factor. Larry Fink at BlackRock is the latest to warn about this)? But on the other side, the US continues to be the "flight to quality" haven when geopolitical risk rears its ugly head. A long position in US mortgage rates is a hedge against non-US geopolitical risks.
In any case, as many have pointed out, mortgage rates remain low by historical standards (Source: St. Louis Fed FRED database):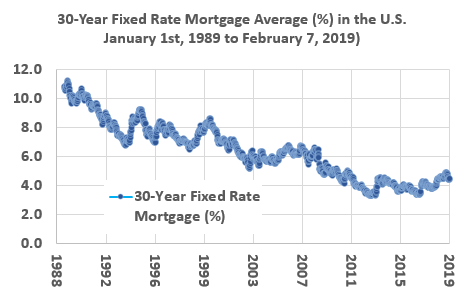 Demographics favor the homebuilders. This chart compares, over the last 30 years, household formation to housing starts (Source: FRED). This is the pent-up demand to which the bulls refer.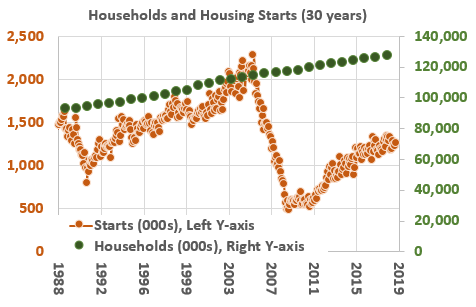 I think the pent-up demand argument is underscored by its composition. Millennials will soon outnumber Boomers. In 2020, this largest cohort will be 24 to 39 years old. Meanwhile, the graying continues such that the most desirable buyer segments include: 1. The luxury market, where Toll is focused, 2. first-time buyers, which will include many millennials, and 3. active-adult (aka, 55+), including empty-nesters.
This leaves the very real problem of affordability. To me this is not only a huge social problem, but also the best bear case against homebuilders. The affordability factor greatly informs both of my selections within the homebuilders. I do like the argument in favor of Toll (see last week's Investment Strategist) because it mostly avoids the problem; 24% of its buyers can afford to pay all cash.
Lennar
Last year, I was trying to decide between Lennar and Toll. I settled in favor Lennar because it has scale (having acquired CalAtlantic; it is now the largest homebuilder) and superior flexibility (compared to its non-Toll peers) to adjust to evolving market price points in the face of affordability headwinds. Emotionally, I also hope that Lennar's plan to offer smart homes (e.g., Amazon (AMZN) partnership) under an Everything's Included pricing scheme will eventually create some brand differentiation.
Like many of the homebuilders, sentiment has rendered the valuations attractive. But aren't they dreaded value traps? That's possible, but Lennar is growing (including and excluding the CalAtlantic acquisition) the income/cash metrics that I watch (see Individual Trader here for details). Just to cherry pick, the chart below compares the earning per share (EPS) over the last five years (rising orange and blue lines) to the P/E multiple compression (falling red and green lines).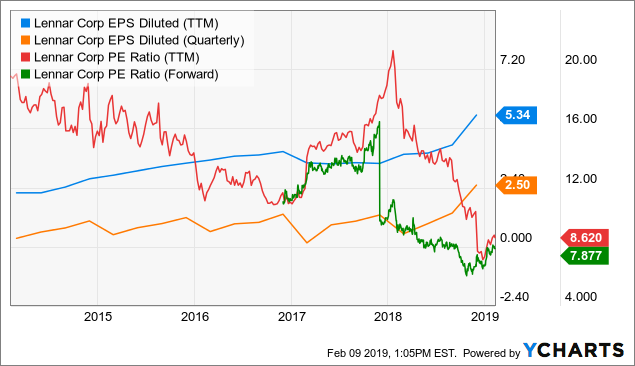 William Lyon
That brings me to William Lyon, which is speculative (I happen to be up 19.4% by sheer luck). Its market cap is only about half a billion, and the daily volume is less than half a million (compared to Lennar's daily volume of 2.0 to 4.0 million). I hadn't even heard of William Lyon until last year when I happened to drive by the site of its new development at Novel Park in Irvine (which I think opens in April). Novel Park is one of the newest Great Parks neighborhoods in Irvine. I expect the company to sell these out because it is offering flats starting in the low $400,000s, going up to paired homes in the $600s and single-family residences in the $800s (Its flats will go immediately, as the waiting list hints; so low are those prices in this area). I realize the prices sound high in any sane universe, but these are cheaper than almost all of the surrounding, direct competition. Indeed, this reflects the company's positioning, said the CEO on the Q3 earnings call:
"Tightening affordability is a natural occurrence in a maturing real estate cycle, and it's something we've been anticipating for the past few years. As we've articulated on several prior calls, three years ago, we made a conscious decision to be more focused on the entry-level and first-time buyer segments across all markets, as demonstrated by our evolution and product segmentation and geographic diversification over that time. Our land acquisitions and product shifts have been focused on lower square footage and higher density in urban cores, and simplified production-oriented home offerings in the suburban locations." - Matt Zaist, CEO of William Lyon Homes, on 10/30/2018
The company also recently launched its Ovation Active Adult (55+) Brand. Its plan is to double the Ovation segment from 10% to about 20%. The chart below illustrates its trend toward entry-level, first-time move up and active adults (Source: WLH Q3 earnings presentation).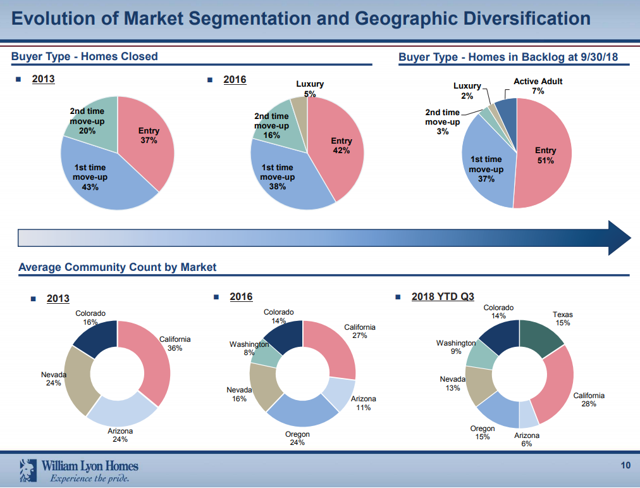 The P/E ratio of WLH is below 5.0, which reflects really low expectations! And neglect? Yet last quarter's backlog increased 32%, and gross margins improved (+10 basis points) to 18.2%. Q3 EBITDA, net income and diluted EPS were down -2%, -3%, and -4%, respectively, but fiscal YTD (i.e., nine months trailing) net income, EBITDA and diluted EPS were up +20%, +24%, and +53%, respectively. The company reports this week on the 14th, so I'll be looking for a cheerful update that doesn't sink my valentine's day!
My Tech Turtle Portfolio
As part of my "double-down" subsequent to the sell-off, in addition to the REIT and housing-related purchases already discussed above, I purchased new positions in: BlackRock (NYSE:BLK), Enbridge (ENB), Pivotal Software (PVTL), and Skyworks Solutions (SWKS). I also added to Facebook (FB). Please note that I did not double my total holders; that's a figure of speech. I just added somewhat aggressively to reach the upper range of my long-term allocation to public equities. Thank you for reading!