Merck KGaA (OTCPK:MKGAF) (OTCPK:MKGAY) and GlaxoSmithKline (GSK) announced a global collaboration to jointly develop and commercialize M7824, a TGF-beta. As per the terms of the agreement, Merck KGaA will receive 300M Euros, in the form of an upfront payment, 500M Euros, contingent on clinical success in lung cancer, and a further 2.9B Euros, contingent on certain approval and commercial performance targets.
The deal represents a signal of increased confidence in the mechanistic properties of the TGF-beta class as potential next-wave Immune Therapy treatment. The deal also demonstrates GSK's clear conviction to build out a strong oncology portfolio and pipeline, following on from the ~$5B Tesaro acquisition.
This report will explore (1) M7824, (2) the path to market, and (3) strategic implications for GSK and Merck KGaA.
What is M7824?
Secretion of TGFβ and upregulation of immune checkpoint programmed cell death ligand-1 (PD-L1) are two main contributors to immune evasion and tumor progression. In recent years, therapeutics targeting the immune system have become a major treatment modality in cancer. Monoclonal antibodies targeting immune checkpoints, such as programmed cell death-1 (PD-1) and programmed cell death ligand-1 (PD-L1), are a major class of these agents. OPDIVO (BMY) and KEYTRUDA (MRK) constitute the major PD-1 brands, in terms of adoption and clinical usage. TECENTRIQ (OTCQX:RHHBY), BAVENCIO (PFE) (MKGAF), IMFIMZI (AZN) constitute the major PD-L1 brands, in terms of adoption and clinical usage.
However, for most solid tumor types excluding melanoma, only 10–20% of patients typically respond to PD-1/PD-L1-targeted therapies (PD-L1 (B7-H1) and PD-1 pathway blockade for cancer therapy: Mechanisms, response biomarkers, and combinations. - PubMed - NCBI). Therefore, improvement of these therapeutics is needed to increase patient response and survival. In addition to expression of immune checkpoints, the tumor microenvironment (TME) contains other immunosuppressive molecules.
Of particular interest is the cytokine TGFβ, which has multiple functions in cancer. TGFβ prevents proliferation and promotes differentiation and apoptosis of tumor cells early in tumor development. However, during tumor progression, tumor TGFβ insensitivity arises due to the loss of TGFβ receptor expression or mutation to downstream signaling elements. TGFβ then promotes tumor progression through its effects on angiogenesis, induction of epithelial-to-mesenchymal transition (EMT), and immune suppression.
M7824 binds murine tumor PD-L1 in vitro and in vivo. M7824 is designed to block two signaling pathways commonly used by cancer cells to avoid being destroyed by the immune system. M7824 consists of a monoclonal antibody against a protein called programmed death-ligand 1 (PD-L1) linked to the extracellular domain of the human transforming growth factor beta (TGF-β) receptor 2 protein. The PD-L1 and TGF-β proteins are overproduced by certain types of cancers and associated with a poor prognosis.
Upon administration, the PD-L1 monoclonal antibody part of M7854 binds PD-L1 while the TGF-β part binds to and neutralizes TGF-β receptor 2 protein. This prevents TGF-β- and PD-L1-mediated signaling and increases T-cell-mediated immune response against cancer cells, ultimately inhibiting tumor cell growth.
(Merck KGaA Investor Deck)
Path To Market
The safety, tolerability, pharmacokinetics (movement of the drug into, through, and out of the body), and biological and clinical activity of M7824 are being evaluated in a two-part, Phase 1 clinical trial (NCT02517398) in patients with locally advanced solid tumors or advanced solid tumors that have spread to other parts of the body.
In the first, dose-escalation part of the study, patients will receive different amounts of the compound to find the safest and most effective dose. In the second, expansion part, the anti-cancer effects of the selected dose will be assessed in many more patients. Preliminary data from the study suggested that M7824 was generally well-tolerated when administered in doses ranging from 1−20 mg/kg and showed that the drug could bind to PD-L1 and also block TGF-β signaling, confirming early evidence of clinical activity of the compound.
They also confirmed that M7824 could inhibit both PD-L1 and TGF-β signaling throughout the dosing period in a dose-dependent manner. Finally, they showed that M7824 leads to an ongoing confirmed complete response, one durable partial response, two cases of prolonged stable disease, and a 25 percent reduction in the diameter of target lesions after two doses. The trial is still enrolling patients in the U.S., the U.K, Canada, Australia, Europe, Korea, Taiwan, and Japan.
An open-label Phase 1 trial (NCT02699515) with the same purpose as the previous one is also ongoing, but only in Japan, Taiwan, and Korea and is no longer enrolling participants. M7824 will also be evaluated as a combination therapy in a Phase 2 clinical trial (NCT03315871) conducted by the National Cancer Institute. The aim of the trial is to verify whether the combination of Prostvac, CV301, and M7824 can induce an anti-tumor response in patients with recurrent prostate cancer. The study will take place in the U.S., but is not yet open for patient recruitment.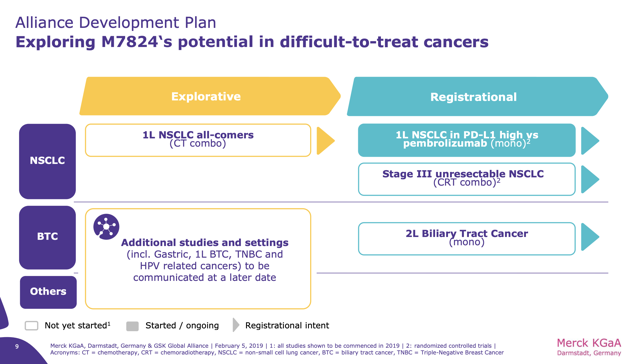 (Merck KGaA Investor Deck)
Strategic Implications: GSK And Merck KGaA
"The Board believes the renewed focus on innovation will enable GSK to capitalise on the opportunities in our industry to drive long-term value for investors." GSK Chairman.
Since a management reshuffle, GSK has outlined a clear route to delivering innovative medicines. Reinforcing of this strategic approach was the recent Tesaro acquisition and Consumer unit spin-off. The joint partnership with Merck KGaA constitutes a future outlook to strengthening a pipeline with potential first-in-class medications that have the capacity to displace or augment a current IO reliance on PD-1/PD-L1 immune checkpoint inhibitors.
With recent failures associated to OX40 and ICOSs, key opinion leaders have been turning to the TGF-beta class of agents as a potential next wave in the IO. With proof-of-concept trial demonstrating a potential benefit of TGF-betas, registrational clinical trials are needed to validate a compelling medical application in the clinic.
GSKs partnership on M7824 represents a "shot on goal" for positioning a step ahead in the IO arms race. The deal structure outlines the risks associated with M7824, however, should registrational trials, notably in lung cancer, prove clinically supportive, GSK has a winner on their hands, one that can be transformative to the company's efforts to materially expand in Immuno-Oncology.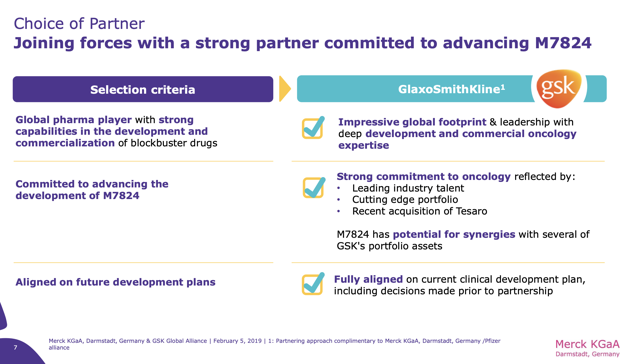 (Merck KGaA Investor Deck)
Impacts On GSK's Business
GSK is in the midst of a strategic formation. M7824 is part of the transformative goal, as the company steers towards first-in-class innovative oncology medicines. The data on M7824 is in its infancy, and as mentioned above, the risks associated with development are high. However, should M7824 surpass its efficacy target Vs. KEYTRUDA in 1L mNSCLC PDL1 ≥ 50, that market alone could account for billions in sales. To be more specific, lung cancer is the second most common cancer in the US with approximately 234,030 new cases a year.
Out of those new cases, ~70% are metastatic and PD-L1 ≥ 50 prevalence is at ~28.5% (Data on a cohort of Australian patients from the KN-024 study). Clearly, the opportunity in lung alone can bring M7824 blockbuster status, what's more, GSK and Merck KGaA appear to be positioning M7824 as a franchise opportunity, similar to KEYTRUDA who's quarterly revenues just surpassed $2B. We'll find out more on the 1L trial when it reads out, its primary completion date is October 2021, however, given the N size of 300 patients, it's likely we should have preliminary data as early as next year.
Conclusion
GSK had just conducted some shrewd business in Oncology that represents their continual conviction in building an innovative portfolio and pipeline. Whilst there are risks associated with the early development of M7824, the upside can be enormous and materially transformative to GSK.
Disclosure: I/we have no positions in any stocks mentioned, and no plans to initiate any positions within the next 72 hours. I wrote this article myself, and it expresses my own opinions. I am not receiving compensation for it (other than from Seeking Alpha). I have no business relationship with any company whose stock is mentioned in this article.