Sempra Energy (SRE) is navigating the risk of its California utility businesses in view of multi-billion-dollar wildfire liabilities being assigned to utilities like now-bankrupt PG&E Corp. (PCG). This risk reasonably unnerves investors, particularly those who expect the utility sector's normal stability.
Sempra nonetheless is operating logically by selling non-core assets and building a high-growth division in Texas. It is also beginning liquefied natural gas (LNG) export, all while continuing to meet its gas and electric service obligations in southern California.
With its 3% dividend, Sempra will appeal to an entrepreneurial investor who seeks a hybrid between payout and growth in a limited-entry business, but one with above-average regulatory risk.
Brief Company Summary
Sempra Energy has a market capitalization of $32 billion. It employs just over 16,000 people full-time and serves more than 40 million customers. Sempra now comprises essentially five ongoing operating segments plus parent operations: San Diego Gas & Electric Company (SDG&E), Southern California Gas Company (SoCalGas), Sempra Texas Utilities (80% of Oncor plus now InfraREIT (HIFR) and 50% of Sharyland Utilities), Sempra Mexico/IENova, and Sempra LNG & Midstream.
Over the last several months, Sempra sold assets of its LNG and its Renewables divisions and made plans to sell its Peruvian and Chilean assets (Sempra South American Utilities).
Sempra Operations
Sempra is headquartered in San Diego, California, and has 40 million customers worldwide, the most of any U.S. utility holding company.
Sempra's San Diego Gas & Electric Company retails gas and electricity to 3.6 million customers. SoCalGas sells natural gas to 21.7 million customers. Sempra Texas Utilities owns and operates electricity transmission and distribution in Texas and serves 10 million customers. (The South American utility segment, for sale, serves 7 million customers.)
Sempra Mexico owns gas and liquid pipelines, natural gas distribution, and LNG regasification terminals in Mexico. Sempra LNG and Midstream develops LNG infrastructure in North America, especially on the US Gulf Coast. For example, all three trains of Sempra's Cameron, Louisiana, liquefaction facility are expected online in 2019.
For relative context, in the first nine months of 2018, Sempra calculated earnings of:
$521 million for SDG&E
$244 million for SoCalGas
$283 million for Sempra Texas Utilities
$161 million for Sempra Mexico
($764) million for Sempra LNG & Midstream (1)
($471) million for the parent company
(1) This loss reflects the non-cash $755 million impairment on Sempra's sale of natural gas storage facilities, also noted below.
State Regulators
As a holding company for regulated utilities, Sempra does not have direct competitors. However, it has oversight from and reporting responsibilities to public utility commissions in every state in which its regulated utilities operate: California's regulatory entities are particularly strict and wide-ranging, all the more so because of destructive 2017 and 2018 wildfires. In rate cases, Sempra answers to a variety of customers and stakeholders.
With its Texas assets, Sempra is now also overseen by the Public Utility Commission of Texas and other Texas regulators.
The company is subject to normal market pressures for its fuel sources and changes in demand for its natural gas and electricity services.
Added to Dow Jones Utility Index
In January 2019, Sempra replaced Pacific Gas & Electric in the 15-stock, price-weighted Dow Jones Utility Average. Other utilities in the index are: Edison International (EIX), NextEra Energy (NEE), Southern Company (SO), Duke Energy (DUK), Consolidated Edison (ED), American Electric Power (AEP), Dominion Energy (D), Public Service Enterprise Group (PEG), Exelon (EXC), FirstEnergy (FE), CenterPoint Energy (CNP), NiSource (NI), and AES (AES). I have reviewed several of these companies in the last year, including Dominion most recently.
Third-Quarter and Nine-Month 2018 Results
Sempra reported third-quarter 2018 GAAP (generally accepted accounting principles) earnings of $274 million and nine-month GAAP earnings of $60 million. Nine-month adjusted earnings were $1.07 billion. The difference between the two nine-month numbers is primarily due to impairments occurring from the sale of natural gas storage assets.
Starting with the $60 million of GAAP earnings, to arrive at adjusted nine-month earnings of $1.07 billion:
add back impairment of non-utility natural gas storage assets, $755 million
add back impairment of U.S. wind equity method investments, $145 million
add back impairment of investment in RBS Sempra Commodities, $65 million
add back impact from Tax Cuts and Jobs Act of 2017, $25 million
add back impacts associated with Aliso Canyon litigation, $22 million.
Electricity and Gas Demand
Electricity demand ties directly to the economic health and activity of the region served. As with other utility holding companies, geographical diversification between the Southern California and Texas service areas could provide Sempra a measure of stability.
Natural gas demand is a function of these region's weather (for commercial and residential use), industrial use, electrical generation demand, and export demand.
Finally, sector diversification between natural gas sales, electricity sales, and LNG export could also be economically beneficial for Sempra.
Strategy, Capital Expenditures and Growth Prospects
Over the past year, Sempra took several actions to pare its assets to core North America.
On January 28, 2019, Sempra announced plans to sell its Peruvian and Chilean assets, a process it expects to complete by the end of 2019.
It sold natural gas storage caverns in Mississippi and Alabama for $332 million.
It sold its non-utility U.S. operating solar assets, solar and battery storage projects, and its ownership in one wind facility for $1.6 billion in cash to Consolidated Edison (NYSE:ED).
It plans to sell other non-utility wind assets.
In December 2018, the company's LNG subsidiary entered into a 20-year sale and purchase agreement with Polish Oil & Gas Company. The Cameron LNG project is due to begin operating all three trains in 2019.
In November 2018, its subsidiaries signed agreements with Tokyo Gas, Total, and Mitsui for export of natural gas from an LNG facility planned for the west coast of Mexico.
In October 2018, the company's Oncor subsidiary acquired half of Sharyland Utilities and all of InfraREIT, a transmission company.
Company Governance
As of February 1, 2019, Institutional Shareholder Services (ISS) ranked Sempra's overall governance as a 2, with sub-scores of Audit (2), Board (3), Shareholder Rights (1), and Compensation (8). On the ISS scale, 1 represents lower governance risk and 10 represents higher governance risk. Sempra's rating is a shade stronger than those of other companies in the utility sector, which have ranged from 3-6.
At January 14, 2019, shorted shares were a rather large 9.1% of floated shares, perhaps due to anxiety that Pacific Gas & Electric's problems could spread to a fellow California utility.
Insiders own a negligible amount of the outstanding stock.
Stock and Financial Highlights
Sempra has not yet announced an earnings call date for its fourth quarter and full-year 2018, although its IENova (Mexican) subsidiary will report on February 20th.
The company's market capitalization is $32.3 billion at a February 8, 2019 stock closing price of $117.92 per share.
This level was 93% of the top end of its 52-week range of $100.49-$127.22. The company's one-year target price is $126.50.
The annual dividend of $3.58/share equates to a 3.0% dividend yield.
At September 30, 2018, Sempra had $41.5 billion in liabilities and $60.6 billion in assets, resulting in a high-but-utility-standard liability-to-asset ratio of 68%. Note that this ratio is better than the 73% of over a year ago.
Despite a negative trailing twelve-month EPS, analysts' average estimated 2018 earnings per share (EPS) for Sempra is $5.45, giving it a price-to-earnings ratio of 21.6. Average estimated 2019 EPS is about 10% higher at $6.06.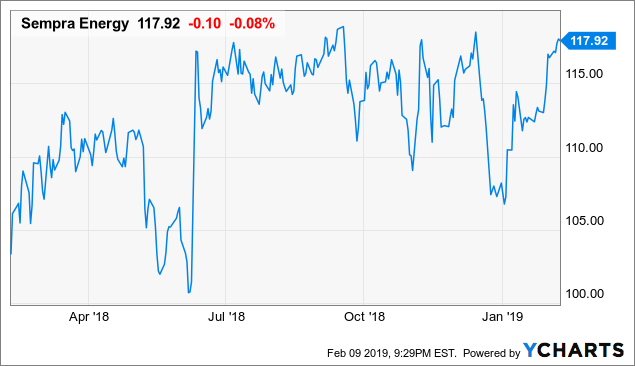 The company's ratio of enterprise value (EV) to EBITDA is 16.1, well above the preferred ratio of 10 or less, suggesting the stock is not discounted.
Overall, the company's mean rating from eleven analysts is 1.8, or "buy" leaning toward "strong buy." There are no recent ratings changes.
As of September 29, 2018, most of Sempra's stock was held by institutions, some of which represent index funds that match the overall market. The top seven holders are T. Rowe Price with 9.3%, BlackRock with 7.9%, Vanguard with 7.6%, Franklin with 5.3%, State Street with 4.7%, and Capital International and Elliott Management each with 4.2%.
Notes on Valuation and Beta
The fact that the company's market value per share is more than twice as much as its book value per share of $52.50 indicates positive market sentiment.
Sempra's beta is 0.45: its stock moves directionally with the overall market but with less volatility, as is typical for utilities.
Positive and Negative Risks
Just because Sempra serves the different geographic areas of California and Texas in no way ensures that the economies of the regions will balance one another out or move counter-cyclically to one another. They could instead reinforce one another, by being strongly negative or strongly positive due to national rather than regional factors such as tax policy or interest rate changes.
With a liability-to-asset ratio of 68%, Sempra, like the utility sector generally, is somewhat more exposed to interest rate increases than companies in other sectors.
Finally, the example of PG&E's bankruptcy and its interactions with California regulators could be a negative model for Sempra. In a list enumerated in the third-quarter report, Sempra notes risks include "moves to reduce or eliminate reliance on natural gas; the great degree and prevalence of wildfires in California in recent years and risk that we may be found liable for damages regardless of fault, such as where inverse condemnation applies and risk that we may not be able to recover any such costs in rates from customers in California; the availability of electric power and natural gas and natural gas storage capacity , including disruptions caused by failures in the transmission grid, limitations on the withdrawal or injection of natural gas from or into storage facilities, and equipment failures."
In particular, the size and number of lawsuits against Pacific Gas & Electric after several devastating 2018 wildfires were the primary factors leading to its bankruptcy filing.
Recommendations for Sempra
Investors looking solely for dividends may find Sempra's 3% yield less desirable than higher yields at other utilities, while those looking for capital appreciation may regard the California regulatory risk to be too steep.
Nonetheless, Sempra has reduced debt, pared assets to focus its operations on core North American gas and electricity service, advanced its LNG exports, and added to its Texas operations. Moreover, the company operates in two of the largest utility markets in the country.
I recommend Sempra to entrepreneurial investors interested in its 3% dividend who accept that its Texas growth potential comes with California regulatory risk.
While you're here, consider subscribing to Econ-Based Energy Investing, a Seeking Alpha Marketplace platform by a veteran energy investor that draws from a group of more than 400 public companies. Weekly in-depth articles (three company-specific analyses and two stock-by-stock portfolio reviews) provide you with recommendations for long energy investments.
Disclosure: I am/we are long D. I wrote this article myself, and it expresses my own opinions. I am not receiving compensation for it (other than from Seeking Alpha). I have no business relationship with any company whose stock is mentioned in this article.