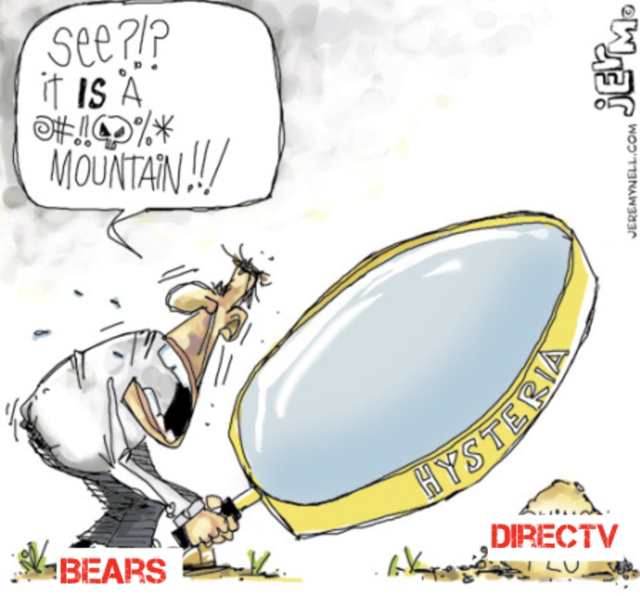 Following its earnings on January 30th, AT&T(T) dropped from $30.45 to as low as $29.01, before finishing the day at $29.34. One of the most talked about topics on the conference call related to the current status of DirecTV. In the fourth quarter, DirecTV had a net loss of 391,000 satellite subscribers; DirecTV now had a net loss of 267,000 subscribers. Both of which are pretty decent sized numbers. However, there is much more behind these headline numbers that many have attributed to the fall in stock price following earnings. That being said, I believe that the DirecTV bear case has been over exaggerated and AT&T is well positioned against changing consumer habits.
Types Of Customers
DirecTV Now has three types of customers. The first type of customer is referred to by management as the "full price" customer. This type of customer is a subscriber to DirecTV and pays the price of the subscription without any type of promotion. The second type of customer I refer to as "new full price" customers. This type of customer was a former subscriber under a promotion and then began paying full price once the promotion ended.
The third type of customer, and the type that causes the most confusion, is what I refer to as the "promotion-hopping" customer. This type of customer goes from one company's promotion to another's, taking advantage of the large number of companies that offer promotions in the hopes of attracting future "full price customers." This customer is not valuable to AT&T because he provides little to no profit as he is paying a much lower promotional price.
Diving Into The DirecTV Now Numbers
In November, AT&T announced that they had 500,000 subscribers to DirecTV Now left on some type of promotional pricing. Additionally, AT&T announced that they were going to continue to phase out promotional pricing and warned investors that this could lead to dilution of future subscriber numbers in the results for this quarter. As a result, the investing community should not have been surprised when the number of subscribers to DirecTV Now decreased by 267,000; however, many bears made this number a mountain out of a molehill. In essence, this number told investors two things: many customers who were on the promotion were the "promotion-hopping" customers and also many customers transitioned from promotion customers to "new full price customers."
In the end, there are "essentially none" of the 500,000 promotional/low ARPU customers as the promotional plans have been phased out. That being said, if there were 49,000 net adds in Q3 and -267,000 net adds in Q4, that means there were 282,000 "new full price" customers added over the past two quarters. Essentially, if 500,000 promotional customers were lost (because the promotions ended in Q3+Q4) and DirecTV Now had a net loss of 218,000 subscribers (in Q3 and Q4 combined), that means the rest of them (282,000) must have become "full price" customers.
(Mathematical reasoning: Former promotional customers - Net Subscriber Change for Q3+Q4 = New High Price Customers)
The focus on the net change of the more valuable "full price" customers, the type of customer that AT&T actual profits from, creates a much different narrative than just saying that DirecTV Now lost 218,000 (Q3+Q4 net adds) subscribers over the past two quarters. As the CFO John Stevens puts it:
"Eliminating these promotions for low value, high churn customers clearly elevated subscriber losses of the quarter, but it had a positive impact on streaming ARPUs and lowered content costs. In fact DTV NOW ARPU was up about $10 sequentially from the third quarter."

"... the simplest way to think about that is you take 500,000 out of our numbers and you know which is they're all gone or they stepped up to the full service, full price plan. So yes, you know our full price customers grew."
Preparing For The Future
I believe the main reason AT&T overpaid for DirecTV was an underestimation of the rate at which people are moving from traditional satellite cable to streaming cable. Since the purchase on July 24th, 2015, AT&T has shown they are not ignorant to the changing of consumer taste, (most recently, AT&T announced they had launched their last satellite into orbit) and have done a lot to reduce the damage and even capitalize from changing consumer taste.
First, DirecTV Now (launched in late 2016) allows for customers to no longer need a bulky satellite attached to their houses because the device used for cable streaming is a small box that can be installed by customers themselves. This allows AT&T to catch the customers who would rather stream their televisions all while reducing costs as there is no need for a satellite installation. Also, with the rolling out of 5G technology, there will be an increase in AT&T's streaming capabilities.
Second, the acquisition of Time Warner provides AT&T with the content to create an On-Demand streaming service similar to that of Netflix (NFLX). For the price of $85 billion, AT&T became the rightful owner of the Harry Potter, Game of Thrones, and my personal favorite, Last Week Tonight with John Oliver, among the other countless television shows and movies. This large portfolio of content will allow AT&T to create a competitive On-Demand streaming option to rival the likes of Netflix, Disney (DIS), and Apple (AAPL). Even though this space is becoming increasingly competitive, AT&T's acquisition of Time Warner will allow it to break into this growing space.
Lastly, is the advertising company Xandr, which AT&T officially launched in September of 2018. Xandr's main goal is to aggregate all the data that it can from AT&T users, such as people's browser histories, and use that data to sell personalized advertisement data. For example, if you and your neighbor are watching the same television show, you might get an ad about cars and your neighbor might get an ad about a medical product. Using the data collected from AT&T, Xandr will be able to sell personalized ads over a variety of other AT&T owned platforms, such as DirecTV Now. This will increase profits, as advertisers are willing to pay more for personalized ads, in the rapidly growing targeted ad market.
Risks And Mitigants
One of the possible risks to AT&T's new strategy of not having promotional offers for DirecTV is the loss of current customers to other companies that have promotional offers. However, I believe that the bulk of the customers who have left for promotional purposes have already left over the past 2 quarters. Additionally, AT&T getting rid of their DirecTV promotions might be a signal that the promotion battle among AT&T and its rivals is coming to an end. Lastly, if this strategy proves to be inefficient, AT&T can always ramp up the promotions as soon as they would like to.
A second risk is that a rapid movement away from conventional and streaming cable television services, such as DirecTV and DirecTV Now, to strictly On-Demand television services, such as HBO Go or Netflix. Although AT&T is positioning to catch the customers that go strictly to On-Demand services, they would not be able to catch nearly as many as they would lose, especially if the shift happens before AT&T's On-Demand service is in a stronger position to handle a mass shift.
However, I believe that this will not be a rapid transition and one that will take place over many years, if not decades, as many people dislike change and try to avoid it. AT&T is already in a position to obtain streaming cable customers with DirecTV Now and will be in a position over the next year or two to obtain streaming On-Demand customers.
The third risk would be completely losing the On-Demand streaming war that will most likely continue to unfold over the coming years. However, I believe there is a small chance AT&T would outright lose the On-Demand streaming war with the vast amount of content they currently possess. Just leveraging HBO's content, HBO Go has rapidly grown since its inception, showing that customers have a hunger for AT&T's content.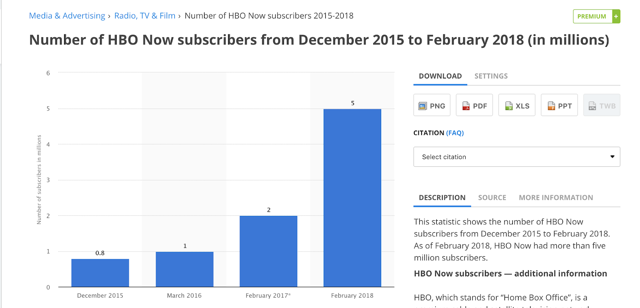 Technical Analysis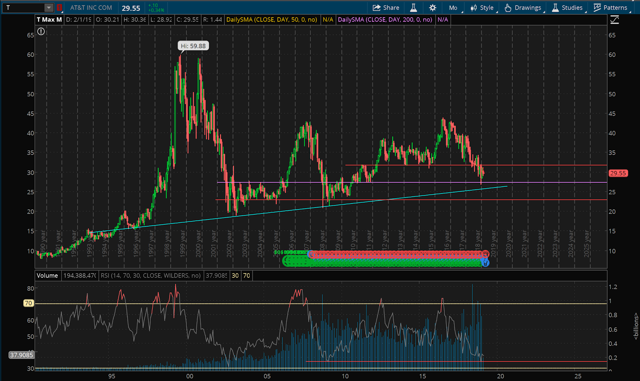 TD Ameritrade's Think-Or-Swim Platform
AT&T is approaching two large supports, both the horizontal purple line (was previously a large resistance and now a support after being tested twice in 2011 and again last month) as well as the upward sloping line (has been a strong support stopping the stock price from going lower after two major drops in 2001 and 2008). I believe that there is minimal risk to the downside technically as well as fundamentally, making this a good time to buy AT&T.
Conclusion
All in all, AT&T is positioning well for the future by providing or planning to provide a product for satellite cable customers (DirecTV), streaming cable customers (DirecTV Now), or On-Demand customers (Currently, HBO Go). Additionally, AT&T is in a position to capitalize off of the highly-valued personalized advertisements through the use of Xandr. Lastly, the headline number of DirecTV Now subscribers lost was misleading because most of the lost subscribers were low-value, "promotion-hopping" customers.
In the end, DirecTV Now "full price" customers actually increased, which is more important than the headline number of lost subscribers. AT&T's next quarter will provide a clearer picture of just how many people are truly ditching cable all together and how many people are just switching from DirecTV to the more modern DirecTV Now.
Disclosure: I am/we are long T. I wrote this article myself, and it expresses my own opinions. I am not receiving compensation for it (other than from Seeking Alpha). I have no business relationship with any company whose stock is mentioned in this article.
Additional disclosure: I purchased shares of AT&T following its most recent earnings report on what I believed was an unjustified drop in price.