Diamond Offshore (NYSE:DO) has just released its fleet status report. At the end of January, we have discussed the news regarding reactivation of Diamond Offshore's semi-sub Ocean Onyx, but the developments in the fleet status report are not limited to the Ocean Onyx contract. Without further ado, let's look at what's new on the contract front for Diamond Offshore.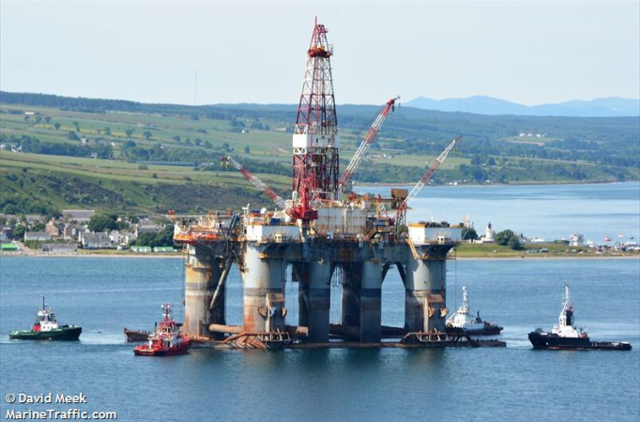 Ocean Valiant
Semi-sub Ocean Valiant got a contract with Shell (RDS.A) (RDS.B) in the UK. The rig will work from late December 2019 to early March 2021. This job will come in direct continuation of the current contract with Total (TOT). As usual, the dayrate is undisclosed for this contract and all the other contracts.
Semi-sub Ocean Apex got a contract with Shell in Australia. The rig will drill one well from early August 2019 to early October 2019. This contract will help Diamond Offshore fill the gap between two Woodside contracts, one of which ends in late July 2019, while another one starts in early January 2020.
Semi-sub Ocean Onyx got a contract with Beach in Australia. The rig will be reactivated and will drill six wells from early January 2020 to late December 2020. This contract has five option wells. Obviously, Diamond Offshore believes that at least some of these option wells will be executed as it must invest a significant sum of money (not yet disclosed) into the reactivation of the rig and needs to justify this decision.
Semi-sub Ocean Monarch got a job with Exxon Mobil (XOM)/Cooper in Australia. The rig will drill five wells from mid-February 2019 to late-June 2019. The contract has one option well. It is a very important development for Diamond Offshore since the rig was already contracted by Posco Daewoo in Myanmar from early November 2019 to mid-March 2021, and the company needed to

fill the gap so that the rig could work instead of incurring stacking costs.

Semi-sub Ocean Guardian did not find any work and was stacked in the UK. The perspectives of Ocean Guardian at this point look muted, and it is likely that the rig is a scrap candidate.
This fleet status report was full of news - Diamond Offshore's marketing department did a great job. In my opinion, the management is positioning the company for dayrate upside in 2021, and it has almost accomplished this task. The company's drillship segment is under contracts. Among semi-subs, only Ocean Great White has no jobs after July 2019 - other rigs are contracted into 2020 and some into 2021. Two reactivations (Ocean Endeavor and now Ocean Onyx) helped Diamond Offshore keep the number of active rigs at an acceptable level.
As of now, the company has four active drillships, nine active semi-subs and four stacked semi-subs. While it looks like the stock market believes that Diamond Offshore's fleet is not big enough to be a leader (as judged by the stock's underperformance vs. peers this year), I'd argue that actual contract data tells the opposite story - Diamond Offshore's rigs are in great demand, and the company always has an option to buy a floater from the yard if it believes it is necessary to do so.
I believe that the news in the fleet status report are long-term bullish for Diamond Offshore, but at this point, it is hard to estimate the short-term market reaction to the report. Drillers' stocks may find themselves under pressure if Brent oil (BNO) fails to show upside past the $63 level, and technically Diamond Offshore shares are already on the way to their recent lows: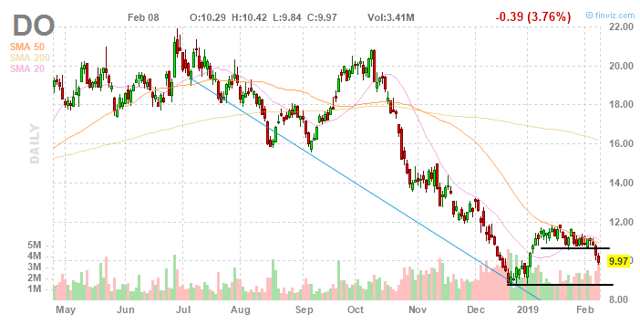 I don't think it's a good idea to fight the tape in the short-term, but in the longer term, Diamond Offshore remains one of my favorite drillers, and I believe that ultimately the market will appreciate the company's ability to keep all its active rigs employed will maintaining a solid balance sheet.
If you like my work, don't forget to click on the big orange "Follow" button at the top of the screen and hit the "Like" button at the bottom of this article.