WestRock (WRK) continues to appear undervalued. The market reset in late 2018 knocked down the share prices of many solid companies. Many have recovered.
WestRock's share price hasn't fallen below the $30 mark as it did in 2016 when it hit its all-time low. But, it is hovering within 10% of its 52-week low - surprising since it is flirting with double-digit bottom-line growth in fiscal 2019.
Fiscal 2019 First Quarter Results
For its first quarter of fiscal 2019, WestRock, a global leader in corrugated packaging and consumer packaging, had projected a decline in its key performance measure, adjusted segment EBITDA. It expected to generate a range of $737 million to $767 million for the fiscal 2019 first quarter, a sequential decline of 6.7% compared to the fiscal 2018 fourth quarter production of $802 million. Culprits included a typical, seasonal volume decline and the impact from Hurricane Michael that devastated Panama City in October, 2018.
In the fiscal 2018 first quarter, adjusted segment EBITDA totaled $654 million. Thus, year-over-year, growth would equate to 12.7% to 17.3%. WestRock's latest acquisition of KapStone was expected to contribute $90 million.
On January 31st, the company reported sales of $4.33 billion and adjusted segment EBITDA of $733 million. This represents sales growth of 14.5% compared to $3.78 billion in the first quarter of fiscal 2018. Because of an accounting change related to the reporting of recycling operations, the comparable amount for adjusted segment EBITDA in the prior year would have been $668 million. This represents year-over-year growth of 9.7%.
There were beats and misses on individual projections. Kapstone contributed $81 million, shy of the $90 million expectation. Hurricane Michael's impact was projected at $45 million. But, the actual hit to adjusted segment EBITDA was only $31 million. The Panama City mill returned to full containerboard production in November. Full pulp production is expected by the end of June. As well, insurance proceeds in future quarters should recoup a portion of the loss related to the hurricane, net of $15 million in deductibles. Volumes for both the corrugated packaging segment and the consumer packaging segment declined. However, legacy North American corrugated box shipments did increase on a per-day basis by 3.1% year-over-year.
The company's net leverage ratio ballooned to 2.89 times, high compared to its target ratio of 2.25 times to 2.50 times and well above the fiscal 2018 year-end ratio of 1.85 times. Due to the KapStone merger and assumed debt, WestRock's debt obligations increased. At fiscal 2018 year-end, it owed $6.4 billion. But, by the end of the fiscal 2019 first quarter, it now owes $10.8 billion.
WestRock made additional progress on other fronts in the quarter. It took advantage of its beaten-down stock price and repurchased $44 million worth of shares. In the fiscal 2019 first quarter, WestRock was already racking up KapStone merger synergies and performance improvements. The run rate stands at $30 million compared to the $200 million target set for the end of 2021. This is in addition to the $1 billion in synergies and performance improvements gained in the previous three years.
The Next Three Quarters For WestRock
On February 5th, Future Market Insights summarized its recent study on the corrugated boxes market. It estimates growth in 2019 will be approximately 3.9% year-over-year. Globally, revenues should grow to $116 billion on a volume of 176 million tons.
Increasing demand for containerboard is credited to a decline in off-shore outsourcing and growth in e-commerce. Online shopping equates to consumption of 5 times the volume of containerboard compared to shipping the same amount of product to a brick-and-mortar location.
"Overall containerboard demand could grow by 3 percent to 4 percent until 2030."
In its earnings call, WestRock shared examples of the industry's growth.
"We've had a streak of 20 consecutive months of higher growth in the industry. Over this time period, our legacy WestRock cumulative shipments have increased by 5.3% in contrast to the industry's growth, excluding WestRock, of 1.3%. If you convert those to tons, this incremental growth over the industry average is equivalent to 200,000 tons of consumption."
WestRock competitor, Packaging Corporation of America (PKG), cited similar experience in its fourth quarter earnings call.
"Our containerboard production allowed us to maintain our industry leading integration rate by supplying the necessary containerboard to our box plants which achieved an all-time record quarterly box shipment per day."
In early December, 2018, competitor Greif, Inc. (GEF) reported a record year in its containerboard business and expects 2019 to "improve further".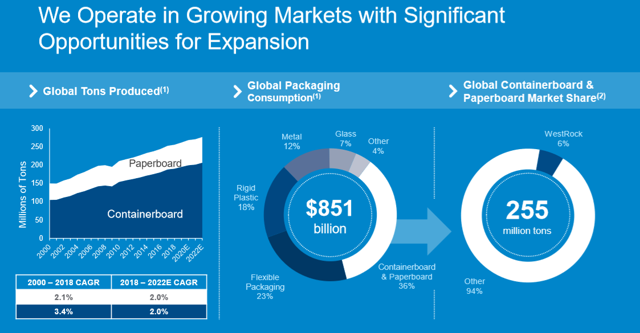 Source
With growth projections validated, it was a bit of a surprise to see the modest tweak in WestRock's guidance for full-year adjusted segment EBITDA. When it reported fiscal 2018 results, it projected fiscal 2019 adjusted segment EBITDA at $3.6 billion. Alongside first quarter results, the company lowered its projection to $3.5 billion. The reduction is being driven by rightsizing inventory to match demand, increased expenses due to typical inflation and substantially greater mill maintenance downtime.

Source
Nevertheless, $3.5 billion in adjusted segment EBITDA represents over 20% growth compared to the $2.89 billion generated in fiscal 2018.
Of the $3.5 billion in adjusted segment EBITDA, KapStone is expected to contribute over $550 million of it. This equates to approximately ½ of the current year debt obligation of $1.1 billion.
Valuation Considerations
In January of 2018, WestRock's share price hit $71.55. The stock trended lower as the year wore on and nosedived in October. It has still not recovered. Prices, now, are as low as they were in the summer of 2016 despite the company's organic and M&A growth.

Source
When WestRock projected fiscal 2019 adjusted segment EBITDA at $3.6 billion, it also estimated adjusted diluted earnings at $4.60 per share. Tightening the first projection to $3.5 billion warrants lowering the earnings estimate to $4.47 per share. Compared to the $4.09 of adjusted diluted earnings in fiscal 2018, this would be 9.2% growth year-over-year.
In line with its bottom-line growth, at a multiple of 10, fair valuation could equate to $44.70. At that mark, the company's annual dividend rate of $1.82 equates to a yield over 4%. Having only become WestRock in the summer of 2015, the company has not yet achieved the ranking of Dividend Challenger, Contender, Champion or King. But, in the available time, it has increased its dividend thrice, growing it from $1.50 annually at a CAGR of 6.67%.
WestRock is also an active buyer of its own shares. From fiscal 2015 through the first quarter of fiscal 2019, the company has repurchased almost $1 billion worth of shares. The company's active repurchase program has over 20 million shares remaining on the authorization.
Its heavy debt load may indeed be weighing down its valuation. With 260 million shares outstanding and $260.7 million in cash and equivalents, at a share price of $38, its enterprise value is approximately $20.4 billion. Adjusted segment EBITDA for the trailing twelve months is $2.94 billion. Thus the EV/EBITDA ratio falls just under 7. And yet, competitors International Paper (IP) and Packaging Corporation of America both carry ratios above 7.
WestRock has already established itself as proficient at merger and acquisition. Growth in that manner is indeed a key strategy. In the near-term, it is focused on integration, improvement and debt reduction. By fiscal 2021, the company intends to allocate approximately $500 million per year to "high-return investments".
Summary
In just under four years, WestRock has established a stronghold in the packaging industry. Unlike WestRock, the industry is not growing at a double-digit clip. But, it's also not fading into oblivion.
Considering its upcoming growth, at recent share prices, WestRock appears undervalued with near-term upside of nearly 18%. Plus, while waiting on share price appreciation, shareholders will collect a 4+% yield.
Disclosure: I am/we are long WRK. I wrote this article myself, and it expresses my own opinions. I am not receiving compensation for it (other than from Seeking Alpha). I have no business relationship with any company whose stock is mentioned in this article.
Additional disclosure: I belong to an investment club that owns shares in WRK.