When I read the bullet points on the PlainSite report regarding Facebook (FB), I was stunned by the total lack of knowledge on PlainSite's part on how Facebook actually earns its money. In nanoseconds, I refuted every bullet point I read in complete disbelief. I can assure you that none of the information in the PlainSite report is damning in any way whatsoever to Facebook. So, if you are an investor in the company, here is a briefer on how Facebook earns its revenue from people like me, a highly seasoned advertiser on Facebook. This briefer will give you some ideas to focus on when you look at the numbers reported by Facebook, as well as the ammunition to dismiss reports such as the Fakebook report.
For now, no "damage" was done by the report as Facebook's stock remains lofted after surprising gains in its recent numbers: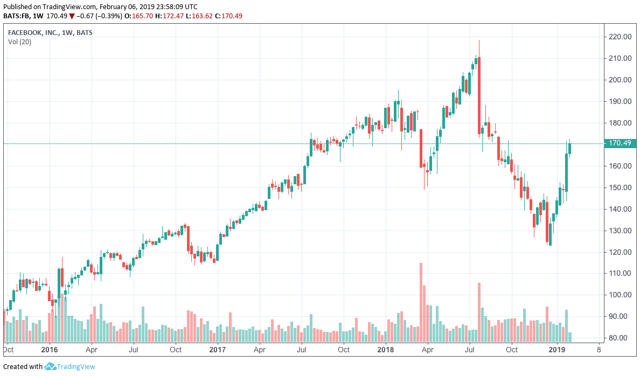 Here are the bullet points form the PlainSite Report:
Its customers purchase advertising on Facebook based on the fact that it can supposedly target advertisements at more than 2 billion real human beings. To the extent that users aren't real, companies are throwing their money down the drain.
Fake accounts click on advertising at random, or "like" pages, to throw off anti-fraud algorithms. Fake accounts look real if they do not follow a clear pattern. This kind of activity defrauds advertisers but rewards Facebook with revenue.
Fake accounts often defraud other users on Facebook, through scams, fake news, extortion, and other forms of deception. Often, they can involve governments.
Let me explain how a Facebook ad works, if I may.
How does Facebook earn revenue?
As I mentioned, I am a seasoned advertiser on Facebook. I own two profitable online retail stores. My success has gotten me into a partnership with a far larger company to expand on what I do for my own businesses. I'm busy with these three companies nearly all day long, along with investing for my own portfolio and writing about those investments here on Seeking Alpha.
My responsibilities are to do all of the social media and advertising for all three companies. Being an economist and a statistician, I spend inordinate amounts of time evaluating my numbers from the websites and from what Facebook tells me my marketing campaigns do... or, not do.
Facebook gets money out of me via my ad spend. I start this out with a trip to Facebook Analytics whereupon I create an ad campaign. This is the page that tells you what results to expect when you actually build your ad campaign.
Let's say we were in the financial profession and wanted to sell retirement services to people on Facebook and Instagram - (please note, I do not sell any kind of retirement programs on my sites, my sites are strictly retail).
You would want to target an audience for this. You would start out by choosing which location these individuals lived, their ages, sex, and their interests or likes. I chose: The United States, Men, Ages 30 - 55 that liked golf (I never said I wouldn't stereotype).
With a screenshot straight out of my Facebook Analytics page, you can see what the inputs for the demographics I put together look like: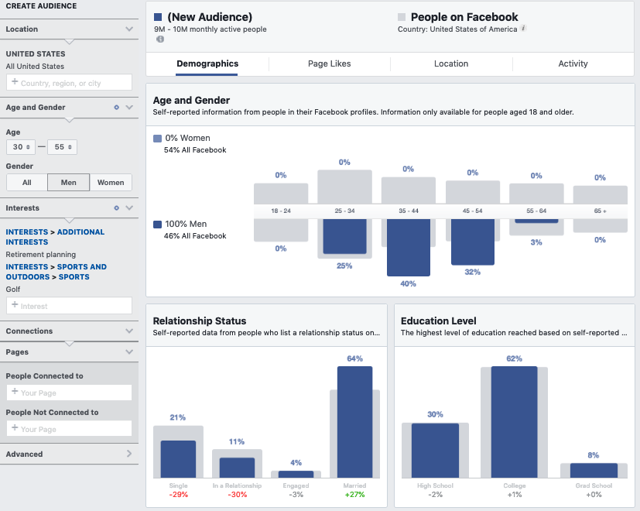 Source: Facebook Analytics
There are important data points on this pic. First, the total number of people active monthly: 9M - 10M. That is important (And, if I actually was running this add, way too big of a sample audience, I would get a more narrow target and a smaller audience). Relationship status and other metrics, such as education are important, and they may help an advertiser narrow down a target audience. But, the 9M - 10M is what is interesting to me. This information is crucial to a potential advertiser - more on that in a bit.
Here are the next three pics for your viewing pleasure: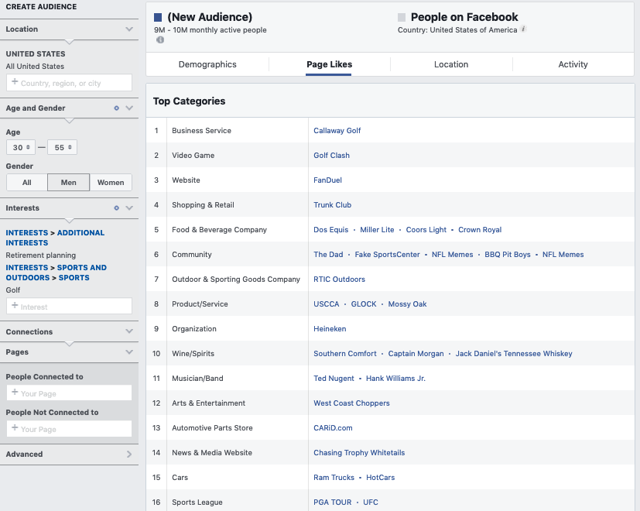 Source: Facebook Analytics
This gives you an idea of how much data Facebook collects and how that is important to someone who is about to spend money on Facebook for advertising. Usually, an audience needs to be targeted quite specifically. If not, then the broadness of the ad may not give the advertiser results. This is why Facebook collects its data as it does; they want to know every little detail about you so that when an advertiser targets you, they hit their target and spend their ad dollars wisely.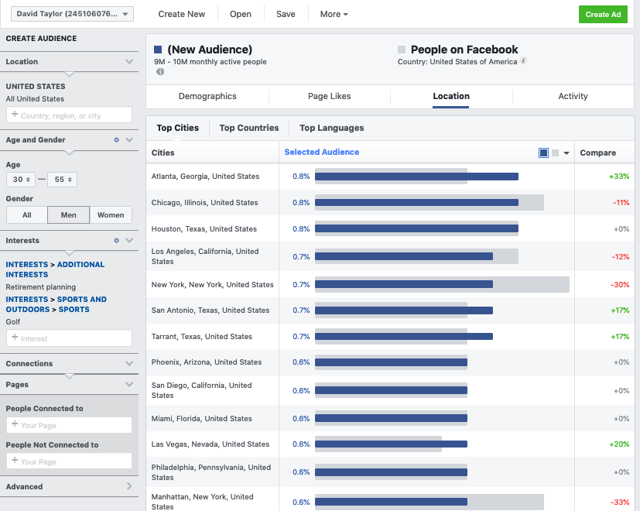 Source: Facebook Analytics
Location may be important if you have a specific target demographic. For instance, if you are targeting Manhattan golfers who are interested in retiring, you may need to narrow your target a bit more seeing that this is not the best target demo "like/interest" for this group. There are not as many golf courses in New York as there are in the south probably because the weather is better year round down south more than winters in New York.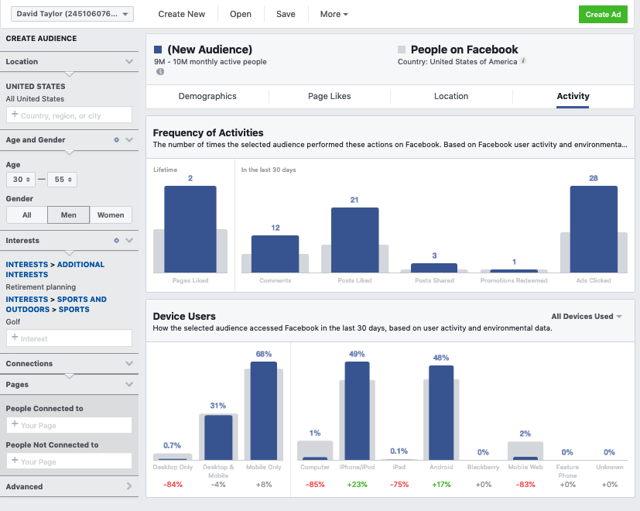 Source: Facebook Analytics
Activity is important as it tells advertisers how likely these individuals are to click on an ad of some kind, and in this example, it is in the upper-20s.
The last piece of data comes from the actual ad placement. Here, you can see how "successful" Facebook believes your ad will be:

Source: Facebook Ads Manager
Given a $10.00 budget per day, Facebook expects that you may get about 31-180 link clicks per day after some 2,400 - 9,300 impressions (either on Facebook or Instagram). If I ran that ad for 10 days, my bill for that ad would be all of $100.00.
What I have found is that I get about 1,000 times impressions, meaning that if I spent $100.00, I would get about 100,000 impressions in a day - I have found that Facebook underestimates their numbers on this. Then, I generally get a 2.5% click-through rate on my ads to my websites in any ad I run, which, in this case, would be about 2,500 clicks. Then, I convert about 1% of that.
From there, whether or not a product/service sells is up to the product or service on the website. If you have a really great ad, maybe your click-through rate is high (my goal is generally above 3%, and this boils down to how good/bad the ad looks). If you have a boring ad, maybe the click-through rate is lower and only gets 1%. These are variables that need to be taken into consideration. And, Facebook only offers guideline estimates, but they do not give you advice on whether your ad is good or not.
There is a lot of consistency with Facebook and the business I have seen with them over the past couple of years. I know my numbers, they speak for themselves. And, they keep showing up fairly consistently with small margins of error in either direction.
Nonetheless, this is the way it is with advertising on Facebook and Instagram. These are the numbers and the costs associated with ad fees. This is how Facebook generates revenue.
What about the overinflated numbers?
So, let me ask anybody out there, including PlainSite, where did the 2.5 billion number pop in?
In the PlainSite report, they purported that Facebook overinflates its numbers by an astounding 50%. So what! Mark Zuckerberg can lie straight to my face and tell me that Facebook has 10 billion active subscribers, for all I care. Just to be sure, there are only 7 billion people on the planet, and yet I would still be fine if Mark told me there were 10 billion subscribers.
What I care about is the audience that I am targeting. I care about the 9M - 10M active monthly audience. I care about the impressions I get from all those people mindlessly scrolling through their feeds and seeing my ad. I care about my click-through rate. And, in the end, I care about my conversion rate. I don't care the slightest bit about how many actual subscribers may or may not be on Facebook. This is where I see the PlainSite report is completely ignorant of the actual process.
Here is something that you need to keep in mind. In this example ad, I am targeting someone who is interested in retirement products as well as being an avid golfer. I want to incite a bit of excitement, so I tie the two together. I spent all of 60 seconds putting this together (And, it kind of shows):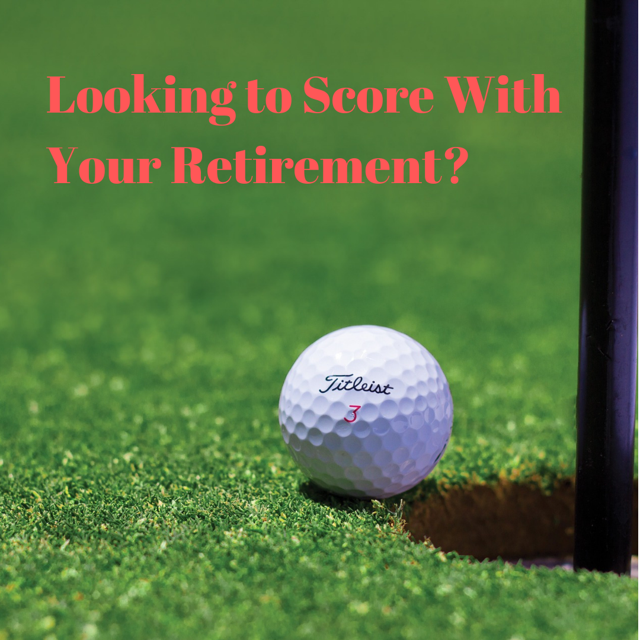 Source: Author's creation
You would see this ad scroll through your Facebook feed or Instagram feed. There would be a bit of copy with it underneath. Personally, I use GIFs so there's some kind of eye-catch with the ad.
Here's the thing with all of the data that Facebook collects on its users. Facebook is not just putting my ad in front of people who say they are interested in retirement and like golf. Facebook tracks everything we do on our computers. From this, they can then figure out if my ad will be what a particular individual is interested in. Facebook is going to put my ad in front of someone who spends a lot of time looking around the internet researching retirement plans as well as researching stocks to invest in. At the same time, Facebook is looking at all of the photos that an individual is uploading and sharing on their profiles.
Facebook will put my ad in front of someone who uploads a significant amount of photos to their on their profile, is probably in a league and very regularly golfs and takes photos. Why? The ad needs to be successful for both Facebook and me. Otherwise, I don't spend money on Facebook ads anymore; Which is a nice lead to another portion of the PlainSite article.
PlainSite believes individuals are sitting at their computers clicking ads to "throw off" the analytics for Facebook. Is someone spending an entire day sitting there clicking ads on Facebook? To accomplish what? Keep a fake account perpetually fake so that they can profit or maximize their day how? I question this as a possibility. Where are all the analytics for individuals that research stocks and retirement coming from that I have targeted my ad with? Where are the golf pictures? If someone is trying to skew the ads, then they would have to do so by actually be researching retirement products, while at the same time golfing in their spare time.
Even if this were true, my data would be skewed by all of one click at most. But, as I mentioned, I would be targeting a far more narrow audience in my searches. Facebook is only going to put my ad in front of the individuals that are most likely to benefit from seeing my ad. They would know this by the narrow target I put together and the activity of the actual user on Facebook. It would take a very high sophistication level with a fake account to finally get in front of my ad. And, if it did, at most I got one click that was not real. All that does for me is push up my bounce rate by a smidge; I would never notice it.
Is Facebook a buy or sell?
I put together this briefer on Facebook's advertising so a potential investor could see what actually happens when someone advertises on Facebook. By knowing this, an investor could then look at metrics to decide how to incorporate the news of increasing revenue - and how that actually occurred - into their investment decision.
As it turns out, Facebook's monthly page views have increased over the past quarter, as reported in their last earnings release (Daily active users up 9%). For me as an advertiser, and this particular ad set, that means there is a larger potential for individuals to see the ads. But this does not necessarily mean more revenue for Facebook, per se. If my budget is set, then my budget is set. But, if the ad is successful and I start to increase the ad spend and drive more traffic to the site, then this is a win-win for both Facebook and myself. I would sell more products/services, and I would increase my ad spend. Facebook would get more revenue. And happy golfers would have more time to golf instead of researching retirement programs.
But do not necessarily look at the increase in metrics as the be-all, end-all metric. The rate of growth is important for the amount of time that people spend on the site. Nothing more really matters to me as an advertiser. This means there's a bigger potential for people to see my ads.
As to whether or not Facebook is a buy or sell based on the latest news, I will abstain at this moment. I wanted investors to understand the process of how Facebook earns its income so that when these numbers come across their screens, investors could make rational decisions. And, if they read some report about how there may, or may not, be fake accounts on Facebook, what that means for a potential investment.
For the record, I have no shred of doubt in me that there are fake accounts on Facebook. I also have no shred of doubt in me that these accounts affect Facebook's revenue in any meaningful manner. The company's revenue has been increasing, and they have been profitable.
We come to Seeking Alpha to exchange ideas and learn from others. Trust me, Seeking Alpha's editors go to great lengths to make sure what I say in my articles are properly qualified. Trust me. So, I am hopeful that this article will serve as a foundation for someone to look at Facebook objectively, given the numbers that actually matter: Their revenues - of which I am an active participant in putting a few drops in the bucket. With any luck, investors will be able to read this and be able to make concise investment decisions on Facebook one way or another.
Disclosure: I/we have no positions in any stocks mentioned, and no plans to initiate any positions within the next 72 hours. I wrote this article myself, and it expresses my own opinions. I am not receiving compensation for it (other than from Seeking Alpha). I have no business relationship with any company whose stock is mentioned in this article.