Zoetis' (ZTS) spin-off from Pfizer (PFE) has turned out in its favour and the company is expanding its business at a rapid pace. This article includes a discussion of ZTS's technical price chart to consider a suitable entry point and the long-term price target. Later it includes a detailed evaluation of the company's fundamental strength and growth outlook. Based on that analysis, I believe that ZTS presents a suitable mix of both income and growth investment.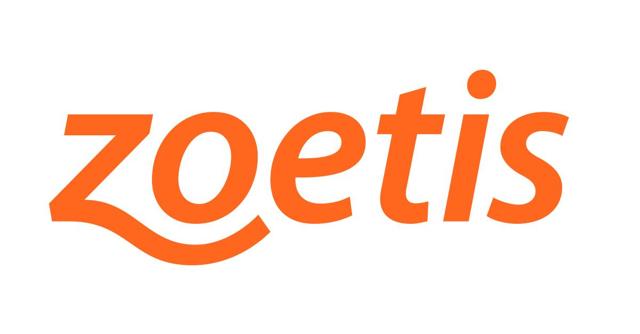 Figure-2 (Source: Company website)
The technical picture of ZTS:
ZTS's 52-week price range lies between $70.2 and $96.57. At the time of writing, ZTS last traded at $86.83. The current share price oscillations are witnessing an upward trend. As shown in the technical price chart (Figure-2), the mid-point of the support and resistance levels is between ~$88-90, and in my view, following the recent price trend, ZTS may soon explore those levels.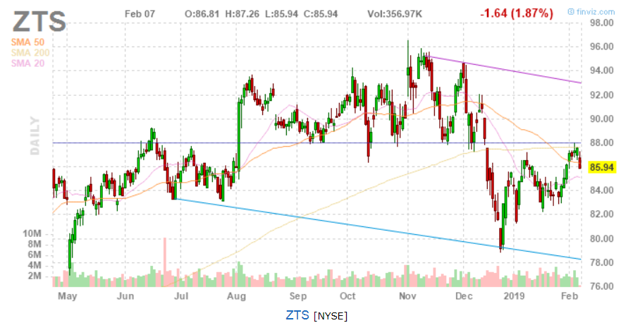 Figure-2 (Source: Finviz)
This is in line with analysts' recommendations that suggest a target price of ~$89-90 in the short-term and maintain a buy call with a medium-to-long term target price of ~$100 (Figure-3).

Figure-3 (Source: Sharewise)
Moreover, the 200-day Simple Moving Average of ZTS is ~$87.69 (Figure-4) and the current prices suggest a suitable entry point if we could see another dip in share price.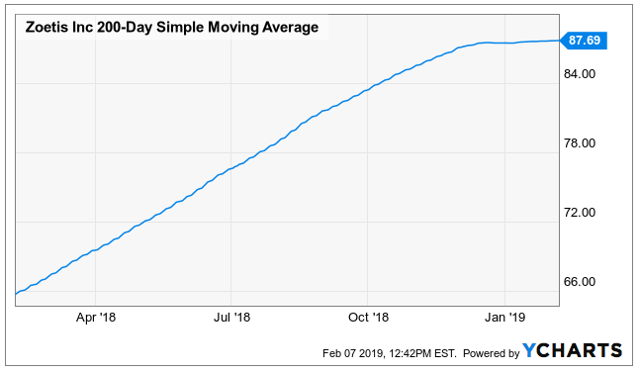 Figure-4 (Source: YCharts)
The fundamental picture and growth prospects
ZTS is a safe investment in terms of the unique nature of its operations. In fact, with a 5-year dividend CAGR of ~21%, it also provides a lucrative investment opportunity. In the discussion that follows, I have analyzed ZTS's growth on several different metrics.
Growth in share price and performance against the S&P index: Ever since its spin-off from PFE in 2013, ZTS has witnessed tremendous growth in share price. The price chart in Figure-5 shows that ZTS has gained ~187% (moving from ~$30 to ~$86) during the past 5 years, and in my view, such numbers are quite impressive for a company that emerged as a result of a spin-off from a pharmaceutical conglomerate.

Figure-5 (Source: SA)
Moreover, even though ZTS is part of the S&P 500, its 5-year price performance has significantly outpaced the S&P 500 index. Check the momentum graph in Figure-6 that shows a widening gap between the performance of ZTS and the S&P 500. What's more encouraging is that ZTS has continued to grow steadily during that period, and we can expect this trend to continue going forward given the fundamental strength of the company (discussed in the following sections).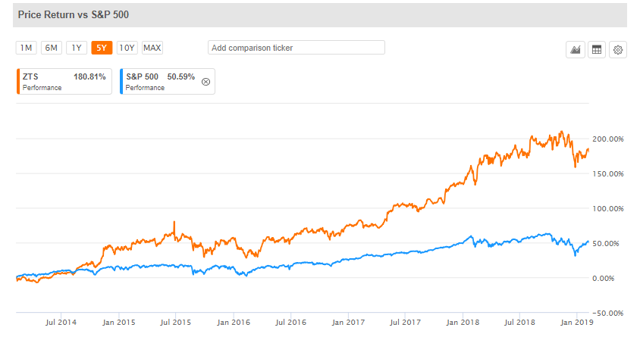 Figure-6 (Source: SA)
Sales and EPS growth: During the quarter and nine months ended 30th September 2018, ZTS reported revenues of ~$1.48 BB (2017: ~$1.35 BB) and ~$4.26 BB (2017: ~$3.85 BB) respectively. This resulted in a Y/Y ~10% and ~11% increase for the quarter and nine months ended September 2018. Apart from the significant growth in its sales, ZTS also improved on its bottom line earnings on a Y/Y basis. During Q3 2018, its EPS increased from $0.61 to $0.72 (or ~18%) Y/Y. Similarly, it also recorded a solid 40% increase (from $1.60 to $2.24) in its EPS for the nine months ended September 2018 on a Y/Y basis. We can see that EPS growth is way more than its sales growth and that hints towards the company's improved margins, and this fact is also confirmed by the chart in Figure-7.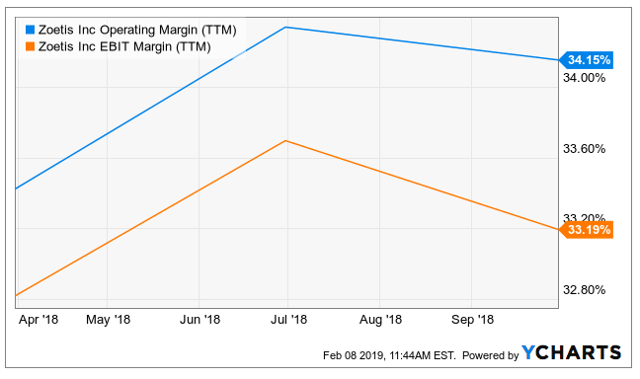 Figure-7 (Source: YCharts)
A strong EBITDA profile: Even though ZTS does not have a direct competitor, but there are a few companies that do provide products and services similar in nature. For peer analysis, I have compared ZTS with IDEXX Laboratories (IDXX) and Elanco (ELAN) and compared them in terms of both EBITDA (Figure-8) and EBITDA margins (Figure-9). The EBITDA of ZTS is ~4x that of the other two.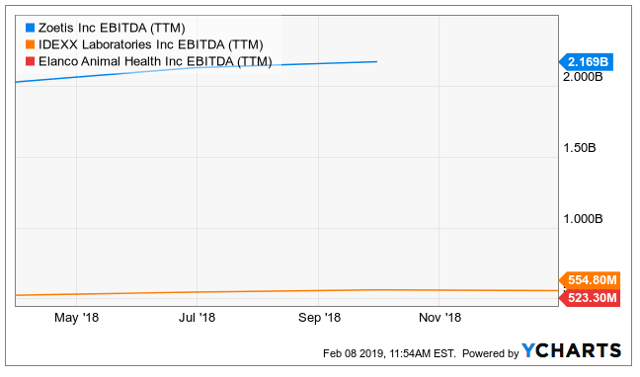 Figure-8 (Source: Ycharts)
Moreover, ZTS also surpasses the selected peers in terms of delivering a healthy EBITDA margin (of ~38%) during the past 12 months. In contrast, IDXX and ELAN generated margins of ~25% and 17% during that period.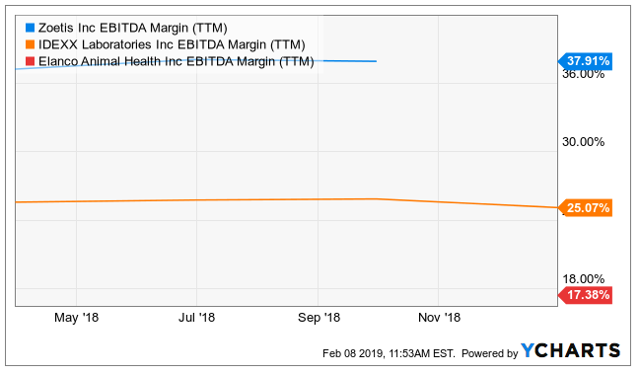 Figure-9 (Source: YCharts)
Dividend growth: As shown in Figure-5, ZTS is growth stock. However, it is equally appealing to an income investor. The company has significantly improved its dividend profile over the years. With a 3-year average dividend growth rate of ~15% and a payout ratio of ~19% that matches its earnings growth profile, ZTS presents a strong investment case.
Growth in R&D that helps in new products development: When it comes to R&D (read: Research and Development expenditure), the situation is similar to revenue growth. During the quarter and nine months ended 30th September 2018, ZTS incurred R&D of ~$108 MM (2017: ~$96 MM) and ~$307 MM (2017: ~$272 MM) respectively. This resulted in a Y/Y ~12.5% and ~13% increase for the quarter and nine months ended September 2018. Rigorous R&D expenditure is vital for ZTS to continue the development of new medicines and vaccines. In a previous article on the company, I had outlined some of the products launched recently by ZTS that also contributed favourably towards growth in its revenues (Figure-10).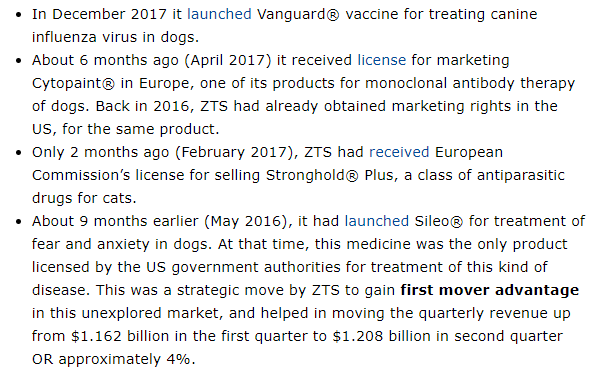 Figure-10 (source: Previous article on Seeking Alpha)
Growth through new products development and acquisitions: In addition to the organic growth that ZTS achieves through the innovation/ development of new products lines and the sales of its products in new locations, ZTS also achieves business growth through accretive acquisitions. The company has utilized this strategy multiple times during recent years. In 2016, it acquired Scandinavian Micro Biodevices. Later, in 2017, it acquired Nexvet Biopharma.
Similarly, in August 2018 ZTS acquired Abaxis for a healthy $2 BB. This acquisition is expected to enhance ZTS's share in the veterinary diagnostics business.
Valuation
ZTS appears to be slightly pricey based on its PE and P/B ratios that tend to appear on the higher side (Figure-11). But a closer look at its earnings profile (discussed earlier) indicates that it's not really overpriced on account of its PE ratio. This is due to the fact that ZTS has witnessed commendable growth in its earnings (~104%) during the past 3 years.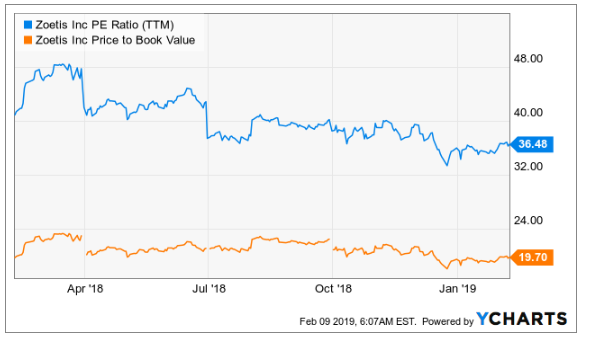 Figure-11 (Source: YCharts)
Moreover, given that it's one of the large-cap pure plays in the animal health business, I believe it presents a safer investment opportunity as the demand for its products is only likely to increase over time. This is based on the fact that pet spending patterns in the US and other countries have remained largely unaffected.
Conclusion
ZTS is a pure play in the animal health business that has witnessed significant share price growth during the past 5 years, thanks to its strategy of innovation and product development that goes in line with accretive acquisitions. The company has witnessed growth in both revenues and earnings and has also improved its margins. It might appear slightly pricey based on its book values, but the noticeable growth in earnings justify such premium. Based on its fundamental strength and the growing demand for animal health products, there's a strong chance that ZTS will witness more upside from the current levels. This expectation is supported by a technical analysis of the company that suggests that this stock is a buy at the current prices with a long-term target price of ~$100.
Disclosure: I/we have no positions in any stocks mentioned, and no plans to initiate any positions within the next 72 hours. I wrote this article myself, and it expresses my own opinions. I am not receiving compensation for it (other than from Seeking Alpha). I have no business relationship with any company whose stock is mentioned in this article.