I bought a small position in Eastman Chemical (NYSE:EMN) at $59/share in February 2016 for the IMF portfolio that I publicly track at Seeking Alpha. Little did I know that I'd not get a chance to add more at that basis. Early 2016 was the low for a lot of cyclical stocks, including Eastman, and EMN stock exploded to as high as $110/share last year. However, the recession fears that hit late last year sent especially noxious fumes across the chemical sector. Combine with Eastman's soft earnings and the stock took a big hit: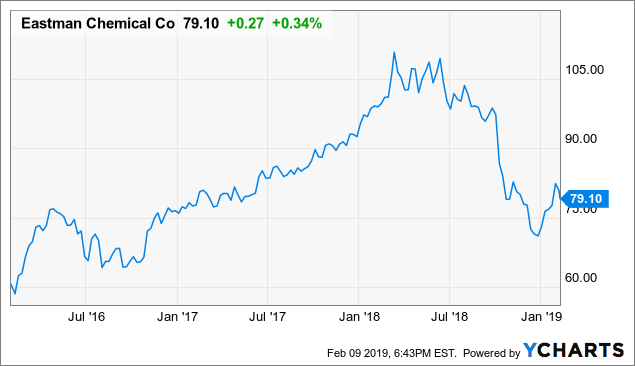 The stock slid to as low as $68 in December, putting it at less than 8x forward earnings. On top of that, the dividend yield got close to 3.5%. For a company with a 5-year dividend growth rate of 14.3% annualized, a 3.5% starting yield is pretty exciting indeed. So what held me back from adding to my Eastman position?
Last Quarter Wasn't The Start Of A Serious Trend
First off, it's important to be clear on one thing. I think some of the headwinds that analysts are citing for the chemical industry as a whole are overblown. Take Cowen's recent downgrade for much of the sector. They argued as follows: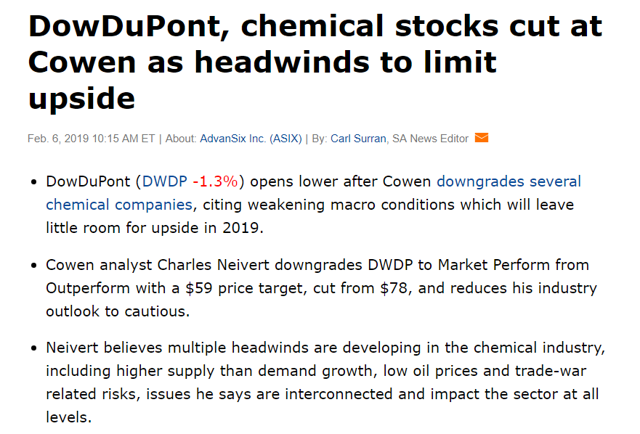 While DowDuPont (DWDP) was the headline story there, Eastman was among the numerous other stocks that Cowen analyst Charles Neivert cut his outlook for.
I'm not sure I buy this thesis about weaker oil prices being a major problem. I'll grant that softening demand is certainly an issue if true, and that the trade war, should it drag on, will be a drag on earnings. Eastman gets just 36% of its sales from North America, with almost as much, 33%, coming from Asia Pacific. The company has more exposure to global trade concerns than most.
With oil, in particular, however, the picture is more complex. A company like Eastman buys a lot of oil or oil-based inputs, creates more refined end products out of them and sells through to customers. In general, these end goods' prices are based largely upon oil prices. In the most recent quarter, Eastman had bought a lot of oil at higher prices - oil topped $70 not that long ago - and then had to sell end products at lower prices as the oil price collapsed. Going forward, Eastman can now buy oil at much lower prices, and as such, the margin compression you saw recently will not be a lasting issue. CFO Curt Espeland explained the mechanics here on the most recent conference call:
And given the large drop in Brent beginning in October, we had a harder time raising our prices, but we still had $90 million of higher raw material and distribution costs year-over-year due to the third quarter flowing through our inventories. The result is that our fourth quarter results were more challenged than we were expecting, especially as the quarter progressed.

With that said, given what we know today, we expect the issues we faced in the fourth quarter will get progressively better in 2019. And we're already seeing evidence of improving order patterns sequentially into the first quarter.
While Chinese demand declines are certainly a real issue that can pressure results throughout 2019, don't expect the swings in oil prices to be a real concern out past a quarter or two. As Espeland stated, things are already reverting toward normal in the first quarter.
So Why Isn't Eastman Pound-The-Table Cheap At 9x Earnings?
Eastman Chemical stock is now selling at 9.5x trailing earnings about around 9x forward earnings. In the recent quarterly earnings call, management suggested that EPS will grow 6% to 10% for full-year 2019 despite the likelihood of a challenging first quarter. Normally, companies trading at under 10x earnings with growing EPS are a good value.
Here though, it's worth considering the cyclical nature of the chemicals industry and Eastman's own past performance. On the second point, here is Eastman Chemical's normalized EPS dating back to the Eastman Kodak spinoff: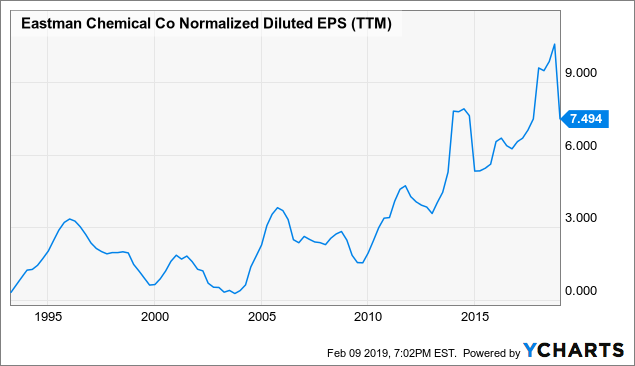 As you can see, earnings went down substantially from 1996 to 2000, during good economic times, and stayed down until 2004. After a brief burst, earnings again sagged from 2006 on through 2010. Since then, growth has been more consistent although still with some serious fluctuations.
I'm not a chemicals industry expert, so it's difficult for me to ascertain what portion of the recent earnings growth is due to the strong economy and what is due to more structural issues. Eastman made major acquisitions in 2012 and 2014 that changed its business profile fairly substantially. Some of the focus that it brought in from these acquisitions, such as products for automotive uses and tires in particular, could be exposed to economic concerns in particular as it appears the auto cycle is legging downward now.
You have other structural factors that have changed as well. Natural gas, a major cost input that the company hedges from time to time, seems to have gotten cheaper on a long-term basis thanks to advances in extraction technology. Oil prices seem unlikely to go back to $100+ and stick there in the near future, which also affects profitability rather dramatically. Also, should a new trade deal change China-U.S. trade relations on an ongoing basis, it could have a serious impact on Eastman's mix of sales going forward. On the conference call, we see that many of the company's high margin sales go for consumer plastics products that are manufactured in China:
So the real challenge sat in especially plastics, David, and it was principally in China for them. When you think about a lot of our specialty plastics business, it is principally products we sell that are made into consumer durables that are then sent back to the U.S., and Europe. So heavily export-driven from China to the U.S., and so those customers were worried about, where the trade war was headed, they started – because they didn't think they can handle the 25% increase on January 1. They started aggressively destocking. And really taking inventories down to almost zero and it would only order us, when they received an order from their own customer.

So that really was the story on the demand decline and that has a pretty significant mix effect for us on a regional and product basis, because it's important to remember that in China, we only sell our high value specialties [...] the lower value chemical intermediate products are almost entirely in North America. So when you have a slowdown in China, it really comes with a negative mix effect.
There's a lot of nuance in the above quotation, but the market tends to miss that when big macro stories weigh on sentiment. If we get more negative headlines about China, or global growth trends in general, it's not hard to see EMN stock slumping again. Yes, it looks really cheap at 9x earnings, but that isn't necessarily a floor for the stock price in the short run. I could easily see earnings fall short of the company's estimates for 2019 if macro conditions deteriorate, and Wall Street taking down estimates for the firm and its sector even farther.
Eastman Stock: A Buy If It Drops Again
Management reiterated that despite the short-term hiccups, it still envisions 8-12% long-term EPS growth as an achievable goal. It also remains generous with the dividend. It gave us another double-digit dividend hike late last year.
Interestingly, the company has a clear structure in place for capital return allocation. Eastman delivered an impressive 10% free cash yield from what CEO Mark Costa refers to as the company's "cash engine" in 2018. This cash is distributed as follows: A set amount of dividend payments, a set amount of debt deleveraging, and then the rest getting spent, as it is available, on share buybacks. Intriguingly, the CFO apologized for the slow pace of the share buyback last quarter, with this commentary:
And what you saw on 2018 and you could see a similar effect in 2019, we did a fair bit of our share repurchases in the first half of the year and you should see a similar effect this year. Quite honestly Frank, we probably could have done a little bit more in the fourth quarter, that's on me. I did want to hit our deleveraging targets. And as the cash flow came in strong, I kind of missed the window to maybe do another $25 million or so more. But regardless, I've already made up for that as we started this year because we're in the markets as you would expect, especially where valuations are.
In an ideal world, the share buyback would be more driven by valuations, rather than how much cash is left after hitting the dividend and deleveraging targets. Regardless, there does seem to be some timeliness at play with the buyback, and they're certainly getting a good deal putting more of the cash to work at early 2019 prices for the stock.
Going forward, unless free cash flow generation really tanks, they'll still have plenty of firepower to run the buyback, which should serve as a decent cushion for the share price. By all accounts, we should expect rather substantiative dividend increases going forward as well.
If everything goes to plan, between a robust buyback, long-term 10% EPS growth, and a starting PE ratio of 9x, we should make great returns here. However, there are just too many uncertainties for me to make this a back up the truck position at this price. It wouldn't shock me at all if the stock dumped to the low $60s, at least briefly, on more uncertainty out of China or another earnings miss. The pendulum often swings way too far on this sort of stock when sentiment hits an extreme.
At the same time, and getting back to my original question, why haven't I bought more EMN stock yet? That's because, in addition to the issues mentioned here, I'd argue DowDuPont (DWDP) is even more compelling. I also started a position (then known as Dow Chemical) at $52/share back in 2016.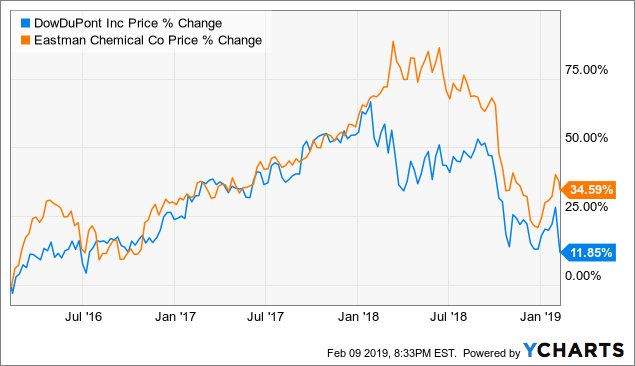 For the first time since I took my stake in DowDuPont, which I bought in the summer of 2016, I can now add more shares at the same price I paid for them in mid-2016. Since the early 2016 lows, Eastman is up more than 30%, while DowDuPont is up just 12%. I find this divergence rather interesting, given that for awhile, the Street was enamored of the possibilities of the DowDuPont merger and then split-up into various companies.
At this point, it's hard for me to analyze exactly what DowDuPont will be worth as three companies. However, based on independently traded comparable firms, it seems the valuation of the combined entity now is too low. The agricultural company, Corteva, seems particularly promising.
Perhaps I am making a mistake adding to DowDuPont rather than Eastman Chemical at these prices. Regardless, I expect investors buying chemical sector stocks now will be happy in due time. And if EMN stock drops further, I'll be ready to add to my position.