Welcome to our Weekly Cannabis Report, a reliable source for investors to receive the latest developments and analysis in the cannabis sector.
Trading Summary
The rally in cannabis stocks seems to have fizzled last week after a strong January. The Horizons Marijuana Life Sciences Index ETF (OTC:HMLSF) dropped 2.8% and the ETFMG Alternative Harvest ETF (MJ) dropped 4.3%.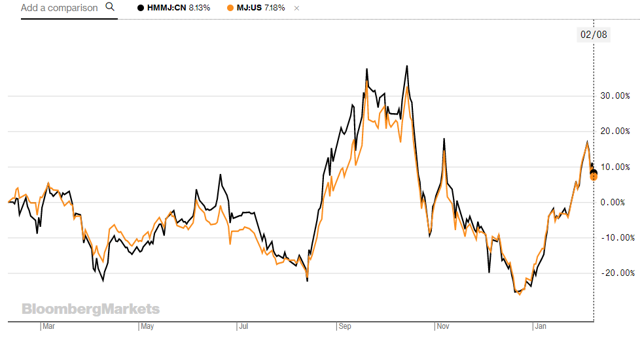 Canadian Large-Cap: Canadian large-caps declined slightly last week. High flyers Aphria (APHA) and Cronos (CRON) both declined after reporting >30% gains the prior week. Canopy (CGC) also lost 7.0% after a strong January. Tilray (TLRY) lost 3.3% without too much news. Aurora (ACB) was the only company to report a 2.6% gain and it is scheduled to report earnings on Monday, the first major LP to kick off the earnings week in Canada.
Canadian Mid-Cap: CannTrust (OTC:CNTTF) continued to show resilience as Pelham Phase 3 expansion is back on track. HEXO (HEXO) lost 5% to give back some of its recent gains. OrganiGram (OTCQX:OGRMF) lost 16.5% to partially reverse its 32% gain after announcing a strong quarter. TGOD (OTCQX:TGODF) declined after yet another construction delay.
Canadian Small Cap: Cracks began to emerge in the small/mid-cap space as we have predicted in our 2019 cannabis outlook. In a sign of correction, the prior week's biggest gainers became the biggest losers last week. Canopy Rivers (OTCPK:CNPOF) lost 21%, Auxly (OTCQX:CBWTF) lost 21%, VIVO (OTCQB:VVCIF) lost 21%, and Supreme (OTCQX:SPRWF) lost 19%. Namaste (OTCQB:NXTTF) dropped 18% after the Board fired its Co-Founder and CEO.
Radient (OTCpk:RDDTF) soared 32% after receiving its processing license from Health Canada. As we said many times before, the retail-heavy investor base means greater volatility for small-cap stocks and this group has given up more gains in the recent days compared to the large-caps. We reiterate our long-time view that, for average investors, the best way to invest in Canadian cannabis stocks is through the more resilient large-cap stocks.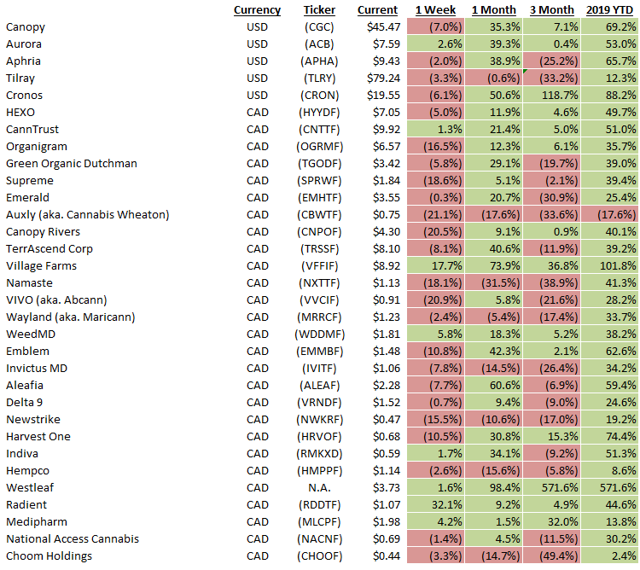 U.S. Multistate Operators: The U.S. MSOs continued to report mixed performances last week. Momentum continued for recent issuers such as Curaleaf (OTCPK:LDVTF), Harvest Health (OTC:HTHHF), and Cresco Labs (OTCPK:CRLBF) with high single-digit gains. Acreage (OTC:ACRZF) and MedMen (OTCQB:MMNFF) declined as the latter is grappling with lawsuits from investors and its former CFO. iAnthus (OTCQX:ITHUF) gained another 7.5% after closing the MPX acquisition. Trulieve (OTCPK:TCNNF) gained 5.2% and the stock has gained 48% this year so far after a weak finish to 2018.
Ancillary and International: CBD stocks suffered losses last week as Charlotte's Web (OTCQX:CWBHF) lost 4% and CV Sciences (OTCQB:CVSI) lost 10%. Supplies manufacturer KushCo (OTCQB:KSHB) was up 8.4% and Innovative Industrial Properties REIT (IIPR) gained 2%. Khiron Life Sciences (OTCQB:KHRNF) was up another 4% after raising C$25 million at C$2.20 per share. We added Elixinol (OTCQX:ELLXF) to our list and we first introduced this global CBD player in "Best Ways To Play The Hemp/CBD Industry."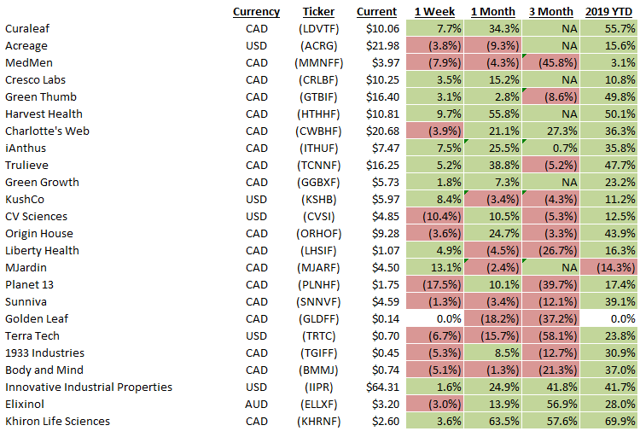 Industry News
Looking Ahead
The cannabis market experienced a little setback last week. Despite the weakness, both ETFs remain sitting on substantial gains for this year. HMMJ is up 42% and MJ is up 38% at the end of last week. As we pointed out in our last week's note, the cannabis market moves in cycles and the current rally has reached somewhat dangerous territories where the risk of correction has increased substantially. However, it is also inherently impossible to predict the cannabis market and past attempts from many others to try to time the market has failed.
For example, many people shorted Tilray when the stock just began to rise above US$100 but the stock reached over US$200 at some point and it still hovers around US$80 to date. As a result, we think the best way to play the cannabis cycles is to hold a basket of core holdings but opportunistically increase and decrease weightings based on the market fluctuations. For example, we think Khiron's 100% gain since December means that there is a good chance of the stock being overheated temporarily and investors should probably take some profits at current levels.
However, our long-term positive outlook for the company and the unpredictable nature of the cannabis sector means investors shouldn't exit their positions completely. Another interesting observation is that the small/mid-cap space is reversing its January gains at a much faster pace than the large-caps, which have demonstrated impressive resilience so far.
This week, Canadian cannabis companies will begin to report 2018 Q4 earnings with Aurora reporting after Monday close. We will provide timely analyses of the upcoming earnings and share our latest outlook for the sector.
Disclosure: I/we have no positions in any stocks mentioned, and no plans to initiate any positions within the next 72 hours. I wrote this article myself, and it expresses my own opinions. I am not receiving compensation for it (other than from Seeking Alpha). I have no business relationship with any company whose stock is mentioned in this article.