Investment Thesis
Placed at the third place in U.S. QSR industry as per market share, the Wendy's Company (NYSE: WEN) seems to have alienated the value-conscious burger lovers in recent years as indicated by more than 30% decline of sales in 2016 and 2017.
Despite the franchise-focused strategy, WEN's revenue from franchises grew at c.16.7% YoY in 2017 (cf. c.21.6% YoY in 2014) while operating margin, stood at c.34.5%, well below c.75.1% and c.72.6% of McDonald's Corporation (NYSE: MCD) and Restaurant Brands International Inc. (NYSE: QSR) respectively. Amid rising costs from the system optimization initiative and Image Activation program, WEN's net debt to EBITDA ratio increased to c.7.6x in 2017 (from c.2.9x in 2014), while MCD and QSR maintained it at c.2.5x and c.5.6x respectively.
Given the above concerns, I believe WEN's forward P/E ratio of c.26.7x is overvalued compared to 21.6x of MCD and 22.8x of QSR. However, the upside potential of the stock cannot be discounted either as margins are improving amid new strategies while the industry consolidation is expected to gather momentum.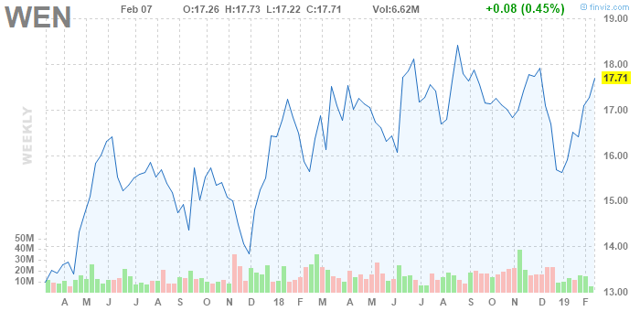 Source: finviz.com
Therefore, to participate in possible gains in stock price appreciation while limiting the losses from the stock price decline below the intrinsic value, WEN's investors could adopt a protective put whereby the stock is combined with a long put option.
WEN follows a value-driven strategy
In the U.S. Quick Service Restaurant (QSR) industry for burgers, the Wendy's Company and Burger King of Restaurant Brands International Inc. trail McDonald's Corporation, which has by far the largest market share. Focusing on differentiation strategy, WEN highlights the freshness of its ingredients while its well-heeled competitors such as MCD tap into the value-driven customer.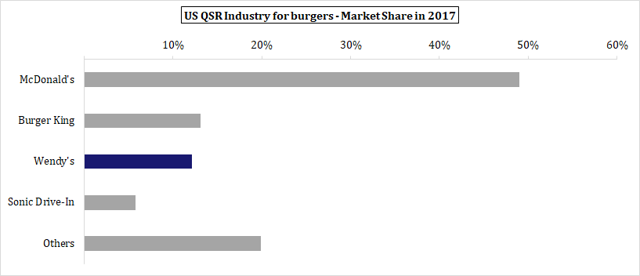 Source: The author; Data from QSRmagazine.com
New strategies fail to generate sales growth
Driven by shrinking margins, WEN launched the system optimization initiative in mid-2013 to limit the number of company-operated restaurants to 5% of all locations by disposing of the existing company-operated locations while facilitating the inter franchisee restaurant transfers. Meanwhile, the Image Activation program plans to modernize the interior and exterior of 70% of the restaurants by 2020.

Source: The author; Data from company financials of WEN
Having closed 302 company-operated outlets in 2016, WEN's same-store sales of owned-restaurants grew at only 0.2% for 2017. With only seven new restaurants added for the year, revenue from company-operated outlets dropped for the fifth consecutive year with a decline of c.32.4% YoY in 2017. Meanwhile, QSR expanded sales at a rate of c.8.4% YoY in 2017 and MCD had a decline of only c.16.8% YoY.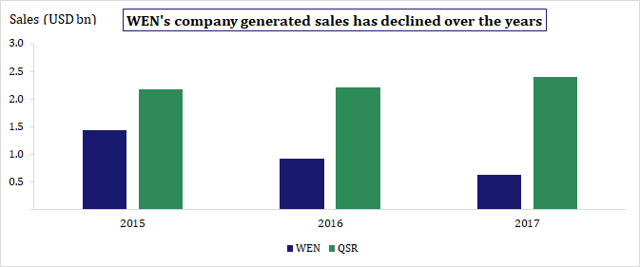 Source: The author; Data from company financials of WEN and QSR
Even though the company-operated sales revenue has expanded by c.3.9% YoY in first nine months of 2018, amid the focus on expanding franchised locations, its impact to the topline growth is diminishing, making up only c.40.8% of total revenue in 2017 (cf. c.80.5% in 2014).
Franchise-originated revenue growth lags competitors
Making up c.94.9% of total restaurants and generating c.93.9% of system-wide sales as of 2017, the importance of revenue coming from franchisees in the form of royalty revenue and fees, cannot be emphasized enough. However, such revenue has grown by only c.3.3% YoY in first three quarters of 2018 despite growing at c.17.0% at an annual compound growth rate from 2013 to 2018.
While the number of franchised outlets of MCD and QSR stand at c.92.5% and c.100.0% respectively, their revenue generated from franchisees has expanded by c.10.6% and c.43.1% YoY respectively in the first nine months of 2018.
Amid these developments, the overall revenue (excluding the advertising fund revenue) has expanded by only c.3.6% YoY for the first nine months in 2018 while, QSR has witnessed an overall revenue growth of c.18.9% (cf. c.9.3% decline of MCD) for the period.
Competitors lead in operating margins
As WEN shifts from a company-operated model to a franchise-based set up, its overheads should decline leading to better operating margins. However, as a percentage of company-generated sales, the operating margin stands at c.34.5% in 2017, well-below that of MCD and QSR at c.75.1% and c.72.6% respectively. Despite an improvement up to c.40.8% in the first three quarters of 2018, the company still lags that of MCD's c.43.0% and becomes slightly ahead of QSR's c.35.3% for the relevant period.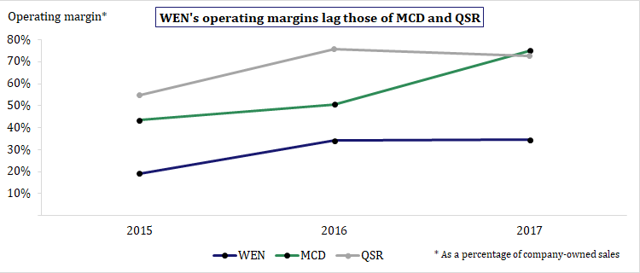 Source: The author; Data from company financials of WEN, MCD and QSR
With expenses from franchisee-incentives as part of its Image Activation program not adequately offsetting any savings from the system optimization drive, more margin pressure could continue well beyond 2018.
Debt ratios are not so good either
From c.15.1% in 2014, WEN's EBITDA margin has improved up to c.54.7% as of 2017. However, the debt load which funded the system optimization initiative, share repurchases as well as the Image Activation program has deteriorated its net debt/ EBITDA ratio to the point that, in 2017 debt was c.7.6x times of its EBITDA (cf. 2.9x in 2014). Comparatively, MCD which is also in a stage of transformation, has topped WEN with a ratio of c.2.5x as of 2017, while for QSR the ratio stands at c.5.6x.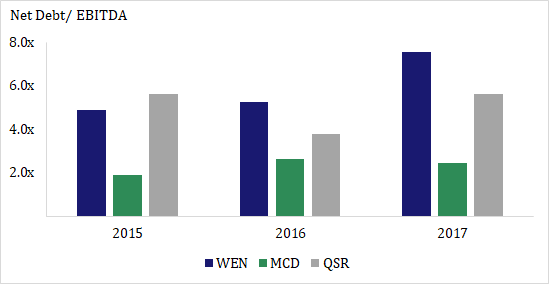 Source: The author; Data from company financials of WEN, MCD and QSR
Unable to offset the rising interest expense, the ratio of EBITDA/ total interest expense meanwhile has declined to c.2.9x in 2017 (cf. c.7.7x in 2014), while MCD and QSR have posted much better ratios of c.11.9x and c.3.7x respectively.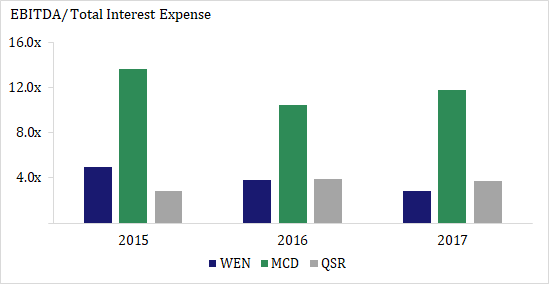 Source: The author; Data from company financials of WEN, MCD and QSR
However, WEN's forward P/E trades at a premium
In spite of operational drawbacks as highlighted above, WEN currently trades at a higher forward P/E ratio of c.26.7x compared to c.21.6x and c.22.8x of MCD and QSR respectively.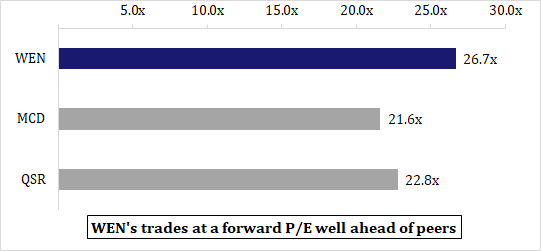 Source: The author; Data from Seeking Alpha
However, out of its earnings WEN on average has paid-out only c.46.6% as dividends for the last three years (cf. c.66.1% of MCD and c.53.8% of QSR). Meanwhile, the dividend yield of WEN for the period stands at c.1.9% on average (cf. c.2.8% of MCD and c.1.2% of QSR).
Additionally, the industry outlook also looks weak against the backdrop of a possible slowdown of the economy with the target market shrinking as consumers, driven by legislative changes, are turning to healthier food.
Therefore, price wars are already being waged across the industry, as indicated by the increasing number of value deals that are churned by the competitors, and it could adversely impact the margins which are already narrowing due to rising operational costs such as labor.
Given the company's strategic challenges in what could soon-to-be a sunset industry, applying 22.2x of average forward P/E of MCD and QSR, the intrinsic value of WEN based on 2019 consensus EPS estimate of USD0.66 calculates to USD14.7 with c.16.9% discount to the current share price.
Upside potential of WEN remains
However, going by the 2018 results released so far, WEN's system optimization initiative and image activation program is yielding results. The operating margin has improved to c.40.8% in the first nine months of 2018 from c.34.5% in 2017.
In 2018'Q3, WEN sold its remaining stake in Arby's to Inspire Brands for USD450 mn, which positively impacted the bottom-line of WEN through a one-off gain in the investment income. Excluding the impact , the adjusted diluted EPS in the first three quarters of 2018, has improved by c.31.3% YoY to USD0.42 (cf. zero growth for the corresponding period in 2017) with management guidance indicating an adjusted EPS estimate of USD0.56 – USD0.58 for 2018.
The median adjusted EPS of USD0.57 for 2018 therefore, results in an adjusted EPS growth c.32.6% YoY from the prior year, the highest such growth since 2013.
M&A deals in the industry is on the rise
In the U.S., the QSR market is highly fragmented with as many as ten competitors holding a market share of twenty percent in the burger segment. While the total market is gradually shrinking as customers opt for home cooking and healthier food, the existing players, in response to rising costs such as labor, are looking to achieve economies of scale through horizontal integration.
While companies such as Applebee's declaring the intention of further growth through acquisitions, the QSR sector in general witnessed a number of M&A deals last year. In August, privately-held restaurant chain Cava announced a deal to purchase its peer, Zoës Kitchen (NYSE: ZOES) for USD300 mn while late in the year Inspire Brands Inc. which has Arby's, Buffalo Wild Wings and Rusty Taco in its portfolio, completed the acquisition of Sonic Corp. (NASDAQ: SONC) through a deal worth USD2.3 bn.
Therefore, in the future, given a possible merger involving the company, there's a chance for WEN's share price to appreciate unexpectedly.
Conclusion
Based on average peer forward P/E ratios applied to EPS estimate of 2019, WEN would trade at a c.16.9% discount to the current share price, making this look like a good Short opportunity.
However, while more industry consolidation is expected in the future, improving margins and earnings growth as indicated by the management point to a turnaround in the company. Consequently, the stock looks attractive in the long term and therefore, the downside risk of shorting remains high.
As a result, an investor who has a long position on WEN can utilize a protective put where the stock and a put option on the stock can be combined, thus leaving the upside potential intact while limiting the losses from a share price decline.
For an investor who bought WEN at USD14.7 per share, a long position of a put option on WEN expiring in one year with a strike price of USD14.7 safeguards the value of the stock if the share price declines. It also allows for unlimited gains when the stock price rises. However, in both instances, the upfront option premium paid should be deducted when calculating the total gain.